输入日期以查看总价格,包含额外附加费用及适用税费。
今年的七月至八月,从这100个不同价格级别的房源中选择,体验当地人眼中的索诺玛。房源提供24小时入住,还可以即时预订,您什么都不用做,只需饱尝本地美酒美食,轻松享受旅程即可。
Fully furnished apartment with private entrance inside family home. Private parking with beautiful yard, just minutes from Devils Lake and boat ramps. Washer/dryer included, full kitchen, queen pillow top mattress in bedroom, + queen sofa sleeper & updated bathroom. Amenities include all linens & kitchen utensils + guests have gas grill, deck and picnic table for use.
The space feels like home and includes everything needed for a comfortable stay. Dishes, linens, towels etc. There is a gas grill available for the guests. We also have a place for guests to clean fish or ducks and dog kennels. Guests can enjoy and relax in the yard and gardens. There is a fire pit available to use with permission and a large deck that guests can enjoy.
The apartment was wonderful. Had plenty of space for us and it was great being able to utilize a full kitchen while on vacation. Roxanne and Ray were very accommodating and kind. Would definitely stay here again on returning trips. Great quiet location.
Robert
October 2015
I absolutely loved staying here. Ray and Roxanne's home is nestled in a restful, beautiful spot with a large backyard that was great to relax in. Their apartment offered everything I could need and they put in a lot of little touches that made it feel like a special stay. These are fantastic hosts, and a big part of the reason I enjoyed my time in Devil's Lake!
Colin
September 2016
Everything was as advertised and more than reasonably priced. We had lots of room for 4 adults and the grounds offered a great attraction to gardeners/flower lovers in general as well as having a cup of coffee. Parking and entrance were conducive to our coming and going Everyone agreed Roxanne's place would be on our list of places to stay in Devils Lake, if the need should arise again. Roxanne and her husband were both friendly and easy to work with. All in all a great place to stay and we would stay here again Thanks, Roxanne
LYNN
June 2016
We didn't want to leave! Spotless, such a comfortable bed and the kitchen had everything you would need if you wanted to make your own food there. New cupboards and counter top - it's so different from staying in a motel/hotel because you are in someone's home. I found this place to stay at airbnb (my first time with airbnd) and don't think I'll ever stay in another Motel if I ever have to. I wanted to take my mom just on an overnight get-a-way for one night, but next time I'll book for two nights. Mom and I both love gardening, and you can spend the afternoon just walking around the beautiful yard that is full of unique gardening ideas, flowers, etc. We loved it and will be back! Thank you Roxanne! I'd give this review an A plus rating!!
Christine
September 2015
This apartment is beautiful, bright and spacious. Roxanne is a great host and goes the extra mile to make your stay the best. Their garden is really a show piece. It is always fun to benefit from the hard work of others who really know what they are doing in the garden! We definitely recommend this property to anyone visiting the Devils Lake area.
Jim
August 2016
The hosts were very friendly and responsive. The apartment was clean and very very well equipped. Its quite big too. There was everything imaginable in the apartment. They also left us with a big basket of fruits! Excellent choice to stay if you are visiting Devils Lake. We were not disappointed and enjoyed staying in this apartment.
Mayur
September 2015
The BNB was perfect and clean and there was a trampoline on location! Amazing location with super friendly cats! The garden is something out of a fairy tale :)
George
August 2015
Very good stay. Comfortable and clean. Quiet and peaceful surroundings.
Jean
September 2016
Devils Lake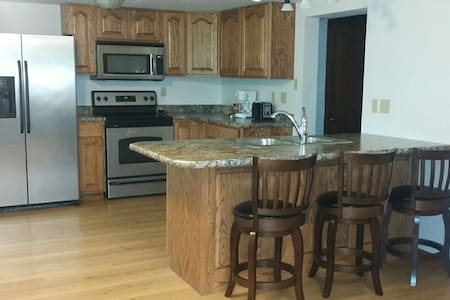 Clean, quiet, and quaint is the best way to describe this two bedroom apartment. Close to the best hunting in the state. Pheasants, grouse, partridge, waterfowl, and deer hunting are second to none. Also two blocks away from the best small town cafe in the country.
Laundry Love to give tips on best hunting areas.
The people are as friendly and genuine as anywhere in the world. Great flight direct from Denver to Jamestown. Jamestown is only 45 minute drive.
Very friendly
Kyle
October 2016
Grace City