输入日期以查看总价格,包含额外附加费用及适用税费。
Singapore Sling navigue dans les Caraibes depuis 5 ans. Après une longue période de vie à bord et l'arrivée de notre fille nous nous sommes installés à terre sur l'île merveilleuse de Marie-Galante. Le bateau y est loué à l'ancre. Chaque année, afin de nous protéger de la période cyclonique je descends le bateau à Grenade. C'est pour moi l'occasion de faire partager mon amour de la région en proposant une croisière paradisiaque à la découverte des îles sous le vent.
Singapore Sling est un monocoque de 44 pieds. Gibsea 442 de 1990. Vous trouverez une présentation détaillée du bateau en cliquant sur l'annonce de location à l'ancre. Le programme de navigation ainsi que la durée sont à la carte. une période de 2 semaines minimum est conseillée. Le bateau part de Marie Galante en Guadeloupe pour arriver sur l'ile de Grenade en passant potentiellement par les iles suivantes: les Saintes, Dominique, Martinique, Sainte Lucie, Saint Vincent et ses iles Grenadines (Bequia, Canouan, Union, PSV, palm island, Mayreau, Tobago Cays... ) Je serais ravi de vous faire partager ma passion de la voile et de la région! La période est idéale pour naviguer dans les caraibes, le vent et la mer sont plus calmes que durant la période des alizés et surtout les mouillages sont déserts... N'hésitez pas à me contacter pour des informations supplementaires. Marie Galante ou la Guadeloupe Départ de Martinique envisageable sous conditions
il faudra prévoir un vol retour Grenade --> Guadeloupe, compagnie LIAT environ 200 USD. Le prix inclus la location du bateau, les frais liés au fonctionnement du bateau ainsi que le skipper. Chacun ayant des goûts et des budgets différents une caisse de bord sera mise en place pour les repas (avitaillement et restaurants). Je paye bien entendu ma part. Une dégressivité sera proposée au tarif en fonction de la durée de la croisière.
Tobago Cays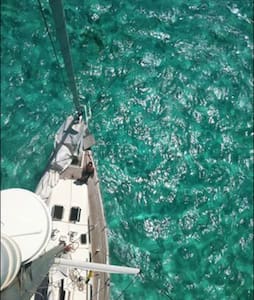 Panoramic seaview from your bed with only three steps from the warm crystal-clear water of the Carribean. Sitting in a private villa on a private island in front of one of the most beautiful and pristine Caribbean seascape vistas with nothing much to do but to relax, swim, tan or kite. Mildness, freedom, quietness & safety All year long, delightful climate and warm crystal-clear water Household employee included (delightful cooking on request).
The villa is located on a long private beach, by the lagoon, protected by a barrier reef. The villa is surrounded by a large tropical garden, full of coconut trees and flowering shrubs. The view from the villa is spectacular and unique: crystal –clear water of the Caribbean and beautiful surrounding islands. The spacious villa include a large living room, two bedrooms (each with their respective bathrooms) and a large terrace in order to have breakfast, lunch and dinner in front of the turquoise colored water of the lagoon. As an option and upon request for a total of 6 guests, a spacious bungalow including 2 beds (or 1 large bed), a bathroom and a terrace is also available (+ US $100/night). A charming house, adapted to the tropical lifestyle, equipped and comfortable for a vacation close to nature. The shutters' system, with movable slats, open the villa to the fresh sea-air in order to regulate the temperature and the light, day and night. Linens and tableware are included. Drinkable tap water. A shower of fresh water is in the garden, a few steps from the sea. A household employee is included in the rent, from Monday to Saturday. (See details in the host profile) No visa required for most countries From the US or South America Most of the major airlines are flying to Barbados (BGI) or St Lucia (UVF), you can use search engines like www.kayak.com to find the flights that will suit you best. From Europe London or other major cities have daily connections to Barbados (BGI) and Ste Lucia (UVF). Once arrived on Barbados or on St Lucia you will need to take a final very short connecting flight to Union Island with SVG AIR:www.flysvgair.com From France The best option might be to fly directly to Martinique with any regular airlines and then take a private direct 1 hour flight from Martinique to Union Island. Contact us directly for more information regarding the private flights from Fort De France (Martinique) to Union island Taxi boat to Palm Island (10 minutes) We can organize a cordial welcome at Union Airport and the taxi boat to Palm Island. Then, a few minute walk on Palm Island to reach the villa. Luggage can be carried with golf carts. You have to pay the Taxi Boat and the cart for luggage. A full time housekeeper is included in the price. Viviet, a local and popular housekeeper will help you in any way needed. On demand, she may arrange food and cooking, boat trip for the tobago keys, rescue boat for kite surfers...
THE ISLAND Palm Island is a small private island, in the Grenadines, in the southern part of the Caribbean's sea. Palm is a coral island full of coconut trees and surrounded by white sand beaches. For the record, it is in the Grenadines that the movie "Pirate of the Caribbean" was filmed. On the West side of the island is a luxury hotel which welcomes mainly honeymooners. A few privately owned houses are located on the other beaches and only occupied a few months a year. THE CLIMATE All year long, day and night, the climate is delightful thanks to a constant fresh-sea air (28°C / 82°F) The Grenadines are dry islands: a few tropical rains occur in the winter (usually 10 minutes long). In the summer, tropical shower is more frequent, it comes and goes, usually no more than a day long. The crystal clear water, colored turquoise and blue-green is nice all year (between 24°C and 26°C / 75°F and 79°F) SAFETY The island is private and guarded, day and night. The access is monitored. The tranquility and safety is very much appreciated (in a country which is very clam and welcoming). No danger: animals are harmless (birds, turtles, iguana). Calm sea in the coral lagoons. ACTIVITIES On Palm Island: luxury hotel services (restaurant, bar, massage, etc) – to book on site. On surrounding close islands: sailing day-trip on a beautiful 3 master-sailing ship (Scaramouche), lobster for lunch at the Tobago Cays, fishing with local fishermen, etc. On Union island: Diving club, bars and restaurants, small local shops and a very nice beach restaurant. World-famous kitesurf spot: great wind between December and June. Less regular wind in the summertime. Possible start in front of the villa, in the lagoon. For lessons or guide, please see "happy kite grenadines" on Union Island and on their website. We can organise your welcome from Union Island Airport to the Villa. You have to pay the taxi car, taxi boat and the cart for the luggage. Viciette can organise all for 50 $US. The villa is perfect for an indoor & outdoor life, with the sea, the large tropical garden and the island. On Palm Island, there is such few people that it is common to spend a day without seeing anyone (if it is what you are looking for) on the beach or on the island trails. Outside of the hotel (staff and customers), which is located at a 8 minute walk from the villa, there is no permanent inhabitants on the island. The villages are on Union Island, the closest island to Palm (10 minutes by taxi boat). Food and other supplies: On Union Island, there is a local market for fruits and vegetables,and stores as well as a small French grocery store (called Captain Gourmet), especially used by sailing boats and houses around. You can ask for a delivery on Palm Isalnd. And Viviette, the household employee, can also bring what you need on the island, on a daily basis. The rooms have either 2 single beds or a king size bed. The bedding is new and comfortable, which is really important because relaxing and resting is ideal with the delightful climate and constant sea-air. The only sound in the one made by the small waves on the lagoon and the one made by the wind in the coconut trees. Bath linens and household laundry is being taken care of every 3 days. Your suitcase: you can keep it to the minimum, everyone lives in beach attire, often barefoot on the sand. Mosquitos: Like in every tropical climate, there are some. However, they are not virulent and not numerous because the house is ventilated constantly. All the beds are equipped with mosquito netting.
Syl was helpful and the house and location was truly, absurdly perfect. Redefined gorgeous. The sea breeze coming through the windows at night as you sleep, along with the sound of the ocean.... The glass front of the house, the privacy. Incredible. Photos don't do it justice. I'll be back.
Alexander
January 2016
Secluded paradise in the old Caribbean style. Rustic and charming. Ocean front of house rough but other side is pure heaven and only 5 mins walk. The wind st the house keeps the mozzies away. Viviette the house keeper is a joy. Much recommended.
Scott
January 2017
Palm Island
Would you like to know how does it feel to live on a boat?Experience a different, calm and rejuvenating lifestyle surrounded by 360°of Stunning Views.Pristine Beaches&Crystal Clear Waters. My place is close to the airport, the city center, parks, great views, and art and culture. You'll love my place because of the light, the comfy bed, the kitchen, and the coziness. My place is good for couples, solo adventurers, and families (with kids).
S'il vous plaît noter que la douche son placé à l'extérieur à l'arrière du bateau en plein air
We had the most amazing time with Diego and Moni on their boat! They were just the nicest, coolest, laid back couple who made our stay on their boat really special. We loved the sailing to Carriacou and Sandy island, the swimming off the boat, the exploring the deserted beaches, BBQ on board, and the experience of life (their life) on board. I want to spread the word on how good it was but also want to keep it a closely guarded secret so I can return with my children too! It is not luxury living by any means but it is quality living that is very simple and beautiful. Sea, stars, sunrise, sunsets and splendid hosts! Thank you Diego and Moni for a wonderful time.
Susie
July 2016
Grenada