输入日期以查看总价格,包含额外附加费用及适用税费。
This is the central place for the Serengeti National park where all the culture of the Kuria and Masai people exist,most animals are found here.
Seronera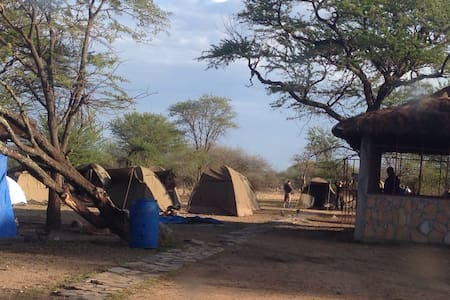 In the middle of the Serengeti, in Africa's finest wilderness, surrounded by its most incredible wildlife, we seek to create a camp that captures the true atmosphere of a Serengeti safari. Expect comfort, delicious cuisine, and above all, a warm, warm welcome.
Set in the heart of nature, our camp is designed to look after you while you tune into the very heartbeat of Africa: the sounds, the scents, the sights of Serengeti's 'endless plains' could not be closer. Dine, sleep, relax and know that the best of Africa's natural wonders is knocking gently on your door.
The price do include transport from Kilimanjaro Airport or Arusha as well as one day game drive in Serengeti.
Mara Region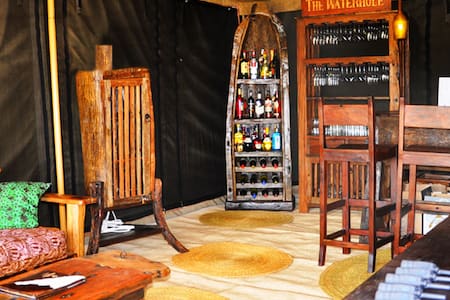 A wonderful and amazing Tent Camp to experience the Africa nature in its most intimate heart, the Serengeti park. This camp is really attractive, well done and operates off-the-grid and relies on a custom built solar system for its power...
This camp is really attractive, well done and operates off-the-grid and relies on a custom built solar system for its power. Room fabrics are handwoven African designs, and the camp's furniture and decor were designed and built by artisans in Arusha. This Camp, designed to be lightweight enough to move seasonally, is located in the Ndutu area from December through March. The camp relocates to Central Serengeti from May through November. From December through March, the wildebeest migration moves in and out of the Ndutu area. Ndutu is located in Ngorongoro Conservation Area, just south of Serengeti National Park. The Camp location provides easy access to prime game viewing areas around Lakes Ndutu and Masek. In addition to the almost two million wildebeest and zebra that move through the area each year, Ndutu is home to cheetah, lion, giraffe and hundreds of bird species. During February's calving season, the wildebeest give birth to 8,000 babies a day. From May through November, the Camp relocates to Seronera in the Central Serengeti. Seronera, located in the heart of Serengeti National Park, offers year-round game viewing and is thought to be one of the best places in Africa to spot large cats. From Seronera it is easy to access others areas of the Serengeti such as the Grumeti River ecosystem, Retina Hippo Pool, Moru Kopjes and Lobo. ACCOMMODATION: - ensuite tent accommodating up to 2 adults (8 meters x 4 meters) - Private, shaded verandah overlooking the Serengeti ecosystem (2 meters x 4 meters) - Ensuite bathroom with wardrobe, flush toilets - Writing desk - Electric lighting DINING AND LIVING TENT: - One large tent with living and dining areas (8 meters x 8 meters) - Bar and small library - Front verandah - Separate restroom tent for the dining area - Nearby fire pit for evening campfires AMENITIES: - Electricity: Solar-powered, with UK plug points in the dining tent and bedrooms - Morning coffee and tea at your tent's verandah overlooking the Serengeti ecosystem - Complimentary drinking water - Welcome drink - Chef with six years of experience as head chef at a high-end tented camp - Most dietary requests can be accommodated - Ensuite bedroom tents - Cell phone network available in certain areas of the camp INCLUDED: - Ensuite accommodation - Breakfast, lunch, dinner and afternoon tea - Drinking water - National Park or Conservation Area camping fees (USD 50 per adult per night) EXCLUDED: - Laundry services (available for an additional fee) - Sodas, wine, champagne, spirits - Ngorongoro and Serengeti Park entry fees - Game drives - Airstrip transfers - Flying doctors/medical evacuation insurance, CAMP CLOSURE - The camp is closed from April 1 through May 20 each year. The following ACTIVITIES are available from the camp: - Evening campfires (subject to weather conditions) - Private dining under the stars (subject to availability and weather conditions) - Private sundowners in the bush (subject to availability and weather conditions) - Bush kitchen and solar system tour The following ACTIVITIES are available in Serengeti National Park and Ngorongoro Conservation Area (ask for further information: -Balloon safaris (available in Serengeti National Park and accessible from both Central Serengeti and Ndutu) - Walking safaris (available in Ndutu only) - Early morning, afternoon and full day game drives CAMP LOCATION: depending on the season the camp moves in different areas of the Serengeti National Park Full Board service
Weitere Orte in Tansania zu gehen Ngorongorokrater Sobald ein gigantischer Vulkan, ist die größte intakte Caldera der Welt. Einige sagen, dass, bevor sie ausgebrochen, wäre es höher gewesen als der Mount Kilimanjaro, dem höchsten Pick in Afrika Lake Manyara Nationalpark Es bietet ein Erlebnis Wildnis in vielfältigen Lebensräume, von seinem Rift Valley Sodasee zu Wäldern und steilen Berg You must consider to add Serengeti parking fees, Government taxes, insurances, transfers We can provide bookings flights from Arusha to Serengeti and transfer from here to the Camp Usually a Safari starting cost is 450 usd per person per day that includes Price can change depending on the season It includes Full board accommodation Tea, coffee & drinking water during meals 24 hrs special camping fees Serengeti park fees Shared game drives maximum 6 pax in 4x4 land cruiser Drinking water during game drives Airstrip transfers Government taxes Domestic flights with Regional Air as listed above
SERENGETI