输入日期以查看总价格,包含额外附加费用及适用税费。
Welcome to Sailing Life Experience! Staying with us is full of advantages: While enjoying an ALL INCLUDED ON BOARD we will show you the secret corners of the paradise of San Blas anchoring every day on a different island, sailing, fishing and cooking the delights of the sea offered by the region of Kuna Yala . Different boats (monohulls and catamarans) in perfect state of maintenance to enjoy the adventure of the life in the sea of ​​hand of its hosts. We will wait for you!
Sailboats and catamarans private for couples, large groups or single travelers looking to share experience with more passengers. All Sailing Life Experience boats belong to couples, families and solo sailors looking forward to sharing your way of life with you. Tell us how your group is and we will help you choose the boat that best suits your needs! During your stay with us we want you to feel at home, welcome! The crew is at your disposal to facilitate your adaptation to life at sea. Ask what you need, we're here to help!
San Blas its a real paradise: 365 amacing islands to discover by sailing, clear turquoise water, white sandy beaches, coconut trees and fantastic underwater live to enjoy snorkel and paddle surf trips. We will help you with the transport from/to Panamá city with no extra charge for organization, you pay straight to the drivers. Normally it takes 2.5h jeep from Panama to Cartí Port and then 45min-1h fast boat from Carti to the sailboat moorning spots. 💸Prices are ALL INCLUSIVE on board: - Menu with lobster and / or seafood, assorted snacks and tropical fruits - Juices, mineral water, and alcohol in moderate use. - Fuel and fresh water tanks - Bed linen and towels - Dinghy with outboard - Fishing equipment and snorkel equipment - Organization for transport from Panamá City to the Sailing Vessel. Prices do not include: - Transfers from / to Panama City (Jeep 50$/person roundtrip +Shuttle boat 30$/person round trip) - Entrance Fee to Guna Yala (20$/person) - Fees for use of boat dock in San Blas (2$/person)
OMG the captain is a master chef! i stayed for two nights on a beautiful boat called micamale. captain andrea is a great chef, so the culinary experience alone was worth the trip! he and his co host flavio are great company and showed me around to breathtaking snorkeling spots and colorful sunsets. wish i could have stayed longer! marina of Sailing life experience did a great job organizing a smooth transport and answering all questions in advance very fast
Mari
February 2017
Was an amazing experience ! Worth every penny, and would do it again :)
Alex
February 2017
The host is kind and efficient, she always be there to help us, she found a boat for us even several hours before our departure. We have a very nice day in San Blas, the amazing Yacht, the beautiful view, the delicious food, etc. Next time if we have chance to go to San Blas, I will choose her again.
wei
March 2017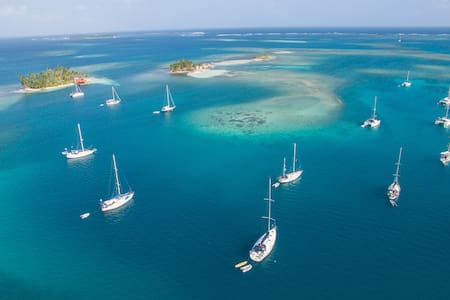 Ananda is a beautiful classic 37 feets sailboat with one private double cabin. Aboard we have snorkelling, fishing and beach games equipaments. The best way to be in San Blas is aboard of a sailboat and we are waiting for you. All inclusive service!
Our sailboat have a unique classy style with a offshore experienced crew. Our service is one of the best around with high quality food and drinks. We made from fresh sourdoght bread to just catched seafood. The guests will have beers, red and white wine, softdrinks, water, breakfast, lunch and dinner with plenty of seafood and fresh vegetables included. Daniel are a skilled brazilian skipper with lots of miles and ocean crossings around the globe. He knows the best spots in San Blas and will share with the guests all ours knowledge about the area and the Kuna culture. And also Kiko, your sailor friend specialized in brazilian acoustic music.
San Blas islands are the most beautiful and untouched pearl of the caribbean sea. The land of the Kuna indians have more than 340 white sand and crystal clean water islands and can be describe like the paradise on earth. We arrange the transport from Panama city to San Blas. Departing every day at 06:00 AM and arriving on the boat at 10:30. In the way back, leave San Blas at 08:00 and arriving 12:00 at Panama City.
We had a great time on the sailboat with Daniel. He is an excellent host, passionate about sailing, cooking and really welcoming. He knows the san blas islands' secluded spots (even one where we stood alone on a tiny island in the middle of the sea) and we got to snorkel around beautiful coral reef with lots of tropical fish. There are some snorkel sets on board but maybe bring your own if you have really small or large sized feet- we did;) The boat was really comfortable, the food was delicious (best bread of our time in Central Ameroica!), and the islands truly are paradise on earth. This was without a doubt a better option than staying on a island. Our only regret is not going for longer! Hopefully we can come back some day. Thanks Daniel! P.S. One little word of warning- the last hour of the Jeep taxi drive out to the dock was paved but had lots of curves. We were fine but if you tend to get carsick maybe bring some ginger/meds to calm your stomach.
Joanna
March 2016
We spent 4 amazing days with Daniel on his boat, sailing the San Blas islands. Daniel kindly arranged transport from the hotel in Panama City all the way to his boat (2 hrs in the car and 40 mins via boat), which made getting there nice and easy. Once on board, Daniel was the perfect host. Every day he prepared 3 main meals, with lunch and dinner often having 2 or 3 courses (+ drinks!). His skills in the kitchen were genuinely amazing - the food we had was restaurant-level and he was completely flexible to our tastes each day. For example, Lobster and Quinoa, fresh Red Snapper caught by Daniel in a coconut curry, homemade bread every morning, fresh Conch caught by Daniel, homemade passion fruit juices, etc. I could go on! As well as the amazing food, Daniel also has an extensive knowledge of the islands and the Kuna people (they all seem to be his friend and know him!), so you travel around in confidence, meeting lots of friendly locals each day and learning more about their stunning islands. Daniel let us dictate how we spent our time but was always happy to make great suggestions for us (fishing, snorkelling, visiting different islands, etc.) - life on the boat is very easy and you definitely can get spoilt! We would, without a doubt, recommend Daniel and his boat for anyone looking to get a real 'life on a boat' experience with a super friendly captain/chef/overall extraordinaire!
Natalia
August 2016
Hi Daniel, thank you for a wonderful experience on your boat. You made us feel very special also your mate Kiko entertaining us in the evening with his lovely songs and guitar. Sally will always remember this birthday and the lovely chocolate cake you made.Will of course tell friends of the wonderful time spent your boat.
Sally
June 2016
Our three day tour of the San Blas islands, with Daniel and his friend Kiko, was amazing!!! If you book a trip with Daniel, be prepared to eat well..fresh seafood everyday. Daniel is also a great chef, he even got one of us to try lobster for the first time, which was caught by the locals and sold to us for only 10$ a piece. Touring the islands and snorkeling was incredible. In short, this was the ideal way to experience the San Blas islands! My partner and I highly recommend booking a trip with Daniel!!
Don
June 2016
What an amazing experience! I booked for two nights but wish I had stayed for much longer. Daniel made everything so easy - from booking to transportation to all the other details of my visit. He and Gabriel are incredible hosts, and so much fun to be around. I booked my trip solo and ended up sharing the boat with some ladies who I now consider friends, so don't be afraid to go alone. The islands were paradise and my only regret is that I didn't stay longer. I recommend at least 3-4 days if not more. I will definitely be back soon!
Beth
November 2016
This was an extraordinary experience! They organized everything for us, starting with the transportation from our hostel in Panama City. This was our first time on a sailboat, and we could not have had a better experience. Our captain Kiko gave us a lot of different choices, and organized our days perfectly after our wishes! Ceci cooked delicious food and always made sure we had what we needed. We travel as a couple and felt that they gave us the perfect amount of both privacy and company. We would definitely recommend everyone to book this right away. We can't think of any better way exploring the beautiful landscape of San Blas!
Moa
March 2017
Wonderful weekend stay on the boat. The hosts were just the nicest! It was a great way to explore the islands. We went snorkeling, relaxed on the beach, met some locals and ate lots of yummy food. Couldn't recommend more, we will definitely be back!
Bailey
December 2016
This Trip was absolutely amazing. We loved every minute. Except from the beautiful landscape of the San Blas islands, Daniel did everything to make us feel welcomed. He's an amazing cook and it's easy to have good conversations with him and he also gives you some free space for yourself. This stay couldn't have been better. We totally recommended having this awesome experience.
Julia
September 2016
San Blas Islands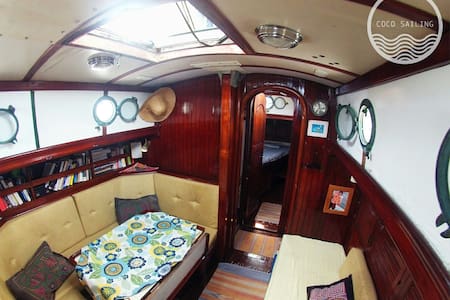 Discover our Ogob Nega (Coconut House) all-inclusive Cabañas on Chichime Island where paradise and premium "rustic" come together as one. Chichime Islands is located at 45 minutes boat trip from the mainland at the end of the Limones Cayes and is well known for its calm water and beautiful scenery as anchorage point for sailing boat. It is a middle size islands and will take you 20 minutes to walk around.
Chichime is a medium-sized island and enjoys magnificent deserted beaches all around the island that will take you 20 minutes to walk around. The snorkeling is fantastic with a beautiful lagoon, our hospitality, service and food are considered as excellent by many travelers. The proposed tour is also different than those offered by most of the other islands, and more focused on snorkeling. The cabins are more comfortable than on the other islands with a wooden floor and a hard tin roof with shared bathrooms. We have electricity! Spoken English on the island is not always available, so please make sure to ask all your questions and doubts (if there is a language barrier) before your arrival. We have a volunteer team helping us with the written communication. There is no WiFi availability. We always recommend to bring snacks, water and beverages from the City our 4x4 driver will make a stop on the supermarket for you to purchase your own it is more cheaper than on the island as well and sometimes we may run out of some of these items in the island. All the island is for you There will be always someone from our Family to help you.
Basics and shared bathrooms. San Blas is "rustic" We strongly recommend you to make all transport arrangement with us in order to guarantee your pick-up at the port. Mandatory items you must take with: •Always have your Passport with you and not in your bag as there are some check-point on the way. •The 4×4 transportation will stop on the supermarket but at in case it does not, make sure to have at least a gallon of water with you and others small snacks. •Towel, swimming and snorkeling equipment •Rain coat for the boat ride •Ziploc or any hermetic bags to put your valuable items in a safe place during the boat ride as everything can get wet •Toilet paper •Sun block •Mosquito repellent (mosquitoes are not much present on the island but at the port)
San Blas has been a terrific experience. If you are an adventurer you will love this place. It is beautiful and everyone is very kind and helpful!
Frauke
January 2017
Het eiland is een paradijs op aarde. Ongerept, rustig en beeldschoon. Witte stranden, palmbomen, helderblauw water en de mensen die er werken zijn super vriendelijk. De cabinas zijn heel primitief, waardoor je echt het Robinson Crusoë gevoel krijgt. Je hebt een bed en een tafel voor je spullen. Verder staan er tuinstoelen of kun je kiezen uit diverse hangmatten aan beide zijden van het eiland. Het eten is super vers en goed bereid. De kreeften werden 's middags gevangen en lagen 's avonds op je bord. Helaas lag er tijdens onze eerste nacht een partyboot voor anker. Tot zeker 2 uur 's nachts was er luide muziek en gezang te horen, wij vonden dat wel jammer.
Carla
August 2016
I found out about Isla Chichime in a travel forum of Lonely Planet's where a user, who is a Panamanian resident, said Isla Chichime with a family-run business is where he likes to stay. I believe the name of the business is Ogob Nega. I booked a stay for four nights which seemed to be a longer stay than all the other vacationers who came and went during those four days. First came the very timely and comfortable ride from Casco Viejo to the port and then the 45 minute boat ride, until at least we arrived. They were exactly as I pictured including a stop at a large supermarket. I was thrilled at first sight to see my little cabana where I would be for this easy island stay. My Spanish is not very good so perhaps I had unanswered questions, but still, I do not need much help in being told how to relax and figuring things out. The sound of a conch shell being blown signaled mealtimes, which were about 7, 12:30, and 6:30. I ate multiple servings of lobster, fish, octopus, and one time chicken over the long weekend. Everything was very delicious and filling. Breakfast was eggs with pancakes or a type of homemade bread alongside fruit, jams, chocolate spread and the like. I don't know what else to say except that it was perfect. There were at least 20 different sailboats anchored offshore, between our island and another. That added to a friendly, social feel with boaters coming ashore, and perhaps a nice break in a horizon made up solely of sky and sea. I snorkeled around the island as well as another. Included was a trip to a coral reef for some snorkeling. What else? Most everyone brought their own water to drink, but I used a steripen purifier on the water that came out of a spigot. I bought many beers for $2 a can. Some people had their own coolers along but all ice melts and there's none for sale. A couple next to me put their beer in the hosts' refrigerator which is under the pavilion where all guests ate dinner. There are many hammocks to use, a volleyball court which was fun...go! Enjoy! Owners Dixie and Aron are happy to have you
Lani
October 2016
I cant say enough good things about this experience. Exactly as advertised, the place is amazing (Even though there is some trash around the island, mostly from sailboats that drop anchor there). The Kunas are really great and funny. They are extremely friendly and will go the extra mile for service. Make sure to bring some extra water, beers and snacks. Don't forget bug repellent, specially for nights where there is no wind. If you can, bring your own snorkeling equipment, the island is surrounded by coral reef, starfish, colorful fish, etc. The food is delicious: giant lobsters, fresh fish and octopus. Doesn't get any better than that. My only complaint is the return trip, the guy was constantly on the phone while driving, with terrible music, and eating a fruit that smelled like feet and almost made me sick. This is not part of the Kunas, but I suppose they can implement better practices. This would not prevent me from staying there again.
Christian
November 2016
the communication was great - every question got answered within minutes. the pick-up and boat trip was easy (but you'll get wet). the island is beautiful, rusty but you find everything you need. the stuff doesnt seem to be really keen to have you there - smiles or a chat are rare. food is tasty (make sure you love seafood!) take enough water with you, as its an island price for water super high.
Lisa
December 2016
Very hospitable hosts. There was a miscommunication regarding our plans, and when it was discovered, they bent over backward to make our stay enjoyable. Cabins are clean, basic, and charming. We visited in January and it was breezy, cool in the evenings, and mosquito free. Nothing for sale on the islands, so bring what you need.
Jhan
January 2017
Everything was wonderful and the hosts were very welcoming. Only issue I had was that I didn't know the snorkeling excursions were $30/p.p. but that's my fault for not practicing enough Spanish ahead of time. Regardless of the cost the trips were totally worth the price. The snorkeling on the coral reef / mangrove trip was incredible.
Jacob
January 2017
Endroit paradisiaque et assez sauvage : petites cahutes sur la plage, snorkeling avec requin et très beau coraux, sable blanc... Le confort est assez primaire mais l'avantage c'est que c'est propre. Pêche du jour avec langoustes et poissons frais. Il faut juste rester cool, car il n'y a pas vraiment d'horaires... Juste une remarque sur l'accueil des Panaméens qui reste souvent, assez froid, ils n'ont pas encore le sens du tourisme partout.
Axel
September 2016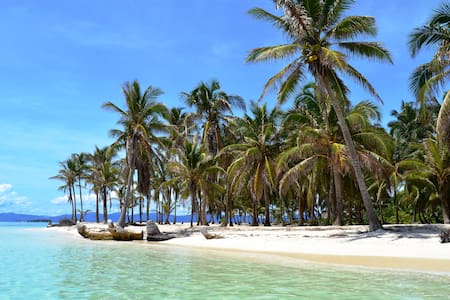 Seaquill, was built in Catskill N.Y in 1976. It is a beautiful 32-foot sailboat located in the Guna Yala archipelago (Panama). A virgin and wild paradise with crystalline waters that surround reefs full of life, sunrises and sunsets reflected on palm trees and islands illuminated by a magical starry sky. If you want to live the experience of living in the sea, feel the freedom to sail and discover incredible places to practice snorkeling, fishing, surfing or kitesurfing. Book now!!
Seaquill has a large double cabin with private toilet, and a spacious living room with two single beds. Ideal for family, couples or group of friends who want to share this beautiful experience at sea. The price per night / person includes accommodation (double stateroom with private toilet), breakfast and the possibility of cooking on board if you wish! Sea Quill also has a nice lounge with 2 single beds. (Check out the price) En Sea Quill es posible navegar entre las diferentes islas con servicio de comida a bordo o sólo alojamiento sin navegación. Pero compartir el espacio, comida y cocinar juntos o disfrutar de los diferentes restaurantes Gunas también es posible! OPCION 1: Navegar entre islas y tres comidas al dia o sólo desayuno. OPCION 2: Alojamiento y desayuno o alojamiento y 3 comidas al dia sin navegar. OPCION 3: Sólo alquiler del barco navegando o sin navegar sin servicio de comida. 25% de descuento a partir de 4 personas! (consultar precio según opciones)
The land of Guna Yala, an indigenous region, unfolds in the Panamanian Caribbean on long miles of coastline and an endless number of islands with a natural beauty as incredible as its original culture. Its inhabitants "Dules" coexist in a particular autonomous territory of the Country, have their laws and their own regulations for the development of a tourism model that benefits the community and protects its identity. As a tourist destination can be considered a unique corner where crafts are promoted and live in harmony with nature. Para llegar desde la capital se necesita un transporte privado de 4x4 (táxi) o alquilar un coche y pagar luego el estacionamiento una vez que llegas al Puerto de Carti o Barsukum ( comarca Guna Yala). Para llegar a Seaquill se toma una lancha desde el puerto hasta Isla de Chichime. Nosotros gestionamos todo el translado pero los gastos no están incluídos. Seaquill offers on-board kite rental service (consult price). You can also use our snorkeling equipment and fishing according to your preferences.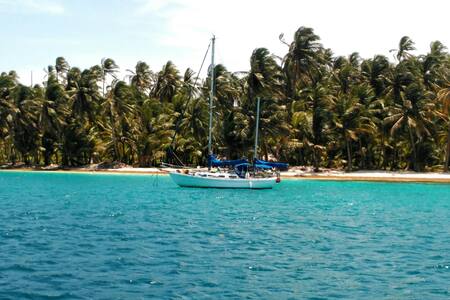 A complete living aboard catamaran with all the comfort you are expecting, in one of the most beautiful places on the earth. Your best experience ever.
We have everything on board. You will feel like you are at home. Big bridge and freezer, fans in the cabins, big table inside and outside, drinking water, fresh water shower. Cool, beautiful and clean catamaran. We always prepare fresh, healthy and home made food. You will have access to the whole catamaran Interaction with guests: We will be onboard all the time. Guest can interact with us as much as they want or need. They will also have privacy.. The catamaran is big enough.
About the Neighborhood?? It is just the paradise... We could arrange transportation to and from the boat. It is not included in our price. Taxi from Panama City to Carti Port is 25 US$ per person - one way. Speed boat from Carti Port to our catamaran is 15 US$ per person - one way. El barrio?? Es el paraiso mismo !
Excelentes anfitriones! El barco en perfectas condiciones, limpio y amplio. La comida deliciosa y Cristian y Azucena nos hicieron sentir como en familia. Vale muchísimo la pena. Lo repetiría sin dudarlo!
Amelia
February 2017
San Blas
Zahir is a 53 feet sailboat designed by the naval architect Jean Marie Finot, built in Italy in 2003. it has a very fast and powerful hull, but at the same time it has so much space to take advantage of the maximum relaxation and maximum comfort on board.
Zahir is a 53 feet sailboat designed by the naval architect Jean Marie Finot, built in Italy in 2003. it has a very fast and powerful hull, but at the same time it has so much space to take advantage of the maximum relaxation and maximum comfort on board.
Banedup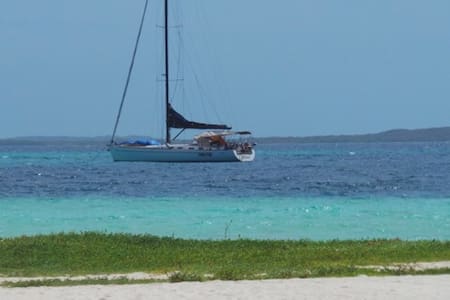 Odara is a 45ft from the world famous shipyard X Yacht. This Norwegian X 452 model is a luxury fast cruise yacht and made to sail like a champ even in the harshest of conditions. This sailboat has 4 cabins (3 with double beds and one with 2 twin beds), two bathroons for up to 8 guests. The comfortable salon and cockpit make of this boat a top choice for a sailing trip.
Odara is a 45ft from the world famous shipyard X Yacht. This Norwegian X 452 model is a luxury fast cruise yacht and made to sail like a champ even in the harshest of conditions. This sailboat has 4 cabins (3 with double beds and one with 2 twin beds), two bathroons for up to 8 guests. The comfortable salon and cockpit make of this boat a top choice for a sailing trip. Snorkeling equipment; Fishing equipament; Hammocks; Fresh water shower (with warm water); Dinghy with 4 hp outboard engine; Stereo system; Table and beach games; The crew will be 24 hour avaliable for the guests. We can do lots of activities together including: -Snorkelling -Fishing -Play Music -Play Games -Interact with the locals -Cooking -And much more
San Blas islands are the most beautiful and untouched pearl of the caribbean sea. The land of the Kuna indians have more than 340 white sand and crystal clean water islands and can be describe like the paradise on earth. The Kuna yala territory (as the Kunas indians call San Blas) are totally autonomous area, controlled by the indians. This islands are not yet discovered by the massive tourism industry and fully in control of the native Kuna's. The Kuna's protect their lands against massive tourism and keep them healthy and beautiful. This makes the San Blas islands of Panama unique if you are searching for untouched nature and culture. From Panama to the boat is a 4 hour trip (3 hour in a car and more 1 hour in a power boat). This trip cost more U$80 round trip and more U$22,00 of Kuna indians taxes. Total of U$102 per person. Included Breakfast (fresh baked sourdought bread, nutella, peanut butter, jams, fresh fruits, juice, coffee, milk, eggs); Lunch and dinner (plenty of seafood included); Natural juices made from the fresh fruit, beer, wine (red and white) , cocktails, soft drinks; Linen and towel; Daily - cleaning; Fuel; Fresh fruits and snacks; Skipper and cook.
Nobody knows what really mean "buena onda" Before you spend a few days on berimbau with Daniel and kiko. Wonderful experience
Vali
August 2016
Sailing with Daniel and Paula in San Blas is absolutely amazing. They are fabulous sailors and hosts and are very respected by the locals. The food and drink aboard is fresh, really tasty, and plentiful. Daniel and Paula went above and beyond to make our stay great and took us snorkeling and swimming in some amazing places. Hope to get to stay with them again in somewhere along their journey around the world!
Claire
February 2017
We had an amazing, totally relaxing time with Daniel. We stayed for 4 nights (3 full days) which I think was perfect. The surroundings are beautiful and my boyfriend and I loved spending time on the boat. The food, which Daniel cooked for each meal, was fantastic and healthy. Lots of super fresh seafood! The accommodations were nice but definitely a small space (pack light), we were fortunate and had the cabin at the front where there was good wind flow. The other rooms I'm told were warmer. I would absolutely do this again. On a side note: Getting to the boat from Panama City is a half day trip with significant wait times (you are transferred at least once, we had 2 transfers each way). There are lots of cab companies making trips btw the San Blas boat pickup site and Panama city. Daniel will arrange one for you but you might want to organize your own land travel if you are very particular - we were crammed into a dirty minivan w/11 ppl without adequate seatbelts for the first 2 hours.
Sisca
January 2017
My experience in San Blas couldn't be better! Daniel and Gabriel are very good hosts. Berimbau is a nice sail boat and we had a great time. I highly recommend! And we'll certainly come back.
Camila
August 2016
We had a great time on Daniels boat. He did everything that we felt very comfortable (including a private concert :)). We forgot something on the boat and he helped us a lot to get it back. Thank you
Jochen
May 2016
I was only able to meet Daniel briefly, since Gabriel, known locally as "Gabby", was the captain for my trip, but both of these guys are like traveling with local rock stars. Everyone knows them, and it is very clear that they are respected members of their community. I had a great time during my two day stay, both on the boat and off. As many others have said, the food was delicious. I have a high metabolism and need to eat regularly to stay fueled, especially when swimming. Before the trip, I was concerned that I'd get hungry between meals, or that the meals would not fill me up. WRONG. Every time I even started to feel hungry, there would already be a snack prepared and waiting, followed shortly by a meal. I learned very quickly that food was not going to be a concern throughout the trip. The snorkeling was amazing, and Gabriel took us to all of the best spots. On one of the trips, he even speared a couple of fish and prepared them that night. It doesn't get anymore fresh than that. The last night I was there, I went to one of the Kuna islands with Gabriel and his girlfriend. The Kuna were having a birthday party, and it was great to watch the celebration. I was just there to observe, but it wasn't long before they handed me a plate of food and welcomed me to the party. Prior to that, Gabriel had ordered me another plate of food, which included octopus. Both meals were delicious, and I was so full that I could barely make it back to the boat. My two days flew by, but both days were filled with memories that will last a lifetime. Gabriel and his right-hand man Kiko could not have been more accommodating. My trip simply spectacular! If you're considering a trip to San Blas and browsing through the various boats, stop looking! Book with these guys and get ready to have the trip of a lifetime!
Luke
September 2016
San Blas Islands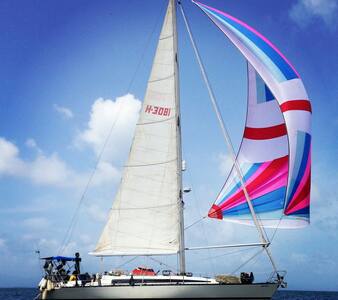 We are sailing around the world with our 45' (14 mts) catamaran. We will stay for a while in San Blas. Come and enjoy the paradise with us. We have 2 bathrooms, 3 double cabins and one single bed for you. We offer 3 meals and beverages (moderated consumption). We have snorkeling gear, fishing gear, fresh water shower, stand up paddle, dinghy with outboard, double kayak.
Sharing the catamaran means you will share the commons spaces but not your cabin. You will have access to your cabin and the common spaces of the catamaran. You will have your privacy but we will be available for your needs.
The nighborhood? It is the paradise ! On arrival you can be picked up from the airport or the hotel. The taxi from Panama City to Carti port (the closest place to the islands you can access by road) cost 25 USD per person - one way . The speed boat from the port to the catamaran cost 15 USD per person one way. On arrival to Guna Yala you will have to pay 22 USD per person if you are foreigner and 5 USD per person if you are Panamanian. Compartir el catamaran significa que compartirá los espacios comunes con otras personas, pero no su camarote.