输入日期以查看总价格,包含额外附加费用及适用税费。
美丽干净的石头小屋位于内华达州中部的旷野。进入卫生间,厨房,洗衣机和烘干机。完美的位置徒步旅行,阅读,游泳,探索。这是一个目标上市,最近的城镇是一个小时的路程。
艾克的峡谷牧场位于内华达州中部的高原沙漠。这个地方是完美的,谁喜欢旷野和户外活动。最近的城镇是一个小时的路程,最近的加油站二,这绝对是为那些谁想要得到从繁忙的世界了。该牧场是在太阳能和水电运行,并且是由柴炉加热。我们对艾克的峡谷牧场三个不同的列表,这样总的牧场可容纳8人,"特别优惠"为那些想利用这一点谁。有牧场的房子很漂亮,干净,舒适,宽敞的空间,找到隐私的区域。如果客人有动物过敏,这可能不是度假的地方,有驴,猫,狗以及其他各种动物从时间显示时间。艾克的峡谷牧场还持有主张一个废弃的矿井,矿井等景点的一日游,如岩画,可为名义的费用或地图对于那些谁宁愿单干。 客人将有机会获得淡水池塘游泳,远足,从易到难的各种小径(有大量的野马,在峡谷看到),斯宾塞温泉是比较接近的牧场,使一个美好的夜晚,带厨具和餐具,洗衣机和烘干机,清洁用品的浴室,冰箱和冰柜的空间摆放的厨房(有必要囤积所有的食物,你将需要为您的逗留期限),无线上网,观看DVD的电视只是,和最后但并非最不重要有对物业供客人使用的轿车,带上饮料,我们可以提供的一副牌。机舱位于旁边的房子,所以客人将有进家门访问厨房,浴室和洗衣房。 Meredith和杰里将在这里为客人提供任何可能需要,问题,旅游服务,一手牌。话虽这么说,是必须在农场,所以我们可以与从事做,但有人会很容易找到因任何帮助的工作。如果客人是到消失的孤独,对我们来说太的作品。我们非常友好,我们喜欢各种不同类型的情况下满足人民。我们通常总是下来的牌手。
在内华达州百强之首里程数不计。虽然有邻居,最接近的是大约二十分钟的车程。显示器谷没有多少乘客,但他们每个人都是高品质的人。如果在逗留期间发生的烙印它可能会为宾客参加,并有经验。 肯定是有没有公共交通在这里。有必要有车这个列表。最近的城镇是贝尔蒙特大约是一个小时的路程,贝尔蒙特拥有轿车和一些专卖店,但仅此而已。有必要在牧场到达之前停止托诺帕到来之前囤积的所有用品和顶过煤气罐。而在托诺帕的客人将调用牧场和由这两个杰里或梅雷迪思在贝尔蒙镇见面,然后护送到牧场。大部分道路在这里是泥土和岩石所以要注意对轮胎漏气的潜力。 "在尘埃我们信任"是另一个内华达警句。牧场保持很干净,但灰尘是一场持久战,对于一个尘土飞扬的车,尘土飞扬的鞋,尘土飞扬的脸,等做好准备,是全部拆开的经验。无线互联网可让电子邮件和imessaging在iPhone奇妙的作品,但手机服务不可用。还有在农场紧急情况的电话,但要记住的手机不会有服务。
Jerry's Ranch is a truly hidden gem. My fiance and I had such an incredible two night stay. Jerry was a wonderful host, we enjoyed getting to know him and were very appreciative of his genuine hospitality! Ike's Canyon and the Humboldt-Toiyabe National forest are bursting with gorgeous scenery, majestic wildlife, and adventure! We definitely recommend taking Jerry up on his offer for a tour and a game of Twenty Two!
Lisa
September 2015
Words are not sufficient to describe the time that we spent at Ike's Canyon. Iur host Jerry made us feel immediately at home. The cabin, the canyons, the ranch, the sound of the coyotes, the wild horses were a unique experience. It is not like your average BNB, it is not a one night stopover, it is an experience to be savoured and never forgotten. Jerry loves to share the beauty and majesty of this place. Generosity is his middle name.
Viktoria
September 2016
Jerry is a great guy who makes you feel right at home on his ranch. The remote location is exactly what I was looking for. Jerry met me at a rest area 30 miles away and was kind enough to escort me to his place (which was admittedly also necessary, since I would have never found it otherwise). He also took me out to the nearby hot springs where we drank beer and told stories. It felt like visiting an old friend. The ranch has some very friendly animals too, including two donkeys that are as sweet as can be. If you feel like getting off the grid and find yourself in Nevada, go spend time with Jerry. He's the friend you never knew you had.
Kevin
May 2015
Round Mountain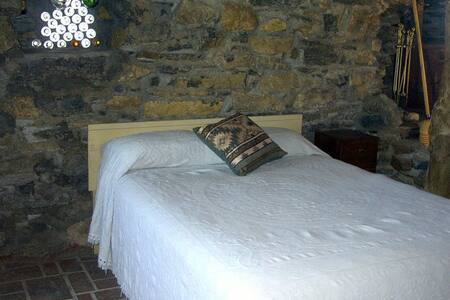 habitación limpia con las comodidades situado en el desierto de Nevada bella central. El baño estaba limpio, el acceso a la lavadora, secadora y cocina completa. Esta es una ubicación de destino perfecto para practicar senderismo, lectura, y la natación. La población más cercana está a una hora!
Canyon Ranch de Ike se encuentra en el altiplano desértico de Nevada central. Este lugar es perfecto para aquellos que disfrutan de desierto, y actividades al aire libre. La población más cercana está a una hora de distancia y la estación de servicio más cercana dos, esto es, sin duda para aquellos que desean alejarse del ajetreo del mundo. El rancho se ejecuta en la energía solar y la energía hidroeléctrica, y es calentada por una estufa de leña. Tenemos tres anuncios diferentes para Canyon Ranch de Ike lo que en total el rancho tiene capacidad para ocho personas, "ofertas especiales" disponibles para aquellos que deseen tomar ventaja de esto. Hay casco de la estancia es hermoso, limpio, y confortable, con un montón de espacio para encontrar un espacio de privacidad. Si los clientes tienen alergia a los animales esto puede no ser el lugar para vacaciones, hay burros, gatos, perros y otros varios animales que muestran de vez en cuando. Canyon Ranch de Ike también tiene pretensión de una mina abandonada, tours de un día de la mina y otros lugares tales como los petroglifos están disponibles por una tarifa nominal o mapas para aquellos que prefieren ir por libre. Los huéspedes tendrán acceso a un estanque de agua dulce para la natación, varios senderos para caminatas que van desde fácil a difícil (hay un montón de caballos salvajes para ver en los cañones), Spencer Hot Spring está relativamente cerca de la hacienda y lo convierte en una hermosa noche, una cocina equipada con utensilios y platos, lavadora y secadora, limpio y baños abastecidos, nevera y congelador espacio (es necesario abastecerse de toda la comida que se necesita para la duración de su estancia), internet inalámbrico, TV de DVDs de visión solamente, y por último pero no menos importante, es una berlina en la propiedad para uso de los huéspedes, llevar bebidas y podemos proporcionar una baraja de cartas. Meredith y Jerry estarán aquí para que los huéspedes puedan necesitar cualquier cosa, preguntas, excursiones, una mano de cartas. Una vez dicho esto hay un trabajo que debe ser realizado en el rancho, así que se puede acoplar con eso, pero alguien va a ser fácil de encontrar para cualquier ayuda en absoluto. Si los clientes están en desaparecer en la soledad que funciona para nosotros también. Estamos extremadamente amable y nos encanta conocer a gente de todos los diferentes tipos de circunstancias. Por lo general somos siempre hacia abajo por una mano de cartas.
En Nevada los primeros cien millas no cuentan. Aunque hay vecinos, el más cercano está a unos veinte minutos en coche. Monitor de Valle no tiene muchos ocupantes, pero cada uno de ellos son personas de alta calidad. Si brandings se producen durante una estancia puede ser posible para los clientes a asistir y tener una experiencia. Definitivamente no hay transporte público aquí. Es necesario tener un coche para este listado. La población más cercana es Belmont, que está a una hora de distancia, Belmont tiene una berlina y un par de tiendas especializadas, pero eso es todo. Es necesario detener en Tonopah antes de la llegada para abastecerse de todos los suministros y la parte superior del tanque de gas antes de llegar al rancho. Mientras que en Tonopah los huéspedes podrán llamar al rancho y ser conocido por cualquiera o Jerry Meredith en la localidad de Belmont, a continuación, escoltado al rancho. La mayoría de las carreteras en estas líneas son tierra y rocas así que sea consciente de la posibilidad de un pinchazo. "En el polvo que confiamos" es otro aforismo Nevada. El rancho está muy limpio pero el polvo es una batalla constante, estar preparado para un coche de polvo, zapatos polvorientos, una cara de polvo, etc. Es todo aparte de la experiencia. Internet inalámbrico está disponible por lo envío por correo electrónico y imessaging en iPhones funciona de maravilla, pero el servicio de teléfono no está disponible. Hay un teléfono en el rancho para las emergencias, pero tenga en cuenta los teléfonos celulares no tendrán servicio.
Round Mountain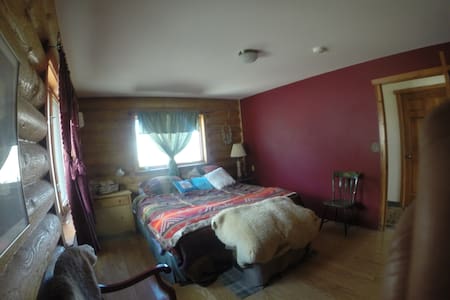 Clean room with amenities located in the wilderness of beautiful Central Nevada. Clean bathroom, access to washer, dryer, and full kitchen. This is a destination location perfect for hiking, reading, and swimming. The closest town is an hour away!
Ike's Canyon Ranch is located in the high plains desert of Central Nevada. This spot is perfect for those who enjoy wilderness and outdoor activities. The closest town is an hour away and the closest gas station two, this is definitely for those who want to get away from the busy world. The ranch is run on solar and hydro-power, and is heated by a wood stove. We have three different listings for Ike's Canyon Ranch so in total the ranch can accommodate eight people, "special offers" available for those who would like to take advantage of this. There ranch house is beautiful, clean, and comfortable with lots of space to find an area of privacy. If guests have animal allergies this may not be the place for vacation, there are donkeys, cats, dogs, and other various animal which show up from time to time. Ike's Canyon Ranch also holds claim to an abandoned mine, day tours of the mine and other spots such as the Petroglyphs are available for a nominal fee or maps for those who would prefer to go it alone. Guests will have access to a freshwater pond for swimming, various trails for hiking ranging from easy to difficult (there are plenty of wild horses to see in the canyons), Spencer Hot Spring is relatively close to the ranch and makes for a beautiful evening, a kitchen stocked with utensils and dishes, washer and dryer, clean and stocked bathrooms, fridge and freezer space (it is necessary to stock up on ALL food you will need for the duration of your stay), wireless internet, a T.V. for viewing DVDs only, and last but not least there is a saloon on the property for guest use, bring beverages and we can provide a deck of cards. Jerry, Meredith or Anton will be here for anything guests may need, questions, tours, a hand of cards. That being said there is work which must be done on the ranch so we may be engaged with that but someone will be easy to find for any help whatsoever. If guests are into disappearing into solitude that works for us too. We are extremely friendly and we love meeting people from all different types of circumstances. We are usually always down for a hand of cards.
In Nevada the first hundred miles don't count. Though there are neighbors, the closest is about a twenty minute drive. Monitor Valley does not have many occupants, but each of them are high quality people. If brandings occur during a stay it may be possible for guests to attend and have an experience. There is definitely no public transit out here. It is necessary to have a car for this listing. The closest town is Belmont which is about an hour away, Belmont has a Saloon and a few specialty shops but that is all. It is necessary to stop in Tonopah before arrival to stock up on all supplies and top off the gas tank before arriving at the ranch. While in Tonopah guests will call the ranch and be met by either Jerry or Meredith in the town of Belmont, then escorted to the ranch. Most of the roads out here are dirt and rocks so be aware of the potential for a flat tire. "In dust we trust" is another Nevada aphorism. The ranch is kept very clean but dust is a constant battle, be prepared for a dusty car, dusty shoes, a dusty face, etc. It is all apart of the experience. Wireless internet is available so e-mailing and imessaging on iPhones works wonderfully but phone service is not available. There is a phone on the ranch for emergencies but keep in mind cell phones will not have service.
Round Mountain