输入日期以查看总价格,包含额外附加费用及适用税费。
Private upstairs large bedroom with 2 beds and couch and TV, sleeps six if needed. Bathroom with shower and washer dryer at base of stairs. Large Kitchen table seats 6 for Breakfast. 18ft×4ft Pool above ground during summer. Backyard seating for Campfire. High speed wifi. Reasonable prices.
Comfortable and Peaceful Yet Close to Everything. Bedroom/Living room couch TV, Bathroom Kitchen and utility room. Willing to communicate as much as needed.
Quiet and peaceful. City Road plowing during snow storms. http://farnorthtransit.com/ Possible usage of bicycles for community bike path and possible 4wheeler usage for 2 riders for a picnic on sunny day. Good way to get away from metro city life to a rural peaceful setting. Good backup spot for sporting event stay over.
The host canceled this reservation 2 days before arrival. This is an automated posting.
Judy Lambeth
January 2017
I had a great time staying here! The room was very comfortable, and quite peaceful. Chad is a great host/tour guide for Roseau! I would absolutely recommend staying in his home over a hotel when in the area.
Adam
August 2015
Chad's home is comfortable and welcoming. I felt right at home and now have new friends. When they learned it was my son's and my mutual birthdays during my visit, they got us a ice cream birthday cake, complete with candles! I highly recommend this location to anyone visiting Roseau or the surrounding area.
Nancy
October 2015
Roseau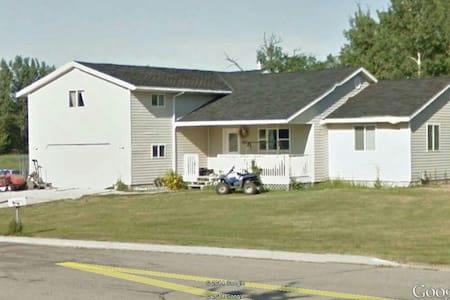 A great winter getaway on Arneson's Rocky Point Lake of the Woods, just 10 minutes from Roosevelt, MN. This unique log crafted home will be a great way to create memories with family/friends. Enjoy many of the Winter activities, such as ice fishing.
Just minutes from Arneson's Rocky Point Resort, which has ice fishing services available.
This place is very nice. It has some high end features. They are currently under construction on a few things but surprisingly had zero (URL HIDDEN) is a very clean unit. It has a very modern cabin feel to it which we loved. The communication from Joanna is as good as it gets. I would recommend this place to travelers of all ages.
Eric
March 2017
Our 3 person crew stayed here for the week for work, and it was great for us! We each had our own bedroom and bathroom. We used the fireplace every night, and made breakfast in the kitchen every morning. The location was scenic and beautiful. And the restaurant down the street had delicious food! Joanna promptly responded to all of our questions and provided us with everything we needed and more!
Jessica
February 2017
Joanna has a lovely cabin. It is currently being remodeled and will be great when it is complete. The remodeling did not hamper our stay as they are almost finished. Joanna's brother had a nice fire going for us when we arrived. Very nice. It is walking distance to Arnesons resort where you can get a beer and a good meal. All in all it was a good stay.
Kevin
February 2016
A four man crew from our company stayed in this lovely cabin while working for a week in a neighboring town. They enjoyed the rustic cabin and cathedral ceilings. There was plenty of room to sleep and play cribbage. Over all it was an excellent space for them.
Sairey
December 2016
A great cabin for families, just a walk away from Rocky Harbor and the beautiful Lake. The house was clean and very well furbished. A great deal!
Rachel
December 2016
Joanna was a great host! Very quick to reply to enquiries and helped facilitate a smooth and accommodating process of arrival and departure. Our stay in her cabin was excellent - we'd recommend people to try out her cabin in the future!
Michelle
August 2016
房间类型
整套房子/公寓
---
房源类型
独立屋
---
可住
10
---
卧室
3
Roosevelt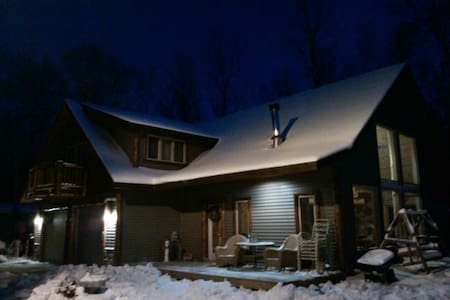 Come stay at the farthest northern point in the contiguous United States! Our Harrison Creek Cabin features breathtaking views, endless privacy with 420 acres of land to hike, hunt, and explore. You truly will feel like your are on untouched land. Boating, fishing, and hunting make this the perfect getaway.
Farthest Northern Cabin in the Contiguous United States. During the summer a 10-15 minute boat ride takes you away from everything. In the winter two main snowmobile trails meet right at the cabin. It has easy access to Can-Am Trail and all the trails throughout the Angle.
As secluded as you will find. This cabin will amaze you. Passport Required unless you intend to snowmobile from Warroad or Baudette.
Angle Inlet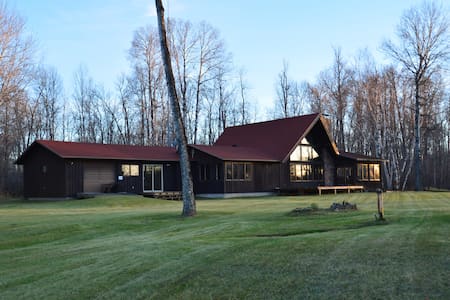 Our most convenient summer cabin is our Log Home located on Crow Creek in Angle Inlet, MN. This cabin features 300 feet of private lake shore and privacy that is hard to find on mainland. It can sleep 8-10 people with an extra bunk house, three boat dock, fish cleaning house, firepit, gazebo, and a rustic log cabin feel. Home is ready when you arrive with clean towels, bedding, full access to Lake of The Woods.
Angle Inlet