输入日期以查看总价格,包含额外附加费用及适用税费。
Enjoy your vacation on a ranch that is entirely surrounded by National Forest and yet easily accessible as it is just 1/2 mile off of NM State Highway 60 and a well maintained gravel road. If you want to bring your horses, the ranch offers 4 stables
What a beautiful place!!! The bunkhouse was very homie in all aspects. The scenery was amazing with mountains all around and a herd of elk in the evening. We learned a lot about ranch life. One big lessons was bring groceries because the nearest large grocery store was 80 miles away. We know next time we visit because we do plan to come back.
Reagan
August 2016
This is a wonderful place in a beautiful area of New Mexico. Wolfgang and Monica were great hosts and communicating with them was a breeze. The cabin was spacious, cozy and well equipped. Each night we had a wonderful fire going in the fireplace. Great hiking nearby. We hope to stay there many times. A perfect getaway.
Len
December 2016
Wolfgang and Monica provided a great experience for a first time Airbnb. They were very accommodating on every aspect of the trip we had. The property is isolated by the surrounding national forest which made for a great morning as you could watch the elk come on property and the dogs could roam. We had a great time here. If you are looking for a relaxing time that is away from the hustle of city life give this place and Wolfgang a try, you will not be disappointed.
Nick
June 2016
Wolfgang and his lovely wife are a warm and gracious couple devoted to ensuring you have a wonderful and memorable stay. The renovated cabin is warm and cozy and decorated western style with a first-class kitchen. The cabin's location inside a national forest makes it a treasure. We saw elk, deer and antelope grazing nearby. The night sky is so full of stars it is awe inspiring. The ranch horses are as friendly as puppies and the dog is eager to be your hike buddy. For a truly one-in-a- lifetime experience, GO!
Rod
November 2016
We had an excellent short visit at the Double Circle Ranch. Wolfgang and Monica were fantastic, as were their dogs George and Schnappy. The property is serene and the house was great, with a very large and functional kitchen. Be sure to pick up some groceries in a larger town on your way in, as options are limited nearby. Pie Town is great for Pie and the other food we tried was pretty good as well, but the hours are limited. Come prepared with food and ready to relax and this place is amazing. We will definitely make an effort to return again soon. Highly recommended!!
Anton
July 2016
Pie Town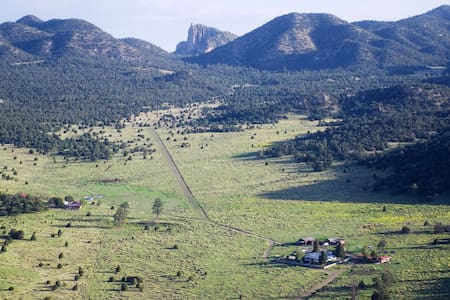 Eight miles west of the Continental Divide at 7,400 ft. in elevation is the Pie Town Bed and Breakfast. It is five miles off Highway 60 on well-maintained gravel and sand-based roads; road condition are dependent on weather. The guest room is approximately 500 sq. ft. with a private sitting area, bath & quality queen mattress. The mountain views, wildlife, birds, and the sunrises and sunsets make each stay memorable. Of note, the night skies are some of the darkest in the nation.
The spacious guest room totals approximately 500 sq. ft. with a sitting area and full bath. There are views out the large windows in the bathroom as well as the two windows in the bedroom. There is a quality queen mattress neither too firm nor too soft, shabby chic decor and antique furnishings. Outside the guest room is a large den with a private entrance into a mudroom, then to the outdoors, where a concrete slab may host a telescope focused on the northern sky. There is extensive wildlife in the area including elk, mule deer, antelope, bobcat, lynx, mountain lion, coyote, jack rabbits, cotton tails, chipmunks, squirrel and the occasion bear, badger and fox. Many birds are in the area including golden eagles, hawks, flickers, juncos and ravens, but my favorite is the famed Mountain Bluebird. Guests have access to the Great Room which includes the kitchen, dining and living room, and complete privacy in the Shabby Chick bedroom and bath. Guests may walk the five acres around the house which are fenced, as well as enjoy the deck on the south side of the house where one can see for miles without obstruction. I'm available most evenings to socialize until 7 pm, answer questions about area attractions and discuss local history.
Pie Town really was named because pies were sold here from its early days and that is still true today. My Bed and Breakfast is 11 miles away from that booming metropolis of approximately 60 residents. Travelers are often on their way to the Very Large Array (VLA), El Malpais National Monument - which is near El Morro National Monument (Inscription Rock), the Bosque del Apache National Wildlife Refuge, Gila Wilderness, Grand Canyon or Painted Desert. Others are here for the notable dark skies. And hikers and cyclists from around the world know Pie Town via the "Tour Divide" and the "CDT" (Continental Divide Trail). Because the Bed and Breakfast is five miles from NM Highway 60, I'm happy to meet guests at the highway between mile markers 49 and 50 where the gravel road turns north (Catron County Road AO51 on Google Maps). The closest grocer is 22 miles away and closes in the evenings, therefore obtaining one's food in larger cities is recommended. You may use my fridge and kitchen for cooking lunch and dinner. There are restaurants in the area but they too close in the evenings, and their menus are limited. Please fully plan your meals accordingly. (Food prepared in this kitchen is not regulated or inspected by NM Environmental Dept.)
Pie Town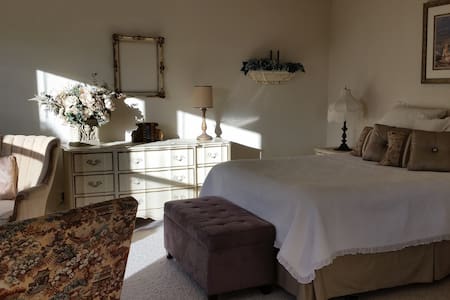 The Tularosa Lodge is located in the Gila National Forest area of New Mexico. The Lodge sits on the top of a hill with a 300 degree view of the valley below. Elk hunting is the biggest draw to tourism but it is nearby many other attractions as well
Rose's house is super nice, very tidy and clean. My friends and I had a great night there. The house is decorated with lots of different elements. I feel each bedroom has a different style. Very special! So my friends can choose the room they like. Kitchen and dinning room are huge and well designed. It's a great place for road trip people. We also watched the night sky outside Rose's home. Very nice experience to see all the stars and moon in such a quite village far away from cities. Highly recommend to tourists who want to get ride of the cities and enjoy the life close to nature.
Kate
July 2015
Aragon