输入日期以查看总价格,包含额外附加费用及适用税费。
今年的七月至八月,从这100个不同价格级别的房源中选择,体验当地人眼中的索诺玛。房源提供24小时入住,还可以即时预订,您什么都不用做,只需饱尝本地美酒美食,轻松享受旅程即可。
Un grand merci à Geneviève et Laurent pour leur accueil et leur gentillesse. Très belle maison, très agréable. Délicieux petit déjeuner. Tout est prévu pour recevoir les bébés. Nous avons été ravis de ce court séjour.
Marlène
November 2016
Très bon accueil,un cadre magnifique et une maison superbe. Petit déjeuner extra et des propriétaires charmants et à l'écoute. Très contents de ce séjour.
Reg
July 2016
Accueil chaleureux et séjour court mais très agréable chez Geneviève et Laurent dans une superbe maison rénovée avec goût et originalité ! Nous avons même eu un super petit déjeuner avec des biscuits fait maison ! Merci beaucoup !
Marwan
April 2016
Maison très joliment restaurée et décorée, endroit très calme où l'on a envie de rester, accueil très chaleureux, Geneviève et Laurent ont été aux petits soins avec nous. Je recommande vivement!
Elina
August 2015
Genevieve e Laurent sono persone molto ospitali, premurose e genitilissime. La casa dal vero é ancora più bella ed accogliente di quanto si vede dalle foto, le camere sono molto confortevoli, il bagno è uno spettacolo...e a colazione abbiamo assaggiato marmellate e frutta di loro produzione. Volevo soggiornare nel cuore dei vigneti di Bordeaux e non potevamo scegliere di meglio! Se torno da quelle parti, non ho dubbi su dove soggiornare! Consigliatissimo
Patrizia
June 2016
Hello! me and my friends would like to thank to Genevieve and Laurent for their warm hospitality during our stay. We all starting to plan to next visit Bordeaux for 3-4 days at least and recommend to other travelers to include Soulignac to their must list: - old farm house surrounded by vineyards with great sight seeing, full of piece and tranquility; - great location - very close to any must place to visit in the area ( got all recos from our kind Hosts); - We were recommended to dinner in Cadillac - Cosmopolit restr, very good one owned by 2 brothers ; - Genevieve and Laurent did renovation of the house via investing not just their money& time but heart in so nice way when it looks modern inside (all conveniences you could be needed, rooms very convenient) and at the same time very much connected to the roots; - Breakfast served with such a charm which inspired us to implement the ideas for our families; - Genevieve kindly arranged "degustation" of wine from their neighbor vineyards, we took few bottles with us - we are not connaisseurs, but really like it :) - Important: it was true experience to feel guests which came for quick Summer break and welcomed by Family, like being close relations nor strangers. The most sincerely wish all success and looking forward to meet you again Best wishes from Ukraine:)
Kateryna
June 2016
Nous avons été attendus et accueillis chaleureusement. Les explications pour atteindre la maison étaient précises. La chambre et la salle de bain étaient très propres et rien ne manquait. La maison est très agréable à vivre et décorée avec beaucoup de goût. L'environnement paisible et calme est idéal pour se reposer. De plus Geneviève et Laurent se sont rendus très disponibles pour que nous nous sentions comme chez nous. Le petit déjeuner est préparé avec soin, avec des confitures et biscuits maison. Nous espérons pouvoir revenir et partager à nouveau un bon moment avec nos si sympathiques hôtes.
Marc
August 2016
Our time at Genevieve & Laurent was absolutely Perfect - the 2 Are great hosts and did everything to make us feel comfortable. Great Place on Countryside, delicious breakfast, a beautiful home! We will come back!!! :)
Daniel M.
October 2015
Soulignac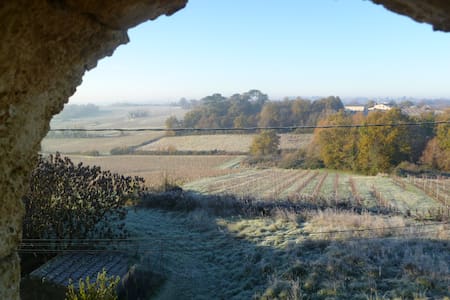 C'était une première pour nous et une première pour nos hôtes. Nous n'avons pas été déçus. Karine et Yannick nous ont fait un très bel accueil avec un petit panier de produits locaux et maison (faits par madame). La maison est très belle, sans vis à vis et au calme et dispose de toutes les commodités nécessaires. Nous avons passé une tres bonne semaine au calme et sommes repartis ressourcés !! Nous vous le conseillons vivement !
carole
August 2016
Targon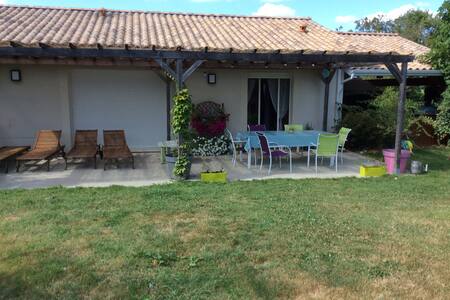 Mon logement est proche de Saint Emilion et Bordeaux. Vous apprécierez mon logement pour le calme, l'espace, la nature. Mon logement est parfait pour les familles (avec enfants), les grands groupes et les compagnons à quatre pattes.
Targon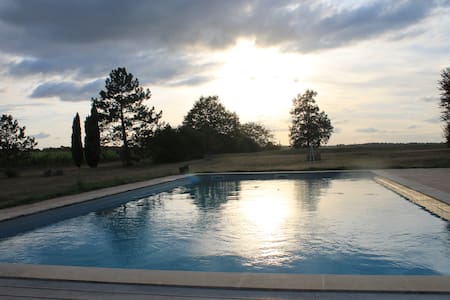 Château le Vert is the ideal holiday destination for anyone looking for peace and relaxation, gastronomy and culture, authenticity and modern comfort. The 18th century castle accommodating 12 people underwent full renovation and has been furnished with taste and abundant attention to detail. You immediately feel right at home! Wonderful views of the hills and the green surroundings complete the picture. orangery, dining room, living room, sitting room, kitchen, terraces, poolhous You will be welcomed by Marie Chaminade – her mobile number is 00 33 6 83403602 . We recommend you to give her a call about one hour prior to your arrival at the premises. Marie will welcome you, show you around the Chateau and explain the rules of the house. You can also ask her all practical questions at that moment. There is also an inventory of goods to be signed by you.
Château Le Vert situated amidst the vineyards of "Entre-deux-mers" and a stone's throw from Bordeaux and Saint-Emilionand Sauterne ,is the perfect base for wine tours, cycling tours, and visits to nearby picturesque villages and markets. By train ( choose Bordeaux Gare St Jean destination), by plane ( choose Bordeaux Mérignac destination). By car
Arbis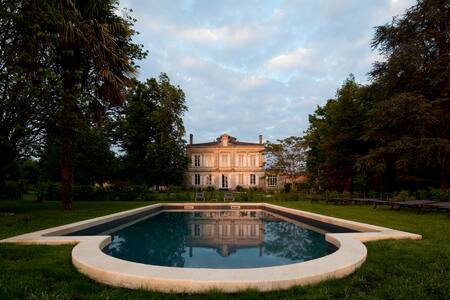 Maison en pierre au coeur des vignes, dans l'entre deux mers, 35 kms de Bordeaux, 80 kms du bassin d'Arcachon, 25 kms de Saint-Emilion. Maison girondine de 115 m2 : entrée, cuisine salle à manger avec cheminée pierre, 2 chambres, sb, wc, un grand salon de 35 m2 tout récemment restauré, adorable petit jardin clôturé. Endroit idéal pour visiter les vignobles bordelais.
Soulignac
Nous avons tout adoré de notre séjour chez Diane et Loic....
Catherine
October 2016
Diane & Loic are such incredible hosts. It is clear they are passionate, knowledgeable and committed to wine in Bordeaux. From the moment we arrived to the moment we left we were welcomed and taken care of. The accommodation was beautiful and clean. Whether a few nights or for a longer period I highly recommend staying at Chateau Castelneau. I would also highly recommend their wine tours. They made my birthday special and all 10 members of our group plan to go back. You won't be disappointed if you visit Diane & Loic!
Nomusa
June 2016
SAINT LEON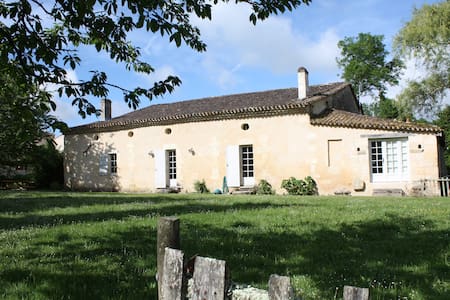 Chateau Montstruce is set amid the beautiful countryside and rolling vineyards of the Entre-deux-Mers region of France. It is a tranquil and peaceful haven only 40 minutes from the centre of Bordeaux and the international airport.
Chateau Montstruce is set amid the beautiful countryside and rolling vineyards of the Entre-deux-Mers region of France. It is a tranquil and peaceful haven only 40 minutes from the centre of Bordeaux and the international airport. The historic town of St. Emilion - a world heritage site listed by UNESCO - is close by, and the stunning Cote d'Argent coastline is also within easy reach. Chateau Montstruce is a beautiful 19th Century French Chateau set in its own private grounds surrounded by woodlands, vines and meadows. It has been loving restored to a very high standard and is furnished with antiques and period furniture. The front door of the Chateau opens into the grand entrance hall with its monumental 14th century stone fireplace, beautiful grand chandelier and stone staircase leading to a galleried landing. There are two sitting rooms, kitchen with adjoining utility room, dining room and bar leading onto the terrace and swimming pool. There are 4 bedrooms sleeping up to 14 guests. On the second floor arriving on the upper hallway there are four large bedrooms. One ensuite with a kingsize bed and a further three rooms each with double and two single beds. All bedrooms have their own private bathroom with fabulous views of the vineyards, gardens and open meadows. At the front of the property there is an enclosed garden with mature trees, shrubs and a lovely walled patio area with table and seating to enjoy your meals. Within the enclosed garden at the back of the property there is a beautiful swimming pool (8x4m) and pool house with shower, WC and changing area. Additionally there is an outdoor summer room overlooking the garden with soft seating, BBQ/plancha, outdoor kitchen, exercise room with multi-gym, cross trainer with free weights, 15ft trampoline with safety net, swings in the meadow under the walnut tree and children's toys and games. The chateau sleeps up to 14 guests in comfort, with swimming pool, TV room (UK TV), Wi-Fi access, and many child friendly facilities. One night of free babysitting is included in the price! The dining room can comfortably host 10 people only. Additonal tables can be added if needed. Maid service available (at extra cost) Chef/Cook available (at extra cost)
St. Emilion (15 mins away) is a beautiful medieval citadel producing one of the worlds favorite wines, with many excellent restaurants and free wine tasting. The stunning Cote d'Argent coastline is 1.25 hrs away by car. Bordeaux city centre (40 mins away) is the fifth largest city in France and full of charm with its magnificent old buildings, boutiques, cafes and street markets. The chateau is 5 minutes from the Abbey of La Sauve, 2 minutes from an extensive network of cycle paths, 15 minutes from Frontenac (wall climbing, other outdoor activities), 25 mins from Lac de Blasimon with a sandy beach for swimming and fishing and 10 mins from a tree climbing and adventure park (tyroleans, nets, giant tarzan jump, climbing through the trees). Activities in Bordeaux include go-karting, ice skating rink, zoo, restaurants and free wine tasting at the chateaux! There are markets every few days in the nearby villages supplying the true flavour of France with beautiful fresh fruit, vegetables, meat, fish and bread. It's a 5 mins drive to a large, well stocked supermarket. Bordeaux International Airport is 45 mins. Bergerac Airport is 1 hour 15mins. TGV Train to Paris/Bordeaux is 3hours. - Nearest Airport:Merignac Bordeaux (36-40 km) - Nearest Ferry port: Calais (Over 100 km) - Nearest Village: Targon (5 km) - Nearest Town/City: Creon (9 km) - Nearest Restaurant: La Sauve (3 km) - Nearest Bar/Pub: La Sauve (3 km) - Nearest Beach: Bassin de Arcachon (41-45 km) - The owner offers healing workshops - The chateau is a perfect base for lovers of nature: lakes Laubesc to Cessac (only fishing and walks ), Lake Blasimon (swimming, playground and fishing); hiking and bicycle touring routes and climbing wall (Frontenac) . - All bedrooms are situated at the back of the property where there are fabulous views of the vineyards, gardens and open meadows.
Targon