输入日期以查看总价格,包含额外附加费用及适用税费。
今年的七月至八月,从这100个不同价格级别的房源中选择,体验当地人眼中的索诺玛。房源提供24小时入住,还可以即时预订,您什么都不用做,只需饱尝本地美酒美食,轻松享受旅程即可。
This beautiful new apartment is located in Winker, Manitoba. We are less than one block from the Salem Home and the Winkler Golf Course. We are also only a few minutes walk from the Winkler Park and Harvest Festival Fair Grounds and downtown.
Welcome to your home away from home. As you enter the open living space you will see a cozy and comfortable living area with fire place, TV and a sleeper sofa. A pretty kitchen with an island, and dining area as well as an office space complete the open space. The spacious bedroom has a queen sized bed and headboard. A large closet gives you plenty of room to hang clothes or store your luggage. We trust that you will enjoy your stay at our home. Our guests will have access to a private fully furnished apartment along with laundry facilities. Should they require maid service an additional fee of 10.00/day will be charged. Guests are welcome to ask questions, let us know if they need anything. We want our guests to know that we will respect their privacy.
We live in a very quiet and friendly neighborhood with very little traffic. Beautiful large trees line the street and birdsong fills the air in spring and summer. Guest parking is available. Walking/bike paths are just down the street. We are a five minute walk from two restaurants and a cafe. Downtown Winkler is only a two minute drive or a 10 minute walk if you prefer. Stairs take you to this apartment which is on the lower level of our home and has a completely separate entrance.
Tolle Unterkunft. Sehr sauber. Bequemes Bett.
Florian
September 2016
Katherine makes you feel really welcome and respects your privacy. If you're lucky you might even get some fresh cookies! This suite is very comfortable and spacious.
Elizabeth
April 2016
Katherine provided us with a wonderful room and was able to help my co worker and I arriving at a really late hour in the evening and had amazing beds and clean sheets with an immaculate bathroom. She was extremely helpful to us in our hour of need. She gave us our own personalized code to get into our room. Would recommend anytime!
Zakk
October 2015
I had a very pleasant stay. Place is really cozy. Katherine is very friendly. Experience is very satisfactory! Alex
Alex
January 2016
Katherine greeted me upon arrival and gave me detailed information of the accommodation. Then she added that should I have other needs or requests I just needed to let her know.
Amanda
February 2016
We really enjoyed staying in this beautiful apartment. It's modern and updated but still really comfortable. We would definitely stay here again. Katherine kept in touch prior to our arrival and made checking in easy. Thanks Katherine!
Veronica
August 2016
Very nice place to stay and a good value. We hope to be back soon.
Fern
September 2016
This place is beautiful! It is very central to where we spent our time in winkler. The suite is nicely decorated, warm and friendly. We will stay here again next year.
Darren
September 2016
Winkler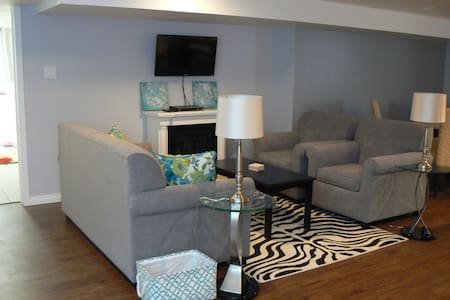 My place is close to everything because it is in the heart of Morden. You'll love my place because of of the heritage and history, the tasteful decor, jacuzzi, friendly people and amazing breakfast. My place is good for couples, solo adventurers, business travellers, families (with kids), big groups, and furry friends (pets).
The Castle has a lot of charm and character and I enjoyed my stay at the house. Lily and Chris were very generous in their hospitality and made my stay very comfortable.
Reba
September 2016
Morden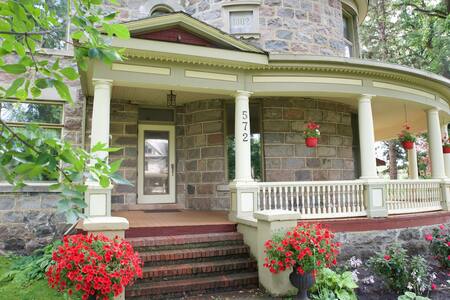 Business or Pleasure ~ Relax in your private, fully equipped suite.
Escape from the business of your life with a peaceful, country setting with a view of the rolling Pembina hills in southern Manitoba. Everything you need is already at our B & B, but if you wish, drive your car to two nearby small cities. We offer home cooking served to you for a small fee; also "Sweet Spirit Spa" treatments by your Hostess; ask for a list of options. An extensive movie and music collection is at your disposal. Indoors or out you will have a sweet time. Come and relax in our three acre country property with a beautiful view of the Pembina Hills in Southern Manitoba, Canada. We have a spacious Bi-level home with a fully equipped basement suite where you can rest. There is an authentic aboriginal tipi in our garden with lovely cozy carpets where you can enjoy a fire year round. We also have a two story barn where our two gentle Arabian Horses live and two darling Wolf Dogs. Your room has a comfortable double sized bed and a private bathroom with tub and shower. There is a washer and dryer you can use, a kitchen and a fully equipped exercise room with a bo flex weight resistance machine as well as a cross trainer and ab master. There is a television with netflix movies and many other movies in our collection. We also have highspeed wireless internet service. The hostess is a gourmet cook and will offer you a selection of meals for reasonable prices cooked and served to you. There is a spacious sun-room on the main floor which you can arrange to use at mutually agreeable times. The hostess couple lives upstairs and you will have the use of the basement suite. A rental car will be useful for you. Two small cities are within ten minutes drive and the main city of Manitoba is one and half hours away. There is a lovely lake and beach six miles away. Hiking trails and cross country ski trails border the property as well as a creek. Guests have the use of our full basement suite; and can enjoy our sun-room upstairs with time arrangement; if you love animals our dogs and horses are close at hand; guests can enjoy our tipi with a fire, marsh-mellow roast or bannock and tea, and much more. As little or as much as they desire. We will respect your privacy. Large 3 acre country yards border a creek and bush full of lovely trees and trails to walk in summer and to cross country ski in in winter. Our property is completely fenced for privacy. We have more than 200 trees planted on our spacious yard. There are 6 apple trees and grape vines to enjoy in the fall. Tinker Creek is located six miles south of a small city called, Morden, Manitoba in Canada. You will need your own car to get around. We can pick you up from Morden or Winkler and return you to that point if you wish. Please check detailed written driving directions under the google map on this site; the google map is not accurate. We are #95 Tinker Creek Rd which is off 28W. 28W connects to the highway #201 west at our corner. The guest room is also known as The Blue Room; you can choose to have it set up with a romantic theme or with a plain theme as you wish. A "Romantic Theme" includes an over-bed sheer netting, two floor sized candelabra, and a fruit basket with wine glasses. Our own "Apples of Gold" wine is available for $10 per bottle. We also have two army cots and a double sponge available for extra guests in other basement areas. Guests will have the full use of the basement suite privately; the owner couple lives upstairs and guests can have the use of the sun-room; and the spa space upon time arrangements with the hostess. Outdoors, guests can access the spacious country property; use the fire pit and picnic table; enjoy the ti-pi and also walk or ski the area trails depending on the weather and season of the year. The hostess will be available for your needs during your stay. Meals and spa treatments can be paid for on site.
Tinker Creek is a rural setting with a creek which runs the border of the bush properties. This creek falls from the nearby Pembina escarpment which can be enjoyed both for its view and to access by foot or car. This community was started in the early 1980's by locals who all "tinkered" at something such as bee-keeping, canoe building; aircraft building, and a variety of local arts. We are located in the rural municipality of Stanley which is very close to Morden, Manitoba. Morden has many artists, and interesting venues but a small city feel. Winkler is also within a few minutes drive and boasts all the expected big businesses of any city in Canada. Our location is a six mile or six minute drive from the small city of Morden. Guests will need their own car or if needed, can be picked up by the hostess couple from either Morden or Winkler. If travelers are flying into Winnipeg, it is a one and a half hour drive from the airport with car rental conveniently available at the airport including GPS. In the spring-time it is a good idea to bring water proof boots for trails; also during the summer guests may need sun-screen or mosquito spray at certain times of the day; in the winter time, bring appropriate cold weather outdoor clothing for any desired outdoor activities.
Pamela and John were very welcoming. We spent one night there along with our two young kids. Pamela makes amazing food and we really enjoyed it. Pamela also made a birthday cake for me, as it was my birthday. That was quite special. We ate in a lovely sunroom. We had a comfortable sleep and enjoyed this short getaway in the Pembina hills:)
Al & Sandra
May 2016
Pamela was warm and welcoming. We quickly felt comfortable in the home that her husband John built. She loves to cook and served us delicious breakfasts on her sun porch at whatever time we requested. That meant we could catch up on our sleep in the very comfy and spacious bed. Pamela also served us dinner on two evenings (for a very reasonable additional amount). She enjoys preparing dishes from a wide variety of the world's cultures so it was fun to have many more options than you would see in a restaurant. Pamela is also experienced with gluten-free and vegetarian cooking. She enjoys tailoring meals to meet each guest's needs and preferences. This was our first visit to Manitoba so we appreciated Pamela's knowledge of its history and cultures (especially the Mennonites and First Nations People). Pamela was very respectful of our space - our downstairs living space and upstairs dining space. And we found her to be so interesting that by our second day, we invited her to join us for some meals. We even enjoyed singing together. Both Pamela and John are very creative. John was away during most of our visit but we look forward to spending time with him next time. The surrounding area is quiet and pretty rural. We walked in the woods for several hours just beyond the yard. If we could have stayed longer, we would have enjoyed biking in the area too. Those who enjoy dogs and horses will appreciate the canine and equine members of the family. Those who are more cautious around animals will feel comfortable too. Thanks Pamela and John for opening your home to us!
Joan
September 2015
Pamela and John have been incredible to my co worker and I for the past 3 weeks. We work on the road and she has offered for a small fee to make our lunches everyday and an amazing supper when we came back at various times late in the evening. We were given warm beds and clean sheets every week with a great atmosphere of country living. I would recommend anyone travelling for work or passing through morden.
Zakk
October 2015
Pamela and John are gracious hosts. Their home is in a peaceful country setting, and we enjoyed their hospitality. Pamela is a collector of treasures so the house, including the guest room, is full of interesting things which could potentially feel too cluttered for some people. They had excellent recommendations about things to do in the area and were very accommodating whether we needed a power strip in the sunroom for our computers or a top sheet for the bed. Our toddler enjoyed the dog and being able to explore the big yard, and the fresh apple cider was yummy.
Kami
September 2014
Pam and John went above and beyond for our stay. Pam cooked us delicious meals and gave us valuable advise on what to see in the area. Their property is very beautiful and we enjoyed seeing the horses and their two dogs.
Curtis
May 2015
The host canceled this reservation the day before arrival. This is an automated posting.
Kevin
I stayed with Pamela & John while working in Morden. It was a great experience and I would book with them if ever I am in the area again. Great conversations & fantastic food (Pamela even packed my lunches for work for an extremely reasonable price!). You'll never meet nicer people!
Kevin
July 2015
I could not ask for more. Pam and John are great people to be around and they do everything to make us feel at home. The house is very cosy and stay a few miles from the city which is perfect to enjoy the quiet life out on the country. I recommend to anyone passing by or like me staying for two weeks. They treated me like their son. Love it.
Daniel
December 2014
Morden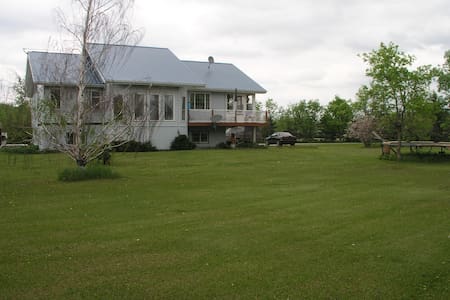 Bed, blankets, pillows, use everything in the house including laundry, kitchen, and tv room. Very nice place beats a hotel !
Everything was like promoted.
Esther
October 2016
It is a really good place to stay. I had access to all the amenities.
Esther
September 2016
Good place to stay. Really convenient.
Esther
November 2016
Overall good place to stay, would recommend
Dean
August 2016
Winkler
We are located at the South side of Winkler, walking distance to stores, banks, and restaurants. TV with satellite and Netflix available for use. Newly renovated basement, finished out this year, quite spacious and comfortable.
Basement washroom Laundry TV Kitchen
Great host and accommodating. The house was beautiful and cozy. I would highly recommend others to stay here.
Kent
October 2016
Winkler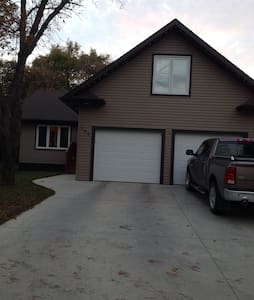 My place is close to everywhere at Morden. You'll love my place because of the neighbourhood and the outdoors space. My place is good for solo adventurers.
Bruce's place was everything I needed: a simple place to crash and shower. He is a very nice and polite individual. I needed to extend my stay and he gracefully accommodated me. Also returned the cleaning fee since I did some chores. Positive experience.
Andre
November 2016
Morden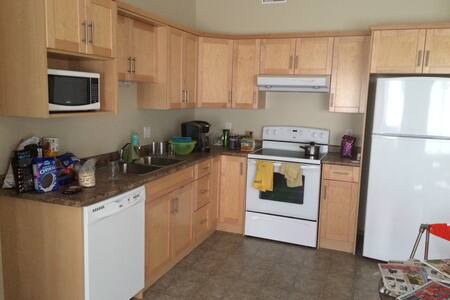 My place is close to everything because it is located right in the heart of Morden. You'll love my place because of the history, comfy and homey feeling, unique stone wall in the room, balcony and great breakfast. My place is good for couples, solo adventurers, business travellers, families (with kids), big groups, and furry friends (pets).
Lilly's place - Bella's Castle was a beautiful B&B. We were very graciously welcomed into her 1902 home furnished in very fine, exquisite antiques. There were 2 other couples staying, and we were not given the stone walled room, but ours was beautiful. The shared washroom was very fine. Breakfast was delicious. I would recommend this B&B to anyone wishing to feel like Royalty.
Sharon
October 2016
Morden
My place is close to everything because it is in downtown Morden. You'll love my place because of beautiful house, heritage, comfortable and tasteful decor, jacuzzi and amazing breakfast. My place is good for couples, solo adventurers, business travellers, families (with kids), big groups, and furry friends (pets).
Lily and her boyfriend were SO accommodating, they had all the bases covered. We were so lucky to have been able to stay at Bella's Castle! Highly recommended!
Britt
August 2016
Morden
Furnished Rooms for Rent in a residential house in beautiful Morden. Kitchen, indoor and outdoor living areas and WiFi. Off street parking. Absolutely NON-Smokers and NO Pets!
They came outside and greeted us as we arrived. They were so friendly and welcoming! She made a wonderful [I mean, REALLY wonderful!] breakfast that was tailored to my Type 2 Diabetes issues. The bed was so comfortable. The stairs up to the room are very steep, but they had told us in advance so we know what to expect. There is a main floor room, but it was not available for this night. I would not hesitate to stay there again!
Diana
August 2016
Morden
Village Viking B&B is located just outside of Morden, Manitoba in the quiet village of Thornhill. Our Royal Room on the main floor has a queen bed and a private bathroom. Each nights' stay includes breakfast served by your hosts, Ruth and Paul Olafson.
Thornhill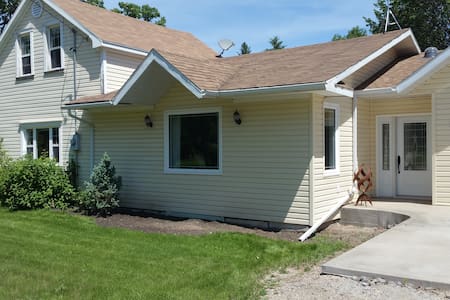 My place is close to everything in Morden, because it is right in heart of Morden. You'll love my place because of the history, proximity to shopping street in Morden, tasteful decor, amazing breakfast. My place is good for couples, solo adventurers, business travellers, families (with kids), big groups, and furry friends (pets).
Morden