输入日期以查看总价格,包含额外附加费用及适用税费。
We offer 8 hotel style private rooms that is outlining an enclosed deck. We also have a banquet/event area for all your reunion/reception needs.
We are a bed and breakfast without the breakfast.
沃伦(Warren)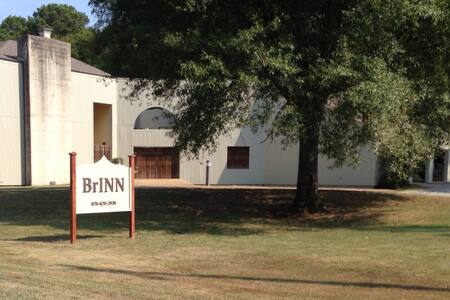 very cozy inside. Welcoming Kitchen with island & stainless steel bar stools that over looks living room. Stainless steel appliances. Laundry room, Beautiful tiled bathrooms with sliding entry doors. Fully stocked with towels and amenities. Direct Cable TV with over 145 Channels. Just added new paved driveway & walkway.
Very quiet neighborhood No public transportation
I had to work in the area and the closest decent hotel is 30 miles away. This was 9 miles and cozier than any hotel. Just right for a few nights in the area. The wonderful hostess met me with a hug and a tour of the home. She had water & sodas for me & some cereal, coffee, milk, juice & fruit for the morning! All very unexpected and appreciated. The house is newly remodeled so it was all fresh and new. I think I slept better in their bed than my own. It was a very quiet neighborhood and I felt safe staying alone. It is a VERY small community so you aren't coming for the surroundings
aerah
December 2015
If you're looking for quiet and comfortable, this is the spot. Very clean and graciously hosted!!
DeWayne
January 2017
I found this place after I gave up looking for a decent hotel/motel in the area. To my surprise, it was about a mile from my sister's home, which made it all the better since we were visiting with her and her family all weekend. Mildred met us at the house to give us the key and she was a delight to meet. We could not have asked for a better place to stay. Everything about the house is described by the listing, Cozy Khaki House. For anyone who has business or family in the area.......this is the place to stay!!
Laura
January 2017
If you ever need to be in southeast Arkansas, this is the perfect place to stay. It is very secluded, so be prepared to bring your own food.
M
February 2017
Nice house in a quiet location
Joshua
February 2017
Quiet peaceful remote location. House is nicely renovated. I only wish they had internet.
Tyrone
March 2016
We enjoyed our stay at the khaki house. It was beautiful and very cozy. I enjoyed all the amenities. We didn't have to fight over the bathroom; there are two full bathrooms both with 4 star quality. The bedrooms were comfortable and sheets were extremely soft and smelled like freshly sunbathe sheets. I even cooked breakfast one morning and it was absolutely lovely. We had no problems finding the place, it was quiet and intimate. We enjoyed Mildred and loved her hospitality. We will definitely stay here again in the future.
Joezette
July 2016
What a quite place to gather oneself. If you're interested in solitude with no distractions, Doris' place is the place to go. If you're WIFI needy, bring you're own WIFI, otherwise it's just the place to take a deep breath of Arkansas country air. I was pleased to have stayed there.
Scott
April 2016
Fountain Hill
This large room has a sleeping area where you lay in bed and stare out at the stars. The sitting area is a comfortable space to relax and unwind. Please make yourself comfortable and enjoy your stay. Pine Bluff is 45 minutes from Little Rock airport.
It's more than just a room. The one bedroom suite is spacious with a comfortable seating area. There's even an exercise corner with lite equipment if you need to unwind. Coffee is available. Guests are welcome to relax on the first floor , including the screened in porch. I do very much love sharing travel stories with guest when time allows. And you as my guest are welcome to cuddle up and spend the evening with yourself.
Pine Bluff is a modest city of 46,000 people. My house is one of the oldest in the neighborhood, built in 1927. If you are from a big city such as myself, you will notice how quite it is. There is little traffic, the street lights are low and the stars are bright. Getting around will require a car. The University of Arkansas at Pine Bluff and SEARK junior college are both less than 3 miles away. Jefferson County Medical Center is nearby! Including the JRMC Wellness center where you can buy a $10 day pass. If the weather is nice you can even take the short walk to the center. I am sincere about hosting you. And I hope you Enjoy your stay. But, excessive intoxication is unacceptable behavior and is grounds for immediate checkout.
Pine Bluff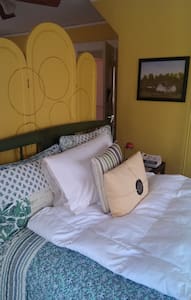 我们的小屋坐落在我们的80英亩农场1从小石城小时,从热泉40分中间。大前廊摆动,1英亩院子由滚动的牧场,我们养牛,马,鸡,羊,鸭,guinees包围。一个房间,上下铺的房间,或者整个村庄。 LR可以用山寨提供婴儿床睡觉2-3。 2个浴室,厨房,洗衣机和烘干机,床上用品,毛巾,TP和肥皂。情侣,独奏,商业和家庭(与孩子)。
The cottage is a full three bedroom and two bath with a large common area and kitchen. Huge front porch with swing. A large pond sits behind the house with horses and cows in the fields surrounding the one acre yard. You are welcome to explore or fish in the pond. We are constantly updating the cottage to make your stay more comfortable and the surroundings more pleasant. Do come see us! Guests have access to the full kitchen and the laundry facilities, yard and you can explore if you like. 我们很高兴能尽可能少或尽可能多的客人喜欢互动。
It is a quiet rural area on paved road. Very little traffic and the cottage sits at the end of a long driveway. At present, the only way to get around the farm is by foot. We have an old 'gator' for feeding but there are many places to walk. We are surrounded by 1 million acres of timber and farms with very few neighbors (most of which are family). All the animals are friendly and either our Great Pyrenees or a small shepherd might visit from time to time but they are harmless. There is a store just a couple miles West and a gas station. It is 19 miles to Malvern, 20 to Sheridan and 40 to Hot Springs and Little Rock. 我们很高兴能为我们的客人提供刨冰从我们的商业制冰机,每个周末2打鸡蛋从我们的免费范围内的鸡。
Fantastic spot wake up to coffee with fresh milk and sit on patio watching your kids play with ducks, chickens & horses
Steve
March 2017
Great place. Very private and secluded, but at the same time the family is more than willing to show you around the place. Peaceful and quiet. Perfect for small family gatherings or people with young kids.
David
March 2017
We truly enjoyed our stay at the cottage. The beds were wonderful, and the place was so cute. But the best parts were the table on the porch, the sweet animals and the fresh eggs. We only wish we could've stayed longer!
Stephanie
March 2017
Such a lovely stay! Quiet and peaceful for our last night of vacation! No tv or internet was also a plus! The fresh eggs and milk topped it off! Breakfast on the front porch was an amazing way to start the day! Thanks for the awesome stay!
Melinda
March 2017
Such a lovely setting for those that want to disconnect and enjoy a serene experience with nature. The farm, with the variety of animals makes for excellent energy and the cottage(set back on the property) is charming and homey. A highlight was the super comfy king bed. James is super responsive so any questions beforehand will be answered quickly. Overall we loved it.
robert
March 2017
Quiet and peaceful retreat. Lovely and friendly family!
Sarah
March 2017
We found Jubilee Farm by looking for a place to stay in Hot Springs - we needed a place to stop on a long drive from Michigan to Texas. We loved it! We ended up having a mini 'farm-cation' and spent an entire day fishing, reading, petting the animals and playing with some of the grandkids of our hosts. The beds were so comfortable and the scenery perfect...
Susanna
April 2017
Absolutely a wonderful trip to take kids on! My children adored getting to pet the horses for hours! My youngest caught fish after fish. We loved watching the sun rise from the front porch! We are from the city, so this was truly an experience we had never had. ❤❤❤❤ we will return.
Jennifer
April 2017
房间类型
整套房子/公寓
---
房源类型
小平房
---
可住
10
---
卧室
3
Leola
This is a 1 bedroom apartment on the second floor. This apartment is one of six in the building. Fully furnished, full kitchen, cable tv, high speed internet, and all other utilities included. Free laundry on site, maid service available, located in downtown Camden. Weekly and monthly rates. Limited.
There is no public transportation in Camden. The apartment is in downtown with bars and restaurants within walking distance.
Places to stay in Camden, Arkansas are not plentiful and even one airbnb option got me extremely excited! Unfortunately I think this place is just not quite ready for guests yet, has a few kinks to work out. However it was obvious there was a lot of renovation happening, in the future this might be a real find for Camden.
Diane
October 2014
Very nice apartment in a small town. Lots of room for a studio and very well furnished. You are a 2 minute walk from several restaurants. Travis was an excellent host making sure I made to the room. I plan to stay here again.
Arthur
October 2014
The place was extremely nice and clean and in a friendly safe area of Camden. Bumped into Travis a couple of times- he would ask after everything, making sure I had everything I needed for my stay. Would not hesitate to recommend. Basically your own little hotel apartment. (i.e. everything was clean and brand new, with plenty of towels, big flatscreen TV, etc)
Simon
June 2012
Absolutely fabulous deal - two guys had a job in the area for a month. Priced less than a hotel but much better accommodations. Will stay again if I have a job in the area.
Nathanael
November 2014
卡姆登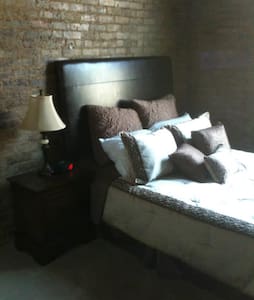 New Edinburg - Airbnb
:
在

39

位房客评价中,平均评分是

4.92

星(满分为

5

星)