输入日期以查看总价格,包含额外附加费用及适用税费。
今年的七月至八月,从这100个不同价格级别的房源中选择,体验当地人眼中的索诺玛。房源提供24小时入住,还可以即时预订,您什么都不用做,只需饱尝本地美酒美食,轻松享受旅程即可。
Those two single beds are perfect for family or friends travelling together. It is on second floor, is very quiet and you can even watch squirrels sunbathing in the park! Separate yet dedicated bathroom.
Bedroom is set on historic landing with property designed by famous architect Greek Thomson. Private parking, kitchen, lounge, 2 bathrooms, 1 toilet. Wifi. I enjoy meeting new people and love travelling myself. Much less so now as I have young kids. So hosting visitors is a way to "travel from home". Happy to chat. Happy to give peace too. Your choice!
Very peaceful, plenty of trees. It's an emerald hide-out. Yet do close to the city. Train station is 10 minutes walk, 20 minutes from Glasgow Queen Street, 40 from Haymarket in Edinburgh. Foxes and squirrels play in the park. Not together!!:-)
这是一个非常温馨的地方,房东是个浪漫而又亲切的男人,并且十分好客!房间很干净和整齐,房东甚至会为你做早餐和晚餐。在我住的短短2天里,房东不断的给我惊喜,从去火车上接我,到亲自为我和朋友做的可口的早餐和晚餐,还送我法国的CD做礼物,一切的一切都使我感到舒适,有家的感觉。如果你在格拉斯哥选择住宿的话,我觉得最好的选择就是这家了!房子离火车站有10分钟的步行,坐火车去格拉斯哥只要20分钟,火车班次很多,所以很方便。 This is a very warm place, the landlord is a romantic and kind man, and very hospitable! The room was clean and tidy, the landlord will even cook the breakfast and dinner for you. I live in just two days, the landlord constantly surprise me, pick me up from the train , he personally cook the delicious breakfast and dinner, gave us Franch CDs as gift.Everything he do make me feel comfortable, feel at home. If you choose to stay in Glasgow, I think the best option is this home! There is a 10-minute walk from the railway station and the house,take the train to Glasgow about 20 minutes, and trains a lot, so it is convenient.
Tony
September 2016
The host canceled this reservation 10 days before arrival. This is an automated posting.
Chrissy
Xavier is possibly the best host you could wish to meet, after arriving soaked in our bike gear, he sorted space to get everything dry even drying our bike helmets while we unpacked, nothing was too much trouble. We were greeted with snacks after getting changed out of our wet bike leathers and a glass of chilled prosecco, not something you get in many upmarket hotels. We got clear and concise directions before arrival, recommendations for good local eateries and pubs. The room was lovely and clean, xavier upgraded us to his en-suite double room for no extra charge, a lovely touch we thought. In the morning we were given a cooked breakfast of our choice , which was superb. As I said earlier nothing was too much trouble, all in all a fantastic stay and the best host possible, very few I feel could match his generosity. Most 5 star hotels could learn a lot from this man
Moira
August 2016
Staying at Xavier's was a 10 out of 10 experience! What makes me say so? Firstly, Xavier's easy-going character and never-ending kindness. Secondly, a modern and clean flat with a comfy bed. Thirdly, a short walking distance (10-15 min) to the train station made commuting effortless.
Dmitrijs
October 2016
My wife and daughter really enjoyed staying at Xavier's home. He was very friendly, chatty and welcoming, and kept me (the husband left at home) up-to-date with what was happening.
Paul
September 2016
Xavier is fantastic and a great chef! Made a freshly cooked breakfast for me every morning and incredibly helpful during my stay. Lovely flat, very welcoming, and short 10 minute walk from Airdrie train station. Direct train goes into queens/Charing cross Glasgow Highly recommend
kirpal
September 2016
Xavier is brilliant. Made supper and breakfast for me. Both quite unexpected and really tasty too - French cooking, eh?
Tony
November 2016
I stayed at Xavier's with my friend. We really enjoyed our stay. Xavier welcomed as warmly and since then we felt like home. The flat was very cosy. The bathroom was very clean and nice. The location was also great, it is only around 10 mins till the train station to Glasgow. Every dish he made was extraordinary, he even baked a pie for us before we left!!! The best host we've ever met!!!
Anastasiia
January 2017
Airdrie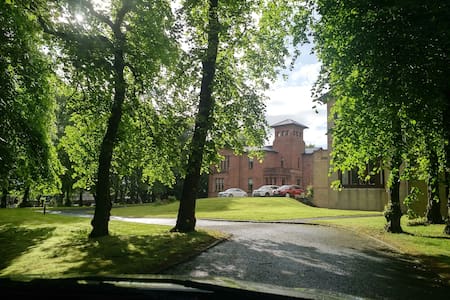 Our victorian villa looks traditional from the exterior but has a cool contemporary extension. Feel at home in an ensuite bedroom and enjoy easy access to Glasgow and Edinburgh from the train station 5 minutes away.
We have a traditional victorian villa with a cool contemporary extension. En suite double bedroom, kitchen and garden room.
We are 5 minutes away from the train station that has regular trains to both Glasgow and Edinburgh We share our home with our rescue greyhound Mr Bob (also known as BeeBee). He is very chilled out and spends most his time asleep. We have still to hear him bark! He loves ear rubs and will be your best friend if you make a fuss of him.
I'm currently travelling for work, and this was the perfect solution! The home is lovely warm and modern. I was able to make myself meals in snacks in their lovely well equipt kitchen. The dogs are the absolute highlight and sweet gentle creatures. I wouldn't hesitate to stay with Lisa again!
Toni
November 2016
I can not express enough how so very kind and helpful Lisa and her whole family were during my stay. My boyfriend and I stayed in Lisa's beautiful home while we were waiting to move into our new flat in Glasgow. After letting us book VERY last minute, she immediately saw how weary and bedraggled we were after a week of flat hunting at another airbnb, and cooked us the most delicious spaghetti served with red wine. It was so kind, and she even cooked us vegetable soup another night of our week there. Her husband Cameron and sister Kathy were also there and they were so fun and charming and extremely hospitable. Their home is completely remodelled and is seriously so nice and bright. The room is nice and private with an attached bathroom - everything very new in there. On our last day, Lisa even drove us back into the city so we wouldn't take a cab. They were so relaxed and went above and beyond. We feel so grateful to have met such genuinely kind and open-hearted people who are still helping us with our move from the U.S. to Glasgow to this day. Also, Archie and Gracie, their dogs, are amazing.
Raquel
September 2015
Lisa and Cameron's house was absolutely perfect for our stay and they were very welcoming. Our room and bathroom (and the rest of the house) were lovely and spotlessly clean. Lisa was a super host and was very accomodating in anything we happened to ask her. The neighbourhood was very quiet and relaxing. I would definitely book here again.
Nathalie
August 2015
We hebben uitermate genoten van ons 6 daags verblijf bij Lisa en Cam. We werden hartelijk verwelkomd en ze hebben ons zeer goed verzorgd. De kamer was zeer ruim en vooral de douche was zeer luxe. We konden vanuit hun zeer prachtige villa heel gemakkelijk Glasgow bezoeken en zelfs voor mijn man, die slecht ter been is, was het station goed bereikbaar. We kunnen het iedereen die Glasgow en Edinburgh wil bezoeken van harte aanbevelen. Hartelijke groeten van Ben en Inge.
Inge
October 2015
This was the best Airbnb I've stayed in so far over 3 continents! Lisa and Cam were warm, welcoming and very helpful; I immediately felt at home. The whole house was beautifully renovated and the guest room was spacious & sunny - with a sparkling en suite and one of the most comfortable beds I've slept in. The location was perfect with easy access to both Glasgow and Edinburgh. I had access to the kitchen, laundry and living room, and had a lovely evening sharing food, wine and interesting stories with my wonderful hosts. Bob the greyhound & newest member of the household was extremely friendly too. I'll look forward to staying here again!
Jillian
May 2016
What an excellent stay! Myself and my partner visited, Lisa couldn't have been more welcoming and the whole experience was totally relaxed and fun. The room was large, filmically furnished (ask them), spectacularly clean (must try harder at home!) and the en suite bathroom a perfect treat for us prior to a week of less luxurious Highland camping. There were places to eat within walking distance, and parking available. The WiFi (with accompanying amusing password) was great for a laptop film viewing in comfort. Breakfast was bang on, we felt quite spoiled! A special mention also has to go to Archie and Grace (the greyhounds) who were also the perfect hosts. We wholeheartedly recommend a visit to Lisa - we will no doubt return.
Anna
August 2015
Wow. This is a dream Airbnb stay; even better than the photos. If you're considering staying in Airdrie, Glasgow or the surrounding areas, stay here. A 10 minute stroll to Airdrie train station, this is a beautiful house, room and en-suite bathroom. Very comfortable bed and stunning decor. It felt like we were in a 5 star hotel yet somehow in a real home. Lisa, the host, is simply fantastic. I wish we'd had much more time to talk! She couldn't have done more to make sure we were able to stay, communicated perfectly and was such a pleasure to meet. Lisa's wonderful welcome, great communication, trust and meeting the two stunning, majestic and kind greyhounds means we'll never forget our stay. I only have good things to say about this place. I'd take the chance to stay there again any day.
Sarah
October 2016
Our stay with Lisa and Cameron was nothing short of fantastic! On our arrival we were welcomed by Lisa and her four legged fur babies, Bob and Copi. We all became fast friends. Lisa couldn't do enough to ensure that we were comfortable and had everything we needed. The home and our room was quite large though very warm and welcoming. We also had access to a lovely main floor lounge when we wanted to just relax and perhaps watch TV. The home is ideally located a short walk to the train station and town. It is also very convenient for access to the Motorway. We thoroughly enjoyed our nine night stay and wouldn't hesitate to go back on our next visit to Scotland. We feel so fortunate to have found this gem where felt so at home.
Bob
July 2016
Airdrie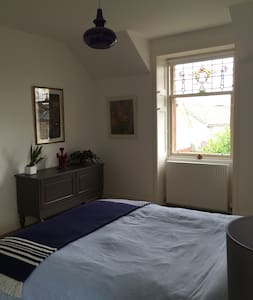 This massive bedroom is ideal for travelers who want to relax during their tour of Scotland, whether you land in the west or in the east, motorway access is around the corner. Yet, property is hidden behind a wall of centenary trees. No wonder there is so much wildlife around. It is a great spot to crash before you hit the wilderness or the cities...come on in!
The property was built 30 years ago over a historic landmark in the area. The local provost had commissioned the famous architect Alexander Thomson aka "Greek Thomson" to build his family home - it is a sumptuous mansion from 1870. My living room is just across, a unique view to take you back in the days of 19th century Scotland. For a start, private car park, WFi, goes without saying! A proper kitchen with all the spices at hand, 2 bathrooms, 1 toilet and all the warmth of a family home. The best feedback we get is "We felt like home!" - try it out! As much as they like, most of them are very friendly and sociable of course! One reason they go AirBnB! The best BnB club in the world...but we respect your privacy so rest assured you can always enjoy all the peace and quiet our place is blessed with.
Average town with nice pubs, restaurants, supermarkets and fine take-away food! You can always book a fine diner from the French head chef, £20 for two with Prosecco! Starter, Main course and Desert, of course! Train station is 10 minutes walk, it has free WiFi. Many taxi ranks too. If you have huge bags, get a cab please! It's on the house when you spend 2 nights here. Foxes and squirrels play down the park - not together, yet! :-) We have binoculars here so spend some time watching, it is worth it!!
Xavier has been very responsive during the organization of my arrival, and welcoming during my stay. The apartment is very nice and clean, and English breakfast was very good!
Giovanni
August 2016
Really enjoyed the stay. Xavier is an excellent host and would definitely recommend staying here if you find yourself in this area. Thanks very much for your hospitality!
Joseph
September 2016
Our experience with Xavier was incredible! He is a very conscientious host who was genuinely happy to have us join him in his beautiful home. Upon arrival he met us with warmth and enthusiasm which continued for the duration of our stay and extended to wonderful breakfasts and conversations. Thank you for making our holiday!!
Derrick and Jenny
August 2016
This was my first experience of airbnb and it was excellent. Xavier was most welcoming and went out of his way to make sure I had a good stay. He wasn't overbearing and gave me all the space I needed to recover from my long drive. Future hosts have a lot to live up to now. Thanks Xavier
Rich
August 2016
Airdrie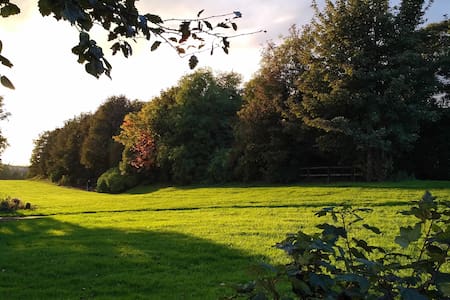 Great for Commonwealth Games or Ryder Cup. 3 Bedroom house and self contained 1 bedroom flat. 12 Miles from Glasgow City Centre and 6 miles from many of the commonwealth stadium in the East End. 3 Mins to rail links for Edinburgh and Glasgow.
Large spacious house, flat and gardens. 3 bed house and separate 1 bed apartment. 3 Bedrooms, 3 Bathrooms, Lounge, Sitting room, conservatory, Kitchen/ diner, Dining room. All rooms have TV/Sky satellite TV. CCTV security system and electric gates. Apartment has Living/dining/Kitchen area 1 bedroom, Large shower room/ toilet. Gardens to front and rear, Fish Pond. None at all.
Semi rural, with great transport links. Central for Glasgow/ Edinburgh, Stirlingshire, Perthshire, Argyll. 1 mile from trains to Glasgow, Edinburgh, Loch Lomond area. 10 mins from motorway for Glasgow, Edinburgh, Stirlingshire, Perthshire. Large driveway front and rear gives lots of parking space.
格拉斯哥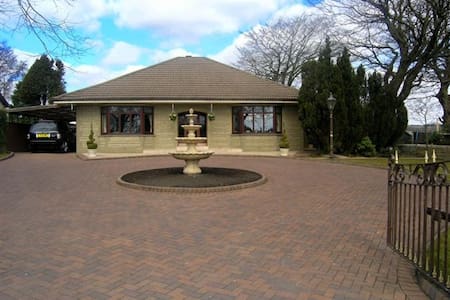 Traditional 1 bedroom apartment with free parking space. We have everything you need for you to relax: comfortable beds, TV, equipped kitchen and toiletries. Close to Eurocentral Industrial Estate
Entire apartment
We booked at last minute, communication was good from the start. The Flat is in a good location for Glasgow & Edinburgh with excellent rail links, it was a great base. The flat was clean and tidy, and once we got heating turned up very cosy. A bit on the basic side but still an amazing bargain.
John
December 2016
Nice clean comfortable flat
Nick
December 2016
Easy to find using our GPS, central to where we were going, Off street parking a big bonus. The apartment is exactly as described, spacious and cosy at the same time, very clean and bright. Karolina is a very considerate and kind host.
Mary
December 2016
Everything was ok, In the morning two bunnies cam in the garden it was magical
Mihail
November 2016
Bellshill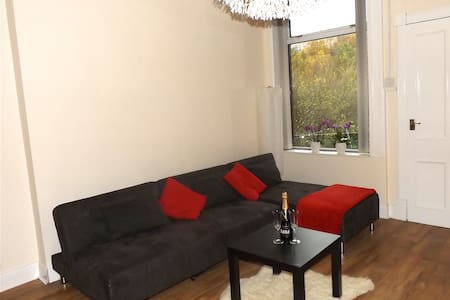 2 bedroom apartment available, sleeps up to 4. You have the entire apartment Each bedroom has 2 single beds which can be made into King upon request. (2 days advanced notice required) Close to all motorway links, great access to Euro Central and Strathclyde Business park. A short Distance form the Clyde Valley and great train and bus links to both Glasgow and Edinburgh. Local parks and attractions are minutes away. Excellent transport links by bus and train.
The Space This is a bright and airy flat located in a very convenient area. There are two spacious bedrooms both with twin beds. These can be made into king on request. Guest Access Guests will have full and unrestricted access to the entire flat during their stay. There is also a communal rear garden that guests can use. The Neighbourhood The flat is situated in a great location. Just a couple of minutes from the local supermarket along with other shops bars and restaurants. The apartment is minutes from all major motorway links. Euro central and Strathclyde business park are just a short drive. There are many local parks and attractions close by for guest to enjoy. Getting Around There are great transport links right on your doorstep with regular buses and trains to Glasgow and Edinburgh. We are a quick 20 minute drive to Glasgow city center. The apartment also has easy access to Livingston, Edinburgh, Glasgow and the Clyde Valley.
Thanks a lot to have a good time at your apartment!!
Małgorzata
August 2016
All ok.thanks a lot!!
Małgorzata
August 2016
Motherwell
first floor apartment in a modern quiet residential block with ample parking,well equipped kitchen,TV,WIFI,close to local shops,train to Glasgow or Edinburgh,
2 bedrooms both have single beds with a sofa bed in the living room if required, guests have the whole flat for their use i will meet with guests on arrival and show around apartment,keys available after 2 pm,flexible about time of arrival,i live local so can be of service most of the time.
apartment overlooks pond, the area is quiet and formed of newly built properties and there are countryside walks to the rear of building, 5 mins on local bus to Airdrie town centre for a selection of shopping and eating out, short distance to train station for trains to Glasgow (30 mins),Edinburgh(45 mins) 2/3 trains per hour with free parking at station, about 5 minutes from M8 motorway by car
North Lanarkshire