输入日期以查看总价格,包含额外附加费用及适用税费。
今年的七月至八月,从这100个不同价格级别的房源中选择,体验当地人眼中的索诺玛。房源提供24小时入住,还可以即时预订,您什么都不用做,只需饱尝本地美酒美食,轻松享受旅程即可。
The Circle O Lodge is located in North Central Missouri not far from historic Highway 36 and Walt Disney's boyhood home of Marceline. Families and small groups will enjoy the Circle O Lodge for its natural beauty and relaxing qualities. It is conveniently located near several local attractions. The lodge is situated on 60 acres of mixed terrain and features hardwood forests, open grasslands, 2 1/2 acre fishing pond and 15 acres of wetlands.
Constructed in 2010 The Circle O Lodge is a rustic but modern family Lodge with three bedrooms, 2 1/2 baths, living room and fully equipped kitchen. The lodge is air conditioned with electric heating and gas fireplace. Amenities Master bedroom - queen bed with linens 2 Bedrooms with 1 bunk bed and 1 single bed in each room with linens 2 1/2 bathrooms with towels Fully equipped kitchen Washer / dryer, iron and ironing board Front and Back decks with outdoor furniture Sporting clays Horse Shoes Barbecue, fire pit Fishing Ponds Walking Trails Guest have access to all the rooms in the Lodge. We do not live on the property but we are available via email or phone.
We charge $ 45.00 dollars for each additional guest.
Everything about this place exceeded my expectations. Everything was so guest-friendly. If you forget anything--I mean anything--you'll find it somewhere in the cabin. This place is truly a little slice of heaven.
Hannah
August 2016
This little piece of property is a little piece of heaven. Secluded, quiet, relaxing, peaceful, secret escape from real life. We stayed there for an extended weekend and left the property once to get groceries; other than that, there was no reason to leave. We explored the property, explored ourselves, and explored the starry skies each night. If you are looking for a place to escape your day to day, this is it. The Wifi was a nice touch so we could have Spotify playing all weekend, but other than that, no phone calls or emails distracting us from ourselves.
Dave
August 2016
The listing was even better than described. The host was in contact with us before, during, and after our stay to make sure that everything was going well. We will definitely be staying there again!
Bridget
August 2016
This cabin was well equipped and the perfect weekend getaway! And being able to bring our dog was a huge plus! We will be back!
Tim
December 2016
What a beautiful property! We stayed here for our first wedding anniversary. We loved the relaxing environment and comforts offered in the lodge. There are so many amenities awaiting you at the Circle O. I would definitely recommend it! We hope to make a return trip someday.
Nycole
October 2016
We were thrilled to find this gem located in missouri! We had a fabulous time! The cabin was beautifuly decorated and had a cozy welcoming atmosphere. There were lots of personal touches that made us feel comfortable! The property and views were perfect. Thank you for providing us with an amazing place to celebrate our wedding.
Jessica
October 2016
The host was great! Even let us stay pass check out time!
Joy
September 2016
The host canceled this reservation 5 days before arrival. This is an automated posting.
Bryan
Marceline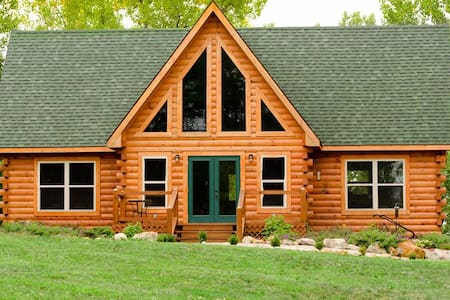 Whether on business or pleasure, stay with us at the Main Stay on Main Street USA, boyhood home of Walt Disney.
Spacious living room and master bedroom. Fully equipped kitchen with nice dining area and featuring a gas fireplace. No restriction to any room Will be available by phone or email.
Home
Great location and wonderful space. We had everything we needed and then some. The location right on Main Street USA was amazing for the Toon Fest events. The space looked to be recently remodeled was very clean and all amenities we there for us. We would stay again for sure
Kristinia
September 2016
MAIN STREET USA For a Disney fan to stay on MS USA was icing on the cake. The accommodations were perfect. Watched the WS when the Cubs won at Wrigley. I would stay here again. I will also let anyone that wants to know about Marceline to look for this place first..!
Jeff
November 2016
Really enjoyed our stay here. Very nice place.
Candice
December 2016
Great place to stay with plenty of space to relax and cook. The rental was spotless and I would recommend this rental to anybody staying near the marveling area.
William
November 2016
Marceline
The Nest is a labor of love by twin sisters who grew up here. It has been a space for family and friends to gather for laughter, good food and memory making. We hope you will feel the joyous vibes that have reverberated throughout this 1,000 sq ft space.
This cozy little cottage was completely renovated in 2012 from the studs up and features original wood floors, custom kitchen and bathroom, and a wonderful loft with two sleeping areas. A queen size air mattress is also available for a group larger than 4. The television room has basic cable television and wifi access. A pantry area houses a brand new washer and dryer for use during longer stays. The 60" shower in the bathroom has amazing water pressure. Sit on the side deck at a bistro table or in the yard with matching outdoor table and chairs. This house sits one block off Brunswick's main street (Hwy 24) and is within easy walking distance (two blocks) to Kaitlynn's Deli, Madison Street Lounge, Sew Sweet Quilt Shop, Upriver Urban Exchange and Plantation Antiques and Interiors. The house has been decorated with art and artifacts acquired during the national and international travels and living experiences of the owners, including photography, ironwork, sea glass, and textiles. We welcome adults and children over the age of 10. Guess access is to the whole main floor and loft. Basement is not accessible to guests. Keys may be picked up by house manager. Any questions or concerns during your stay will be handled by the house manager.
This charming town on the Grand River has undergone a lovely revitalization! Take a class at the Sew Sweet Quilt shop, recognized as one of the top quilt shops in the Midwest. Browse antiques or buy local Missouri wine at the Plantation. Spend the afternoon trying on trendy clothing and jewelry at the Urban Exchange. Hungry for a steak? Dinner at Railyard followed by a slice of heaven from Kaitlynn's Deli, the home of regionally renowned cheesecake. Stop at The Optimistic Gardener on your way out of town for a keepsake piece of art to remind you of this darling town. The whole town is within walking distance.
The host canceled this reservation 8 days before arrival. This is an automated posting.
Susan
Our stay was great! Even though we didn't get to stay very long, it was close to where the reception was and very easy to get to. We had not read the notes that were sent to us via email about stopping in earlier and turning on the air. It was pretty warm when we got there, but cooled down very quickly. The place was very comfortable and we slept great! Great place to stay!
Lynn Anne
June 2016
不伦瑞克(Brunswick)
Small home with lots of comfort packed into every room. All mattresses and bedding brand new and sooooo comfortable! Full kitchen with all new appliances. Quiet neighborhood, off street parking, one hour from Hamilton quilt shops ,Jamesport Amish shops, and Kansas City. One hour 15 minutes from Columbia.
All new flooring, paint, and bedding. 2 bedrooms, living room, dining room, kitchen, and full bathroom. Recently added screened in back porch. Daily if necessary, less often if preferred. Whatever is needed for comfort.
This is a lovely small town with everything very close, grocery store , restaurants , shopping, hospital, schools. You are one hour from Kansas City, Hamilton, or Jamesport, and one hour 15 minutes from Columbia. No public transportation.
What a charming residence! My wife and two pups really enjoyed this clean and cozy space. The natural light from the windows were amazing and our pups loved napping by the large window in the living room :) We will definitely make this a repeat visit every time we visit Mid-MO! Thanks again Beth!
Chris
May 2016
We had a very positive experience. Our host was kind and hospitable, and the house was comfortable and well equipped.
Daniel
June 2016
This was one of our favorite Airbnb spots. Very clean, comfortable, and cozy home. Just the perfect size for my spouse and I (although we closed off the extra bedroom, so it could hold a larger party, too). We enjoyed the comfy bed and fresh-grinding coffee maker, too! Beth was kind enough to meet us when we arrived to go over any questions we might have. Very welcoming. Thanks, Beth!
Simone
November 2015
This was very clean house in a quiet neighborhood. Beth communicated with us during the stay and was very gracious. It is a very well thought out residence for use as a bed and breakfast.
Richard
November 2016
The house was cozy and provided a nice space for our group to relax in during our cross-country journey. I would recommend this to anybody who enjoys a nice drive through the country!
Daniel
August 2016
i contacted Beth at last minute to inquire about her rental so my son and I could go on his last youth deer hunt at our property near her home and she was extremely quick to answer. Her place was more than accommodating and very nice. My 15 year old and I had a great bonding weekend. i would rent her listing without any hesitation for future trips.
Scott
October 2016
卡罗敦(Carrollton)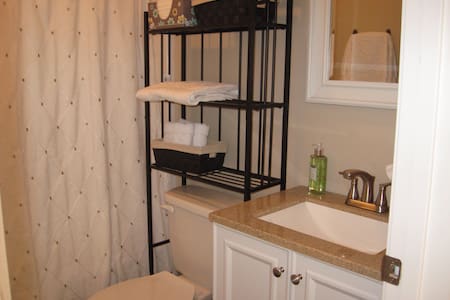 Very spacious and clean home with two bedrooms. Master bedroom has queen bed, second bedroom has two twins. All new mattresses and bedding. 25 miles from the quilt shops Of Missouri star in Hamilton. 22 miles from the Amish shops of Jamesport.
I've tried to include all the comforts of home. If anything is missing, let me know and I'll try to supply it. The whole house. Only as much as necessary. They won't have to see me at all if I've done my prep right.
The lady to the north is crazy in a good way, heart of gold. Everyone else keeps to themselves. You are very close to good eating and shopping. There is a deck in the fenced in back yard. Very private.
Chillicothe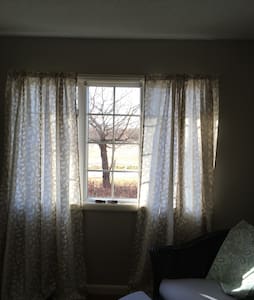 Located in Carrollton Missouri. One hour from the quilt shops of Hamilton Missouri, the Amish shops of Jamesport, shopping and the casinos of Kansas City, and one hour 15 minutes from Columbia. Restaurants,groceries, coffee shop within 2 miles.
We had the best time. The home was beautiful and so welcoming. Beth was there when we arrived to greet us and give us information about the area!! It was a great weekend!! I will definitely be using her home again if im ever in the area!!
chris
May 2016
Beth has been wonderful. She made us feel welcome and was very accommodating. Her home is very clean and has it nicely furnished.
Deborah
July 2016
The host canceled this reservation 18 days before arrival. This is an automated posting.
Juanita
卡罗敦(Carrollton)
Mooresville Guest House with all the amenities of home. Close to Missouri Star Quilt and Jamesport, Mo. Enjoy peace and quiet of rural Missouri.
Enjoy a quiet, relaxing and fun stay at our Mooresville Guest House, with easy access to the Missouri Star Quilt Co., Chillicothe, Mo. and the historic Amish community of Jamesport, Mo. There is no need to settle on a mundane room and the irritating traffic noise of a motel. Enjoy our open concept guest house which offers a fully equipped kitchen (from small to large meals),large leather sofas, comfy beds, a large clean bathroom. We are happy to supply a Keurig coffee pot w/coffee, water, fruit and snacks. The large yard is great for outdoor games or enjoying a BBQ. If we are not booked we can be flexible on check in/out times to help you accommodate your schedule . Visitor information is provided for the surrounding area. The entire house and surrounding yard. We are retired but still have very active schedules. We will try to meet and greet all of our guests but if not my contact numbers are available so guests may call or text. The guesthouse has a key pad entry for easy enter and exit without a key.
We live in a small and quiet rural area. The best environment for relaxing and enjoying your stay. There is no public transportation in our area.
This was a very pleasant, quiet, relaxing and clean place! Our host went above and beyond to stay in contact with us and met our every request! We will be back!
DEB
October 2016
This place is fabulous!! If you are going to Missouri Star Quilt or to Chilliclothe, this is a great place to stay!! The hosts were so nice and the place is cozy, quaint and full of nice decorations to make one feel comfortable and at home!! Please check it out!! If we are in the area, we will definitely stay again!!!
Jacob
September 2016
Judy was a fabulous host and the guesthouse was wonderful. We thoroughly enjoyed our stay. The guesthouse was very neat and clean. It is very nicely decorated and has everything you need including kitchen supplies for any cooking you want to do. The front porch is inviting, a great place to enjoy the quiet of the rural location. Rural Missouri Gem is a very apt description.
Lisa
September 2016
Judy welcomed us the minute we arrived. The outside appearance was very warm and welcoming. The inside was more than we expected. Very, very clean and everything we needed was right there. If anything was required Judy was more than willing to get it for us. Judy made us an apple pie which was greatly appreciated. She made us feel like family. Looking forward to staying here again.
Ed
September 2016
I absolutely loved Missouri Gem...perfectly named too! Our host greeted us when we arrived, described the property, and told us about some of the sightseeing we could do in the area. It's close to Hamilton and Jamesport. I would have loved to have seen more. Her guest house was perfect for our stay. It's quiet in this rural neighborhood and we are certain we heard a rooster crow this morning. It's a lovely house, decorated beautifully, the bed were very comfortable and the kitchen met all our needs. This is a great place to stay and relax, especially on that porch! We will definitely come again.
Cynthia
October 2016
Judy greeted us when we arrived,she was very friendly and helpful. After hearing our plans She gave us a hand writen map for finding everything we wanted to see. If I return to her area I will definitely book again.
Monica
November 2016
Our stay at Rural Missouri Gem was incredible. Judy was awesome and met us upon arrival. The stay was very quiet and relaxing and all the amenities were provided. This was our first Airbnb experience and we will now rate and compare them all to Judy's Missouri Gem. We would definitely recommend this location. It is about 30 miles to Amish country and Jamesport Missouri. The slow pace for a day was indeed needed.
Sue
October 2016
Truly wonderful experience and the host couldn't have been more accommodating. Even baked us a delicious apple cake. Total gem.
Ryan
November 2016
穆尔斯维尔(Mooresville)
Enjoy this historic cozy home in small town Carrollton. Settle into a comfy bed and relax in this quite atmosphere. Wake up to freshly brewed coffee and a full espresso bar as well as yummy baked goodies.
This historic house is the perfect place to relax and enjoy a quiet night, with the bonus of having a full service coffee bar on the main level of the house.
The Coffeehouse is open to the public Monday-Friday from 6:30am-1pm and Saturday's from 8am-1pm
This is a great bed and breakfast. Abbie and Joe did everything possible to make sure I had everything I needed. The neighborhood is nice and I felt very comfortable walking around. Restaurants are very limited but that is what you get in a small town. Restaurants close after lunch and the only one that wasn't fast food was closed on vacation for the week. I was there on business and had everything I needed to have a great week!
Betsey
July 2016
Charming old home beautifully restored. Great location close to downtown, and 3 churches. Owners were very friendly, enjoyed the back patio fire pit with them and coffee from the coffee shop next AM. Living areas were peaceful and pleasant. Would stay there again. Thank you!
Stephen
October 2016
卡罗敦(Carrollton)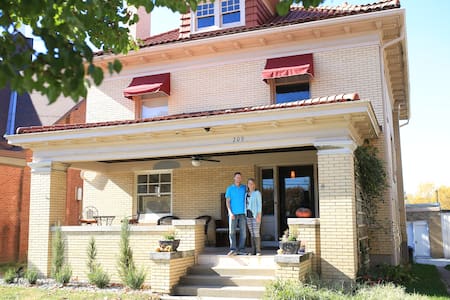 Our back loft features one bedroom with queen sized bed and a living room with a queen size memory foam sleeper sofa. The Loft is located on the second floor. The only access is stairs. This property is one of Marshall's oldest retail spaces. The retail space below the Lofts now houses Courthouse Salon.
Best place to stay in Marshall hands down. Jeremi was awesome and even put a recliner in the loft for our son who just had shoulder surgery. New home away from home!
Nikki
October 2016
This loft was beautiful. The amenities were perfect, and the beds slept very well. Why stay at a typical hotel, when a uniquely decorated, luxurious space is right on the square?
John
June 2015
The courthouse loft was lovely! It was a beautiful mix of modern renovations with antique touches. The apartment was stocked with everything we needed and more. Check-in was extremely convenient. The surrounding downtown area was cute, with shops and a community garden within walking distance. If you are going to be staying in Marshall, this is THE PLACE to stay!
Emily
July 2015
We loved staying at Courthouse Lofts in Marshall. The front loft was perfect for us we appreciated how clean the unit was and how convenient the location is. Lucy is an excellent host.
Greg
September 2015
This is a great spot. My company rented both the front and back loft for an event and we had four people staying. The place has lovely decor and comfortable amenities. If you need a space to eat, the back loft doesn't have a real dining room or a living room, so I'd recommend the front loft or renting both spaces. If you just need a place with a good little kitchen and several rooms, the back loft is perfect!
Lee
June 2015
Very comfortable and relaxing, no issues.
James
February 2016
The back loft at Courthouse Lofts was the perfect experience for the old soul who enjoys modern comforts. Everything was clean, neat and in working order. The proximity to the beautiful square in Marshall was a huge selling point as well. No complaints.
Logan
October 2015
Amazing place! Stunning! Perfect for the family
William and Mina
May 2016
马歇尔(Marshall)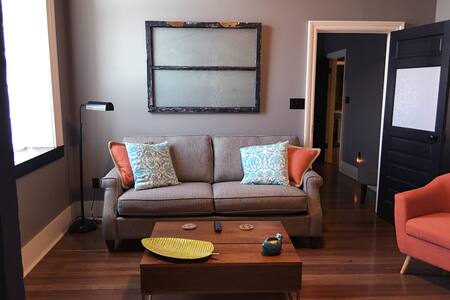 Front loft has 1 bedroom, full kitchen, walk-in shower, walk-in closet, living room with full sized murphy bed, large dining table, breakfast bar and a magnificent view of the Marshall Courthouse. This 1882 building has seen a complete renovation. The loft is on the second floor and is only accessible by stairs. The lofts are above one of Marshall's oldest retail spaces that now houses Courthouse Salon.
My Husband and I enjoyed the loft so much! Our Wedding was Saturday. The bridesmaids and I got ready before the wedding at the loft and took some pictures. After the wedding Zach and I stayed the night at the loft. It is so beautiful, and really helped make our wedding night special. Lucy was amazing to work with! I
Elizabeth
June 2015
The loft was lovely- just as described. One of the nicest places I have stayed through Airbnb. Bed (double) was very comfortable, and shower pressure was great.
Amanda
June 2016
Another Fabulous Stay. Thanks again Lucy!
Troy
August 2015
Lucy made us feel very welcome. She was great at communicating and making sure we knew everything we needed to know. The space was decorated beautifully - It was a pleasure to stay here. The town is adorable we learned about Jim the Wonder Dog and the people at the diner across the street were wonderful.
Linda
September 2015
My stay in the front loft was extremely enjoyable. The rooms were spacious, well maintained, clean, and very quiet. The amenities (kitchen utensils, blankets, pillows, towels, etc.) were plentiful and in excellent condition. The internet speed was fast with no interruptions. Overall a perfect place for a business traveler.
Paul
August 2015
This was a wonderful place to stay. A little bit of history in an updated super clean and comfortable place. Amazing location in the square over looking the Court House. Certainly one of if not the nicest places to stay in the Marshall area. We were there to visit Missouri Valley College where our granddaughter will go to school next year. It is just a few blocks from the lofts. We were telling everyone at the school and in town that we were staying in the lofts and how much we enjoyed. Looking forward to staying at the Lofts next year. Someone staying there needs to know they are up stairs which could be a challenge for someone with mobility problems.
Cathy
September 2016
This loft is beautiful. I would love to downsize and live in it! Simple, yet elegant. The best part was being able to look out of the window at night and see the courthouse clock tower. Easy access with a coded lock. Kitchen had everything one could need to cook with (except food). Bed was comfortable and fresh. Thank you for sharing your loft.
Bobbi
October 2014
Always a great stay. A regular here
Troy
July 2015
马歇尔(Marshall)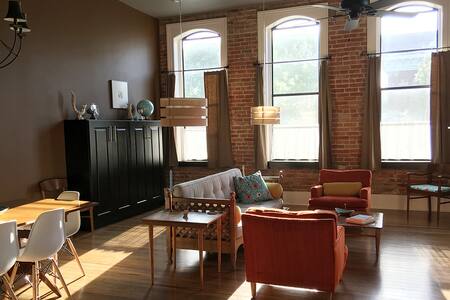 Close to Amish shops, LDS Church History, great hunting, hiking, fishing, Kansas City/St. Joseph, Missouri Star Quilt Co. and more. Nestled on 13 wooded acres. Family friendly but also perfect for couples getaway or friends get-together. Wifi, 6 TVs, satellite w/ sports package, video/board games, foosball, bar, leather couches, w/d, yard area, outdoor games, fire pit & more. Space for tents. Also, there's a house adjacent to the cabin we're remodeling to hopefully rent during summer 2017.
Woods Crossing is located just outside of Lock Springs, MO, conveniently between Chillicothe and Jamesport, the largest Amish community in the state. The facility is nestled on 13 acres of wooded land, full of bright stars and peaceful countryside. The facility sleeps 8 with a full bathroom and shower, washer and dryer, kitchen, tables and chairs, bar with seating, leather couches and recliner. There's free WiFi, 6 TVs with satellite and sports package, video games, board games, foosball and more. There is also a large yard area for outdoor games, a basketball hoop, a horseshoe area and other sports equipment available. The entire cabin is private for your use only. We'll be available via texting if you have any questions or problems arise during your stay.
The cabin at Woods Crossing is practically invisible from the highway with no neighbors' homes in sight. It is farm country so you might hear the occasional cow or tractor. And there are train tracks about a mile away; the train can be heard in the distance a few times a day. There are no services in Lock Springs where we are located and Jamesport services close early, so make sure you fill up with gas and supplies before you arrive. There is a house on the property adjacent to the cabin that is being remodeled on the inside to prepare to rent out along with the cabin. If we're doing work on the house while you're staying in the cabin, we can be as quiet and invisible as you'd like us to be. Or available, too. Or, if this is a problem, we can discuss the possibility of not being there while you are there.
We had a great time at Woods Crossing. A quiet peaceful place, well furnished, and beautifully decorated. Enjoyed sitting out at night because the stars were magnificent!! We plan to return again to Woods Crossing.
Janis
May 2016
Fantastic hosts, beautiful home and quiet location. The home has great amenities, the land was fun to explore, fire pit and stars dreamy and Jamesport was cute to visit. We highly recommend Woods Crossing!!
Shari
November 2016
This space was perfect for me and my friends. We had my friends bachelor party at this space. We just wanted to have a fire and beers. It was perfect for that. If you are in the city it's a little bit of a hike but well worth it.
Matthew
November 2016
Great place! We loved the seclusion, the decor, the comfortable beds, the great kitchen, and the game cupboard. We only wish we could have stayed longer to enjoy it more!
Emily
August 2016
This location was even better than described. The perfect spot for a weekend getaway with friends. Really enjoyed the "tavern" like feel the inside had. It was a great spot to play cards, relax, and chat. This location was incredibly clean and well maintained. I would definitely come back here.
Josh
June 2016
Really enjoyed the openness and it was just as pictured. Everything was clean and we enjoyed covering up in the quilts. Great place to stay with girlfriends as we shopped in Jamesport all day Saturday. Host was very accommodating and even provided a dvd player at our request. Only one toilet and shower, but we managed. Beds were just okay...somewhat hard, but everything else made up for it. Would definitely recommend Woods Crossing! Thanks for the hospitality!
Laura
August 2016
We had a great weekend stay. We were visiting the Cameron area for a grandmother's 100th birthday party, and this cabin gave us a perfect retreat from all of the festivities. Lots of room for kids to run and play outside, the game closet was well-stocked, and the cabin had everything we needed. Jacki made sure we knew how to arrive and alerted us to early closing hours of local services, which was really helpful.
Joseph
November 2016
Staying here was great! Better than we even expected. Very cozy place, and the Woods are incredibly helpful! The place had everything we needed for a nice, quiet weekend getaway. I would definitely recommend staying here.
Forest
January 2016
Jamesport
Just 18 beautiful, country miles southwest of Kirksville, you'll enjoy the peaceful country setting in a private bedroom with a private entrance detached from the main house. A shared bathroom is a few outside steps away in the main house. Your room includes a queen bed, fridge/freezer stocked with snacks, a microwave and your own patio with beautiful views to relax on. Inside the main house you have free access to the living room, kitchen and laundry.
Peaceful country setting Detached private room Private entrance Private patio Bathroom is in the main house. Bathroom is equipped with safety bars Bath lift chair available Living room Kitchen Guest bath Front porch Back patio Hot tub Park area Upon arrival As we cross paths At checkout
Rural country setting Quiet roads Cattle Guest will need their own transportation. Kirksville and LaPlata are both 18 miles.
Perfect for a quiet getaway! Very friendly, made me feel very welcome. Room was spacious and very cozy.
Matthew
December 2016
Kirksville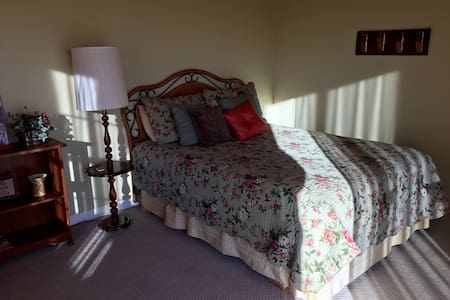 My place is close to Grocery Stores, Small Town Restaurants, Gas Stations, Corn Fields, Hay Fields, Rural Living, Churches. You'll love my place because of the kitchen, the outdoors space, the comfy bed, and the neighborhood. My place is good for couples, solo adventurers, business travelers, and families (with kids).
My son, McCoy, is buying this cute little brick home in September. We would like guests to share our adventure as we update and remodel things. So depending on when you come a project or two may be in progress. That is why we are offering a reasonable price for our first visitors. So come on the adventure with us. Private Bedroom with small closet, Shared Bathroom, Shared Living Area/Entry Room, Shared Kitchen, and Small Front Porch. Step in tub with Shower. Toilet handrail. Ramp to front porch. It would be helpful to be able to walk some with a walker as the home is small. We will provide breakfast at home or take you out to breakfast at a local restaurant within walking distance your first morning with us. Beyond that you are on your own unless one of us is available to contract for more separately, such as English tutoring, etc..
Small Town Rural Living Friendly People Come visit the Heartland of America! The train does come by Small Town Street Parking 1 Block from Downtown Area Will need a vehicle to get here. Several small restaurants and a grocery store are in Braymer, MO. Polo, MO also has several small restaurants and a grocery store. TREX a newer truck stop off I-35 has a great restaurant as well with the Enchanted Frog Antique Mall is next door. Come stay a few days up to several years with us. I would love to meet you, share a pitcher of ice tea, and have breakfast your first morning with us.
Braymer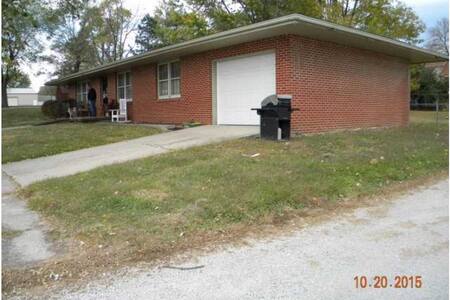 My place is close to family-friendly activities, the city center, Central Methodist University. You'll love my place because of the neighborhood, the comfy bed, the unique setting. My place is good for couples, business travelers and families (with kids). Please contact host if you would like to bring your furry friends along as this does require a higher cleaning fee.
what you see is what you get with this place. very nice, spacious, clean. the crew is very friendly and communicative. i would definitely recommend staying here. very nice place.
james
October 2016
This house is an EXCELLENT value! Plus, you really can't get much more unique than a beautifully restored sheriff's home connected to the actual former jail. We had friends over for pizza and everyone loved the house. The next time we are in the area we will definitely try to stay here.
Allison
November 2016
This home is absolutely wonderful, a treasure nestled within a small town! It is both unique and comfortable, I highly recommend it to all Fayette travelers!
Rebbecca
December 2016
This was the perfect house for our mini honeymoon. We were looking to relax and enjoy some small town sites after a busy year. The house is so beautiful that we stayed in and cozied up by the fire with a glass of wine, working on puzzles and watching movies. The bathroom upstairs has an amazing claw foot bathtub and rain shower. We also loved the surround sound throughout the entire house. We went to a few nearby towns to explore several wineries, shops and restaurants. We will definitely be visiting again!
Beth
January 2017
Fayette was not our destination as we were in mid-Mo for Family weekend at Mizzou and could not get a hotel in Colubma. That being said we loved our time at this home and will return. It was everything the pictures show. We had a lovely time. Our greeter was friendly and available to answer questions. Perfection!
Peggy
September 2016
Absolutely fabulous. We came to town due to unavailability in Glasgow. So glad for that. We had 8 people and our dogs. The jail was perfect. Got some more air matresses and donated them to the jail. One of us slept in the upstairs cell and the rest in the upstairs loft. I got one of the wonderful beds. And sharing the 1.5 bathrooms was no big deal, its huge.
Julie
August 2016
The photos of this place do not do it justice! The house is beautiful and the hosts were very nice and accommodating. I would recommend this place to anyone. I never thought staying at jail would be so fun!
Sarah
October 2016
Communication is pleasant and the house is beautiful! It's such a bargain for what you pay. Take some time to read the history of the jail. It's fascinating and sobering. The bedrooms have only sheer curtains, so you will probably want to do any dressing in the exquisite bathroom with full height shutters. Be sure to explore the area. Rocheport was delightful and Columbia and Jefferson City offer charm, history and city living within an hour's drive. Highly recommended!
Jordan
October 2016
菲也特(Fayette)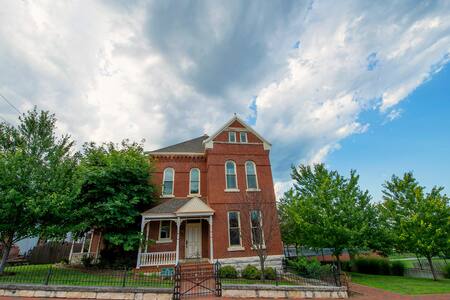 Just 18 beautiful, country miles southwest of Kirksville, you'll enjoy the peaceful country setting in a private bedroom with a shared bath. Furnished with a comfy double bed, a dresser, night stand and sitting chair, there's four drawers and closet space available to use. Additional rooms available.
Living room Kitchen Park area Porches and patios Laundry facilities In passing or when joining us in common areas
Very quiet, rural country setting. Grazing cows. Simplicity. No. Will need your own transportation.
Kirksville