输入日期以查看总价格,包含额外附加费用及适用税费。
今年的七月至八月,从这100个不同价格级别的房源中选择,体验当地人眼中的索诺玛。房源提供24小时入住,还可以即时预订,您什么都不用做,只需饱尝本地美酒美食,轻松享受旅程即可。
My place is within walking distance of the Salmon River. It is on the Pennal Gulch road and only 2 miles from town. We have breathtaking views.
We are located on a ranch just north of Challis Id. It is a beautiful, scenic area for walking, hiking or bird watching. Hunting and fishing easily accessible.
We are close to the Salmon River for excellent fishing and to the best hunting in Idaho. Easy to get to and a relaxing beautiful place to stay.
Suzi met us in the driveway, made us feel very welcome and even gave us tips on local eateries. The place was better than the pictures and was very clean. We were well accommodated and couldn't have been happier with our stay. The views around the property are beautiful too!
Reed
September 2016
I stayed at River Rock Spa while I was in town for a wedding and the views were absolutely incredible. It was such a cozy, relaxing retreat and I felt like I was at home. Suzi is an excellent host!! Would stay here again. Highly recommend!
Kiana
September 2016
I would give all five stars! I would stay here again and I would recommend it highly. Suzy was so friendly. She even waited up the night I was coming in late and said to call if I needed directions (which I did). Very nice woman!
Taylor
October 2016
My sister and I met two friends here because it is halfway between where we live. Suzi was there when we arrived and very helpful. The place is on a beautiful ranch with hiking trails close by. A short drive away there are a lot of amazing hot springs. Thanks again!
Emily
November 2016
Suzi was very kind and extremely prompt whenever I messaged her and even offered to give me directions in case I had any troubles! River Rock Spa was a beautiful place to wind down after a long day of hiking. The room was exactly as advertised. It was extremely spacious and clean. Definitely worth every penny.
Alicia
October 2016
Challis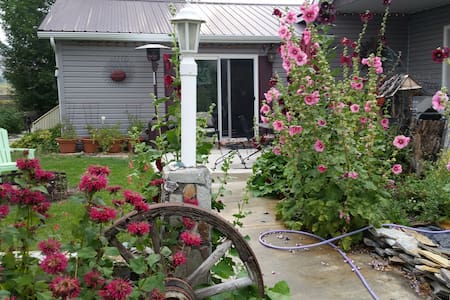 There is so much to do in Challis Idaho: Fishing, Hunting, Hiking and many more outdoor activities. This house is the perfect place to stay. It is fully equipped with a well appointed kitchen and plenty of parking. Enjoy your private back yard.
The charm of the Blue Cottage House is evident. It has a family friendly design with a spacious backyard and is very clean. No smoking or pets are allowed inside the house. Price includes Tax.
We had a great stay at the blue cottage. The location is perfect, the place was clean and comfortable, and they even had a high chair! The upstairs rooms got pretty warm, but the a/c units worked really well, though a bit loud. The yard was perfect, big, nice grass, and fully fenced, great for our two year old.
Roger
July 2016
Everything was very nice and clean and cutely decorated!
JoEllen
December 2016
Challis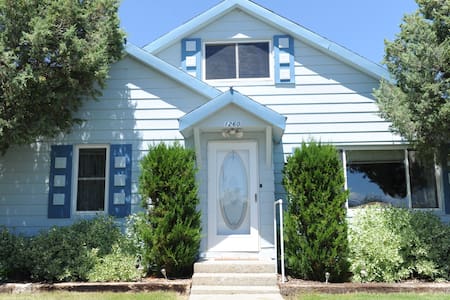 Beautiful Bsmt. Apt., completely furnished, 1-Bedroom (Queen Bed), 1-Bath, Dish Washer, Microwave, Fireplace, TV, Washer and Dryer, & Outdoor Grill. Step out the door and on to the scenic Salmon River. $120/Night or $700/Wk.
Apartment is located on Highway 75 Scenic Byway going toward Stanley Sun Valley and 20 feet off the Salmon River. The apartment comfortably fits 2 people. There is also a landscaped RV pad available with Septic, Water and Electricity available for $35/Night. Access to Steel Head and Salmon fishing. Great hunting of Bear, Elk, Deer, Big Horn Sheep and Wolf. Challis National Forrest, Bay Horse Ghost Town and lakes within 6 miles, ATVing, Rafting, Golfing, Hot Springs, Hiking. The Host lives above the locked apartment. The Host will be present during the guests stay.
The River Drive neighborhood is very quiet and scenic with numerous wildlife visiting the location. The location and water is very soothing and relaxing. Public transportation in not available in Challis. Parking is available at the Apartment. The closest Air Port would be at Pocatello, ID. Travel on Highway 93 towards Challis, ID and turn at the Yankee Fork Junction I75 Scenic Byway towards Sun Valley. Turn at Mile Marker 235 on to River Drive , approx. 11 Miles from Challis, ID, the house address is 420 River Drive, Challis, ID 83226 Close to Red Fish Lake, Sun Valley, Stanley, Salmon. River Rafting, Fly Fishing and Hunting guides are available in the area.
Our stay was great! Barb was a fantastic host and made our first Airbnb experience very positive. The accomodations were lovely and the view of the river was beautiful. Thanks Barb!
Todd
August 2015
Barbara is open and welcoming, she is a gem. She made us feel as if we had long history together. She had a prepared kitchen for our use stocked, so we could easily find something to eat after a long while on the road. The bed is divine. You will be very comfortable here.
Susan
August 2014
Barbara is a very kind and gracious woman and her home is amazing! Barabara definitely goes beyond her responsibility to provide what is shown by being flexible, helpful and generous, all the while giving us complete privacy! The apartment is the entire walkout downstairs of the house you see and is indeed 20' feet from the Salmon river, which is a big significant river! Gorgeous. The apartment is beautifully decorated with quality furnishings and every imaginable appliance tool one could hope for. The pictures on AirBnB do NOT do this property justice, pictures cannot. Thanks Barbara!
Maryann
June 2016
Marvelous accommodations. Beautifully decorated with an airy, open feeling. We enjoyed the patio and sitting around the fire pit, listening to the Salmon river. Everything was provided that you need for a luxurious stay. Barbara is a very gracious host.
Diane
June 2016
Fantastic accomodation. It was a pity we could only stay one night. We used this place as a stopover on our way from Oregon Coast to Yellowstone, but in hindsight the area has a lot to offer. Barb is an excellent host and we never stayed in an apartment that was cleaner and more fully equipped than barb's. On top of that the view over the salmon river (from the bedroom or the rocking chair) is a definite bonus. Without a doubt definitely worth a (second) visit.
Paul
August 2016
Barb is a generous, kind, and amazing person. My stay with her was perfect, she has thought of everything. The breakfast she made us was delicious, and the kitchen in the apartment was well-stocked with pots/pans/dishes, etc so that we could prepare our meals. I have never stayed in a more clean and comfortable place. The outdoor space was incredible and the location is amazing, right by the river. I highly recommend staying with Barb!
Jaime
August 2016
My girl friends and I had a blast staying at this beautiful house by the river! Barb was so sweet and welcoming. We felt right at home as soon as we walked in the doors. We will definitely be coming back here! Thanks Barb! -Amy
Amy
July 2016
Barbara was an excellent hostess and the apartment was gorgeous. Plenty of privacy, space, and wonderful views. The apartment had a fireplace and a comfortable bed. The kitchen was well equipped and breakfast fruits and goodies were provided. The sound of the river and the stars at night were unforgettable. We even saw a shooting star. The neighborhood appeared to be quite and safe. When we woke up on Easter Sunday we attended a local church and restaurant. The people in the community are very nice and welcoming, especially Barbara. If we have an opportunity to go back sometime, we will look forward to staying at Barbara's apartment again.
Nelly & Jared
April 2014
Challis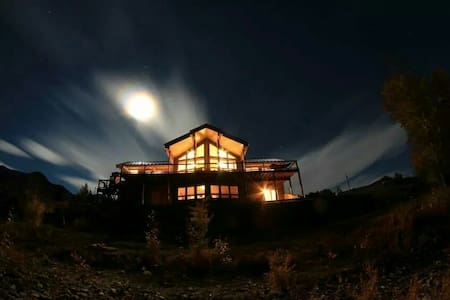 Located on the East Fork of the Salmon River 5 miles up East Fork Road. The house sits on 4+ acres with approximately 1000' of river frontage. Mountain views adjacent to the White Cloud Wilderness. The location offers peace and quiet with abundant wildlife. Great jump-off spot for mountain bikers, hikers, and explorers.
Challis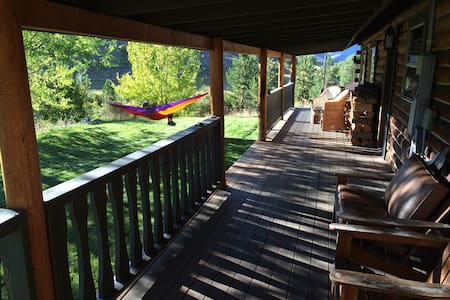 See outside with privacy glass. The gazebo has a comfortable full size bed with a 2"corforter, cots, couch and a twin mattress. AC if it's hot or a warm fire if cool. Professionally washed & pressed sheets! Massage chair for your tired muscles.
Full kitchen for your cooking, barbecue grill, fire pit, shared bathroom. We have Netflix and WiFi. It's up to the guest how much interactions.
Quite friendly neighbors. Lots of room between places. Bike or walk to town.
The gazebo is lovely, comfortable, and peaceful! Mike was away on a raft trip, but Margaret was a wonderful host--friendly, hospitable, flexible, and understanding. I felt like a friend instead if a paying guest, but she gave me plenty of space to enjoy my solitude, too. I would definitely love to come back sometime!
Anne
July 2016
We loved our stay in Margaret and Mike's gazebo! It was very clean and well kept with snacks provided for enjoyment around the cozy fireplace. Margaret laid out quite the spread for us to prepare breakfast, including their own farm-fresh eggs and homemade kombucha! We will certainly stay in the gazebo if ever in salmon again!
Chani
June 2016
Great experience for us!
Missy
October 2016
The Gazebo was quite pleasant and personal. Margaret and Mike are very pleasant, and Salmon is a great town to ride your bike around, and stay off the beaten track.
Harold
July 2016
Mike and Margaret were wonderful hosts. Made me feel right at home. The neighborhood was nice and secluded and very quite. It was a very well kept property and meet all my needs. I'd highly recommend it to friends and future visitors!
David
June 2016
Mike and Margaret were terrific hosts. The yurt/gazebo was a great place to relax after a long day and Margaret even made us a full breakfast in the morning. I would highly recommend to anyone visiting Salmon!
Teddy
August 2016
They are awesome hosts! Went above and beyond to make sure we were comfortable and cared for. I would recommend staying with them and will be back!
Travis
May 2016
Mike and Margaret were in communication promptly and courteously from first inquiry to goodbyes. When my travels plans had some up-in-the-air details, they were flexible and accommodating. BEST night's sleep on the warmed bed by a crackling fire. I loved this cleverly decorated yurt with comfortable seating, rural feel, and close access to town. Large shower with full sized shampoo/conditioner is a welcome treat, and an abundance of soft towels. Margaret was generous with her breakfast options, and made great coffee. She and Mike are engaging and kind - terrific hosts.
Kim
October 2016
Salmon
Nature sanctuary on the E. Fork Salmon River .Tipi on the river with antique iron bed, campfire circle.Easily accessible.Sandy beach.Next to Boulder White Cloud Wilderness area.Fishing.Hiking.Mtn biking.Horse corrals.Romantic..Compost toilet.Solar shower.
Very comfortable antique iron bed in the tipi...down featherbed with flannel sheets, next to the river. You will have a composting toilet. An outdoor solar shower. Private entrance in. Picnic table with a grill for cooking. Clean excellent drinking water available. Fire pit with firewood. Sandy beach. ...horses extra, corrals and pasture with loafing shed available. You will have access to my sandy beach and shore for fishing, swimming, rafting. Extensive knowledge of area hiking trails, horseback riding trail, fishing...etc. I will be happy to tell you where you may find sources of entertainment, if needed...
An eclectic area of ranchers, artists, and people who enjoy living "out of the mainstream"......Lakes, music, kayaking,fishing, hiking, horseback riding, star gazing...clear skies abound.....for those who appreciate nature.... This is a nature sanctuary, to be enjoyed for the peace and serenity of the property. This isn't a "party " scene.....I will respect your need for privacy, and expect the same. But I am open to helping in any way I can...it is a magical place.
The place was amazing. Just what we were looking for.
Derek
September 2016
Golde was an amazing host! She had a fire waiting for us when we arrived and took the time to show us around the property which was gorgeous and right on a crystal clear river. The tipi was awesome and we both slept like babies in the warm and cozy bed with the sound of the river flowing in the background. Really cool unique place to stay, I highly recommend it!
Daniel
October 2016
My wife and I had two great nights here. Sleeping in the roomy tipi with the river flowing near by made for a great night. I caught lots of large trout in the river right by the tipi. We did some of the local hikes in the area during the day and would drive around the fields in the evening seeing all the deer and antelope.
Clinton
September 2016
Golde was extremely accommodating in addition to being knowledgable about the area and all it had to offer. We really appreciated all of the little personal touches in the tipi and on the property. The location is incredibly beautiful and a great place to unplug. Overall, a wonderful experience in a really magical place.
Lynda
September 2016
Had a great day. Everything was perfect.
Joseph
July 2016
We loved staying in Golde's tipi. It had everything we needed and more. Highly recommended!
Erin
August 2016
I really can't say enough good things about this experience. Golde was a wonderful host, and as the description implies everything you need other than food is provided. It was very clean and comfortable, the amenities thoughtful and well cared for. It is very special and well worth going out of your way to stay at. If the opportunity presents itself again I will be returning.
Kenneth
September 2016
As I said winter is coming early & Golde knew I had a cold so she had the fire going & a jug of hot water, tea & honey - very sweet & thoughtful & much appreciated. Setting & lodging was perfect - everything I needed & if not I would have felt comfortable asking!
Ann
October 2016
克莱顿(Clayton)
A log lodge in the Salmon River country of Idaho.In central eastern Idaho on the Montana border With 16 outdoor guided adventure tours .Jeep tours , Gold Mining ,Fishing ,Trail rides, Hiking , Rafting & many more. Check out our web (email hidden)go to 100 Acre Wood Lodge Facebook
Had a great stay at 100 Acre Woods. Began booking 1 night, but ended up staying 3 nights! Used it as our home base for a few days of hiking and soaking in the hot springs surrounding the Salmon area. Staff was very friendly and accommodating to special dietary requests. Thanks Amy!
David
November 2016
The lodge is in the most beautiful setting. Our room was huge and lovely with very comfortable beds. Best of all was our host,Jon. He called us the night before we were to arrive with directions and suggestions for stops along the way. Road conditions caused us to arrive much later than expected and Jon waited up to welcomed us and make sure we were comfortable. The next morning he prepared an amazing breakfast for us. We wish we could have stayed longer to enjoy this beautiful property more.
Betsy
August 2016
100 Acre Wood Lodge is a magical place! We would highly recommend it for your stay in the Salmon area. From accommodations, to the picturesque views, to the lovely hospitality -- staying here is a treat.
Jacqueline
June 2016
Very friendly and welcoming people. Beautiful setting and excellent breakfast. Jon even helped us plan our next leg of our trip.
George
July 2016
Jon and Nancy were very welcoming. We very much enjoyed our stay. Lovely lodge that Jon built himself. So there is a lot of love in the grounds, the paths, the building. Lots of good information. Wonderful breakfast. We left an item and Jon has been great about mailing it to us. Would definitely recommend a stay here.
idiotgirlinseattle
July 2015
Had a great time at hundred acre wood ranch it was absolutely beautiful the house John was amazing and we will be back
Marilyn
October 2016
The lodge is next to a pond with boats you can use, and two hot tubs. And they also have fishing rods you can use. I had a late evening check in, and John was very accommodating and even though he was in town that evening, made sure that I had all the information necessary to get to my room, get settled, and use the hot tubs. They also provide a fantastic breakfast. Loved the scenery and their cute cat!
Mariya
July 2016
Short but very felt very welcomed .Beautiful place so much to do her wish I could stay longer. Pond ,wild live so close to see ,great nature and feel of the house.
Blanka
September 2015
Salmon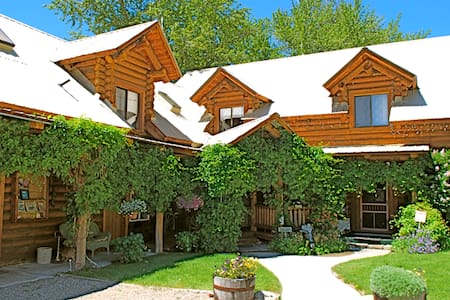 This duplex will be completed in April 2017 and available June, 2017. Located in town on quiet neighborhood street. ADA compatible. One level, walk in shower, ADA toilet, wide doorways. Furnished covered porches with mountain views, BBQ, fire pit, back yard. Additional parking. Walking distance (3/10 mile) to Main Street, Salmon River, Island Park (leash free), restaurants, interesting shops, museum, library, and cinema. Pets accepted at additional charge.
Salmon
Vintage house with a comfy modern remodel of fun bright colors, refinished hardwood floors and a beautiful wood stove. Easy walking distance from downtown, only 5 blocks from the Hockey Rink, lots of parking and a fenced in yard for kids or pets. Tons of space inside and out. Cook, entertain or relax. Amenities include wifi, Netflix, Hulu, PS, shower toiletries, washer/dryer, boot dryer and local Salmon guide. New appliances include (dish washer, oven/stove, fridge/freezer).
This space if very comfortable and is big enough for several people to do different activities within the space without interferring with eachother. Large open space in the living room is great for yoga. Or if you have someone that needs their own bed (beyond the 4 rooms), there is a futon. Relax, work or entertain. Summer is especially beautiful out in the orchard. This is a quiet part of town with little traffic despite it's easy walking distance to Main Street businesses. Guests may have access to all rooms at residence. I am happy to answer any questions or concerns you may have. I'm available by phone and text at 2089400320. Please see our house binder for Emergency Contact numbers if you need immediate assistance.
Broadway Street is a wonderful quiet street with monstly young families and retirees. Broadway is a safe street with lots of dog walking and friendly neighbors. A short 5 blocks and across the town bridge and your in downtown. 5 blocks the other direction and you're at the hockey rink. If you are up for it, the great mountain biking trails of Discovery Hill are only a 15 min ride. There is no public transportation in Salmon (mostly because you can walk everywhere). You can rent bikes at The Hub Bike Shop which is found in the same building as the Pork Peddler near the Bronze Bear in downtown Salmon.
Salmon
Cozy log cabin nestled on 8 acres of woods, surrounded by natl. Sleeps 6. forest at Williams Lake. Very private. Come to our treasured landscape and fish, swim, canoe, hike at the lake. Whitewater kayak on the nearby Salmon River. Refrig,micro,stove,grill,utensils,coffee maker,toaster,free use of boat dock, 2 kayaks,sailboat, canoe,rowboat. Rustic decor with antiques,antler lighting,Hudson Bay blankets. Natural hot springs nearby.
The reservation was canceled 18 days before arrival. This is an automated posting.
Jeremy
Salmon