输入日期以查看总价格,包含额外附加费用及适用税费。
My place is good for solo adventurers and business travelers.
Upstairs loft in small private home. Upstairs room and kitchen. We enjoy meeting new people and hope to be available to meet guests.
We're in a town of about 15,000 and we have close to 60 restaurants to choose from. Street parking. Small park within walking distance. Always like to make sure guests know we have a 12 lb. house dog - Yorkie mix that is harmless but likes to sound vicious (bark) when first meeting guests.
Great house in a nice little neighborhood in Effingham! Jackie and Mike were very hospitable hosts who put great thought into making our stay as comfortable as possible, even going so far as to provide ear plugs for sleeping, as well as coffee and granola bars in the morning. Would highly recommend!
Brad
November 2016
Very accommodating
Benjamin
January 2017
Room was specious and clean. Bed was very comfortable. I was planning to leave early morning but slept till 9:30 am :). I stayed here for break while driving from Chicago to Memphis therefore I did not get change to explore the city. Parking was easy. Host was very communicative and answered all my questions promptly.
Yogen
December 2016
Jackie's place was perfect. I highly recommend her place.
Abby
December 2016
Jackie contacted us right away and explained all we needed to know to have a great stay in her lovely home. We highly recommend this AirBnB location. Her home is located just a short way off the Interstate, so we had a quick arrival and get away. We slept very comfortably in a large room at the top of the stairs. There was no door at the top of the stairs, but we felt very private because the stairs turned a corner on the way up, so we could not see the downstairs from the upstairs room. We had our own bathroom with shower and plenty of room to do our morning stretching and Yoga. We prepared a quick breakfast in her well-equipped kitchen. She had coffee, oatmeal packets, and coffee cake set out for us to enjoy. We stored a few items in her fridge. Jackie had left us instructions for using the wifi and tv. Also, there was a dvd player and tv in our bedroom. We did not have the pleasure of meeting Jackie and her husband, but we hope to do so when we stay in Effingham on other trips. Thank you, Jackie, for your welcoming home.
Carrie
November 2016
What an excellent second stay at Jackie's home! We arrived after dark and were greeted by her lovely Christmas lights. What a welcome sight after a long drive in the rain! We slept very well in Jackie's comfortable upstairs bedroom with private bathroom and enjoyed lovely, warm showers. Communication with Jackie is quick and easy. We highly recommend her place for those traveling on I-57 in Ilinois. Her home is just a few minutes east of the Interstate and there is a place to park off the street in the front of her house. Thanks, Jackie, for another great stay! We look forward to staying with you again!
Carrie
December 2016
Jackie and Mike were wonderful hosts. They made sure that we arrived on time, had everything we needed, and felt at home. They made great recommendations for around the area and Mike and I even watched a football game together (thanks, Mike!). Would definitely stay again!
Scott
December 2016
The BNB was in a great location for my travels. Jackie was super nice and hospitable!
Mary
December 2016
Effingham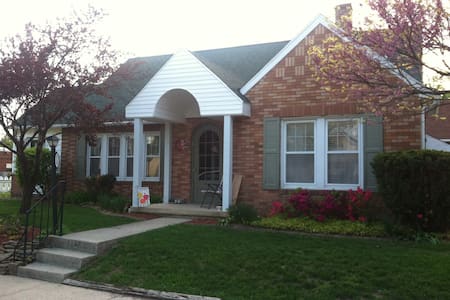 This lovely 4 bd/2bth home on Lake Sara is the place you want to be! Whether you are looking to relax or play in the water, we have it covered. Our home offers everything you will need during your stay! Email for contact: mizzou141@hotmail.com
Love Lake Sara!
Angie
September 2016
Coworkers and I stayed here for almost 3 weeks on a business trip. The lake house was wonderful and the changing leaves were a treat. Todd & Amber got us internet which was amazing and then gave us a gift since it was installed later than expected which was even more amazing! We didn't have time to enjoy the lake besides the wonderful view. The neighborhood was quiet and the house is only minutes from shopping areas. I would definitely recommend this house and plan to stay here again for future business trips.
Isaac
November 2016
We thoroughly enjoyed our stay at this little house this past weekend. The lake was beautiful and we had a blast canoeing and kayaking. One thing we misunderstood from the listing was that it only had two rooms with double beds....but we made out fine because there was a nice little cot to put in the room with a twin bed. The house and kitchen were clean and Todd and Amber very good to work with. We would enjoy coming back if all works out well.
Rachel
May 2016
房间类型
整套房子/公寓
---
房源类型
独立屋
---
可住
12
---
卧室
4
Effingham
My place is on the lake! You'll love my place because of the great views of the lake and the vaulted ceilings and loft that give it a real cabin feel! It is extremely clean and offers your own private bedroom and bathroom. My place is good for couples, solo adventurers, and business travelers.
Vandalia
This property, located on Lake Centralia, offers a relaxing lake front experience that's perfect for a couple's get away to hosting large families. If you are looking for a relaxing stay nestled in the woods or are into fun on the water, this property has everything you're looking for.
Escape to quiet Turtle Cove on Lake Centralia where you will be able to relax, recharge, while having fun with your friends and family. This expanded modular home offers a full kitchen, dining room, three bedrooms, 2.5 baths, with a large addition that could be just for the kids which has two futon sleepers, satellite TV, with the half bath. The living room and large addition both offer expansive views of quiet and inviting waters of Turtle Cove. While the inside is comfortable and cozy you'll definitely want to spend most of your time outdoors. Starting with the covered lanai/covered deck which offers a bar area with seating for up to 10, which is a great place to enjoy your morning coffee while you're planning your events of the day. The adjacent concrete patio is an ideal place for serving your outdoor meals while doubling as a great central location for your groups activities. The provided patio set offers comfortable seating for six but offers rail seating on the perimeter for up to 20. There is also a electrical outlet if you need to power any outdoor speakers or appliances. Just next to the patio is a very inviting fire pit which offers a large expanded metal grill in addition to a swiveling stainless steel surface that's perfect for searing. We will provide the roasting sticks and enough firewood to last your entire stay. This property has many amenities to include: Washer and dryer Extra full refrigerator with freezer chest in an external shed and a mini fridge in the bonus room. A large covered dock which offers two boat slips. A fire pit for cooking or a well used gas grill is available. A detachable floating dock which can be towed around the lake by boat and anchored to become your own private sunbathing/swim platform. A sand filled beach area for the kids including use of beach toys and rafts. Fishing, some poles will be available, but a fishing license is required by state law. Free use of the canoe, coolers and lawn chairs. Water sports on this quiet 400 acre lake if want to bring your own boat. A boatlift is not provided if you're wondering. However a public boat launch area is available. Our covered boat dock has two covered slips. A regulation washer pit with washers. If you've never played the game Washers, let us know and we will give you the lowdown. It will provide hours of friendly fun amongst your friends and family. An outdoor swing and picnic table. An aluminum canoe with paddles for the adventurous. A private driveway. The owners of the property live 40 minutes away but are available to be present during check-in to answer any questions.
Cell Phone coverage is weak near the lake with the best carriers being Verizon followed by AT&T. Expect Slow data signal. If you have a boat, there are places on the lake where a strong signal is available. Use this link to locate strong signal areas. (website hidden) All boats on Lake Centralia require a local permit that maybe purchased from the local lake patrol person at a cost of $10. If you don't already have a permit for 2015 you will need to carry $10 in cash in the event you are approached by the Lake Patrol. The water depth at the end of the dock maybe as shallow as 4ft deep depending on the time of the year. Swim with caution
Turtle Cove was wonderful! This was definitely one of our best family vacations. As my 13-year-old said, he loved being "lazy" for a few days! My kids enjoyed swimming, canoeing and fishing. Mary called us on our arrival day to provide all the information we needed and checked in with us on our check-out day. The house is extremely well-stocked with everything you need to be comfortable ... down to skewers for marshmallow roasting, sand toys, decks of cards, puzzles, games and everything in the kitchen. Thanks for a great stay!
Peter
July 2016
The Turtle Cove Lakehouse is wonderful - quiet, clean, and comfortable. Views are beautiful.
Ruben
June 2016
Had a very nice relaxing time on this private lake home. The view of the lake was beautiful and it was the perfect getaway for us. Mary was very nice and a great host.
Elizabeth
July 2016
I had a wonderful time with my friends. I strongly recommend this place for others. It is safe, cozy, and nice environment.
Fadel
April 2016
We had a wonderful relaxing vacation staying at Turtle Cove Lake House. Mary made everything easy for us and very welcoming. Everything was available that we would have needed; even flashlights for one night that we had a storm come through and we lost power for a few hours. Our families came out to visit. We cooked outdoors on the fire pit; hot dogs, Smores and even Twinkies, and yes they were delicious. My brother brought his pontoon boat out and took us for a ride around the lake. Now we know why they call it turtle cove as there were lots of turtles out sunning. There was no internet access but that was okay with me; I enjoyed the quality time of family and friends, turtles, ducks and even the deer. I would highly recommend staying at "Mary's" lake house. It was very clean, spacious and welcoming. I am looking forward to our next vacation and hope that it will be available at that time. I plan to coordinate it with my daughters family so that the grandkids can join us at the lake with swimming and fishing, feeding the turtles and ducks. Thank you, Mary, for providing such a lovely place to stay. Yvonne & Victor Metzger Cape Coral, FL
Yvonne
May 2016
Great place to stay !! Highly recommend this place
Steven
November 2016
This home is quiet and secluded - lots of fun summer ideas and relaxing during the winter. Mary is a great hostess and very good to communicate with!
Mikki
January 2017
Mary and Larry were both amazing hosts! They were flexible and helpful! The house is large and very comfortable with everything you could need! Outside is just as good with amazing views in a relatively private cove and tons of things to do! From the raft to the hammock we never got bored! We loved our stay and plan to be back!
Abigail
July 2016
房间类型
整套房子/公寓
---
房源类型
独立屋
---
可住
15
---
卧室
3
Centralia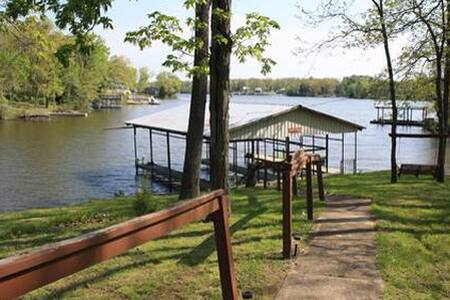 Experience the ultimate in luxurious resort living. Overlooking a championship-style golf course, our elegantly-appointed, two-bedroom townhomes are classically furnished with a fully-equipped kitchen.
Pana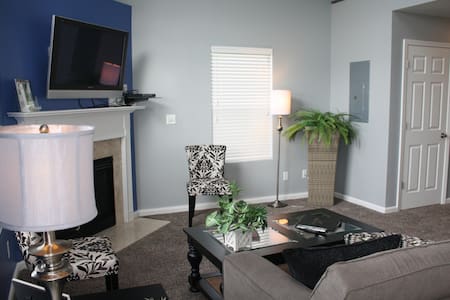 Cozy, individual rooms with access to the clubhouse with TV, fireplace, kitchen, WiFi, exercise room plus bird hunting, hiking and shooting range available. Shared bathroom with shower.
Bill and his family are fabulous hosts; they make you feel right at home and are friendly and very generous people. The Lodge is definitely rustic, but comfortable and simple and I thought a very interesting and cozy retreat.
Frances
March 2016
loved the people at the hunting lodge. We were treated like part of the family. We would come back anytime.
Molly
January 2016
Vandalia
My place is close to Effingham Illinois . 225 miles from Chicago ,get away from the city noise .a quiet place ,in the middle of beautiful nature
房间类型
整套房子/公寓
---
房源类型
独立屋
---
可住
12
---
卧室
6
纽顿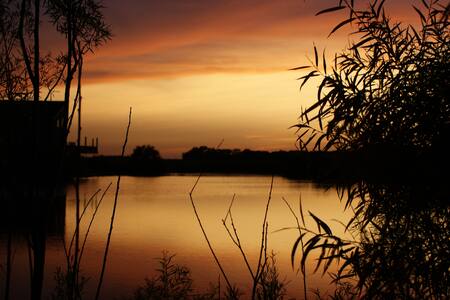 My place is close to the city center, restaurants and dining, and art and culture. My place is good for couples, business travelers, families (with kids), big groups, and furry friends (pets).
Nice people. Room outdated
Deanna
October 2016
Mattoon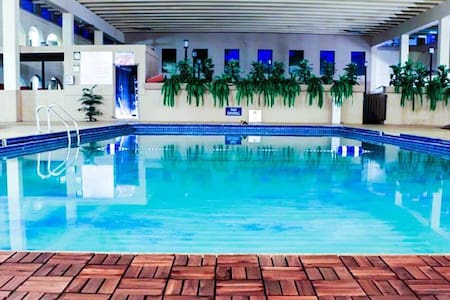 Guest that are traveling will not be disappointed by our exquisite accommodations, our hotel has the largest indoor heated pool in the Mattoon area. Our beautiful atrium allows families to enjoy each others company with out ever leaving the hotel.
Whether you are a single traveler or a family of 5 we have plenty of space to accommodate any traveler. With 122 private rooms our location gives you many options to allow you a visit that will be unforgettable. Our location has a large open atrium that over looks our heated indoor pool with ample seating for families. For all travelers our spacious lobby with leather sofas are sure way to make any traveler relaxed and feel at home. Our location has a full hot breakfast bar available to all guest every morning and fresh Lemon water and coffee served 24 hours. Please stop by the lobby from 3pm -5pm to enjoy fresh baked chocolate chip cookies.
Our location is conveniently located by Lincoln Log Cabins, Amish Country, and Fox Ridge State Park. Our beautiful little town offers wonderful food, great company, and attractions for all age groups. Our community offers two cab services, and a local public transit that get you all your local attractions. Our location offers free WI-FI for all guest, rooms have fridge and microwaves, and 40 inch Samsung Smart TV's. We also have small/large banquet facilities available for an addition fee.
Mattoon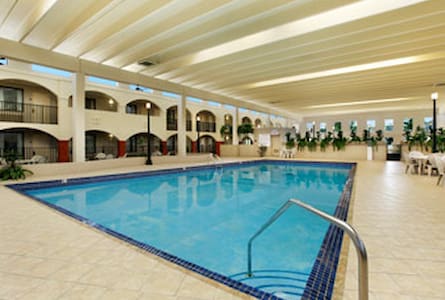 Cool and comfortable town house on tee box of golf course in a country club environment. Two bedrooms up and one down all with full baths.
Mattoon