输入日期以查看总价格,包含额外附加费用及适用税费。
今年的七月至八月,从这100个不同价格级别的房源中选择,体验当地人眼中的索诺玛。房源提供24小时入住,还可以即时预订,您什么都不用做,只需饱尝本地美酒美食,轻松享受旅程即可。
Enjoy a peaceful stay in Dry Fork Canyon tucked away on 8 acres, surrounded by breathtaking views. If your looking for a relaxing place to escape the busy life look no further. Not only are you surrounded by breathtaking views, hike, bike climb is right out the front door.
Everything.
Jana was so helpful in making us feel comfortable for our stay. She made sure to give us all the information needed in order to get the most out of our trip and even gave us advice about local trails and activities we could do while we were there. The home was perfect for our weekend get away. We'd definitely go back!
Laura
October 2016
Vernal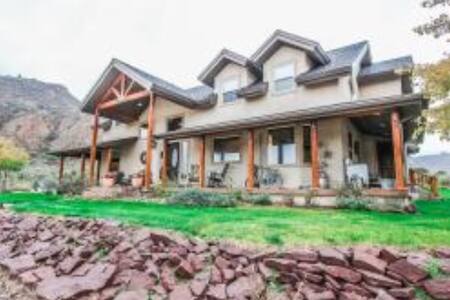 ]'
Truly wonderful experience from the moment I arrived. We were greeted with warmth and kindness. The Cozy Cabin was exactly as described with wonderful views all around. Linda & Joe were so kind and had such wonderful advice on where to go to explore the spectacular environment. I have only 1 regret, that I didn't stay longer. I highly recommend this Air B&B location, well worth the drive. A peaceful, gorgeous, piece of heaven on earth. Thank you Linda & Joe for your hospitality! Much Mahalo
Melanie
August 2016
What a slice of heaven Joe & Linda have! This is one of the most peaceful places I have vacationed at in a LONG time. This is a working ranch with wildlife is abundant! My kids loved fishing in the stocked trout pond, learning about all the equipment, and seeing the horses each day. With no wifi or internet we truly unplugged. The cabins are both well kept and very comfortable. The beds and pillows are VERY comfortable! Joe and Linda are the most gracious hosts. They make you feel right at home. We are hoping they adopt us one day! :-) All the way home we all talked about the next time we will be going back. Next time we will stay longer! Thanks Joe and Linda for giving this family a magical break from the hubbub of city life.
Nicole
June 2016
My husband and I came here for a night with my parents and thoroughly enjoyed our time on J/L Ranch. Joe and Linda are awesome hosts and were kind enough to show us around and let us pet their horses. The accommodations at the cabin were great and had everything we needed to cook and enjoy ourselves. The views at night from the ranch are spectacular too!
Toni
August 2016
Thank you Joe and Linda for your hospitality. We enjoyed staying at your place and are looking forward for a second trip and a trip to cowboy camp. We enjoyed the privacy, scenic surroundings and coziness of this cabin. Very relaxing environment. Both Joe and Linda's smile and willingness to share information and ideas of what to do in the area was very helpful. We had a fantastic time and wished we could have stayed longer. It was amazing to see Joe's art and we purchased the book he wrote. Meeting your dogs, horses and mules was such a fun experience. This cabin is right outside the beautiful Whiterock Canyon, which offers scenic views and outdoor recreation (hike, fish, backpack, cross-country ski, etc.). Joe and Linda are very responsive and easy to talk to. We highly recommend staying at their cabin! Clean and quaint, with wonderful hosts. We will definitely return!
Stephanie
December 2016
Cannot beat the rustic ranch experience! You can un-plug and enjoy!
Lisa
September 2016
This was a great get away from the city. Quite and cozy. Really clean and everything we needed was there. Magnificent views, plenty of wild life to view in the area. Lovely, unique decorations inside. We truly enjoyed it and hope to come back.
Barbara
October 2016
My wife and I had a great stay at the J&L Ranch. The cabin is nice and clean with all sorts of handmade furniture and cowboy memorabilia. It's got everything you'd need to make yourself at home, you just have to get food in Roosevelt before you arrive. The area around the ranch is absolutely beautiful with all sorts of opportunities for recreation. I've never seen more mule deer in my life! We took a trip up to the High Uintahs about 45 minutes away and saw elk and moose. The trout fishing around the area is fun too. Joe is a licensed guide for the National Forest and Wilderness area north of the ranch, and knows the area well. He really went out of his way to give us tips and advice on things to see and do. Both Linda and Joe were very accommodating and welcoming to us. This would be a good place for people looking to get some respite from the hustle and bustle, or those who want to experience a little bit of the wild west. The cabin also has a loft with to twin beds, and I can imagine kids who like horses and/or cowboys and indians (and what kid doesn't?) would really enjoy this place.
Brandon
August 2016
Whiterocks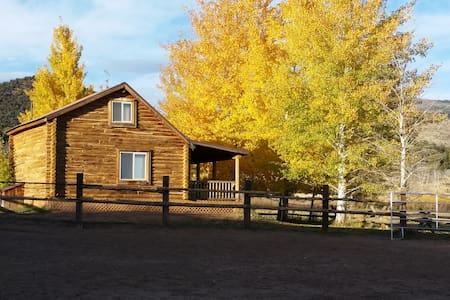 The Bunkhouse is the upstairs of a log horse barn. It has 3 bedrooms, full bath with shower, living room and kitchen. Western furnishings There is plenty of room to get out and explore or relax under the shade trees and grill out for dinner.
J/L Ranch is surrounded by Ashley National Forest and Ute Indian Reservation. You can explore our ranch and watch the horses grazing or being ridden. We are in a very secluded location. No traffic, no sirens etc. We are located 40 min West of Vernal, Ut. and 25 min. NE of Roosevelt, Ut. We have great shade trees you are welcome to hang out and picnic. There are two ponds on the property to enjoy. Fee fishing is an option. The ranch is on 80 acres so there is a lot of space to explore. We are minutes away from Ashley National Forest with access to fishing and hiking. We are always available to help with your visit. If you need ideas of things to see and do. Or you can just do your own thing and pretend you are the only person in miles!
Since we are in a remote location there are no groceries or restaurants within 20 miles. Plan to do your grocery shopping in Roosevelt or Vernal before heading to the Ranch We have horses on the ranch and cats and dogs. The horses love people but guests will not be able to go into their fields or stalls as a safety precaution.
The ranch is nestled in at the foot of the mountains and the view is beautiful. The bunkhouse suite is over the barn and is spacious, cozy and has everything you need for a comfortable stay. We loved it. Joe and Linda are great and know everything about the area so they can help with suggestions for hiking and things to see. The night sky is breathtaking - you forget just how many stars there are when you live in a city. We had a great time and hope to come back again soon.
Julie
August 2016
On the border of Ashley National Forest, the ranch sits on 80 acres of land with wonderful views on surrounding mountains. Northern Utah, close to Wyoming border, is real wilderness, not really touristic area compare to south of state well known and visited national parks. So if you're looking for a place to really relax, plenty of hiking trails and fishing spots, this is the place to be!!! Linda and Joe are wonderful hosts with plenty of nice stories to tell about their 40 years on the ranch. The apartment on top of the barn was perfect for our family with plenty of room and all necessary appliances. Very comfy and clean. Linda and Joe love their horses (19 I think) and plenty of deers are sharing pasture with them. We stayed 6 days and we really enjoyed everything. Thank you Linda and Joe!!!
Patrick
July 2016
Joe and Linda provided a beyond amazing one of a kind experience for myself and travel buddies. They were kind and welcoming from the moment we arrived, and welcomed us with ease into their ranch lifestyle. I appreciated and loved how Joe took my friend with special needs under his wing and showed him the ropes. The space we stayed in was great- immaculately clean and had everything we needed. The land is truly magnificent, and the animals stunning. I highly recommend JL Ranch for anyone who is looking to truly be on the land and in good hands!
Sarah
October 2016
Whiterocks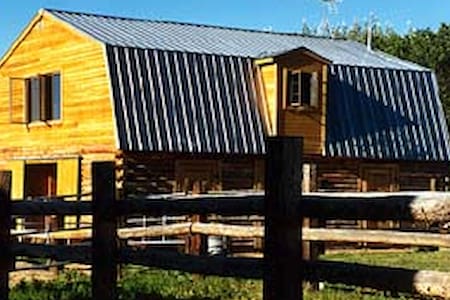 Two rooms available. Queen in one and Futon in other. WiFi and Laundry available. Quiet neighborhood close to downtown, museum, dining and entertainment. Complimentary coffee, tea and snacks available.
Guests have access to entire top floor. And Laundry downstairs if needed. I always try to be there to greet my guests. However it is possible that I will work late at my regular job and not be there to welcome them.
I like the quiet corner, great neighbors, the deer, rabbits and raptors that frequent the neighborhood. A city park with play ground is near by. There isn't any public transit. On street parking. Please make reservation Pryor to 7pm.
I felt very very welcome and all is what is was pictured as. A very engaging intelligent delightful host, I would stay again
Kennenth
November 2016
Our stay at Alex's place was short but pleasant. The rooms were exactly as described and he communicated well. Moreover, he was a fun host to sit down and have a drink with.
Daniel
November 2016
Great host! Very nice and helpful. Interesting meeting. Nice place to stay with strong wifi, very comfy bed and hot shower. We recommend Alex
marion
November 2016
Alex was a kind host, with good communication even though he was not home when I arrived. I was able to get into my room without a problem, and enjoyed chatting with Alex once he got back. (Check out his metalwork!) The house was clean even as repair projects are going on, and the indoor cat was laid back. I did think the room could have used a desk and a more comfortable chair to sit in. Overall it was a fine visit!
Rob
November 2016
The experience wasn't terrible, nor was it fantastic. Host was away working, so I appreciate the service I received may not be a reflection of the general standards maintained, please keep that in mind when reading my review. Room contained a comfortable bed with nice sheets and a TV diagonally across from it. Internet was strong enough to do a couple of large downloads, as well as stream movies efficiently and to a high standard. I arrived late and was not able to get in touch with the host for the whole night. I waited outside the house for 35 minutes at least, calling several times and texting but to no avail. No 4g signal in the area meant that Air B&B site was a no-go for communication. Eventually I smelt smoke coming from next door's back garden. I walked round the side of the place and shouted across asking if they were meant to let me in. There was very little understanding (it seemed) between the neighbors and Alex in regards to arrangements of letting a guest in - though there was some degree of awareness of that possibility. I was eventually told to try the side door and it was unlocked, so I proceeded in and found my room and called it a night. After nine hours straight of driving I would have expected a slightly better service, though as noted above, Alex was away on work duties, so what I experienced perhaps was not a usual occurrence. I would stay there again for a pit stop, for just the sleep part, but not for any kind of recreational stay. Overall the experience was slightly above average.
Harry
September 2016
Alex was so sweet and warm. Made me feel very comfortable. Bed was great, house was very homey. Alex was a great host, I had a wonderful time.
Kim
November 2016
My impression of Alex is that he's very laid back, somewhat reserved and frequently busy with work. He was responsive to my messages, and kindly let me borrow a towel to take a shower. The house is older, with hardwood/linoleum flooring throughout and two-prong electrical outlets (although Alex makes three-prong adapters available). The neighborhood seems to be safe. I had no cell phone service in Green River, so I was glad to have printed off directions ahead of time. The best part of my stay was the comfortable bed.
Justin
September 2016
Alex is very nice host , he is very busy , but his house very clean and offer everything what we need. We had a great dinner time together, and we had a good chat . Thanks Alex!
yonghong
October 2016
Green River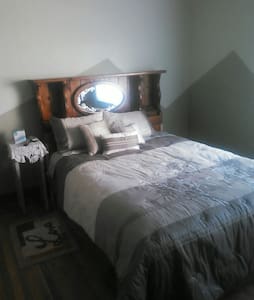 Large one bedroom apartment on third floor. The apartment is new and clean. There's a king size mattress in the room and a loveseat in the living room. Apartment is big so there's lots of rooms to accommodate air/foam mattresses if you need to. Washer, dryer, and kitchen available to use. Free Gym access, wifi, parking.
It's a new, beautiful, and clean apartment. Washer and dryer Gym Kitchen Bathroom Balcony Internet Parking Often
They're pretty quiet. Bus and walking distance places I might be out of town during your stay, but I will make sure you get the key for the apartment easily. You can text me anytime with any questions or concerns.
Vernal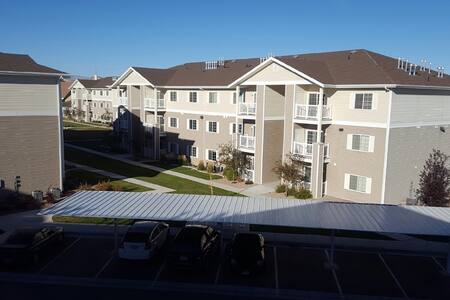 This room is located just 10 city blocks from the center of Vernal Utah. This room would be great for someone needing a place to crash before starting a week of work on the rig, or just a stopping point on whatever your journey is.
The listing description was accurate. The location was near downtown so it was easy to get everything I needed before leaving for my next destination. The room was clean and comfortable. I could not have asked for anything more! Very Highly Recommended.
Cathy
August 2015
Vernal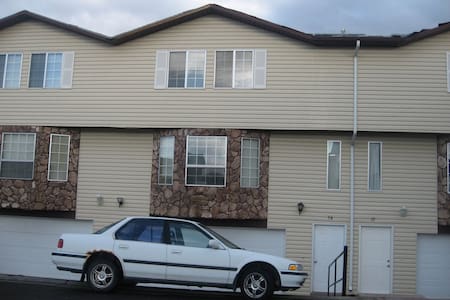 Beautiful custom built home with an entire wing for rent private 2 bedrooms 1 bathroom with your own door that closes you off from the rest of the home central air gas heat on demand hot water 581 South 2400 West Vernal Utah very nice neighborhood
Very nice quiet neighborhood Access to Wi-Fi Dish Network We are gone a lot we both work we tried to leave our guest alone.
Two very nice neighborhood high-end homes safe quiet close to town Vernal cab Vernal International Airport has A Fox car rental We are very good easy going people very nice place
Vernal, Utah, US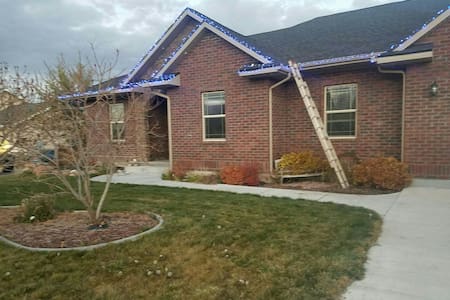 Great shared bedroom in a rural home at the base of the Uintah Mountains. Can be used as a launching pad when leaving on extended camping trips.
Neola