输入日期以查看总价格,包含额外附加费用及适用税费。
今年的七月至八月,从这100个不同价格级别的房源中选择,体验当地人眼中的索诺玛。房源提供24小时入住,还可以即时预订,您什么都不用做,只需饱尝本地美酒美食,轻松享受旅程即可。
The Cabin on the Edisto is a perfect getaway from the hustle and bustle of our technology driven world. There is river access. This peaceful escape is only an hour from Charleston. Kick back and disconnect for a while in this beautiful retreat. The cabin welcomes couples wanting alone time together and to share in an adventure, whether it be wading in the river, picking blueberries nearby, or just napping together in the peace and quiet of the country.
The space is on the second story with a porch overlooking the bluff leading down to the river. Everything you need to enjoy the Edisto River with great comfort is at your fingertips! We are very easy to find but hard to leave! We can offer access to the down stairs. It is more rustic than the upstairs and we are in the process of having it fully available to host more guests (up to 7). It has a bathroom with shower and a washing machine and dryer. We can offer access to the bathroom, washer and dryer, for an extra fee. It is recommended for those staying longer than 3 days. If interested let us know :) We have river access with a small landing. We ask that if you are planning on fishing or canoeing to give us a heads up so that we can give you the details about the river's current conditions. Check this sight to get the latest on the river: (URL HIDDEN) We live an hour away in Charleston, we will be able to greet you and show you the property at check-in during daytime hours. We are flexible and are always available via cell phones and email. If there are special check-in needs we will try our very best to accommodate.
Quiet Location with very few neighbors. House is located on a bluff high above the river. Located near a few wonderful small towns in the middle South Carolina. Located 1 hour from Charleston. It is recommended that you have a car. Closest gas station is 3 miles away and the closest grocery store is about 10 miles away. There are a few eateries within a 10 mile radius and a Farmers Market as well. Ask us for more information!!! Since there is access to the river from our landing, visitors can swim. The Edisto has a slow but stiff current. The bottom of the river is sandy and the water is rarely so deep that the water would be above mid waste height on an average adult at it's deepest point. Check out this site to see the water level: (URL HIDDEN) We recommend that you bring a pair of river shoes, $6-10 @ Walmart. The landing is paved but is rough on tender feet. We also have a fire pit, great for hotdogs and marshmallows. Small fires are permitted but we absolutely do not permit the burning of any larger branches and limbs outside of the designated area.
Austin was very professional and pleasant to work with. Her turnaround time on communicating with us was expeditious. The cabin was immaculate, simple, on a large lot that was very quiet. We could see the Edisto river from the balcony and it was just a few steps away when we walked to it. The bed was very comfortable. We played Scrabble each night, something we haven't done in years! My husband loved the extensive collection of cds. It's a great place to reconnect with your family/spouse. Looking forward to staying here again in the future!
Laura
September 2016
Branchville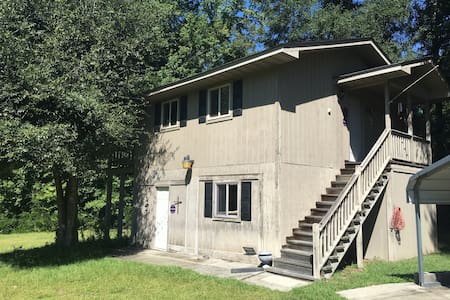 45 min. drive to Masters Golf Tournament. Secluded and private with skeet range, catfish pond and caretaker.
Augusta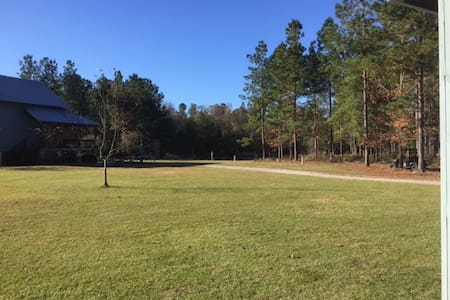 Fully furnished including full kitchen, linens, flat screen TV, Wireless Internet, Dish, Living room, dining, kitchen, new front load washer and dryer, tiled bathroom, comfortable queen bed, 1 large bedroom, lots of light, fenced yard. Convenient
It feels like home. Comfortable and relaxing. Back yard
It is a very quiet street, not much traffic, lots of light but has nice trees, You will probably need a car Off street parking If flying into airport, car rentals are available Garbage cart in back yard, please put by the street on Monday evening or early Tuesday morning, they do show up quite early. City request you bring it in by the end of day.
I cannot be more thankful for the ammenities Gale provides in this gorgeous home that she is so kind to share. Literally, the only thing you need is your suitcase while visiting here. As a traveling nurse, simplicity, cleanliness and safety are my first priority when chosing my housing. Gale's home and her kindness exceeds expectations and anyone who is lucky enough to stay here is truly in for a treat! Thank you so much, Gale! Jacey from California
Jacey
September 2015
Gale was very kind to rearrange my nights stayed when work circumstances changed. Very convenient place.
Dena
December 2016
My stay at Gale's house was so outstanding that I had the best vacation time ever. The house was comfortable, cool, and beautifully decorated. Its on a street that hardly had any traffic and that made it very quite and peaceful. It's surrounded big green trees and shrubs, with big front yard and back yard and patio. Its close to Edisto Gardens, practically within walking distance - great for hiking the board walk along the river. The photos of the home on Airnb are spot on. I was thrilled to have all that Sun light coming in. I would get up early in the morning, sit by the front door and listen to the birds and crickets doing their thing. I don't know if Gale knows this, but every morning about the same time, a humming bird comes to visit the plants on the front porch. I'd run to get my camera, but before I could get back he or she would be gone. LOL. Gale called often to check on me and I appreciated that and if i need directions, She knew right away how to get there. After a while we would get to talking like I had known her for years, She's so friendly and hospitable. This is a very comfortable spot for vacation, for rest, and to enjoy the peace and love that has been created with in this home. I almost didn't wanna leave, but I will be back.
Gene
August 2014
Cute renovated home in a quiet neighborhood. Would recommend to anyone.
Dena
November 2016
Yes Gale is certainly part of the charm of staying at this house.
Lucy
October 2014
Orangeburg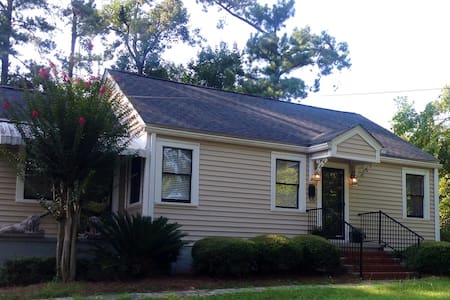 25yr old+ Renters only. Please take a pic or your drivers license and send prior to booking. Country house on main street in Orangeburg, close to universities and amenities. Our love of this house shines in the wood floors, warms the well-equipped kitchen, and bubbles in the Jacuzzi tub.
Guests must be 25+years old to check in. Copy of ID required. Far superior to staying at a hotel: •Living room with love seat, flat screen tv, Wi-Fi Blu-ray/DVD player •Office with desk, wi-fi printer •Dining room with table and six chairs •Kitchen with coffee maker, toaster, cook & bakeware, most cooking tools & utensils, and flatware and dishes to serve 6. •Bedroom 1 with queen bed, flat-screen TV, antenna •Bedroom 2 with twin and trundle bed, flat screen TV, DVD player •Bathroom with Jacuzzi tub and true lighting options •Screen porch with cocktail table and four comfortable patio chairs •Comfortable, family friendly, modern kitchen, upscale fixtures throughout. The whole house is yours to enjoy. However, due to family allergies, ABSOLUTELY NO PETS ALLOWED--not even on the porch, not even for a minute. Please call or text us if you need help. We can usually have our caretaker available at short notice for unexpected contingencies. You will not normally see us at the property.
Orangeburg is a college town. Due to previous problems with college students, we will not consider them to stay as guests in our home. Sorry. Our "Country House" is on a main highway, about 3.5 miles off Interstate 26. Our next door neighbors are precious. Convenient to Claflin and South Carolina State Universities (1.7 miles) and The Regional Medial Center Hospital. I-95 (26 miles Southeast), Columbia (42 miles Northwest), University of South Carolina Stadium (43 highway miles) and Charleston (79 miles Southeast) are all easily accessible. There's also Orangeburg Country Club, Hillcrest Golf Course (well-maintained, award-winning public course) and great fishing and golf in the Santee area. Edisto Memorial Gardens in Orangeburg is a beautiful diversion with a playground and a fabulous display of blooming roses from April through November. Orangeburg Events: *Children's Garden Christmas drive through lights display (free) Monday before Thanksgiving until New Years' Day (Nov 24-Jan 1, 2016) *Orangeburg Festival of Roses Weekend in May before Mothers' Day, 2017 *South Carolina State University Graduation, Mother's Day Weekend, 2017 Claflin University Homecoming, November. There is no public transportation in Orangeburg. You need a car to get around. You can park in the driveway and/or on the grassy easement between the sidewalk and the street. The carport is currently out of commission (May-June) due to a tree that fell on it. Orangeburg is a small town, so all restaurants, drug stores, grocery stores and even the hospital are within a few miles. My favorites: Bi-Lo Supermarket, 1370 Chestnut Street The Chestnut Grill, 1455 Chestnut Street Zaxby's, 2572 North Road (same as Chestnut Street but past mall) El Toro Mexican Bar & Grill, 885 Chestnut Street If you ever want a heart clogging, cholesterol elevating, DELICIOUS BURGER OR hand-battered, fresh CHICKEN TENDERS... go to the Hardee's just off the highway I- 26 & 601 South exit. But check your order before you leave. There is a nightclub about two blocks away. Sometimes on Saturday nights, you can hear the music. There is also a train track across the street, behind the first row of houses. I've never been awakened by the train, but the horn can be noticeable when you're awake. There is no cable but you can watch internet tv, Hulu, Netflix, Amazon using your own accounts. Also, the water pressure is low but up to Orangeburg County standards...
I stayed in Annette's home for over 2 months as I was in Orangeburg for work. Annette was an amazing host responding instantly to any issue I had and randomly would check in to make sure everything was going well. She went above and beyond to get internet hooked up as I would need it for work while I stayed. The home itself was extremely clean, nicely organized and I had the entire home to myself. I can't say enough positive things about my stay so sometimes it's best to just keep is short. DO NOT hesitate to rent from Annette and enjoy her home and hospitality.
Ryan
May 2016
It was easy to tell that the owners have been remodeling this older home to make it conformable as well as beautiful. Our host was so kind and attentive. There are so few options for visitors in Orangeburg and this home gave the quiet respite that people want at the same price or less than the hotels. My family was able to everything we would normally do at home and I also had everything I needed for connecting to work. You can't go wrong with this home.
Michael
July 2016
Orangeburg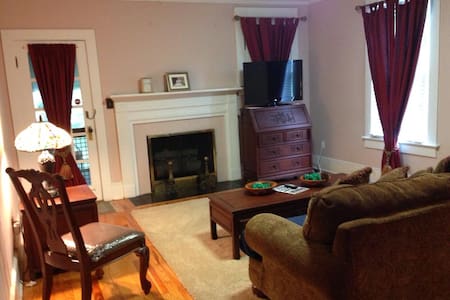 Newly constructed cottage near Edisto River & Givhans Ferry Park. Just off the beaten path to Summerville, South Carolina. We are close enough to shops, dining & cultural events, but far enough to forget the hustle & bustle of city life!
Located near the longest black river in North America with opportunities to fish, kayak, inner tube, relax and listen to the birds and crickets chirp! Just 15 miles outside Summerville, South Carolina and 35 miles outside Charleston. Very close drive to the new Volvo plant being constructed. Entire cottage and 3/4 acre lot available to guest. Great to bring the kids and pitch tents on the lawn. Owners live within 300 feet of the cottage and can be on site in a matter of seconds and are always available for questions and recommendations to local attractions, shopping and dining.
Near 3 boat landings that access the Edisto River and 1/2 mile from the Givhans Ferry State Park. You will need a car to get around or we have Uber driver available. Convenience store close by with all the staples and a few diners in the city of Ridgeville to choose from such as the famous Duke's BBQ, Christina's Pizza and Subs and Chinese Express.
Our stay at the Cozy Cottage was nothing short of delightful. It's a hidden gem just 15 minutes outside of downtown Summerville, and is conveniently located near the Edisto River and a beautifully-maintained state park; a perfect spot if you're up for a swim or enjoy floating down a lazy river. We half expected there to be bugs since it's so close to a river and really out there in the woods, but we were very happy to find that wasn't the case at all. The cottage itself looks and feels brand new. It's been very tastefully decorated with modern amenities, even a washer and dryer! The hosts were warm and welcoming and even sat with us for an hour to shoot the breeze. They were very laid back and easy going. If you're looking for a quiet getaway, this is the place to stay. We'd recommend booking for a week or more. It's likely that you won't want to leave. :)
Lee
June 2015
This was by far one of the best Airbnb experiences that we had. There is so much thought put into the design and the layout of the cabin, as well as into the details. Shelly, you are so talented! Every need is foreseen by the owners (including makeup removing wipes!). And the kitchen left me speechless... and I loved cooking in it! Thank you for allowing us to stay at this wonderful piece of heaven.
Albina
August 2015
Shelly and her husband Nels made sure we felt at home at their cute cottage right from the beginning! The communication in advance was excellent and flexible arriving time was no problem (which we appreciated a lot). You can tell that they put a lot of time and effort into the cottage and paid attention to every detail. We had a great time and would love to come back one day!
Barbara
July 2015
It was awesome place near deep forest, clean air and clear river. Wooden cottage is perfect for 3-4 people. 2 floors, bathroom, shower, barbecue. Cute design makes this cottage unique and authentic. Thank you! It was great weekends!
Daniel
December 2016
This place was amazing! I arrived late in the evening and the host had provided a frozen pizza, welcoming lights, and the most adorable cabin I've seen in years. From that moment on, my weekend at this private, immaculate, cozy, comfortable, and modern escape was just magical. Honestly, if you're in the area and need a place stay...bag the hotel and come relax here! Thank you Shelly! We loved your cabin and would be honored to stay in this warm and inviting home again! Sincerely, Michael
Michael
April 2015
The cottage itself was beautiful, well-equipped, and clean, and all the thoughtful details and amenities made it feel perfectly cozy for our weekend trip. Shelly was a great host and easy to get in touch with. Highly recommended!
Kari
May 2016
I feel so lucky to have found this place. An absolutely charming house on gorgeous property. Every room is decorated in a chic way that at once makes you feel at home; its clean, and has all the amenities you need to live normal life in your home away from home. I sincerely hope I get a chance to return to this cozy cottage.
Michelle
February 2016
Our stay at Shelly's cottage was absolutely amazing! Relaxing, comfortable, and such great personal touches throughout. I will be recommending her property to my parents who visit the area often. Can't wait to stay again!
Sarah
April 2015
Ridgeville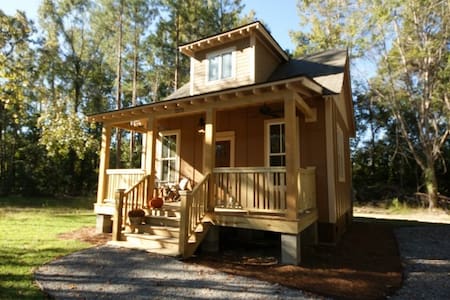 Cozy and comfortable fully furnished one bedroom on quiet street, fenced back yard and off street parking. Living room, Dining room, Office, Modern Kitchen, huge deck with table, chairs and lounger. WiFi, Internet and Cable, HD TVs, Washer & Dryer,
On a quiet street in a quaint 50's neighborhood. Nicely appointed and very comfortable with large deck and fenced yard. Amenities and Features: Complimentary Coffee, Teas, Bottled Water, Toiletries Central AC/Heat Fully Equipped Kitchen HDTV Cable TV Wireless Internet Ceiling Fan Iron and Ironing Board TV in Living Room and Bedroom Always like to meet my guests.
Very quiet street, little traffic, close to park, and close to restaurants and shopping. Edisto Memorial Gardens are just a few blocks away. The roses are beautiful in the spring and summer. During December the city turned the Gardens into a Winter Wonderland. Enjoy the large private deck!
This Orangeburg house is just as pictured. Perfect place for a short-term stay! I felt safe in this neighborhood, and the place was clean. I would recommend this house for anyone!
Joanna
March 2014
Gale was great at responding to my questions and made me feel very comfortable, safe, and welcome. The listing description was accurate my experience was actually better than expected. The neighborhood was beautiful. Next to a garden area and minutes from pretty much everything.
Sonya
July 2014
Gale was very helpful with all my needs. She responded immediately to my questions. The cozy apartment was just what I needed after a long day of work. Very comfortable, very private and quiet.
Alan
October 2014
Gale was amazing! She was the best at communicating the details although she wasn't out of town . Her co-host was amazing as well an extremely helpful and we appreciate them both. She even went so far as to recommend things for us to do while we were visiting the area and made herself available for us to reach her at anytime we needed. We had unexpected changes at the last minute and she was willing to accommodate our dog as well.
Theresa
June 2014
Came to Orangeburg for work. Gale was very quick to respond. Even on such short notice. Her home is very welcoming, very clean, and has everything you would need. Gale is so sweet and accommodating. I really wish I would have met her, she was so sweet. We really enjoyed our stay and would return here when work brings us back!
Mary Kate
February 2016
Orangeburg
One of a kind property on gorgeous tidal creek. 300 foot dock for fishing, shrimping and crabbing. A swimming pool on the water, natural koi pond. Beautiful kayaking at high tide. 3 big bedrooms, two full bath. Large eat in kitchen. Perfect family vacation home children and trained pets welcome.
Privacy in house . We live on the property and give you as much privacy as you want. We do take care of the property (pool,fish,garbage) so you can be on vacation. Swimming, Kayaking with your own kayaks, fishing , swinging and total peace and AHHHH!!!!! I am always available either by phone or text
It's very private and quiet. You must have your own transportation .
The property is amazing! Pictures don't do it justice! Elaina and Jerry were very welcoming and available whenever we needed. We had a nice relaxing week and would love to come back to the area again. It is just far enough away from "civilization" but still close enough to have everything you need. The kids especially liked the Kazoo Factory tour and the hammock swing! The house is decorated with little glimpses of the owner's fabulous art and the views from the back porch are breathtaking!
Kellie
July 2016
Elaina made the check-in process and our entire stay as easy as could be. The house was roomy -- perfect for our Thanksgiving getaway -- and we had an amazing view across the water. It couldn't have been more relaxing!
Jonathan
December 2016
Perfect getaway.
Lisa
July 2016
My family of 6 stayed here for my son's graduation from Marine corp boot camp. Unfortunately, we had to cut our trip short due to hurricane Matthew. Elaina was more than willing to refund all the money from any unused nights. The house was spacious and comfortable and the back yard was amazing. It was a little cold for swimming, but my kids loved the hammock swing and koi pond, and the grilling area by the pool is very nice and relaxing. The house had plenty of cookware, towels, extra blankets. The bed in the master is very comfortable and the master bath is huge. This home is very secluded. The owners are on the property but you may not even know they are there unless you strike up conversation with them. Great place to stay and would love to return someday.
Richard
October 2016
Elaina has a beautiful place and the backyard especially was absolutely gorgeous. We looked forward every morning to just sitting and drinking coffee and looking out at the beautiful trees with Spanish moss, koi pond, tidal creek, etc... She and Jerry were very gracious hosts and made us feel welcome. The house was perfect for our family of 5 and we would absolutely stay there again. We loved the area of Beaufort and went to Charleston one day and Savannah the next. The highlight of the trip was going to Hunting Beach which is breathtaking and has few visitors. We swam there one day and even had dolphins swim near us and there were no other people in sight. This was our first booking with Airbnb and we will definitely try it again.
Jana
May 2016
Quiet neighborhood on the water. Family loved the tire swing and koi pond in the back yard.
jory
May 2016
Elaina was great, she was there to great us and provided any information we needed regarding the area. The pool was very relaxing and a great way to cool down with the summer heat.
Jennifer
July 2016
What a week of total peace and relaxation! Waking up to that view and watching the sunsets was exactly what we were looking for. The pool was our son's favorite, as was the kazoo factory a few miles down. The house was in a great central location to explore the area-Charleston, Savannah and Hilton Head were just a few of the areas we travelled to. Elaina and Jerry couldn't have picked a better location for a house and we thank them for sharing it with us.
Ann
June 2016
Seabrook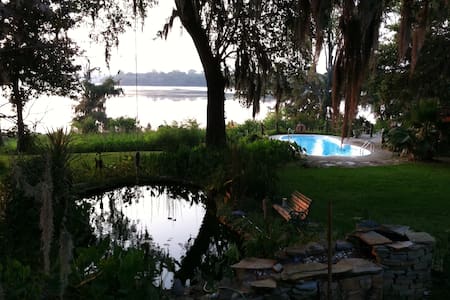 This water-front house is located in the Palm Key community, a secluded 350-acre nature get-a-way on the Broad River about 10 minutes from I-95, 30 minutes from Beaufort and Parris Island, and 45 minutes to Hilton Head and Savannah, Georgia. Grocery stores and restaurants are located 15 minutes away in Ridgeland. If you like to cookout, we have a park style grill in the backyard. Kayaks can be rented on-site. Relax in the shade of the Spanish moss covered live oak trees.
Sit on the back veranda and feel your stresses ebb away with the changing tide while enjoying the beautiful views of the Broad River. Launch a kayak from the backyard and experience the picturesque low country tidal marshes and all of the birds and wildlife that call it home. Paddle out to the river and you may even spot a dolphin or two! This four-bedroom cottage features 8 queen-sized beds – 2 beds per bedroom. Each bedroom has its own en-suite bathroom. Every bedroom also has private access to the back porch or second level deck where you will not want to miss the stunning sun rises that greet you every morning -- worth getting up for! The kitchen is fully equipped for preparing meals and there are two dining room tables to comfortably seat you and your guests. The cottage is the perfect getaway to reconnect with family and friends without any of the modern-day distractions, yet with all of the modern-day amenities. Read a book, play a game or put together a jigsaw puzzle up in the open loft area. Enjoy the sun on the upper deck, or relax in the shade on the front porch or back veranda. Grab a bamboo pole and try your luck fishing in the freshwater pond in the neighborhood. Go bird watching on the community's nature trails. We offer self check-in and check-out. You will be given an access code to unlock the front door lock. We are available by phone or email to answer your questions. The Palm Key community managers are on-site if you need immediate assistance.
The cottage is located within the Palm Key Nature community, a private 350-acre island that hugs the Broad River. Majestic live oaks are scattered throughout the property. Hawks, egrets, ibis, wood storks, herons and eagles are forever present in the skies and marsh. Enjoy the sound of silence. The house is located about 5 miles off of Interstate 95 at Exit 28, Coosawhatchie. The nearest town, Ridgeland, is 15 minutes away. It is a short drive to Historic Beaufort, Savannah, Charleston, Hilton Head, and one of the Nation's finest beaches at Hunting Island State Park. The house is located about 30 minutes from Parris Island. Many families have stayed here for their Marine's graduation weekend Towels and bed linens are included. There is a park-style charcoal grill in the backyard for cooking out. There are two parking spots in front of the cottage and room for more cars in the open area across from the driveway. Each bedroom has a TV, one has DVD player with some DVDs. Because of the abundance of live oak trees surrounding the house, satellite dish is not an option, so only local channels are available and the reception can vary. We recently added ROKU so guests can choose from a variety of movies, TV shows, sports, news, and music. We have been vacationing at this home for 10 years and have found that we enjoy spending so much quality time playing board games, reading books, kayaking, hiking, fishing, crabbing and hanging out on the back porch with our family and friends, that we never watch TV. We don't have a TV in the living room.
We were pleasantly surprised with this house. All the bedrooms were very nice and very comfortable. The kitchen was large enough that several people could be in there working together for meals. The dining room was a perfect size for our family. The views off of the porches were so relaxing. Overall it was a very nice stay.
Shelly
November 2016
Huge house, with amenities you need for vacation for all your friends, super clean, you can see galaxy at night!! But one thing keep in mind, don't check in at night, it can be really really hard to find it
Victor
September 2016
Great house, each bedroom had its own bath. Which was very convenient. House has a great back porch for relaxing on!
Jody
October 2016
The house was a delight for a big group of 8 adults and 3 kids. We had a lot of space for kids to play. The marshy background was very picturesque. Good location - close to Beaufort and savannah. Steve was very communicative and responsive. Had a great time!
Anurag
October 2016
The host answered our calls and gave us accurate location description. We loved the house!
Jackie
October 2016
Very comfortable and well-maintained cottage with responsive hosts. This property was definitely as advertised! Beautiful views, home in great condition with comfortable beds and ample bathrooms (all en suite). Well appointed kitchen. Very livable. Enjoyed both main level and upper decks. Laid-back Lowcountry feel by day and stargazing by night. Definitely recommend staying here!
Anthony
September 2016
Great place Spacious
Victor
December 2016
Ridgeland
Newly decorated two bedroom cottage on the tidal marsh with en suite bathrooms. Enjoy the peace and serenity of our home with the tidal changes of the Broad River, live oaks, peace and serenity. Close to Hilton Head, Savannah, Charleston, Beaufort.
Marshside Cottage has a king size bed on the first floor with an en suite bathroom. The open loft on the second floor has two queen size beds and an en suite bathroom. The kitchen is fully furnished and Dish Network is provided with an additional sports package. You'll have the entire use of a very nice home for your vacation/getaway. We will be able to provide information and assistance as necessary.
We live in a wooded area on the marshes of the Broad River. On extremely high tides water will come up to the back of the property. Very open for walking, bicycling, etc. There are a lot of birds and wildlife. There are three boat ramps within five miles and a kayak can be launched directly from here on high tides. There are over two dozen golf courses within an hours drive. We're centrally located between Savannah, Hilton Head, Bluffton and Beaufort. Charleston is only about 1.5 hours away. Parris Island is about 40 minutes. Many families stay here when their marine graduates. There is a gas grill for your use. One small dog will be allowed with approval. A one time $35 pet fee will be assessed upon arrival as Airbnb is not set up to charge this. We are unable to accept credit cards but will accept cash or check. Please inquire about a special offer for families of Parris Island graduates.
The host was with in a text or phone call away and able to answer questions and give great advice on the area. They also provided every house hold item needed even if it wasn't immediately at the cottage bb
James
August 2016
Lovely cottage on scenic marsh -- quiet enjoyment of wildlife watching and relaxing. Front porch swing and kayaks for a bit more adventure.
Rebecca
December 2016
This was my family's first time using AirBnB and this home has set the standard high! Everything was provided, even things sometimes we forget when traveling. It was awesome! Clean, cozy, and friendly owners who are literally a phone call or text away! If you are in the area this is the BEST! Couldn't have asked for anything more.
Brittany
October 2016
Outstanding stay all around. Location was ideal and the kids had a great time fishing in the pond. The house was clean and the hosts were responsive to all questions. Perfect experience.
Matt
June 2016
We had an amazing time at the cottage! It was everything I expected and more! I couldn't ask for a nicer home away from home! Greg and Elaine were great hosts and were very accommodating! Our boys loved the pond and all of the wildlife that came with it. The location was great for everything that we wanted to do. The cottage was clean and the beds were very comfortable! Greg and Elaine paid extra attention to detail to make us feel at home!
Alicia
April 2016
My family stayed here for my sons Marine graduation from basics. The cottage was conveniently located near the Parris Island Marine base about a 25 minute drive. Greg and Elaine were very helpful, this was my first time renting a place off of this site and they were very patient and answered all of my questions, and made the process quite simple .They even gave us a military discount. The cottage was immaculate I can't say enough good things about this place I would definitely stay again and recommend it to anyone.
Ashli
October 2016
This place was incredible! Everything we wanted and a few wonderful things we didn't expect. Our schedule opened up at the last minute, and Greg and Elaine were extremely easy to work with in getting things set up. The cottage felt like home the minute we walked in, and we were so comfortable there, we cancelled our plans for an entire day just to enjoy the peace and quiet. From coffee on the back porch in the morning to relaxing swings on the front porch, this was easily one of my most pleasant and enjoyable vacation experiences ever. My only complaint? We had to leave too soon! Rest assured, we're already planning our next visit!
Timothy
June 2016
The cottage and location is beautiful and peaceful. The kitchen is very well stocked and we really enjoyed staying here. We had a great weekend here and Jeremy and Julie have prepared the house extremely well. Would definitely recommend it to anyone in the area!
Graham
July 2016
Ridgeland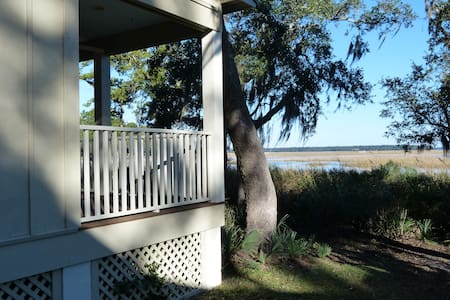 Newly decorated two bedroom cottage on the tidal marsh with en suite bathrooms. Enjoy the peace and serenity of our home with the tidal changes of the Broad River, live oaks, peace and serenity. Close to Bluffton, Hilton Head, Savannah, Charleston, Beaufort and Parris Island.
One bedroom with a king bed and a second bedroom with two queens. Both with en suite bathrooms. Fully equipped kitchen. Large back porch where you can have any or all of your meals and watch the tide come in. We have a second rental next door if you're interested. See our Marshside Cottage on Airbnb. For large families or get together's, rent them both ~ Total of 6 beds, 4 bedrooms, 4 bathrooms and 2 kitchens. Guests have this entire home with a fantastic view for their complete use during their stay. We're available if you have any questions or need help but you're free to enjoy your vacation on your own. I accept texts as well if you have any questions.
Quiet community with wildlife and live oak trees. This is a great area for kayaking. Boating and golfing are nearby. Our home is not certified as handicap accessible but has many features to help guests that are physically challenged. Ramp, 36" doors, walk in shower (with a curb), seat, grab bars, hand held mid height faucet and second faucet at normal height.
I can not say enough good things about this place, it was amazing. It had a great relaxing view of the marsh from the back deck. The beds were some of the most comfortable I have ever slept in. This place was exactly what I need to relax and get ready to start the new year.
Zack
December 2016
Not only was this cottage quiet and clean, but everything about it was in great shape. The kitchen had everything you could need, wifi, and comfortable beds. Greg also did a wonderful job communicating with me. Really appreciated the home and the hospitality.
Zack
December 2016
Ridgeland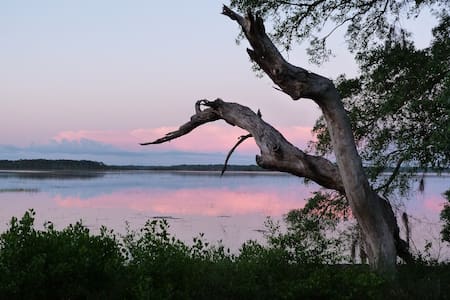 Private rooms. Cable tv internet access and parking. My wife and I are friendly gracious hosts.It is centrally located in a small quiet town between, Savannah and Augusta Ga, Charleston, Beaufort, Columbia, and Hilton Head S.C.
汉普顿(Hampton)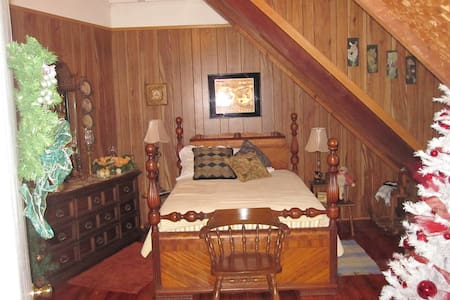 A charming room and bath in a home to share, one of the oldest neighborhoods in town called Oak Park for all the ancient live oaks around and just a couple of blocks from the town center. Surrounded by gardens, our property restorations and renovations are never ending. There's plenty of room in your room and in the common areas. We welcome you to Barnwell whether you are staying one night or longer.
Originally, the master bedroom, in a bright and sunny home, surrounded with gardens, built in 1941, in a quiet neighborhood, we offer a queen size bed, writing desk & chair, a full bath and share of the common areas. It's not every night you sleep in a room with matching drapes, wallpaper and dust ruffle! This room has refinished hardwood floors, windows you may open for fresh air, with lower half shutters for privacy, an unusual crystal light fixture above, and three desk lamps illuminate the room, a closet and large dresser to store your things, on the end stand is 1933 cathedral shaped Philco radio, on the dresser is a 1912 Victor II Talking Machine 78 RPM record player with a flower petal shaped horn. Wall decor includes a World War II vintage panoramic photograph of my father with his US Navy companions in the Philippines, and original drawings, and photographs. A full bath with both tub and shower is right outside your door. . Guests are invited to to use the family room and living room with back to back fireplaces, walls decorated with American contemporary and Australian Aboriginal Art. A television offers local broadcast digital signals, a DVD and VHS tape players and some media, stereo record turntable and CD player, with an enormous collection of 33 and 1/3 RPM records and CDs offer entertainment as well. The dining room, kitchen, informal dining room, are also available to enjoy as well as the patio outside the mudroom with table, chairs, and hot tub, the rocking chairs on the covered front porch, and the rest of the gardens surrounding the home. Our washer and dryer are available should you need them. Three entry doors to the home, in front, in back in the middle of the house and at one end near the kitchen. Typically I work from home, and I enjoy helping out as needed. I enjoy meeting and spending time with folks as does Kerin, on her three day weekends. She is usually out from 745 AM to 645 PM Monday through Wednesday. We travel frequently, but anticipate being home when we have guests at least part of the time. If you are neither in need, nor desirous of our company, we welcome you to enjoy your stay with privacy with minimal interaction with us, your hosts.
This area has many splendid old homes and mansions, proximity to more small towns with great agrarian landscapes in between. In the center of Barnwell is Lake Edgar Brown, and Turkey Creek, and Fuller park with lovely natural walks in all, places to sit, and boating and fishing opportunities. Nearly seven miles north of the square is Barnwell County State Park with more lakes for fishing and trails for hiking. Drive just a little further north and on the far side of Blackville, you may enjoy an infinite supply of fresh and reportedly miraculous spring water from the Healing Springs on God's Acre, and just a little bit further is South Carolina's oldest flea market in Springfield that operates Saturdays and Mondays. Our house is about a two block walk to the IGA food store and the Country Cupboard Restaurant with Mennonite food store. Two more large restaurants, Mr. B's and the Lakeshore Grill are less than a mile. Common Ground is another morning cafe close by if you want someone to cook your breakfast as well as all your standard fast food establishments further down the street on Dunbarton Boulevard. We normally keep two bicycles available if you would like to use them. The Barnwell downtown "Circle" which is really square is about five block away and an easy walk as well, and it features the county library, a nearby post office, Pick of the Litter Thrift Store, hair and nail salons, and numerous other small businesses as well as the center of city and county government's historical buildings, and a Confederate War Memorial. Many of the streets nearby have sidewalks. There is room to park your vehicle all around our property off the street and there is always at least one parking space available at the Washington Street end of the circular driveway that goes all the way to Simms Street. There is a Barnwell County Airport nearby if you have a plane, but with no commercial flights. About 14 miles away in Denmark is the AMTRAK Station but arrivals and departures there are both about 2:30 AM. There is no local commercial cab or bus service available to the public. I will soon be picking someone up at the AMTRAK station soon and dropping them off a week or so later, so I may come up with a fee for that two AM something excursion. We have pets, two cats, Johnson and Maddie, and one dog, Fonda. The dog is not allowed out of the back door to the circular drive because there is no fence; her fenced yard is out front accessible by the mudroom or original front door leading to the covered porch.
Wonderful experience and great hosts. They made me feel right at home in Barnwell.
William
June 2016
Our host made us feel very welcome. The house was lovely, as was the bedroom. The bathroom (which we had to ourselves) was right next door. Both bedroom and bathroom are located in a private wing of the house. I would highly recommend the Duchess of Dubbo to anyone.
Anne
November 2016
We had a very nice stay with David and Kerin! They were very welcoming to our family! The location of their home was in a quaint neighborhood in a convenient location to where we needed to go. The room was charming and we had access to our own bathroom. They invited us into all the common areas in their home. They even made us a pancake breakfast before we left for our trip home! Overall, it was a great experience.
Esther
May 2016
David and Kerin were great hosts! They even cooked me dinner. I was working a lot and they left me alone when I was under deadlines and were exceptionally accommodating and friendly when I had extra time. Their home is an older home with a lot of charm and it is in a beautiful neighborhood. They are great hosts and it is a great place to stay.
Cindy
November 2016
Barnwell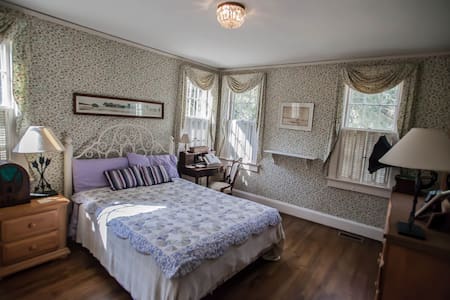 wind sounds, wading birds, slowly flowing tides, shifting sun shadows and silver water... long, long marsh and river views. distant islands quiet quiet
Carolina Lowcountry cottage located in a small, environmentally conscious colony. The colony is remote, in woods, overlooking broad marshes, islands and rivers. The cottage is comfortably and smartly furnished with porches on 3 sides. Full amenities are available: a modern kitchen, a laundry room. There are two bedrooms. Each has two queen sized beds and private full baths as well as doors to a 2nd floor terrace facing the marsh. The views are remarkable and inspiring in any weather, at any time of day. It is a quiet, peaceful spot and would serve well anyone wanting space and time for writing, painting, photography, healing, and/or experiencing nature undisturbed. It's the perfect place for a romantic and restful experience. It has made happy several groups who chose Palm Key for a wedding, a retreat, a reunion, and a conference. No pets, please, and, of course, no smoking anywhere. Provisions can be arranged upon request (food, kayaks, games, movies). There is a half bath on the first floor. Beautiful wood floors and French doors long the marsh side wall and wood wainscoating give the feel of a lodge. Locally, one can fish, hike, crab, bike ride, kayak (launch from the cottage) and just explore. Nearby (15 minutes) are the Atlantic beaches, You are also near upscale discount mall shopping, good food, movies, State reserves. Savannah is 30 minutes away and Charleston is just over an hour. Beaufort, voted the coast's happiest seaside town, is also a short drive and has excellent restaurants, galleries, performances, and carriage tours among historic homes and gardens. Quiet country. hiking. kayaking.fishing... nearby golf, beaches,restaurants, Beaufort, Savannah, Charleston, Hilton Head. Shopping and movies. Historic tours, wilderness preserves, antiquing... Guests are on their own but with easy contact with host...special requests welcome...
The Lowcountry is unlike any other place in its humbling natural beauty....a world of quiet splendor, it's tides washing in and out over salt grasses, creating creeks and water alleyways rich with life, beckoning an exploring kayak. Wind, bird and animal sights and sounds....and stillness. To breath in and sigh, to dream, to write, to paint, to just be who you really are. Welcome. This is country. Near city (Savannah & Charleston). Near lovely, historic small town Beaufort. Restaurants. Beaches. Great food. Shopping (if you must) and friendly folks. No public transportation.
We've had an outstanding stay at Sweetgrass cottage! Place was exactly as described, it is a really nice and calm place to stay. Awesome march views as well!
Sylvain
March 2015
While we never met Beverly in person, she was easily accessible via text or email. We rolled in at one in the morning, found the key, and entered into her beautiful house. The back of the house looks over a large tidal marsh, with nothing but trees, grasses, and streams in view. It gives the illusion of solitude, though there are neighbors along the road. It was a perfect place to decompress. The kitchen had all the equipment we needed for simple meals. The house was impeccably clean and beautifully decorated. Her book collection had many novels that seemed picked just for my tastes. A wonderful place.
Shannon
April 2015
This cottage and the view from the back are beautiful! The inside was clean, comfortable and spacious. I found everything to be as described in the listing. The neighborhood is quiet and although there are neighbors, sitting on the back deck looking out into the marsh was peaceful and we felt as if we were the only ones there.
Kim
July 2015
We (my family of 4 including two kids) had a wonderful time at Sweetgrass. The house is more beautiful than the pictures. The main floor is open with a kitchen and large island and a dining area and comfy living area. There is also a half bath and laundry room. There is outdoor seating on the front and back porch. Although there are neighbors, when you sit on the back porch all you see is marsh and sky. It's very peaceful. Upstairs there are two large bedrooms and each bedroom has its own en suite full bath. We took day trips to Savannah, Beaufort and Hunting Island. I'm so glad we found Sweetgrass.
Leslie
April 2015
The Sweetgrass cottage was a great, relaxing place to return to after taking day trips to Savannah, Tybee Island and Hilton Head. The pictures don't do the house or neighborhood justice. The back porch became a main gathering point as everyone enjoyed the view and calmness. My group of 8 (6 adults and 2 children) fit fine, but there are only two rooms, so make sure you are comfortable sharing before booking. Had a small communication delay towards the end of the trip, but nothing that would keep me from booking the Sweetgrass Cottage again.
Ryan
July 2015
Our stay in the South Carolina low country was outstanding. The cottage was well stocked and clean. The view of the Broad River Marsh was beautiful. It is a very peaceful place. I would go there again.
david
April 2014
Beverly has a wonderful cottage at Palm Key... We spent our days lounging around watching the tide wash over the marsh and reading from her collection of geographically relevant books. She even left a little package of goodies for our whole family!!! So sweet. Thank you for sharing your home Beverley, we hope to return some day.
Karen and Ben
August 2014
We absolutely loved our weekend at Palm Key! Beverly is the perfect hostess and, if you're looking for a serenely beautiful get away, this is a terrific place. Beverly gave great tips on local eateries and activities. The cottage is gorgeous with spectacular views of the marsh and made all the much better by fresh flowers throughout the house, a welcoming gift of cookies and sweets. Even wine and strawberries in the fridge. Thank you, Beverly for a wonderfully warm experience(URL HIDDEN)
michael
July 2014
Ridgeland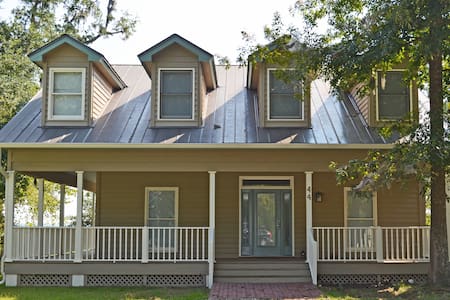 A beautiful 3000 sq ft home idyllically nestled within acres of woodlands. Large sprawling 1st and 2nd floor porches overlooking the quiet beauty of nature. Enjoy a restful retreat close to historic downtown Summerville and Charleston.
Tastefully eclectic decor, hardwood floors throughout the house. 3 beautifully furnished bedrooms and a Queen Sofa Bed in the downstairs media room. A beautiful location for a restful vacation or a family reunion. Trampoline for use. Zip line in woods. As much interaction as is desired.
Quiet neighborhood. No traffic noise. Just the sounds of nature all around.
The house was wonderful for our large group and was a perfect stop-off as we were heading home from a week at the beach. Plenty of towels, kitchen utensils and everything we needed, including a bottle of wine and some chocolates when we arrived. What a nice touch! :) Stephanie was great to communicate with and Joshua was extremely helpful when we checked in. Another wonderful airbnb experience.
Vanessa
July 2015
My family and I had a very nice time in this house. The house is very spacious and we loved sitting at the porch. Stephanie was very communicative and she made sure we were welcomed at the house by here associate Joshua who was also very friendly.
Marlies
June 2016
We arrived an were greeted with open arms by Sara and her daughter. We were in constant contact with Stephanie, she wasn't able to meet us. The house was located in a nice and peaceful area. My family and I had a great stay at the Jones Family Tree House. Thank you Stephanie for everything!
John
July 2016
Joshua met me at the house upon my arrival... He showed me all around the house & answered my questions... The listing description was accurate... Quiet neighborhood... Great place to come back to after a long day of work! The bottle of wine that Stephanie left was a nice touch!
Vincent
August 2016
Stephanie and her associate Joshua were friendly, patient, and welcoming to our crew of 8. It was a beautiful house and Stephanie provided new sheets, towels, and plenty of comforts of home. We loved and used the numerous porches that the house provided. The ability to comfortably accommodate so many people, have a large kitchen and fridge to easily cook in, and plenty of space to relax, make this Jones Tree House the best illustration of why NOT to ever stay in an overpriced cramped hotel again.
Chris
July 2015
萨默维尔(Summerville)