输入日期以查看总价格,包含额外附加费用及适用税费。
今年的七月至八月,从这100个不同价格级别的房源中选择,体验当地人眼中的索诺玛。房源提供24小时入住,还可以即时预订,您什么都不用做,只需饱尝本地美酒美食,轻松享受旅程即可。
My place is close to restaurants and dining and family-friendly activities. My place is good for solo adventurers and business travelers.
奥尔巴尼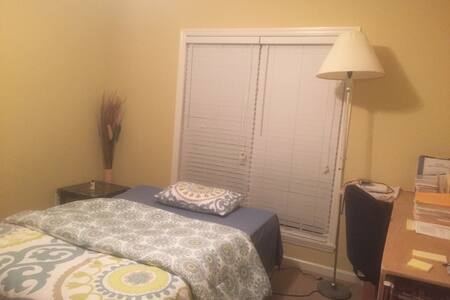 Quite, peaceful retreat in town. Queen bed, private bath, mini kitchen w/Keurig coffeemaker, tv & wifi, fenced off street parking, outside deck w/grill& fire pit, very private, y'all come & check us out
Very large room & private bath WiFi, close to lots of restraunts & near World Class Hospital Whenever they like, just a call away
Very peacefull Own transportation best Not suitable for pets or small children
Nice quiet private room. Lovely lady and the place is always clean. Big backyard for a relaxing outdoor time.
Chih Feng
December 2016
奥尔巴尼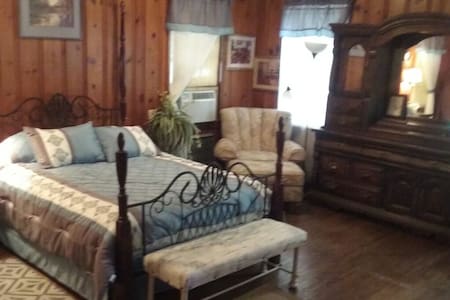 Our one bed/one bath cabins are nestled in 32 acres of long leaf Pine Trees. These cabins sit on White Oak Pastures property in Bluffton, GA. Please visit www.whiteoakpastures.com to book your cabin or call our office at (229)-641-2081.
We had a great time, truly a unique experience. Jodi was an awesome host. Even took us on a tour of the facility.
willie
March 2016
We had a great time at White Oak Pastures and our stay at their beautiful, rustic cabins have been the highlight of our trip! Jodi is an excellent host and invited us on a tour of the farm. The employees were so, so helpful, especially Chad, and made us feel welcome and at home. The cabin was quiet and surrounded by pine trees and we were greeted by Hansel and Gretel, the two resident cabin kittens. A couple of chickens came to visit us during breakfast from the field across the way. It was a great place to spend the night - and one we can't recommend highly enough!
Kayla
May 2016
This place was great ! What a great place to relex and have a country living experience . We had such a great time we did not want to leave. We went to the white oak pastures store where they sold fresh meats and other great stuff. We got turkey and pork from their store they had the most fresh meat we ever tasted. It was a great camping experience and it was just us in the lodging . My husband and I can not wait to vist again ! Great food great people. Also their is a winery about 25 mins away and that is a place you must vist too very fresh wine that is so good . Overall this place is very peaceful and very relexing stay !
Biven Leslie
November 2016
Picturesque cabin in the woods, very secluded and private. located 1/2 way between Atlanta and Fl beaches, it was a perfect stopover for us. There were fresh eggs and quiche in the fridge, as well as water provided. We arrived too late for dinner at the pavilion and there are no restaurants or grocery stores nearby so we bought steaks from the farm and grilled out. A very nice and unplanned experience. It rained during the night and loved listening to the rain on the cabins metal roof. Very relaxing!
Pat
September 2016
By the grace of God, we found this rural gem in the midst of escaping Hurricane Matthew. Everything on the west coast of Florida was either booked, outrageously priced or wouldn't allow our family pets. Jodi and the team at White Oak Pastures welcomed our family, pets included, with open arms. These folks are kind, considerate and hard-working individuals. The cabins were quintessential southern country charm with wonderful comfort and privacy. The grounds are lovely, the workers are friendly and their restaurant menu was delicious. Thank you from the bottom of our hearts for your hospitality.
Stefanie
October 2016
Wonderful setting in a pine woods pasture full of sheep and cows! (Watch out for cow pies!) Cabin is beautiful inside and was a perfect stop for us to rejuvenate from the road. Jodi is super nice and met us late at night to let us in, eggs and a delicious quiche was in the fridge for us to enjoy! Hit the spot! Awoke to the sounds of sheep, and spent the morning exploring the farm area just down the road. Be sure to call the office to confirm the cabins availability before booking! Thanks again!
Jessica
February 2016
布拉夫顿(Bluffton)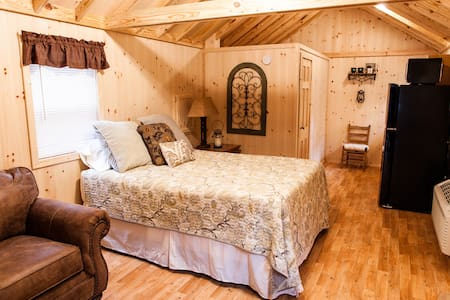 Kingsize bedroom with bath, second bedroom, hall bath, full kitchen, spacious living room, washer& dryer, quite country setting.
Quite, tranquil setting Entire house Just a call or text away
Very private Will need own transportation
奥尔巴尼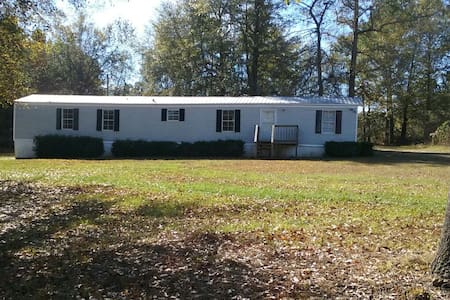 WATERFRONT Cabin on large beautiful lake Eufaula, Georgia side. Just 3 hrs from Atlanta, 2 hrs from Tallahassee FL. Open ladder loft studio style, 3 beds, kitchen, full bath, private covered dock with boat slip, RV hookup, very private wooded area, awesome Sunset views, fish from dock! Covered porch with rocking chairs overlook the lake, large carport & plenty of parking/yard for campers, boat trailers, tents, camp fires! Pets welcome! Nearby State park for dining,golfing,boat rental, hiking,etc
Lakefront open ladder loft studio style cabin with queen bed, table set, kitchen, full bath, TV, front porch and carport entrance on first level, ladder to loft that has 2 queen beds and a twin mattress. There is an additional shower outdoors. Private covered dock with boat slip, pet friendly, RV hook ups, plenty of space for additional camping etc. Covered porches, fire pit, amazing sunset views, fish or swim off the the dock!! 3 miles north of Georgia State park (George T Bagby) for dining,golfing,hiking,boat rentals, festivals, etc. *NOTE: Linens & towels are not provided. There are blankets & pillows. Waterfront private cabin on large private wooded lot with large private covered dock with boat slip! RV Parking space and hook ups included! Plenty of parking and camping area! Pets allowed! Owner lives in Chicago but is available 24/7 - Barbie Hartsfield 850-510-5437 text/call or email barbiehartsfield@gmail.com There is a maintenance staff person in the area if needed.
Beautiful vacation homes and residential home area. No public transportation - car is needed. Several landings to launch your boat - nearby. Information is located in the cabin. NO linens are provided - pillows and blankets and all kitchen essentials are provided. $40 Cleaning fee optional - leave cabin clean and there will be no charge. Additional fees - Sales Tax, Listing service fee, $35 pet fee, $200 damage deposit. This is all detailed in the quote you will receive.
Cabin was perfect get a way and just as described in listing. Had a great couple of quite relaxing days. The location is off the beaten path which was perfect for us.
Karl
October 2016
This cabin is adorable! The host, Barbara, was very responsive to questions about the unit and provided great information about the area and what items we needed to bring. The cabin was exactly what we needed - a nice, quiet getaway weekend for our anniversary (added bonus: my boyfriend proposed to me on the front porch!). The area is beautiful - very secluded and the view from the floating dock is incredible! Thank you for sharing your cabin, Barbara!
Caitlin
August 2016
This cabin was perfect. The sunset was amazing and our dogs loved it. We will return to this beautiful place. Thanks for having us.
Brandi
May 2016
The host canceled this reservation 6 days before arrival. This is an automated posting.
Patricia
Was the perfect getaway! Adorable and quintessential lake cabin for my husband, puppy and I.
Audree
November 2016
The gps led us astray, fortunately Barbara's directions were on the mark. This place is beautiful. We sat and (pretended to) fish enjoying the view of the lake and AL for a day and a half and loved it. Very relaxing.
Scott
June 2016
My husband and I had a wonderful stay at Buck Creek Cabin. It was cozy with a beautiful deck facing the lake. The cabin was quiet and secluded which is just what we were looking for. There was a nice gas grill for cooking and large picnic table for dining outside. We highly recommend Buck Creek Cabin for a nice quiet getaway.
Nancy
December 2016
Very quiet, and fairly secluded for this time of year. It was Probably the most relaxing Vacation in years. We didn't do nothing but set on the dock or by a campfire. We look forward to coming back with Family members over the summer.
Raymond
December 2016
Fort Gaines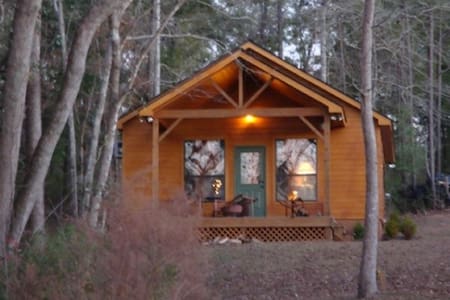 Your Reservation includes $250 of Beach Gear, your choice, delivered to your door on the day you arrive!! EAGLE'S NEST is a beautiful Gulf View beach home designed by the architect owner of Hartley + Purdy Architecture. It was designed for entertaining and you will find an amazing layout that provides either privacy or room for full family gatherings. Another featured part of this house is the incredible gourmet kitchen that will please even the most discriminating chef.
The beautiful kitchen features granite countertops, lattice tile backsplash, walk-in pantry with stand-alone ice maker, center island stovetop with overhead vent, stainless appliances, and oversized center island with room to seat 10 for casual dining. The living area also provides coastal casual living with denim covered sofas, large ship's wheel coffee table and large screen TV. The large loft area on the top floor was designed to provide extraordinary panoramic Gulf views. From the Sleep Number Queen bed on the main level, to lush landscaping that provides outdoor privacy, extra-wide covered porches, private pool and a porch swing perched high above the other houses, Eagle's Nest provides many extra amenities, making this home as comfortable and enjoyable as possible. Your reservation includes $250 worth of beach gear. That's right! Rent a beach wagon, beach chairs, umbrellas, paddle boards, and more for your stay. Your $250 credit will go a long way! LAYOUT: Ground Floor - L-Shaped driveway - Covered parking - Picnic table and grill - Private pool - Enclosed large, tiled outdoor shower - Grass yard - House entry Second Floor - Main living level completely surrounded by French doors to the porch - Queen sleeper sofa - Large kitchen with island that seats 10 - Walk-in pantry - Stand-alone ice maker located in the pantry - Queen bedroom, en suite bath with extra door into living area - Formal dining room that seats 8 - Full surround extra-wide porch with swing and steps to ground level Third Floor - Gulf-side King room with en suite bath and door to balcony with swing - Gulf-side Full room with en suite bath and door to balcony with swing - Bay side Queen room with en suite bath - Two Twin bed room with en suite bath - Full laundry room with laundry sink Fourth Floor - Loft with 2 Futons - Extraordinary views, almost 360 degrees The L-shaped driveway provides extra parking possibilities for motorized toys. No need for backing into tight spaces, enter at Hartley Lane and exit on Cape San Blas Road. This beach home accommodates 16. Pets are allowed for additional fee. No events over the occupancy of the house are permitted and there is a minimum age limit for renters.
Cape San Blas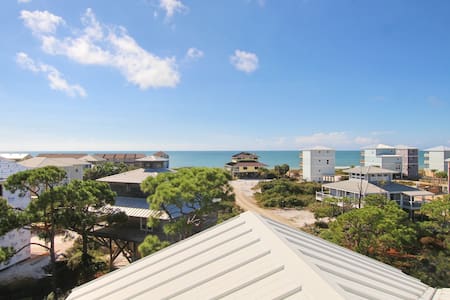 Newly Renovated, Self-Serve House, Furnished with Mid-Century Antiques, 3 BD, 2 BA, Full Kitchen, Breakfast Room, Living/Dining Room, Fireplace, Utility Rm with W/D, Terrace, Garage, Wildlife, Forests, Orchards, Pastures - Private, Quite & Peaceful.
The Guest House is located on a Historic Farm within the Plantation Trace Region of Georgia. The Guest House is completely renovated and restored with new fixtures and furnished with Mid-Century Antiques. The grounds are open and spacious with pastoral views. The Guest House is surrounded by a Wildlife refuge where Wild Deer, Turkey and Quail roam. Conveniently located 5 minutes from the Town of Bainbridge where entertainment, dining and shopping can be found. Visit the many Plantations in the area. World Class Bass Fishing is only 15 minutes away at Lake Seminole. Day trip to Florida's Beautiful Gulf Coast in only 2 hours. The Guest House is accessed by a Quarter Mile long Private Driveway. Entry to the Accommodations is provided by a Push Button Locking System. Code to Locking System is provided when Reservation is completed. The Guest House is designed to be completely Self-Serving. As a result, there is no need for interaction between Proprietor and Guests. The Proprietor lives nearby on the Farm and is available when needed.
The Guest House is Private, Quiet and Peaceful. There are Open Spaces, Pastoral Views and Lush Forest Surrounding The Guest House. The Guest House is located in a Rural Setting. There is no Public Transportation. A Vehicle is necessary. There is plenty of Parking Space for Autos, Boats and Trailers. The Internet is FREE but is not unlimited. Data is provided for browsing only.
We had a wonderful stay, and the house was beautifully furnished in mid-century modern decor, with fantastic attention to detail. I felt very comfortable and at home at the Guest House on Ten Horse Farm and Franklin was a most accommodating host. The house had just about every amenity of my own house, which makes travelling quite enjoyable. Would most definitely stay here again if business brings us back to Georgia!
Allison
July 2015
Frank is a gracious host. He couldn't have been more accommodating. We made Ten Horse Farm our home base over a football weekend at Florida State and Bainbridge is pretty accessible to Tallahassee; it seemed like we were there and back in no time. Bainbridge has a bunch of great restaurants and Frank's reviews of each were very helpful as we made our selections. It is clear that Ten Horse Farm is a labor of love; visible in the careful planning he's put into color selection and appointing this charming house with mid-century modern furnishings. At sunrise, the subtle color tones lit up and almost seemed to glow, filling the space with an ethereal light. The grounds are like a pristine savannah with a pecan tree canopy. At night we could see so many stars, it was hard to find the constellations. Frank, thank you for making our stay a memorable experience.
Kurt
October 2014
This house was so charming! The pictures, while accurate, don't begin to capture the charm of this Southern gem! Everything in the house was very easy to find, and the layout was great. Franklin was attentive to needs and easy to get in touch with. Highly recommend!
Carlene
August 2016
I did not meet the host. We arrived in the late evening. The description of the property was accurate. The property is spacious and quiet. The rooms were clean. It was a better value than the neighboring hotels. If it is available in March 2017, I would stay there again.
Gary
October 2016
This guest house is absolutely adorable. It is furnished in a retro style. I could stay there a month and just read all the books Frank has. The kitchen was well equipped. Dishwasher did a great job. The washer and dryer were amazingly quick. Detergent for both was supplied. The beds were firm, there were plenty of towels, and the sheets were soft. Loved the quilts and chenille bedspreads. It is on a farm, so it was very quiet and secluded, yet close to everything we needed. We originally booked 3 nights and needed to extend. Frank was very helpful allowing us to do that. He was also quite responsive to any question we had. We enjoyed the house, and would not hesitate to stay there again if we needed to.
Carolyn
January 2016
On April 29th we visited Franklins lovely home in Bainbridge, Georgia. Myself and 3 relatives traveled to north Florida for a college graduation. Franklin was an excellent host. Upon check in he greeted us cordially and showed us around the property. He even allowed us to check in a few hours early. His home is simple, quaint and very comfortable. We truly enjoyed our stay.
Jennifer
May 2016
Bainbridge
My place is good for couples and families (with kids).
The host canceled this reservation 4 days before arrival. This is an automated posting.
Vetrece
奥尔巴尼