输入日期以查看总价格,包含额外附加费用及适用税费。
Craving the peace and quiet of the midwest? If so, this the perfect place for you. Located away from the hustle and bustle of the city, yet close enough to I70 to be able to get to just about anywhere in the Kansas City area in 20 minutes. Tucked away in the woods, you will enjoy a peaceful and quiet stay with a nice deck to enjoy the sounds of the forest.
Cindy is a great welcoming host. As we were oth very busy we seldom say each other but Cindy was always a phone call and a few minutes away. The room and bath were spacious, very quiet, with comfortable beds. A small refrigerator provided space for yogurt and veggies, Cindy also provided coffee service. If I return to this area again I will look for this listing first.
Lavera
June 2016
Cindy has been a perfect host and I love staying in her beautiful home. She was there to meet me the first day and I have felt right at home ever since. She communicates with me, provides great coffee along with necessary amenities and is in a great location.
Angela
October 2016
When I called Cindy, she was quick to get back to me and give me the exact directions I needed. Her home is beautiful and the room was lavishly decorated. This was like being at home with the room, private bath, and the homey feel. What I liked most? Her home smelled like my grandmother's home and it took me back to some precious memories. The setting for her home even smelled like where my grandmother's house is. Amazing!
Becky
October 2015
Cindy was a great host! She was very accommodating and had no trouble adapting to our ever-changing plans. The room was very comfortable and well furnished.
William
October 2015
Cindy always does a great job with making check in time as easy as possible for me with my crazy hours. She always communicates quickly and I always enjoy my stay with her.
Valerie
August 2016
Cindy texted with me and greeted me as I arrived. She is very kind and is around and open to helping you (i.e. our car was having problems and she helped us figure it out, we needed a printer and she let us use hers, etc.). The online description is accurate to the location :) We totally enjoyed our stay - the location is just beautiful, and the arrangements are relaxed and cozy-feeling. Loved it!
Kate
June 2016
Glad I can stay often as is nice and welcoming every time.
Angela
November 2016
The host canceled this reservation the day before arrival. This is an automated posting.
Jeremy
July 2016
独立城(Independence)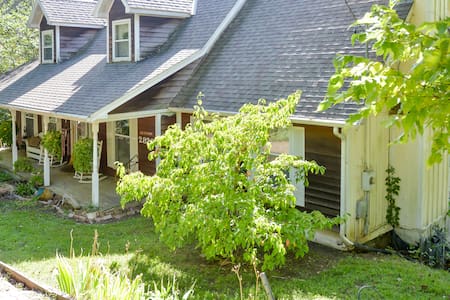 Similiar to my other listing, this is a room you can easily feel at home in. Sink into a 4 post, cozy bed, wake up in the morning to the sound of birds singing their good morning songs! Sit on the deck and enjoy the woods. You will adore it!
Frequent visitor and always have a comfortable stay!
Valerie
September 2016
Cindy it was very accommodating to your schedule! Not to book last minute, and she was very welcoming! Her home is in the quiet country. She gave us the master bedroom, which was wonderful to sleep in! The bed was huge and super comfortable! Everything was clean! She is a wonderful hosts, and we were so grateful to have found her wonderful home! If you are traveling to Independence Missouri, this is the place to stay!
Lisa
June 2016
I always have a comfortable stay!
Valerie
August 2016
Cindy is a very sweet host! Her home is very comfortable and the bed is wonderful. I look forward to staying here again!
Valerie
July 2016
Cindy was wonderful to deal with, my assistant stayed with her almost a week and she was amazing to deal with. Our schedule changed a few times and she accommodated us as best as possible. Wonderful host. Thank you
Anthony
May 2016
Cindy's place was great! She provided excellent communication. The neighborhood was nice and the house was secluded away from others making this a private country getaway close to the city. The bed and room were extremely comfy! Highly Recommended.
Shane
July 2016
Cindy's home was nestled in the hills of Missouri. It was as you would imagine the Walton's home. We were given a room upstairs with our own private bedroom. Although it was different from the photos, it was very comfortable and welcoming. I did wake to the sounds of the birds chirping which is a great way to start off the day. There was a little sitting space outside the room with a small fridge. Cindy was very kind and accommodating. I would stay here again if I was in the area.
Sonya
April 2016
独立城(Independence)