输入日期以查看总价格,包含额外附加费用及适用税费。
今年的七月至八月,从这100个不同价格级别的房源中选择,体验当地人眼中的索诺玛。房源提供24小时入住,还可以即时预订,您什么都不用做,只需饱尝本地美酒美食,轻松享受旅程即可。
Altus Air Force Base luxury accommodations appointed with beautiful antiques and one of a kind pieces. TDY stays pay local lodging rate. Price is for a spacious private and secure King bedroom with ensuite marble bathroom. A 1200 sqft family suite (up to 6 pax) available upon request. Please ask about special rates when renting up to 5 rooms together, discounts for multiple-night stays, and monthly rates.
We have everything you need for a fun, relaxing, and luxurious stay. Please ask about special requests or specific amenities. All guests enjoy use of the entire house: formal dining room, library and billiards, formal sitting room with 55" flat screen TV, huge gourmet kitchen, and modern laundry facilities. I am available, day and night, to answer any questions or make suggestions on where to eat, what to do.
Walking distance to many boutique shops and cafes on the historic downtown square. Altus Air Force Base is 3 miles away.
Lesley was so sweet and helpful; a very accommodating host! She was very communicative and responsive even though she was not on location. Her house is beautiful.
Lydia
November 2015
this wonderful old home is wonderful it was a pleasure to see all the antiques and woodwork
joy
August 2015
The host of Fowler House is so thoughtful and accommodating. The home, the rooms and the decor are stellar! What a find in Altus!
Lorelei
June 2015
What an amazing, 100 year old, stately home. If you want to experience how the wealthy lived during the early part of the last century, this is it!. Lots of fun and quite a surreal place. Thanks Lesley for all your help.
Michael
May 2015
Altus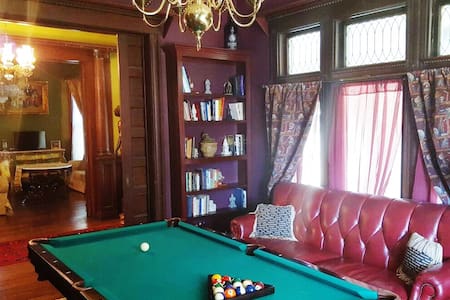 TDY to Altus and want your family to be with you?  This is the place for you!  Designed with a woman's touch, this house provides all the perks of a by-the-room crash pad and you won't have to pay a dime out of pocket for lodging. My place is close to Altus AFB. You'll love my place because of the coziness and the location. My place is good for couples, solo adventurers, business travelers, families (with kids), and furry friends (pets).
Here is what you'll get with your Altus Family Crash Pad: 2 Car garage, Propane BBQ grill, Fenced in yard, 60″ TV in living room with Direct TV, Wireless internet, Keycode entry for front and back door, HE Washer & dryer, All kitchen necessities, Lawncare, and Utilities. The back yard has a children's swing set and little tykes play house. The three rooms inside consist of a master suite with Queen-size bed, a full-size bed in the second bedroom, and a twin-size bed in the third.   There is also a pack-and-play for your really little ones.  All rooms contain bedding, hangars in the closet, laundry baskets, and bath towels are also provided.  The fully stocked custom kitchen is amazing.  HE washer and dryer. The living room has a 60″ TV with DirecTV and the master bedroom has a 42″ TV with DirecTV.  WiFi throughout the house is lightning fast. Unlike the other guys, this Family Crash Pad only costs $60/Night.  Your TDY lodging amount covers everything at this Family Crash Pad and you'll pay absolutely nothing out of pocket to stay here with your family!  This is the same rate Altus lodging charges, so if you choose to stay with us you will not be charged anything more than what you are authorized for your TDY.  A bi-weekly professional cleaning service is provided. After your stay, refer someone to stay at this Family Crash Pad and receive a $100 referral bonus. Check out www.altusTDYhouse.com for more photos and details.
Altus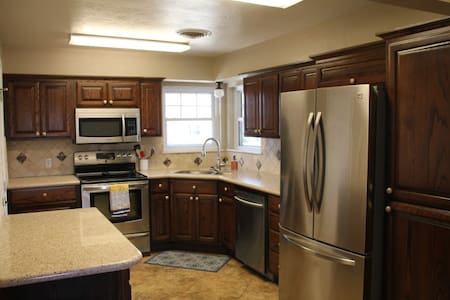 If you are traveling this way, we have a clean, private room available in our guesthouse. We are 2 1/2 hours west of OKC, one hour south of I-40, in the middle of nowhere, but on the way to everywhere! (Dallas, Oklahoma City, Amarillo) washer, dryer
We have a clean,dorm-style accommodation. Bed(s), clean rest room & shower, coin washers and dryers, soda machine, water fountain. We would be glad to meet you an hear about your travels through the USA. We have traveled in Europe and have hosted many travelers at our house. We have had students from Germany, Czech Republic, Slovakia, Ukraine, Russia,Mongolia, Korea, Denmark, UK and the US.
This is a small town of about 400 people. We are 1/2 block East of the school ( 174 students K-12) We have a cafe and store ( but no fuel), post office and quilting store. A true slice of the American Heartland! No public transit in town, Interstate bus station in Vernon, TX, about 12 miles away. Best basic student traveler accommodation in Oklahoma.
This was our first air bnb stay! Jeff could not have been more welcoming. After a brief storm on our drive in, he made sure to show us his storm shelter! He set the kids up with bikes and we explored the tiny town before heading back for hot food and a nice visit with the family. Our room was cozy and comfortable, we slept great, had showers and headed out after a cup of tea, even though it was very early!
Esther
May 2016
I had an absolutly great stay here wish i had time to stay longer. The room is great and Olustee is an interesting town to see, and gives a good impression of small towns in the US. It was also a very good price, and Jeff is planning to build a hostel wich i am going to try to visit. I and Jeff had a nice long chat and i even went with him and a few kids to church even tough thats not something i would normally do i enjoyed it. I did not get to talk much to Rebecca as she was busy working.
Thomas
October 2015
Jeff is one of the most incredible humans I've ever met. Extremely hospitable, providing everything we needed and more. He has a giving spirit and is working hard to put his town back on the map. Olustee is beautiful. Be sure to come on a clear night and look at the stars. Thank you so much, Jeff. It means a lot to my roommates and me how amazing you were.
Josh
March 2016
Jeff could not have been more welcoming - he sums up what it is to be a good host! He is proud of where he lives and is knowledgeable about the area, is hospitable and obviously just loves hosting people. If you're looking for somewhere off the beaten track, friendly and safe then this place is for you. We had breakfast at the only "pit stop" in town and got to see a little of rural America as we headed east. Just a great place, and though we only stayed one night to rest our heads we now plan to stay a few more nights on our way back West in a few weeks as we appear to have underestimated Oklahoma! Thanks Jeff!
Jennifer
February 2016
Jeff made me feel very welcome--even after forgetting how many time zones I was traveling through and ended up being an hour later than anticipated (and I was going to be very late in the first place!). Everything was as advertised: a simple room, in the middle of nowhere in Oklahoma. I loved it! Jeff also had me in for coffee and cake in the morning before I left. Lots of nice conversation--it was interesting to learn about the local area and what life was like in his part of the country. Be sure to sign the book if you stay here!
Ryan
April 2016
Jeff and Rebecca were gracious hosts and their space had all the amenities. They even cooked breakfast!
Beth
August 2016
Jeff and Rebecca were so incredibly kind and hospitable. Jeff is truly one of a kind and quite possibly the nicest man I have ever met. The room was just what I needed to crash for the night. I would definitely stay here again- not just for the room, but to see Jeff and Rebecca again!
Kimberly
August 2015
Jeff and Rebecca were super hospitable. We loved exploring small town Oklahoma, a place rarely seen by many people. Jeff and Rebecca love to host people and show them their home.
Brianne
July 2016
Olustee
Rustic lodge on private lake with swimming, firepit, campfire, hiking, and covered outdoor cooking facilities. Three miles off Route 66 in Shamrock, TX, home of the U Drop Inn featured in the movie, "Cars". Kayaks, paddle boards, fishing equipment available for rent. No more than 4 guests. Only Airbnb reserved guests allowed on premises.
We are two miles south of the famous U Drop Inn (as shown in the movie "Cars" on the Mother Road (Route 66) which spans across the United States. We have a beautiful lake stocked with several kinds of fish (fishing poles & bait available). Relaxation is in store as you sit around a campfire, watching fireflies dart around. Indoor and outdoor cooking, hiking, kayaking, and swimming opportunities are all available. The rustic lodge is private with front door access to the lake and other amenities. Come and enjoy nature in a calm, quiet setting that is sure to recharge your spirit. Owners are available on adjacent property.
Shamrock is a small, friendly town and is the home of the "U Drop Inn" which was featured in the movie "Cars." Shopping and restaurants are available with antique shops, markets and other stores to serve all your needs. Parking is free. Vehicles can park beside the rustic lodge. The lake is a private lake. Guests do not need a fishing or boating license. The setting is quiet and very private with restaurants and shopping opportunities located a short distance away in Shamrock. RV hookups are available with full access to all outdoor opportunities as described.
Very cool and funky spot down by the river. Cozy but colorful and clean inside. Joe and Judith were super nice and welcoming, and were very accommodating in allowing our dog and two cats to stay, as we were on a cross-country move.
Gina
September 2016
Shamrock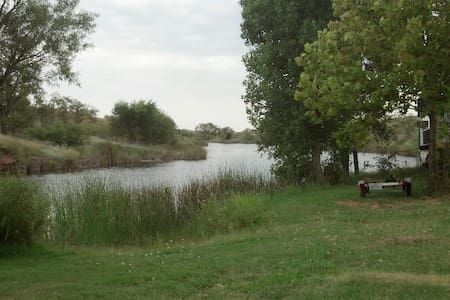 Beautifully restored Queen Anne built in 1903 furnished with period decor and modern upgrades. 4 bedrooms with private bathrooms available. All guests have access to entire house including parlor, library/gameroom, kitchen, dining, and laundry areas.
Relax in the parlor with a good book, browse the library and play a game of pool or sit on the balcony and enjoy the breeze. BBQ patio available for cooking and entertaining. Full professional kitchen fully stocked with everything needed to fix meals if so desired. All areas are accessible to guests with courtesy and opportunity to visit others from around the world. Innkeeper on site is available for assistance when needed and is also a Master Cook and provides full course country breakfasts each morning.
Very large corner lot with wrap around porch and patio areas. Centrally located near the town square with many shops and restaurants nearby. Our mission is to provide guests a home away from home and welcome feedback to help make your stay the most enjoyable time while traveling.
We didn't really know what to expect when we arrived at Fowler House, but we were blown away! While the outside of the home could use a little TLC, the inside is quite beautiful! There are lovely period details everywhere you look. So many nice little nooks for reading and relaxing, a stunning dining room for breakfast, and luxurious bedrooms and bathrooms. We were sorry to have to miss Gerald's cooking in the morning (he had to be out of town), but the gift certificate which was provided to us for breakfast was more than adequate, and we had a delicious meal at the obviously-very-popular restaurant right across the street within easy walking distance. We felt completely pampered, and have already made 2 future reservations. You'll be very happy you chose these accommodations!
James
June 2016
Altus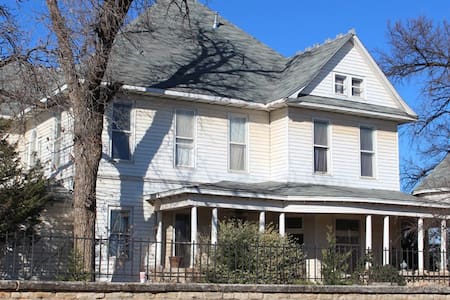 Beautifully restored Queen Anne built in 1903 furnished with period decor and modern upgrades. 4 bedrooms with private bathrooms available. All guests have access to entire house including parlor, library/gameroom, kitchen, dining, and laundry areas.
Relax in the parlor with a good book, browse the library or play a game of pool, sit on the balcony and enjoy the breeze. BBQ patio available for cooking and entertaining. Full professional kitchen fully stocked with kitchenware also available. All common areas are available to all guests with opportunity to meet and visit with others from around the country and the world. Innkeeper on site is available for assistance and is also a Master Cook providing full course country breakfast each morning.
Town square, shopping, unique shops and site seeing all within 5 mile driving distance. Parking is on site Our mission is to provide guests a truly comfortable and enjoyable home away from home. We welcome all feedback to insure the best experience during your travels.
Altus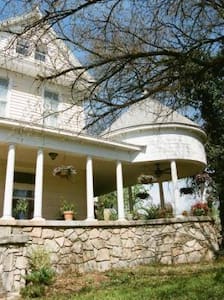 Luxury King size beds with private bathrooms in all 5 bedrooms. Full hot country breakfast provided. Close to shopping and down town square. Full access to entire house including parlor, library/game room, laundry room and full professional kitchen.
Altus