输入日期以查看总价格,包含额外附加费用及适用税费。
Altus Air Force Base luxury accommodations appointed with beautiful antiques and one of a kind pieces. TDY stays pay local lodging rate. Price is for a spacious private and secure King bedroom with ensuite marble bathroom. A 1200 sqft family suite (up to 6 pax) available upon request. Please ask about special rates when renting up to 5 rooms together, discounts for multiple-night stays, and monthly rates.
We have everything you need for a fun, relaxing, and luxurious stay. Please ask about special requests or specific amenities. All guests enjoy use of the entire house: formal dining room, library and billiards, formal sitting room with 55" flat screen TV, huge gourmet kitchen, and modern laundry facilities. I am available, day and night, to answer any questions or make suggestions on where to eat, what to do.
Walking distance to many boutique shops and cafes on the historic downtown square. Altus Air Force Base is 3 miles away.
The host of Fowler House is so thoughtful and accommodating. The home, the rooms and the decor are stellar! What a find in Altus!
Lorelei
June 2015
this wonderful old home is wonderful it was a pleasure to see all the antiques and woodwork
joy
August 2015
Lesley was so sweet and helpful; a very accommodating host! She was very communicative and responsive even though she was not on location. Her house is beautiful.
Lydia
November 2015
What an amazing, 100 year old, stately home. If you want to experience how the wealthy lived during the early part of the last century, this is it!. Lots of fun and quite a surreal place. Thanks Lesley for all your help.
Michael
May 2015
Altus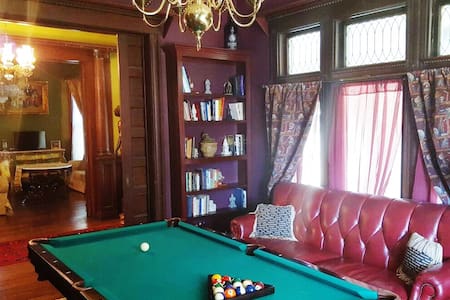 If you are traveling this way, we have a clean, private room available in our guesthouse. We are 2 1/2 hours west of OKC, one hour south of I-40, in the middle of nowhere, but on the way to everywhere! (Dallas, Oklahoma City, Amarillo) washer, dryer
We have a clean,dorm-style accommodation. Bed(s), clean rest room & shower, coin washers and dryers, soda machine, water fountain. We would be glad to meet you an hear about your travels through the USA. We have traveled in Europe and have hosted many travelers at our house. We have had students from Germany, Czech Republic, Slovakia, Ukraine, Russia,Mongolia, Korea, Denmark, UK and the US.
This is a small town of about 400 people. We are 1/2 block East of the school ( 174 students K-12) We have a cafe and store ( but no fuel), post office and quilting store. A true slice of the American Heartland! No public transit in town, Interstate bus station in Vernon, TX, about 12 miles away. Best basic student traveler accommodation in Oklahoma.
Jeff and Rebecca were gracious hosts and their space had all the amenities. They even cooked breakfast!
Beth
August 2016
Jeff and Rebecca were so incredibly kind and hospitable. Jeff is truly one of a kind and quite possibly the nicest man I have ever met. The room was just what I needed to crash for the night. I would definitely stay here again- not just for the room, but to see Jeff and Rebecca again!
Kimberly
August 2015
Jeff provided a wonderful experience. This is the perfect place for those looking for a room on their way cross country. Jeff is pleasant and an engaging conversationalist. Ask him about his involvement in the community and his thoughts on education in the area.
Justin
September 2016
Jeff and Rebecca were so welcoming (Jeff unexpectedly made us both dinner and breakfast!), and we were very comfortable in the room. A great place to stay in between Santa Fe and Dallas!
Elizabeth
August 2015
This was our first air bnb stay! Jeff could not have been more welcoming. After a brief storm on our drive in, he made sure to show us his storm shelter! He set the kids up with bikes and we explored the tiny town before heading back for hot food and a nice visit with the family. Our room was cozy and comfortable, we slept great, had showers and headed out after a cup of tea, even though it was very early!
Esther
May 2016
Awesome stay. Jeff and Rebecca have a great story and make you feel at home. They really recommended I get out and explore, and gave me some great suggestions. Highly recommend!
Ali
November 2015
Jeff and Rebecca were very welcoming and friendly. Had a great time talking with them. (And I was fed! Go see them!)
Mohammed
May 2015
Jeff and Rebecca showed so much kindness and made my daughter and me feel like family! Since they didn't have an exchange student right now, we stayed in a bedroom in their home that had bunk beds in it. The bathroom in the outside garage area was very clean and exactly what we needed. Jeff fixed us pancakes and we had tea while visiting with him and Rebecca. Loved hearing of New York, Germany and now their love of the Olustee area. They also gave us great tips on our planned trip to Europe. You will not regret choosing their accommodations and we look forward to coming here again!
Donna
June 2016
Olustee
We have an Altus Crash Pad that is family friendly and pet friendly. Nice backyard for the kids or dogs to play. Altus AFB is very close. You can get anywhere in town in about 5 minutes.
Family Crashpad
Altus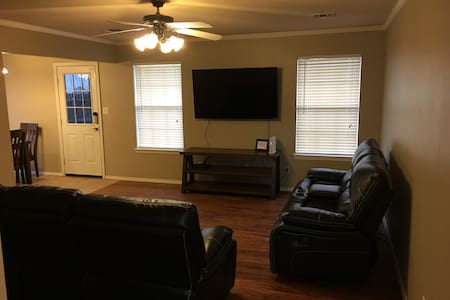 My place is close to restaurants and dining. You'll love my place because of Room is located in Route 66 Inn on Historic Route 66. . My place is good for couples, solo adventurers, and business travelers.
Not a private home but a hotel. Very good for the price, everything was clean and while it wasn't plush it definitely had all standard amenities ([full-size!] fridge, microwave, tv, wifi). Would definitely stay again if I'm ever stopping in the area again.
Paul
January 2017
Great no frills clean place to stay.
Ed
March 2017
We stayed here for an overnight stop on our "SoCal to Maine" road trip. It was easy to find, comfortable and economical. Here's a video of our experience: (URL HIDDEN)
Kyle
December 2016
Loved it! Super clean.
Regina
July 2016
Simple, old style motel. I like being able to park my car in front of my room. Clean and comfortable.
John
October 2016
It's a motel. Thin walls but clean and they allow pets. Great for a quick layover and cheap.
Elisheba
January 2017
Mikes place is a single level motel. It's just off the highway a bit and it's very quiet. I slept well and I would definitely recommend this place
Jeff
February 2017
Great place, Mike and co. were very helpful and friendly. Room was clean, bed was comfy and the TV had an HDMI cord so I could watch movies off my laptop.
Jackson
January 2017
Shamrock
Right off I-40 and historic Route 66, come enjoy a stay in our charming home. Great for travelers looking for a cozy place to call home for the night! 2 min walk from a large park & playground, 5 minute walk to Main St. Lovely outdoor space to enjoy meals or a cup of coffee. The town of Shamrock is a special piece of history. Home to the tallest water tower in Texas. Also, the historic U-Drop Inn served as a backdrop in the Disney movie 'Cars.' We also own the local steakhouse, Big Vern's.
Perfect rendezvous spot for those who live in Denver and the metroplex. Beds were comfy and Jackie was most gracious. She supplied us with breakfast necessities. Shamrock is a friendly town, providing a good portrayal of the Texas panhandle and former Route 66.
Aimee
October 2016
Jackie's house is huge and comfortable. It was an appreciate stop during route 66. Jackie is very kind and punctual, simply recommended.
Stella
August 2016
great for quick stop when traveling I-40! also ate at the steakhouse- delicious!
Lauren
November 2016
Cozy home away from home! Not sure which was my favorite, the house or Big Vern's! Yelp review posted separately for the restaurant though :) we had a great stay at Jackie's house, it was clean and comfortable. My three year old daughter especially enjoyed "the cow bed", a bed with a cow-printed blanket on it. We'd come back for another stay if we ever make it back through Shamrock! Thanks so much.
Simon and Marianna
January 2017
Great stay if you are rolling through Shamrock! Lots of space, very comfortable
John
January 2017
Our stay was great! We stayed 2 nights (one on the way to our destination, and one on the way home) and this was exactly what we needed with a 2 year old and 5 month old twins. Jackie's house was very comfortable (especially that king bed!) and had everything we needed to stay sane on a road trip like this with 3 little ones. If we ever make this trip again, we'll definitely stay here again!
Leighann
October 2016
She was so nice ,We didnot arive till 10 at night tired PLACE. Was clean older home nice paint NICE recliners sitting in the living-room,
Dennis
September 2016
This was a great week! Jackie was so friendly and helpful. The place was roomy and spacious
Chad
November 2016
Shamrock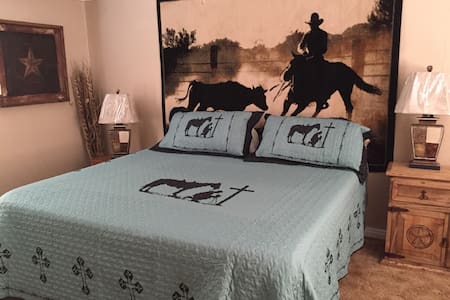 Rustic lodge on private lake with swimming, firepit, campfire, hiking, and covered outdoor cooking facilities. Three miles off Route 66 in Shamrock, TX, home of the U Drop Inn featured in the movie, "Cars". Kayaks, paddle boards, fishing equipment available for rent. No more than 4 guests. Only Airbnb reserved guests allowed on premises.
We are two miles south of the famous U Drop Inn (as shown in the movie "Cars" on the Mother Road (Route 66) which spans across the United States. We have a beautiful lake stocked with several kinds of fish (fishing poles & bait available). Relaxation is in store as you sit around a campfire, watching fireflies dart around. Indoor and outdoor cooking, hiking, kayaking, and swimming opportunities are all available. The rustic lodge is private with front door access to the lake and other amenities. Come and enjoy nature in a calm, quiet setting that is sure to recharge your spirit. Owners are available on adjacent property.
Shamrock is a small, friendly town and is the home of the "U Drop Inn" which was featured in the movie "Cars." Shopping and restaurants are available with antique shops, markets and other stores to serve all your needs. Parking is free. Vehicles can park beside the rustic lodge. The lake is a private lake. Guests do not need a fishing or boating license. The setting is quiet and very private with restaurants and shopping opportunities located a short distance away in Shamrock. RV hookups are available with full access to all outdoor opportunities as described.
Very cool and funky spot down by the river. Cozy but colorful and clean inside. Joe and Judith were super nice and welcoming, and were very accommodating in allowing our dog and two cats to stay, as we were on a cross-country move.
Gina
September 2016
Shamrock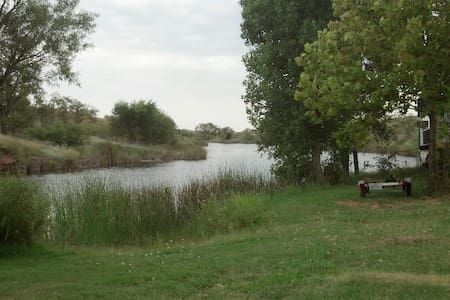 My place is close to restaurants and dining. My place is good for couples, solo adventurers, business travelers, and families (with kids).
This place is a neat old route 66 motel that has been completely redone. It is very close to the interstate yet you feel like you're not. The area seems to want to attract route 66 enthusiasts. It reminded me of the old hotels we stayed in when I was a kid. The room was very clean. It had a full size refrigerator and kitchen area. The room/bath had all new tile flooring. New carpet near the beds. Wi-Fi was a little tricky to connect to but, it worked great after that. We were returning from a trip out west and needed a place to drop in for the night. Management was very friendly and seemed eager to help. Would definitely stay again. New/old motel.
Marty
July 2016
What a cool place to stay! Right on the old route 66, such a welcoming room after a long drive. Sleep like a baby and that doesn't even happen at home. The owners are very nice people and are fun to talk to about the area. Hope to stay there again!
Travis & Misty
November 2016
The room was very clean and the beds very comfortable.
Andrew
December 2016
Shamrock
It is a very cozy, quiet beautiful place built in the early 1900s along the Historic Route 66, home of the infamous U-Drop Inn as shown in the movie "Cars". This home, known as the "Pendleton Mansion," has most all original furniture and features. There are rooms available separately or you can rent the entire home for $200 per night. Plenty of free parking. Only a couple minute walk to reach a nearby park or Main Street (Hwy 83) for a quaint downtown shopping.
The most unique home in Shamrock with lots of history! Washer and Dryer, WiFi, large front and back yard, large park within walking distance I own and run a beauty shop within the property and will be available most all the time.
Quite Shamrock is a very small town, everything is within walking distance or only a couple minute drive.
Shamrock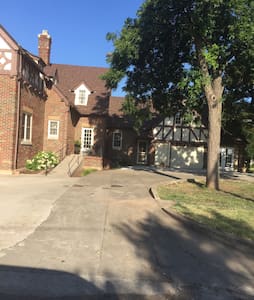 TDY to Altus and want your family to be with you?  This is the place for you!  Designed with a woman's touch, this house provides all the perks of a by-the-room crash pad and you won't have to pay a dime out of pocket for lodging. My place is close to Altus AFB. You'll love my place because of the coziness and the location. My place is good for couples, solo adventurers, business travelers, families (with kids), and furry friends (pets).
Here is what you'll get with your Altus Family Crash Pad: 2 Car garage, Propane BBQ grill, Fenced in yard, 60″ TV in living room with Direct TV, Wireless internet, Keycode entry for front and back door, HE Washer & dryer, All kitchen necessities, Lawncare, and Utilities. The back yard has a children's swing set and little tykes play house. The three rooms inside consist of a master suite with Queen-size bed, a full-size bed in the second bedroom, and a twin-size bed in the third.   There is also a pack-and-play for your really little ones.  All rooms contain bedding, hangars in the closet, laundry baskets, and bath towels are also provided.  The fully stocked custom kitchen is amazing.  HE washer and dryer. The living room has a 60″ TV with DirecTV and the master bedroom has a 42″ TV with DirecTV.  WiFi throughout the house is lightning fast. Unlike the other guys, this Family Crash Pad only costs $60/Night.  Your TDY lodging amount covers everything at this Family Crash Pad and you'll pay absolutely nothing out of pocket to stay here with your family!  This is the same rate Altus lodging charges, so if you choose to stay with us you will not be charged anything more than what you are authorized for your TDY.  A bi-weekly professional cleaning service is provided. After your stay, refer someone to stay at this Family Crash Pad and receive a $100 referral bonus. Check out www.altusTDYhouse.com for more photos and details.
Altus