输入日期以查看总价格,包含额外附加费用及适用税费。
Huge, modern bedroom with a very comfortable double bed, AC, wardrobe and ensuite bathroom. Located on a 19th floor the flat is very spacious and light. Close to the airport, walking distance to Sami Abdulrahman park and short ride away from the city centre. Great neighbourhood with cafes, restaurants, 24 h supermarket located on the ground floor of the building. There is a washing machine, fully equipped kitchen and a big balcony. Suitable for solo and business travellers as well as couples.
As Dylan is leaving not sure this is relevant - but I can honestly recommend him as a host should he decide to rent out a room in the future
Hazel
March 2017
Erbil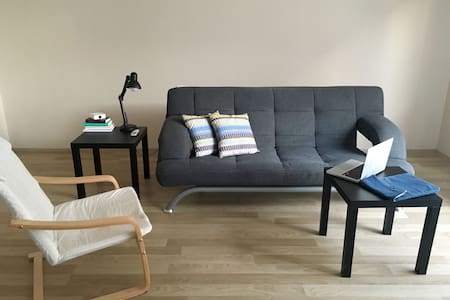 Private room with double bed. It is suitable for couples.
Cozy private room to be rented. This is close to the center and has good transport connections and many supermarkets around. Only 30 minutes woke to Citadel. I am friendly and helpful .Check in anytime- even during the night -24 hours a day as long as the room is vacant. Your stay includes wi-fi, towels, bed linen and, with tea available any time. Free use of shower gel and shampoo conditioner in bathroom (to save you packing any toiletries!!) Changes of bedding depending on length of stay but I have plenty of spare bed sheets and blankets. Some hosts add cleaning fees which make the room rate seem cheaper. I don't charge any cleaning fees. The nearest hotel to me charges $100 a night or $650 a week for its cheapest room. Hope to hear from you Bathroom - Kitchen - living Room
I can highly recommend both Jaza's place, as well as Jaza himself as a host. It was a great base for what was, for me, a business trip. Jaza's help was above and beyond what I expected. He picked me up from the airport, wrote down myriad addresses in Kurdish to help with taxis, and provided much interesting conversation and perspective on Kurdistan - even taking me out to meet his friends. Nothing seemed too much for him. The house is on Kirkuk Road, very central, although in Erbil you don't walk anywhere. It is very safe, quiet and clean. Internet was fast, water was hot and the bed was very comfortable. There was even real coffee - a God-send, believe me, in Iraqi Kurdistan. Lastly, Jaza is right to note that his place is half the price of a hotel and - having stayed in a few hotels out here - much, much better.
Orlando
November 2013
The host canceled this reservation 3 days before arrival. This is an automated posting.
Abhinav
Clean house and room. A good breakfast and awesome hospitality.
Oner
December 2016
Jaza is a great host. The bedroom he offers is very nice and clean, as well as the bathroom and the kitchen. At Jaza's place you get everything you need, he even provides breakfast. Moreover, he is very helpful. For example, we wanted to do a day trip to another city – but since we did not speak Kurdish, Jaza organised a driver for us. Also, he picks you up at the airport in the middle of the night. We can recommend to stay at Jaza's house without hesitation.
Stefan
April 2014
Jaza was a truly great host. He very kindly picked me up from the airport and took me to enjoy some delicious Kurdish food, a great welcome to Kurdistan. He was also extremely helpful, teaching me the basics of the language and even explaining the way to my taxi driver when confronted with the language barrier. I would highly recommend staying here and hope to come back in the future.
Fernande
November 2013
The reservation was canceled 30 days before arrival. This is an automated posting.
Barbara
It was a pleasure to stay by Jaza in his nice and cozy flat in Erbil. He promptly picked me up at the airport. The room is very nicely furnished with comfortable sofas, fully stocked refrigerator. Nicely air conditioned, wifi, quiet, privacy, etc. What more can I ask for? Jaza also drove me around the city, showing me the various sights, parks, malls, etc. He also helped me arrange full-day excursions. At the end of my stay, he drove me back to the airport, and his honestly and integrity I will never forget!
Emil
September 2013
Great stay, perfect host, amazing Kurdish hospitality. Perfect place to stay with fast internet too, many thanks again.
Uta
January 2014
Rasti St.