输入日期以查看总价格,包含额外附加费用及适用税费。
Take a step back in time, to a relaxing, slower pace and stay in an elegant Queen Ann Victorian homestead. You will enjoy your time spent here resting on the high antique beds, deep in bubbles in a whirlpool tub and relaxing in one of the beautifully appointed parlors furnished with gorgeous antiques. Located in historic Clarksville, Texas, The Courthouse Inn is one block from the Red River County Courthouse, Red River County Library and three blocks from downtown and the public square.
克拉克斯维尔(Clarksville)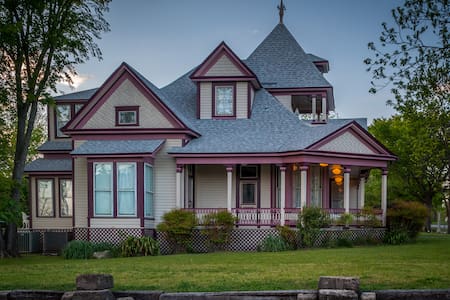 Come visit our cabin for a weekend or longer! Unplug, go horseback riding, take walks, read a book, or go hunting on nearby properties. You'll love our cabin because of the quiet surroundings, the charming atmosphere and the fresh country air. Our home is good for couples, groups of friends, and families (with kids of all ages). You can read more about the Chapman Family Ranch if you look us up on the internet.
This is our family log cabin that we are starting to rent out when we aren't using it. It's small and cosy, with only 1 bedroom and bathroom, but there is tons of extra sleeping space. The living room has a fold out couch (that sleeps 2). Then there is a loft that has 3 more mattresses- great for older kids or teens. The ladder to access the loft is attached to the wall very securely, but this is NOT safe for very young children. There is a small bathroom, kitchen and dining room table. There are 2 porches, one of which is screened in with fans. Perfect for reading a book in the evening. We will supply you with coffee, creamer and sugar, but we recommend that you bring your necessary food supplies with you since the nearest grocery store is a 20-minute drive away. There are restaurants: Tex-mex, Italian, BBQ, as well as all the major fast food places if you drive about 20 minutes south to Clarksville or 20 minutes north to Idabell, Oklahoma. From the cabin porch you can see lots of different types of animals: deer, turkey, Racoons, Beaver, Otter. This cabin is NOT for everyone- there is no TV nor WIFI. So come here to unwind, unplug, go for walks, reconnect with each other and nature. It's a great place to friends to come and hang out for a weekend. The Chapman family loves kids (we've got lots of them in the family) and kids LOVE staying at the log cabin, but we think this cabin isn't safe for little kids under the age of the 2: there is a river right by the house, you have to cross a footbridge with no hand railing to get to/from your car, and there is a very tall ladder attached to the wall to access the sleeping loft. You are welcome to bring your littles, and we can even supply you with a pack n' play but you come at your own risk so please take all the necessary precautions. If we would love to meet you (if you want) and come see some of the operations: feeding hay and cake to the cattle, for example; or your kids could also gather eggs and meet some of our other animals. Guests have exclusive access to the cabin, and have access to the whole Chapman Family Ranch, but we ask that you respect our livestock since this is a working ranch. You can read more about the Chapman Family Ranch if you look us up on the internet. Part of the (very large) Chapman family lives on the ranch, about 1 mile away from the log cabin, so there is usually, but not always, someone near in case of an emergency. We will supply you with a 24-hour emergency number to call in case of any issues or questions you might have.
On ranches nearby you can go horseback riding with a local guide, hunting wild boar, pheasant, duck and much more (not on our property, please!), fishing, antique shopping, 4-wheeling. These are all extras that we can help you arrange, and you would pay each provider directly. We do not offer these services directly. There are also casinos owned by Native Americans that are circa 25 minutes away. The best way to get around Texas is with a car. You don't need 4-wheel drive to access our log cabin, but if it has rained a lot it can be quite muddy. We will let you know before you arrive, so we can advise you the best spot to park. Please note: we have well water that is SAFE to drink, but some times of the year we think it has a slight sulfur oder so we will supply water (in gallon jugs) which we will leave on the counter. We do not allow hunting on our ranch, so please leave your guns at home (well, you can bring them to hunt elsewhere, just not at the CF Ranch :). After you park your car, you have walk about 50 feet, and then cross a footbridge (with no hand railing) over a small creek-- our horses cross it so it's not too small. But don't bring heavy luggage :) If you come with a large group and plan on using the 3 mattresses in the loft and the sofa bed, we will not make these beds for you. We will leave clean sheets for you to make them up yourself. If we make the sofa bed, then you can't sit on the couch.
克拉克斯维尔(Clarksville)
The cabin is on Raymond Gary State Park & Lake. You'll love it because of the coziness, the views, and the location. It is good for couples, solo adventurers, families and perfect all year 'round! Perfect get away spot for fishing, kayaking, swimming, cookouts, picnics, star gazing, relaxing, and enjoying time alone or with friends and family. Secluded and quiet but short trip to grocery stores, gas stations, and friendly small towns. There is a paddleboat and two kayaks to use and enjoy.
1 acre of beautifully wooded waterfront space and lake access with cabin, dock, deck, front and side porches. Space for parking, tents, campers, outdoor activities, picnics, fire pit fun, and just hanging out. There will always be someone available to answer questions during your stay.
Property sits on Lake Raymond Gary in Fort Towson, Oklahoma which is a no wake fishing, and small watercraft lake. Short drive to Hugo Lake or Broken Bow Lake and other nearby fishing spots. This secluded property is perfect if you would like to get away but is still close enough to the entertainment and the nightlife Broken Bow and Hochatown, OK has to offer. Gas stations, grocery stores, and delicious restaurants are also just a short drive away.
Misty was an excellent host and quick to respond to all inquires in less than 30 minutes. Upon arrival, we were greeting with a well thought out welcome binder which included directions to the nearest grocery stores and restaurants, as well as menus from a few of the eateries. A nice touch! The property, amenities and surrounding area were exactly as described in the profile. The dock and lake, a mere 50 steps out the back door, were perfect for fishing, swimming and overall relaxation. An unexpected added bonus was the for use availability of Misty's personal paddle boat and kayaks, including life jackets. Both were a great way to spend an afternoon out on the lake. I would highly recommend Misty's property for a weekend getaway and we're already looking forward to the next chance we have to visit!
Joel
August 2016
We have nothing but good things to say about our stay in the cabin. First of all, communication with Misty was excellent. She made us feel very well taken care of and answered questions quickly. The cabin itself was rustic, southern, and homey. It felt very "lived-in", which helped us relax and made us feel at home immediately. Misty has stocked the place with plenty to keep you entertained and happy, including a fridge and cabinets with pre-stocked treats and drinks, kayaks, a paddle boat, campfire site, an outdoor grill, and a good selection of movies and games. We spent most of our time outdoors on the dock or patio, simply enjoying the beautiful view. Beds were comfortable. Neighbors were kind. We will definitely be visiting again!
Corey
September 2016
This cabin by the lake was perfect. I'm so glad that we stayed there and I'm dying to bring more family back. When I first walked in, I immediately felt at home. It's cozy with such a great vintage feel to it. It reminded me of going to a cabin that's been in the family for years. The place is fully stocked with everything you need to cook, eat and lots of condiments and extras (I assume were left from others??) that help out if you leave something. The lake is beautiful and it was the cherry on top to have the kayaks and a paddle boat. The only issue we had was not being able to stay longer. This place is great and worth every penny! Misty was awesome too. She made herself available for anything we needed (though nothing came up). Oh and did I mention the games! The deck! I could go on and on....
Amanda
August 2016
The cabin was just as cute as the pictures indicated. The Pier was exactly what we were hoping for, as this was a family fishing trip. The fishing was extraordinary, the bass fishing was especially phenomenal. My brother in law also caught a huge catfish, had to have been 6 lbs or more. My nephew loved playing in the very large yard. My dog had no issues with critters or bugs. Country life is quiet but, in it's own way, exciting. :) Valero Station and Dollar General are 10 minutes drive away. There is a very quaint food counter and sit down area at the Valero (gas station fare of food, still). Overall, this was a good stay and I'd come back again. Thanks Misty!
Anne
November 2016
The cabin is adorable. Homey and cozy with the best view you could ask for. We really did not want to leave.
Michella
September 2016
A great spot for an extended weekend getaway. We enjoyed use of the kayaks on site and spent a good amount of time cooking/hanging out on the back porch. Highly recommended.
Jonathan
September 2016
Misty was great. Any questions I had prior to showing she answered within the hour. She checked on us when we arrived as well as when we left.
Ricardo
August 2016
This cabin is the lake home you remember as a kid. It's the place every family has had or a family member had that you visited. It has all you need for a week or weekend on the lake. AT&T Service was spotty, thank goodness. But, I had it if I chose to afflict myself with it. You had to go out on the porch and put your feet up. Doesn't work if you just sit there. I'm sure a glass of wine or a long neck improves the reception significantly. Everything you need is here. There are updates in the bathroom and shower and a DVD collection that would make each of the James Bond actors very proud. If you need more than this cabin has, you need to stay longer than planned. Bass Anglers - Here's all u need to know: Lily pads, Cane Reeds and submergent vegetation. Water visibility is 1-2 feet. Think Florida with many docks on stilts instead of foam. A pitcher's/flipper's kind of lake. Since it's so clear, I have little doubt it's awesome at night in the Summer. Owner says the poor rep Raymond Gary Lake has for bass fishing is undeserved. I didn't have time to fish (working - dang...), but I'm coming back soon with a 'yak on the roof. Wonderful place!
Mark
October 2016
Fort Towson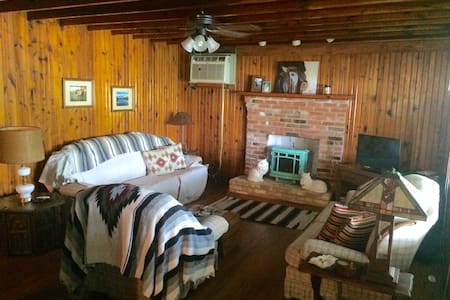 Enjoy beautiful sunsets at our cute cottage on Lake Missaukee. Great location. Relax on the beach, walk to to town, ride a bike, kayak with a loon. Cadillac 11 miles -Traverse city 36 miles - Gaylord 55 miles - Mackinaw 100 miles
Lake City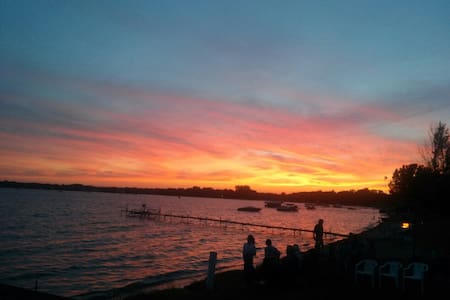 My place is close to the city center and restaurants and dining. You'll love my place because of the ambiance and the outdoors space. My place is good for couples, solo adventurers, and business travelers.
The host canceled this reservation 41 days before arrival. This is an automated posting.
Gary
The little house was out of a decorating magazine. Quiet but almost downtown. Dianne is a fantastic person, could visit with her all day.
Barbara
October 2016
Cooper
Bright, cozy apartment that is conveniently located on a residential street in Manhattan. Ideal for couples or small families with one queen bed in the bedroom and a queen-sized sofa bed if needed.
10 mins walk to the 6, NR and L train. Walking distance to Union Square, East Village, and Madison Square Park.
纽约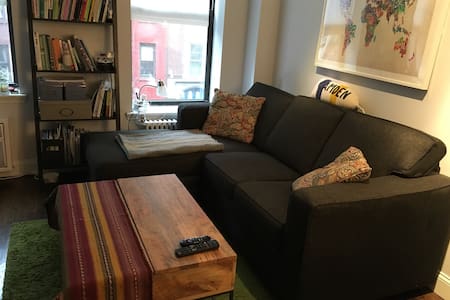 If you are looking for a great place to stay for your Nashville visit, this is your place. I offer a bedroom with a queen size bed and private bath. One of my hobbies is cooking and entertaining guest so you won't go hungry while you are here visiting.
I am happy to provide food while you stay. You name it, I cook it. Come and go as you please. Make yourself at home.
The neighborhood is very quiet and safe. Very close to everything from shopping and dining. Über or Lyft rides available. I have an 8 lb maltipoo dog. She doesn't meet a stranger. Loves people and is very sweet. She doesn't shed, and is fully house trained. She is hypoallergenic, so allergies shouldn't be a problem.
Franklin
The Lonesome Dove cabin is located just at the edge of Cooper, Texas. Guests will enjoy a true country experience that includes sheep, donkeys, and dogs. During the cooler temperatures, enjoy sitting around a camp fire or just watching nature.
This place is amazing and Dianne and Scott are great hosts. Where else can 5 blue birds come to your private bird bath on your private porch. This place is a keeper!
Ronald
October 2015
Diane and Scott were great and very accommodating while we were at the cabin. It's an extremely quiet and relaxing environment in Cooper with many excellent restaurants right around the corner in the town square. Definitely would recommend to any one!
Wesley
October 2015
Our stay was perfect. Diane is so hospitable and kind. Her and her husband go above and to make sure we were comfortable and taken care of. We will definitely stay with them again if in the area. True southern hospitality!
Gweneth
July 2015
Lovely experience. I stayed in Diane's cabin for my first trip to my childhood home in 7 years. I was very appreciative of her thoughtfulness (free cookies). I loved my stay, and would stay again in a heartbeat.
David
October 2015
Wonderful stay, thanks so much Diane and Scotty!
Michael
November 2016
We had an awesome time in this beautiful location. Diane is phenomenal!
Hannah
September 2016
I think her actions were correct, just disappointing. Look forward to meeting her another time. I would definitely try to rebook at another time.
Scherry
May 2016
Amazing experience. Diane and Scotty are very friendly and welcoming. A very comfortable and gorgeous place. They provide everything you need. This was my first time staying in a rural town and I loved it! Looks exactly like the pictures.
Sultana
November 2015
房间类型
整套房子/公寓
---
房源类型
住宿加早餐
---
可住
3
---
卧室
0
Cooper
Updated multi-level home 25min from Beaver's Bend State Park. Basement available for storm season. In ground pool access and fire pit on patio. Kitchen utensils and washer and dryer provided. Home sits on 10 landscaped acres. 4,000 sq feet.
Multi-level home. Very spacious. Kitchen with 2 ovens, Breakfast room, formal living room, formal dining room, living room/den, 3 baths, laundry and utility room, sitting room, and 6 bedrooms. Fire pit and in ground pool Always enjoy meeting our guest. We have been blessed with wonderful guest at BYRDHAVEN, and we want you to feel welcome here! You have rented the space and we are available if you need us, but it is your private space during your rental!
Quiet neighborhood. Home resides on 10 acres with landscaped yard. You will need a car to travel around. There is NO public transit. There is no internet available. Dogs are on property, but we usually put our fur babies in a spacious fenced area when guests are on property. We love our fur babies and we know some of our guests may have fur babies they need to bring. They are allowed, but must be house ,people, and leashed trained.
Larry and Bonnie were absolutely great hosts - they made sure we had everything that we needed to make sure our stay was comfortable. I will go back again when time permits.
Sudhir
July 2016
We did not know what to expect when we looked at the pictures of this place but boy was it exciting and wonderful peaceful and perfect !!!!! the hosts went out of their way to assist in every way possible to make it as wonderful and as easy as could be possible!!!! My wife and I and all of the children cannot wait to be together with family again at this place!!
Martin
November 2016
We stayed here over Labor Day weekend and it was the best experience ever! Bonnie and her husband were so kind and helpful without being obtrusive. Just perfect. With 4 adults and 4 kids, there was a bedroom for everyone and plenty to keep the kids occupied, especially the pool! We all had the relaxing weekend we were hoping for and I know we'll be back. Affordable, accommodating, and beautiful. Couldn't have asked for anything more.
Tranquillity
September 2015
The host took us on a tour of the home and shared some of its history. It is an amazing place. I reserved the home to accommodate several family members who were visiting me for the weekend. They all agreed that the accommodations could not have been better!
Patricia
October 2015
We enjoy our time there. Bonnie's family is very helpful. Hope we can come back again!
Qian
March 2016
房间类型
整套房子/公寓
---
房源类型
独立屋
---
可住
10
---
卧室
6
Wright city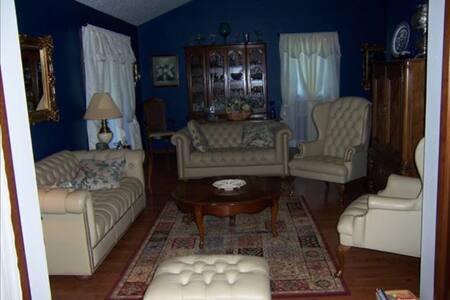 Spacious two bedroom cabin with loft room features a large open concept living space, with a 20 ft real rock wood burning fireplace. The living area has a spiral staircase leading to the open loft with a queen size bed. The master suite is on the lower level and features a king bed. The private bath features a granite surround soaking tub. The guest bedroom is furnished with a queen size bed with great views of wooded acreage. Moondance Lodge has a large covered deck with hot tub! Sleeps 10.
Moondance Lodge is just minutes away from all of the major attractions
房间类型
整套房子/公寓
---
房源类型
小木屋
---
可住
10
---
卧室
3
Broken Bow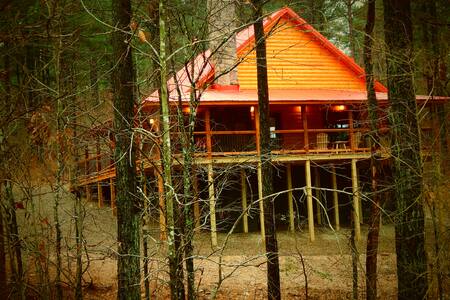 My place is close to Let time and worries slip again when you immerse yourself in open countryside with this vacation home set on over 25 acres only 20 minutes away from Beavers Bend State Park and Broken Bow Lake. The newly remodelled home has four bedrooms and two bath, hot tub, pool table, wifi, satellite, DVD player, washer & dryer, dishwasher, charcoal grill, firepit, horseshoes, small pond, and covered boat storage. All this and furry family friendly too for a $55 fee, so bring Fido!
The pet fee is $55 for up to two pets, each additional pet adding $55 with a maximum of 4 allowed.
Good and cosy place. we enjoyed our stay.
Srinivas
November 2016
房间类型
整套房子/公寓
---
房源类型
独立屋
---
可住
12
---
卧室
4
Broken Bow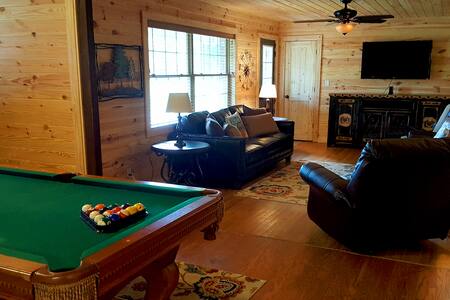 Reunion, Anniversary, Wedding, Family Retreat or Couples Weekend - enjoy an entire compound! Originally a bed & breakfast - The Veranda is a glorious 1920's Victorian Home (and accompanying bunkhouse) that served as the areas most posh upscale B&B.
An entire 70 acre compound with a wonderful historic victorian home + bunk house that sleeps 16+. Full pool + cabana, 5 acre stocked lake, full length lighted basketball court, trails, trampolene, gourmet professional cooking equipment, fire pit, and more in secluded private luxury retreat All We will NOT be in attendance - a grounds keeper will be nearby
Mt Vernon - Franklin County Only a few minutes away from Lake Cypress Springs you can enjoy the serenity and comfort of this charming area with full water sports nearby.
This place is absolutely stunning!! This was one of the best retreat houses we have ever stayed in. Beautiful scenery, perfect kitchen for cooking large meals, beds were comfy, and the amenities are incredible. We want to make this a yearly trip, for sure. The host, Mark, was available to answer questions and made our stay very personal and hospitable. There were even 2 pies waiting for us!! I can't say enough nice things about Mark and this house. One of the best AirB&B experiences we've ever had.
Aaron
October 2014
房间类型
整套房子/公寓
---
房源类型
独立屋
---
可住
16
---
卧室
8
芒特弗农(Mount Vernon)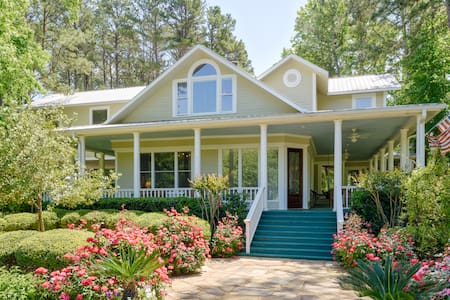 Crooked Creek is a brick ranch-style vacation home on 80 acres. It is close to family-friendly activities, restaurants and dining, Broken Bow lake, Mt Fork River, and Beavers Bend State Park. It is 15-20 minutes of anything you want to do in the Hochatown area. It is two bedroom with a pool table, foosball table, hot tub, horseshoes, badminton, stocked fishing pond and fire pit with wood provided. For kids or families that love to play, Crooked Creek is the TRUE home away from home.
Crooked Creek is strictly non-pet friendly.
Broken Bow