输入日期以查看总价格,包含额外附加费用及适用税费。
You'll love my place because of the quiet location, the ambiance, comfortable bed!. My place is good for couples, solo adventurers, business travelers, families (with kids), and furry friends (pets).
Tom is a most gracious host and the Suite was very comfortable. Everything was there that I needed and It was very spacious.
Sandra
September 2016
I regularly travel to eastern Colorado and stay at a couple of hotels so I thought I'd true Airbnb. This was my first experience and Tom did everything right. He called me by name when I drove up, everything else was just as described in the listing right down to the well manicured lawn. Parking was right at the door, no steps. The decor was quaint with lots of memorabilia, comfortable couch, and bed. The bathroom was modern, spacious, with no plumbing issues. Tom was very hospitable, but not overbearing. Don't forget to stop at the I 70 dinner, great food and service.
Dwayne
September 2016
We loved staying at Tom's place in Flagler. It's a cute little town and his place is everything you could want. It was impeccably clean and inviting, with little touches like snacks and coffee. Way beyond my expectations. The neighborhood was super quiet and low-key. Slept like a champion in the comfy bed. We arrived earlier than expected and Tom was very gracious about it, making sure we had everything we needed when we arrived. We would definitely stay here again!
Meghan
August 2016
Cozy clean and quiet! Tom was a helpful and pleasant host. His home was very close to I 70 and easy to find.His home is located in a residential neighborhood.We enjoyed our stay. And will stay again if the occasion arrives. we also enjoyed a delicious breakfast at the nearby I 70 Diner also owned by Tom.
Susan
July 2016
flagler was such a cute small town. perfect for tired travelers passing through like us. the apartment was spotless and private. Tom was very sweet and welcomed us and our dogs with open arms. the space was vintage and unique which we really appreciated-one of a kind.
Brittany
August 2016
Tom was available when needed and extremely kind. His listing was very accurate to the space provided. It was just what our family needed after spending a few nights in a tiny cramped hotel room. The neighborhood was very quiet with the feel of a small town. The town has everything you need including a nice park and an old style diner. He was also kind enough to notify us of leaving behind some jackets and even offered to mail them to us.
David
October 2016
Spacious, convenient stop over while driving across country. Attentive, pleasant host
Rev. Vidya
August 2016
This was our first experience with Airbnb and it was wonderful. Tom was a gracious and considerate host who provided an immaculately clean, comfortable, and welcoming apartment. The private bathroom was huge and it even had a fridge stocked with snacks and water. We loved the quirky and adorable knick knacks that lined the walls and surfaces. We would absolutely recommend him to a friend and would stay there again. It had great off street parking right outside the private entrance. We also ate at the diner and it was very good.
Jackie
September 2016
Flagler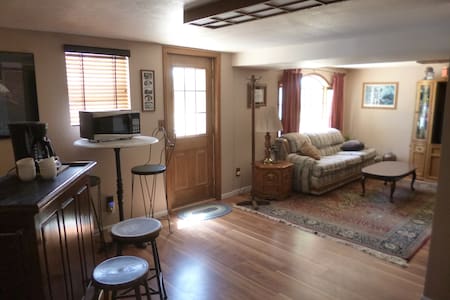 Enjoy a stay in the best little town in the Eastern Plains of Colorado in the modernized 1911 historical Heritage Suites of downtown Flagler.
Offering a guest-super mini suite that is a part of our historical building in downtown Flagler, Colorado located on Interstate 70 in the heart of the Eastern Plains of Colorado. COVETED AREA!!! You can't beat the neighborhood. It's convenient to EVERYTHING! Super desirable small town with historic theater, hometown bank, Ace hardware, Radio Shack, flower and gift shop, small town weekly newspaper, full line super market, museums, and local churches are one to two blocks away. -This is a family friendly place with other family friendly long term apartments in the same building. - 110 miles from Denver International Airport and 80 miles from Colorado Springs. - Mini-sized kitchenette with refrigerator, sink and Microwaves - Child's playground area and and parks nearbyt - Public in-door seasonal pool at the local school - Public 9 hole golf course in the rolling plains of Mossland - Street walking and hiking areas - WIFI -Fully furnished with desk and chair, king bed sheets and covers, towels, window coverings, comfortable chair, fans, night stand, lamps. Community room with comfortable lounge chairs, wide screen tv, and beverage area. Also a fitness room is available. We don't mind interacting but definitely can give you privacy.
Experience country small town America Drive to Flagler, but then walk access to all points. Family gather in the Bowen Magnolia Community room upon reservation.
Such a cozy, well-appointed space! I was so comfortable here. George and his wife greeted me as I arrived and made me feel immediately welcome, showing me the features of the room, telling me about the history of the building, and making sure I had everything I needed. The room had all the comforts of home, with a great little kitchenette area (with much appreciated snacks!), a nice bathroom, information about the town and building to read, wifi, and tv service. Super comfortable bed! Great communication prior to arrival. I would definitely stay again with such a kind, considerate couple!
Katie
July 2016
George and Barbara met me and showed me the room. Very clean and peaceful! It was just a stopover on a long trip, but a perfect oasis for me. Thank you!
Barbara
June 2016
George was a kind host who communicates well. The bedroom and bath had all the necessities. The kitchen however had the major appliances, but absolutely nothing in the drawers or cupboards. So no way to prepare anything. Hopefully that will be remedied.
Octavia
June 2016
George and Barbara was very kind and sweet to us. Apartment was clean, nice and very comfortable with all necessary amenities. We were happy to stay there for one night. Recommended!
Sergey
September 2015
I'm writing this review on behalf of my parents who do not have an Airbnb account. They stayed at George's home and said it was very clean, George was welcoming and they appreciated the hot chocolate and popcorn that were left out. George was excellent at communicating with me to arrange their stay and gave very specific directions. Thanks, George!
KARA
February 2016
Barb and George were soooo gracious about accepting our request to stay with them at short notice AND coping with our near midnight arrival. This was a road trip stop for my son and I so we were up and out early the next morning. Our only regret was that we didn't have more time to get acquainted with the Garners.
Menno
July 2015
George and Barb were great hosts. warm and friendly, it was a real pleasure to stay at the Heritage suites. George was so helpful with directions and the room was comfortable, as was the bed.would certainly stay again if in the area
Graham
May 2015
Charming! George and his wife were simply lovely hosts. A friend and I were passing through town and decided to try this place out. We're so glad we did! The town was absolutely adorable- lots of cute little historic things to see and do. There's even a classic diner just a few blocks from George's place! Don't be intimidated by the relative lack of reviews- they've just gotten started but I think that they have been hosting other types guests (non AirBnB) for a while. They're simply kind and warm people who will make you feel right at home. The room itself was small but very very comfortable, with good heating, a nice bathroom, a mini kitchen (with fridge, microwave, and a sink) and too many nice little touches to list here. A comfy chair, lots of extra blankets, vintage books. A coffee maker with coffee, little snacks and fruit, plenty of towels, etc etc- they really thought of everything to make it feel like a home away from home. They're also involved in the history of the town, so they helped us with some tips for sightseeing. They were kind and understanding when we had a delay in our arrival- they welcomed us helpfully and made sure we were all set and then left us to ourselves (which I appreciate because we were exhausted from driving). This is a family-friendly place, and alcohol and smoking are not allowed. This is a better choice for a calm, relaxing getaway than a party weekend. I definitely recommend checking out the cute town! The location is just off of the tiny (quiet) main street in the town, and it's close enough to the highway for convenience yet far enough away to feel very safe and away from it all. We're so so glad we stayed here on our road trip rather than some motel! Definitely highly recommended.
Iomi
October 2014
Flagler
10 Bedroom Romantic Country Inn & Winery. Rate quoted is for Bed & Breakfast double occupancy private room w/private bath. Some rooms have fireplaces, whirlpool tub & shower. Dinner, wine tasting, & movie theater available. Call for details.
A 10 Guest Room Romantic Country Inn & Winery. Fabulous food, luxurious accommodations, working winery, friendly staff make your stay with us unique, relaxing & memorable. All Common Areas, the grounds and surrounding attractions (in Season) We Serve Breafast to all guests, and if the Dinner is ordered, our staff will provide a complimentary Wine Tasting, and serve the dinner.
Beautiful eastern plains of colorado, small quaint towns abound. Old Town Museum and the Kit Karson Carousel are just a few of the attractions. We are located at exit 419 off Interstate I70. 2 hours east of DIA airport The Claremont Inn & Winery has been surprising and delighting guests since 1994. The amenities abound is exquisitely decorated property. Not a converted home, the Claremont was built to deliver unique Bed & Breakfast experiences. You might be lucky enough to be at the Inn during one of our events. Cooking Classes, Murder Mysteries, Paint with Wine Classes. Check our calendar for details.
The Claremont Inn was our first experience with AirBnB. WOW! If you are traveling anywhere close to Stratton, you need to find a way stay here. Accommodation...phenomenal. Food...phenomenal. Wine...phenomenal. Staff...DOUBLE phenomenal! Harry and Shari were amazing hosts and really made my young family feel at home. The breakfast in the morning was amazing, literally the best scrambled eggs and French toast I've ever eaten. If we are so lucky, we will be staying here again!
Jeramie
March 2016
Great experience during out cross country road trip. We wanted to do something special for Valentines and this was the perfect spot. Very elegant and clean. The staff was very friendly and the food was delicious! We recommend this spot if you find yourself in the area.
Dan and Lindsay
February 2016
Nice staff, liked my room, breakfast and wine were great
Karen
August 2016
Arrived later than expected and the Claremont staff adjusted wonderfully for us. Wine tasting and dinner were excellent.
Jim
November 2016
From the first ring of the doorbell, we felt we were treated like their very favorites guests. Beautiful entrance, flowers, exactly like the posted pictures and more. All the rooms were open for a "look/see" and a wonderful room downstairs complete with theater recliners and popcorn for a great relaxing evening. We had dinner reservations with the wine tasting--Absolutely Top Notch. Cookies and refreshments provided in the room, lovely robes, they thought of everything!
PAMELA
September 2016
We had a wonderful stay at the Claremont Inn. Our host was amazingly accommodating, breakfast delicious and our overall stay highly recommended. Pleas enjoy!
Andrew
June 2016
One of the most luxurious experiences I've had at an airbnb. Harry kindly accommodated my late arrival. A plate of the best cookies in the world waiting in my room upon arrival (there's no way these came from a box), paired perfectly with a cup of hot Earl Grey. Large room, huge bathroom. In the morning, a Pot of coffee waiting outside my door. The breakfast was devine. Eggs that Chef Gordon Ramsey would be proud of. French toast with some sort of berry yogurt (?) in the middle--really I have no idea what it was but my taste buds were seriously happy. Everyone was very friendly. Highly recommended.
Gil
August 2015
The Claremont Inn was the perfect spot for my boyfriend and I to stop off on our cross country drive. After days of hiking and driving, the Inn was welcoming and charming. From the beautiful kitchen (that served as a perfect spot for wine tasting before dinner) to the comfortable bedroom, we really enjoyed our stay. Highly recommend just requesting dinner and breakfast with your stay, as the food is delicious and it really allows you to relax for the evening!
Julianne
May 2016
Stratton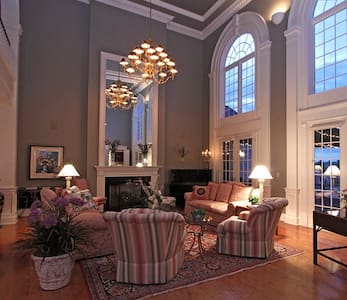 My place is close to Peace, Quiet and Wide Open Spaces. You'll love my place because of Away from it all.. My place is good for couples, families (with kids), and big groups.
Ron was great and the lodge is adorable and perfect for a big gathering. Would love to take family there to just hang out. It is a little over an hour to Denver but not really a bad drive. We had a great time and would be a great place to just be for a while. Thank you Ron.
Kelly
August 2016
Lindon