输入日期以查看总价格,包含额外附加费用及适用税费。
Enjoy the smell of mesquite wood burning in the outdoor fireplace while you enjoy the south Texas ranch lifestyle. 3 bedroom, 2 bath ranch trailer set up to host up to 12 people. No roughing it because all modern amenities like ac and dtv are included. Very well maintained.
房间类型
整套房子/公寓
---
房源类型
小木屋
---
可住
12
---
卧室
3
Realitos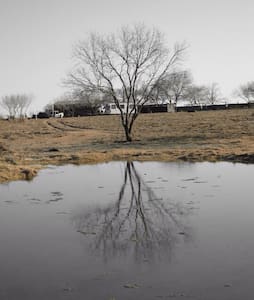 Our 3 bedroom 1 bath home is large and accommodating on a corner street 1 block from TX A&M Univ - Kingsville (Go Hogs!) Enjoy easy access to historic downtown area, local hunting/fishing, beaches and shopping in Mexican border towns (2 hrs).
You will be staying in a house built on the famous King Ranch and later moved into Kingsville, TX. Hard wood floors and numerous windows that allow beautiful light into the house. Home of the Fighting Javelinas -- TAMUK, the famous Awrootie Patootie from Young's Pizza, King Ranch Saddle shop for some fine shopping and take a walk down our historic downtown Kingsville. We have lovingly prepared our home for the exclusive and private use of the guest traveler coming to visit Kingsville, TX and all of the wonderful things we have to offer.
The neighborhood is located in a quiet family and student orientated area. The streets are shaded by large oak trees.
Doesn't have a great exterior appearance but the insides are cozy and comfortable. Quiet neighborhood, easy walking to campus with a great museum and other attractions, should specially interest the young and old. Vintage means old but it tries to reflect some of the modern too. Not a "hip" thing but nice and very useable.
W. Floyd
December 2016
It was a perfect place for my husband and I and 3 kids. Had enough beds for all kids and ended up with an extra bedroom. My kids loved the feel of home so much that they didn't want to leave. We cooked breakfast and we had all the pot pans and everything we needed. Thank you.
Jesus & Sylvia
January 2017
Great place to stay, less than two miles from the King Ranch visitor center. Highly recommended.
Kyle
March 2016
Our Kingsville trip was made especially nice by being able to stay in Elia and Jesse's home. The historic flavor of every room really made you feel like you were experiencing life on the ranch where this home was originally located. We were there for a meeting and were able to comfortably invite our colleagues by the house to enjoy each other's company at the end of a day of long meetings. This home is conveniently located within walking distance of TAMUK and three great restaurants we recommend: Young's Pizza for dinner and El Tapatio for breakfast. Nearby is Spice Station for great Indian food if you don't mind a convenience store location. The queen beds were on the soft side if that matters to you but we have no complaints as we felt as if we had a true home in Kingsville for two days. Elia and Jesse were in touch if we needed anything at all and all the amenities we're there for us as promised.
Kyle
October 2015
Enjoyed our stay at this property. Nice quiet neighborhood with lots of trees. Conveniently located near restaurants and shopping. I would recommend this property to anyone looking for a spacious place to accommodate a family.
Jeanette
April 2016
We really enjoyed our stay, with a family of six, our options for affordable lodging is pretty limited. This was a perfect option for us, providing the room and amenities we needed. A little further from the beach than I anticipated, but for the value it made the drive worthwhile. Linens and towels were available and clean, everything you need for a stay. Thanks guys!
Roy
August 2015
Elia and Jesse's home was everything we expected and more. Great location, clean, very cozy and accommodating. We will definitively be staying here again if we come to Kingsville. I highly recommend this place to anybody.
Juan
December 2015
It was wonderful to have this rental available in the town of Kingsville. We were traveling with our three young kids, and staying in a small hotel room can be super hard! This house was very well located and very comfortable. It is clearly not a brand new house, but Kingsville is not a brand new town! I think a few things could be improved - some new towels, a few more dish sets. These are things that could be improved over time, however, and didn't impact our stay in a meaningful way. As for communication, Elia and Jesse were SUPER fast getting back to me whenever I had a question. We will likely stay here again the next time we come to visit! Thanks!
Brenna
March 2016
Kingsville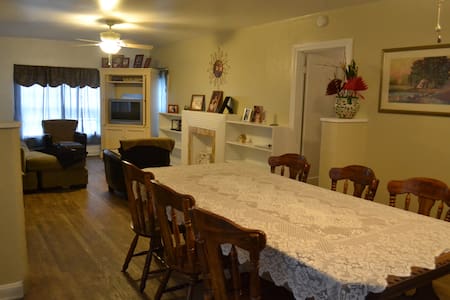 Beautiful Estate Home On A Private Ranch Just SE Of Kingsville. Pool, Hot Tubs, Fire Pit, Front Yard Lake, 6000 Sq Ft, Fireplace, Extra Large Rooms, Temper Pedic Beds, Water Fall Pool, Beautiful Bar, Many Many More Extras
6000' sq ft Estate Home on Private Ranch, Just SE of Historic Kingsville, Texas. Close To The Kings Inn and Historical King Ranch. Rooms can be rented individually with use of the common areas as well, Large Bdrm #1 with Couches is 199.00@ night and #3 & #4 two bdrm 1 Bath Combo for $239.00 @ night. See Airbnb additional listings for individual room renting. Keypad Entries Owner will be close or near the Home for your requests and security. Yet far enough away for your Privacy.
This Ranch is located SouthEast of Kingsville in what id known as Ricardo. Its very private and secluded. There is only one small taxi cab service in town. I can give you a ride into and around town as needed with reason and advance notice. Each Room Can Be Rented by itself. Large Bedroom is $199.00 Two Room Combo is $439.00 I'm not sure how to list this breakdown yet, Please contact me if you need just one or various rooms if the house is to Big for your needs.
Beautiful weekend at Haggville! We spent the entire weekend floating around in the fantastic pool. The setting is very picturesque... with the lake out in front it looks like the pool just empties right into it! We cooked out on the grill both nights ... the kids roasted marshmallows and made s'mores (ok, ok ... the adults had them too!). We tried our hand at fishing... and got a few nibbles... I think we might have caught quite a few fish but no one was willing to get out of the beds THAT early.) The house is enormous. It is beautifully furnished and decorated. Each room is a suite... the master is incredible... the beds are dreamy and the Jacuzzi tub was so relaxing! I slept in till almost 8:00 the first morning... and I am a 6;00 girl! Amazing :) The other suites were perfect for my family... each having additional beds for the kids... we even had empty beds. The kitchen is well stocked, Donny even had plenty of grocery supplies for breakfast each morning. Every question we had was answered within a couple of minutes. Our host Donny was very responsive. He even sent his son over to help us out when we couldn't find the blender. Heaven forbid we have a Margarita free weekend! Over all I give Haggville and this family get-a-way a 10! Spend a weekend here... or a couple of weeks... you will love it!
LaJana
July 2016
房间类型
整套房子/公寓
---
房源类型
独立屋
---
可住
16
---
卧室
3
Naval Air Station Kingsville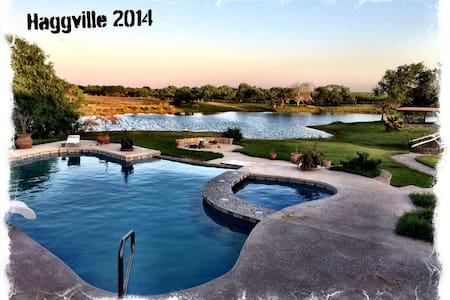 Two Bedroom two Bath Suite Located at Haggville Lodge SE of Kingsville on a Private Ranch. Front Yard Over-looks Lake with Infinity Pool and Jacuzzi. Abundant indigenous Wildlife Surrounds The Property. This is a Two Room Suite, One room has two (2) Twin over Full bunks with amazing beds and lines and the other room has three (3) full over full bunks with Amazing pillow top beds and great linens.....
Thus two bedroom one bath with sitting are is perfect for two couples The Spacious 1200 sq. ft. den, Dinning Room, Over0sized Kitchen, Back Porch has Large Infinity Pool with Cold Sauna and Hot Tub over Looking the Lake. Down At The Lake Is Private Patio Area With A Bathroom and Sitting Area For Ultimate Privacy. Owner is on property for your assistance yet far enough away for your Privacy.
We are located on 40 very private acres. Nature trail are abundant. you will se many indigenous animals everywhere.
Donny recommended restaurants and was extremely responsive to questions we had via text.
K
August 2016
Kingsville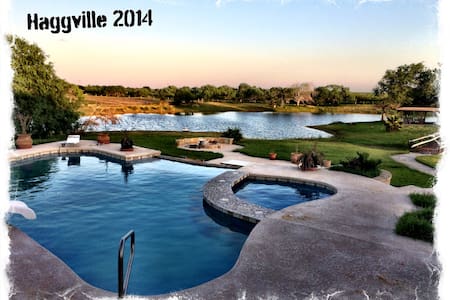 Country Estate Home Located SE of Kingsville, Texas. Large Bedroom with Living room. Two (2) Temper-Pedic Queens with private Bath. Panoramic view of our Lake, Pool and Jacuzzi areas. Located on Private ranch with abundant nature wildlife.
Kingsville