输入日期以查看总价格,包含额外附加费用及适用税费。
今年的七月至八月,从这100个不同价格级别的房源中选择,体验当地人眼中的索诺玛。房源提供24小时入住,还可以即时预订,您什么都不用做,只需饱尝本地美酒美食,轻松享受旅程即可。
A spacious unit with 1 or 2 beds, cable TV, microwave, fridge, heating/cooling system and free Wi-Fi. The location is in the center of downtown Coalinga; close to theater, city park, police station, town fitness center and many eating venues. It is a
Clear and easy key pick up and drop off... cheap price for a decent room.
Siri
April 2016
Great value, clean and comfortable room.
Amad
October 2015
For a one-night-stay it's totally fine - you have everything you need!
Theresa
August 2016
Room worked out great Thanks fo rthe stay
Clayton
August 2016
This really worked out perfectly for us. Having a place to stay along the five that was convenient and inexpensive made the trip so much better. The front staff is very friendly and helpful and check in was a super smooth process.
Lyssa
November 2016
Very kind people. Quick to accommodate any concerns and answer any questions. My only real issue was the Internet didn't work for us (no known reason why).
Samantha
June 2016
The room had a single king instead of two queens as requested, but the host worked it out and found a room with two queens for us. The bathroom light was interesting (wasn't on the wall switch but had it's own button way up high). Otherwise, the place was fine. The host was responsive to e-mail and texts, and as the room was quite inexpensive I was surprised by her attentiveness. It's a 2 1/2 star (of 5) place, but at this price and with this service I've given them 4 stars. Don't expect a miracle, but for what you're paying it's a fine place where I'd stay again.
Craig
September 2016
If you need a place while driving up the 5 this is your place.
Alex
April 2016
Coalinga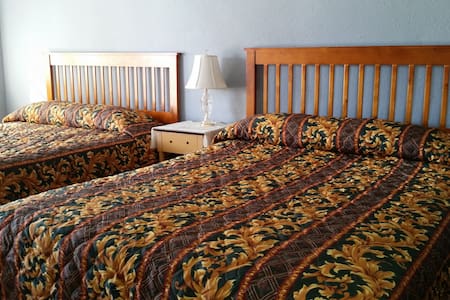 My place is close to The state mental hospital and many eateries, gas stations and much more. . You'll love my place because of the location, the coziness, and the views. My place is good for couples, solo adventurers, business travelers, families (with kids), and big groups.
Coalinga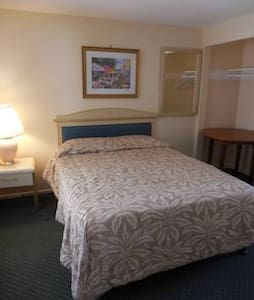 You'll love my place because of the outdoors space, the views, and the sunsets.. My place is good for couples, solo adventurers, families (with kids), and big groups. We are located on the pleasant valley trail. Nearby wineries are Villa San Juliette, Ranchita Canyon, and Mystic Hill Winery. We are situated on 10 acres and welcome horses on the property. We have a large corral to accomidate them. Great location for bike riding the Ranchita cyn loop!
Guests may use the outdoor BBQ grill along with the fire pit. We will supply the wood. We do have an acre of Zinfandel on the property and may or may not need to tend to the vineyard while we have guests, but we will not interact unless guests have a question or need assistance.
Dena's house is absolutely beautiful. It worked perfectly for 4 couples over the Christmas holiday. The views in all directions are fantastic, and the proximity to the Paso Robles wineries was also great. The kitchen is large and open, which is always nice when cooking with a group. Dena provided us with everything that we needed (towels, sheets, shampoo, coffee, etc) and also gave us some great recommendations of things to do in the area (BarrelHouse and Tin City were both great!). She responded to all of my communications promptly and was a pleasure to do business with. If I am ever back in the area I will make sure to see if this place is available.
Elizabeth
December 2016
Dena is extremely thoughtful! She put together a possible itinerary and included restaurants and wineries as well as a possible driver if we needed one and a private wine tasting! Upon arrival there was a lovely note, wine and 4 glasses out for our group : ) Any time I had a question (a LOT!), Dena got right back to me. She cked in on us via text to make sure we had everything and got in OK. Can't say enough! I am running out of space but I could go on and on. If you want to go wine tasting w/ your friends, this is a GREAT house and host! Thank you Dena!!!
tory
November 2016
We stayed for 2 nights, 4 adults and 4 kids. The house is very big clean and well equipped. The views on the road are beautiful, it is about 30 minuets drive from town. There are several wineries few minuets away. The kids loved it. Next door there where sheeps and a horse and the house has a firepit which is nice.
Oded
November 2016
We really enjoyed our time at Dena's home. The house is great for families and we enjoyed the peace and quiet. Dena was very responsive and accommodating.
Ilija
January 2017
San Miguel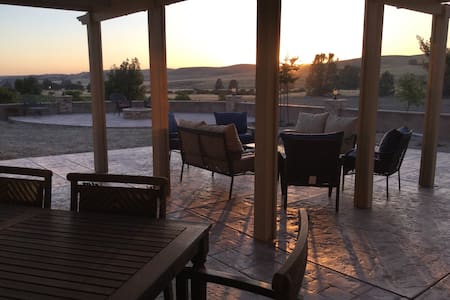 A spacious unit with 1 or 2 beds, cable TV, microwave, fridge, heating/cooling system and free Wi-Fi. The location is in the center of downtown Coalinga; close to theater, city park, police station, town fitness center and many eating venues. It is also walking distance from many stores and gas stations.
Clean but very noisy ! People talk in front of our bedroom...
Dou
October 2016
Needed a reasonably priced overnight stop on a trip from San Diego to San Raphael, and Laura Lodge filled the need. Convenient location, secure and comfortable.
Bob
August 2016
As advertised
Stjepan
August 2016
Laura lodge est un motel situé à proximité du centre-ville de coalinga. Accueil sympathique. Rien d'exceptionnel mais permet de faire une petite pause sur la route... Literie confortable. Néanmoins situé près d'une route passante...
Rachel
October 2015
Clean room. No interaction with host. Shower was so hot that it was almost impossible to take a shower.
Isabelle
January 2015
Easy reservation. Good communication. Very accommodating. Rooms were clean and front desk was very nice. Will stay when passing by
Soon
November 2014
A clean, comfortable room for a good price. I like the wood floors. Check-in was quick and easy. Cons: no black-out curtains.
Robert
July 2015
The reservation was canceled the day before arrival. This is an automated posting.
Dami
Coalinga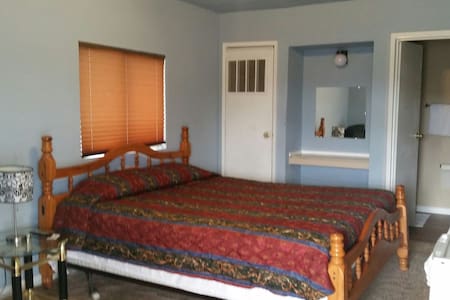 A spacious unit with 1 or 2 beds, cable TV, microwave, fridge, heating/cooling system and free Wi-Fi. The location is in the center of downtown Coalinga; close to theater, city park, police station, town fitness center and many eating venues.
A spacious unit with 1 or 2 beds, cable TV, microwave, fridge, heating/cooling system and free Wi-Fi. The location is in the center of downtown Coalinga; close to theater, city park, police station, town fitness center and many eating venues. It is also walking distance from many stores and gas stations.
Met my expectations.
Allan
November 2016
The fastest checkin I have experienced!
Perry
July 2016
Great value. Extremely easy check in. Rooms are simple, clean, and functional. Really good place for a stop-over traveling along 5 through California.
sam
June 2016
Sehr netter Empfang, netter Gastgeber, die Zimmer ließen zu wünschen übrig. Es war sauber aber alles ziemlich heruntergekommen. Man hat sich nicht sehr sicher gefühlt. Den scheiß Hund in der Nachbarschaft hätte ich erschießen können, der die ganze Nacht gebellt hat. (Wenn ihr das Zimmer am ganz hinteren Ende bekommt, bittet um ein anderes) oder nehmt einen Stein und erschlagt den Hund :P
Matthias
September 2016
Great little motel right in Coalinga and close to the highways.
Elliot
November 2016
It was good to stay for a night and move on with our trip. Perfect stop if you are leaving national parks late evening and going to the cost or Vice versa. It is simply a motel so expect the relative quality of the room. Though the place was clean and the owner was friendly and helpful.
Dmitry
September 2016
Clean, quiet, comfortable; left a personal item by accident and the host was very accommodating about mailing it back.
Stephen
July 2016
The apartment was clean and suited our need nicely!
Leon
August 2016
Coalinga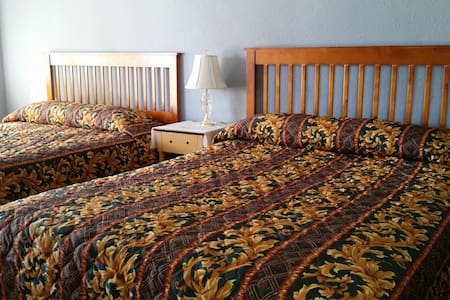 Private Rooms and Studio in 4 star neighborhood beautiful remodeled house all amenities can show you around San Diego area is first class street parking in front of House very secure with WIFI and Dishnet
斯特拉特福(Stratford)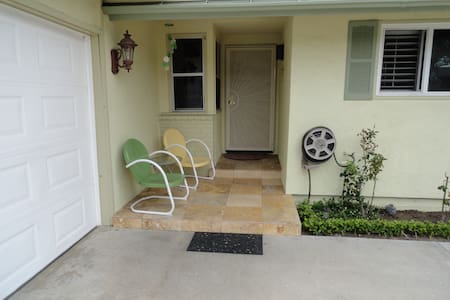 A beautiful home, custom built in 2007 in the heart of the wine country. The home has a breath taking views and plenty of space and privacy. Sitting on 10 acres and next to a vineyard, this property is great for relaxing or even events! My goal is to continue to improve the property with the funds earned from airbnb.
The house is extremely comfortable. The home was customer built in 2007 in a 10 acre parcel. There is plenty of room to enjoy your quiet time or host an event. The large driveway can accommodate countless vehicles. The property has 5 bedrooms and 3 1/2 bathrooms. We are focusing on renting the whole house. We currently only have 3 bedrooms and 2 1/2 bathrooms available. There are 2 bedrooms and one bath on one side of the house and another bedroom and a bath on the other end of the house, giving guests more privacy. The bedrooms are carpeted and the rest of the house has Italian travertine flooring. The property is well insulated and has an average of 20 degrees temperature difference from the outside temperature. The house has a central heating system, but if you prefer, you can get cozy and warm yourself in front of a great looking fireplace. The gourmet kitchen is custom built with granite counter tops and high end appliances. Washing dishes can be relaxing while enjoying the view. The guests will have access to the immediate area surrounding the house. There is a swing set and a slide that kids are welcome to use. The master bedroom, a bedroom that has workout equipment are not available to use. If the guest would like to use the washer and dryer, there will be an additional charge. Minimal. We are very welcoming, but respect the privacy of our guests.
The neighborhood is great! The drive alone is amazing since you drive through several wineries to get to the property. You have a great amount of privacy since the houses are in acreage. There are only 2 additional houses in the street, so you don't feel so alone, but at the same time there are not right next to the house. The view to the next door vineyard is beautiful in the morning. The house is about 15 minutes from highway 46. This is a very easy and pleasurable drive. You get to enjoy wineries through the whole way. We know most of our neighbors. They are private, but extremely friendly. We have neighbors that provide professional driving services to visit the local wineries. . Our neighbor Joel Cox is the owner of Mystic Hills winery next to the property. Joel Cox is an Academy Award winning Film Editor, delivering award winning wines. http://www.mystichillsvineyard.com A near by neighbor, Michael Jones, also has award winning wines. You can schedule a private tasting appointment via their website: http://www.michaelrosecellars.com/ All beds are very confortable, have newer sheets and they have mattress protectors for peace of mind. Towels are provided. The kitchen has most items to cook a meal, including pots and pans, plates, utensils, cups, etc.
Lovely home that was perfect for our needs. My wife and I met another couple for New Years Eve along with our 1 year old daughter. The fully equipped baby's room saved us in many ways. Klauss, the owner, was awesome. There were many amenities that Klauss went out of his way to ensure we had a great time. The home is definitely in a secluded part of Paso but very close to wineries and you cant beat the beautiful view. Kitchen had everything you need to do some cooking. No cell service this far out, but it was nice to disconnect for a little and the wifi worked great. Would definitely stay here again
Ben
January 2017
百索罗布