输入日期以查看总价格,包含额外附加费用及适用税费。
今年的七月至八月,从这100个不同价格级别的房源中选择,体验当地人眼中的索诺玛。房源提供24小时入住,还可以即时预订,您什么都不用做,只需饱尝本地美酒美食,轻松享受旅程即可。
Рядом с моим жильем отличные виды. Вам понравится, ведь в моем жилье есть пространство у дома, удобная кровать и кухня. Мое жилье подходит для этого: пары, соло-путешественники, деловые путешественники и семьи (с детьми).
Mar'yanivka village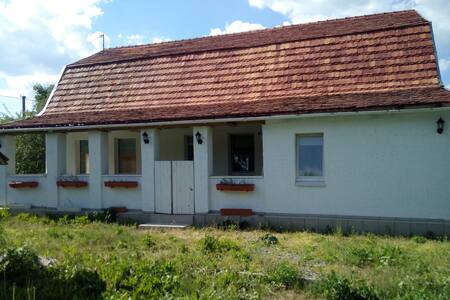 Отель ЛЕСНОЙ на ЕВРО 2012Приглашает гостей снять комфортабельные номера и люкс домики в период проведения Чемпионата Европы по футболу в пригороде г. Киева(Украина)К услугам гостей номера с кожаной мебелью и плазмами(42*) трансфер из аэропорта и ж/д. вокзалаТранспортные услуги по доставке на стадион и в отель.Сосновый бор Киева (люкс питание, лес на территории, Киевское море, барбекю,бассейны) 11 номеров на 30 человекЗакрытая охраняемая территория.Тел.+380675012845,+380444668597, заявки на адрес- natusy@ipnet.ua
Ivankivs'kyi district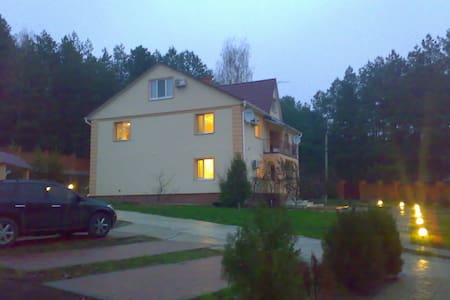 This lodge is located on the banks of the Kiev Sea, with stunning views, omfortable rooms, a studio on the second floor.
Demydiv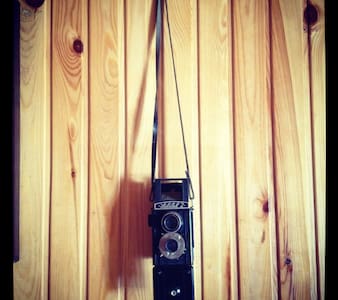 Hi! Welcome to our amazing log cabin on a nature. This place is ideal for relaxing and cycling. It is very well located only an hour from Kyiv and close to the Mizhrichynskyi Landscape Park. The cabin itself is very functional and well designed.
Hi friends! We are glad to welcome you in our nice log cabin. It is very well located - only an hour from Kyiv and close to the Mizhrichynskyi Regional Landscape Park. The cabin itself is very functional and well designed. The property is well manicured and ideal for relaxing. We have closed territory where small lake, summer house, barbeque, carport and log cabin are located. You can use our 2 bikes for cycling. Nearby forest and the Desna river are very beautiful . You can also visit old military bunkers and other objects hidden in oak forest. If you visit Mizhrichynskyi Regional Landscape Park you will taste great local alcohol drinks and also will have an interesting excursion there. Make yourself at home! 0
Mizhrichynskyi Regional Landscape Park (Ukrainian: Міжрічинський регіональний ландшафтний парк) is the biggest regional landscape park in Ukraine. It was founded in 2002 on the territory of Otrokhy in the Kozelets Raion of the Chernihiv Oblast. It is located between two large rivers – Dnipro and Desna, which is why it has the name means "between rivers" in Ukrainian. Area of Mizhrichynskiy landscape park is more than 1,000 square kilometers. Its territory is situated on the south-east of Chernihiv region. The eastern boundary of the park is on the Desna River, western and southern coincides with the Chernihiv region boundary. Prevailing landscape is pine wood. There are many swamps, bogs and lakes. The big territory with nature conditions provides existence of many animals. There are many big mammals in Mizhrichynskiy RLP. These are moose, wolf, deer, roe deer, wild boar and others. Ornithofauna consist of 241 bird species, among them 145 breeding species. White-tailed eagle, short-toed eagle, lesser spotted eagle, black kite, black stork, crane, black woodpecker, white-backed woodpecker and a lot of other rare birds breed here. In general there are 65 rare plant species and 74 rare animal species in Mizhrichynskiy regional landscape park. On the territory of RLP there two Important Bird Areas. Тransfer from Kiev or airport is possible. Transfer Kiev-Log cabin-Kiev for 4 persons will cost 30 $ (both ways).
My daughter and I stayed two nights at Desna cabin and we really enjoyed it. The cabin is spacious, clean, bright, with great amenities. Everything was as described here. The host, Andrew, was very nice and gracious, meeting us at the outskirt of the village to show us the way, and leaving food and firewood for us to use as we please. I recommend this home to everyone who wants a nice place to relax and unwind without losing the comfort of home.
Amal
February 2016
The reservation was canceled 3 days before arrival. This is an automated posting.
AM
What a nice little cabin! I had a great time staying at Andrew's place. It is very well located only an hour from Kyiv and close to the Mizhrichynskyi Regional Landscape Park. I spent an entire afternoon on my mountain bike exploring the nearby forest. The cabin itself is very functional and well designed. After a day of cycling the sauna was very much appreciated! The property is well manicured and ideal for relaxing outside with a good book and listening to the radio. Andrew was very kind and met me in town upon my arrival to lead me to the cabin. I am looking forward to returning for some rest and relaxation during the summer months. Thanks Andrew!
New
March 2015
Andrew far above and beyond exceeded our expectations. Once he understood the purpose of our trip (family time with our two teen boys) he went out of his way to enhance our experience, even renting extra bicycles and fishing poles. He served as our driver, picked us up and took us to a huge supermarket to stock up on food so we could make plenty of home made dinners at the cabin. He answered our calls and messages when we had questions and encouraged us to make ourselves at home. The cabin and location is exactly how it looks in the photos, warm and inviting with lush landscape and sounds of nature. The beds were very comfortable and the lounge areas cozy with lots of room. The home is situated in the middle of rural Ukrainian family homes in a setting that looks like a story-book. It doesn't get more authentic than watching neighbors work in their gardens. We had so much fun! This stay was the highlight of our entire trip to Ukraine.
Sandy
April 2016
Десна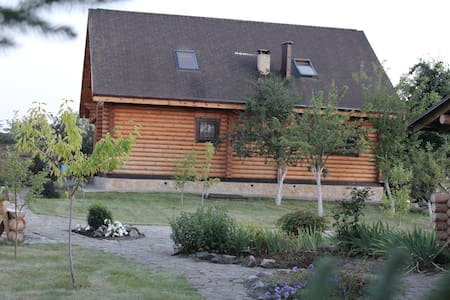 I felt welcomed from the very first moment when I just started communicate with Sergey! And my expectations after arrival were met. The place is great and hospitality is beyond. Highly recommend to stay - you will enjoy, I promise you that!!
Svetlana
July 2016
Andriivka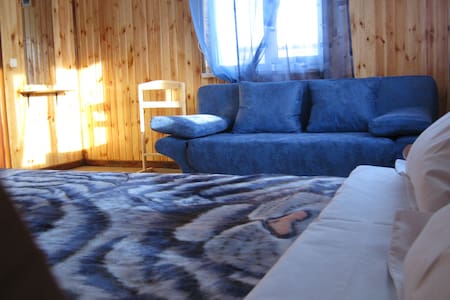 Wooden house built in 1950. There are two large light rooms, a kitchen with a real wood burning stove and the bed, summer terrace for comfortable pastime or lunch. The house is unique in its architectural content and natural microclimate: the construction used only natural materials, wood, clay, glass. It makes habitant to live in comfort and relaxation. The house is offered for people who want to escape from the city vanity and apartment living. It is very easy to implement because the house has only one civilization good - electricity. Enjoy your stay in our house in Golubovka.
Ripkyns'kyi district
Several log cabins are located in recreation area nearby Kiev. Self catering homes are fully furnished and equipped with kitchen.
Cozy and furnished homes are located in the pine forest nearby Kiev. The river Desna with a sandy beach is just a few min away. Great for holiday getaway for those who value comfort and independence. Houses are self catered, each would have a private yard and a parking lot. Canoe and bike rental is available. Cabins feature from two to four bedrooms and fully private.
Traditionally it has been a recreation area for kievites.. The property is surrounded by vast forest area with an access to the river. It is recommended to use a car since the property is 37 km from city limit. Private transfer is available upon request. The nearest restaurant is located two km away.
Павел очень отзывчивый и приятный хозяин, отвечает быстро и всегда на связи. Дал нам велики покататься и позволил неспешна выехать даже позже договоренного времени. Домик прекрасный, с хорошим дизайном и супер природой вокруг. Всем советую.
Pavlo
August 2015
Фото полностью соответствует действительности. Очень дружелюбный и отзывчивый хозяин. Бонусом были дрова:) Дом идеально подходит для выходных в лесу на небольшую компанию.
Natalia
December 2014
Воропаев