输入日期以查看总价格,包含额外附加费用及适用税费。
5个房源
· Cape Disappointment
5个房源
· Cape Disappointment
Imagine staying in an Incredible 18 room "mansion" with 6 bedroom, 2 recreation rooms, a hot tub, and your own private path to the beach through 6 acres of pine forest. Kids of all ages love the hot tub, the pool table and ping pong table top, Foosball and bumper pool tables, not to mention the location in historic Seaview Washington. Walk to everything! Don't forget hour pets-two well behaved dogs welcome.
Details on Bloomer Mansion: • 5,000 square feet, 3 story home, with 18 rooms. Pet Friendly. • Sleep 12 people in 6 beds, plus 2 people on fold-out cushions on floor and toddler bed • Six bedrooms: 5 queen beds, one king • Private path to the beach through 6 acres of private pine forest and dunes • Sleep up to 22 people when you rent 45th Street just 4 blocks north of Bloomer Mansion • Relax in your own private Hot tub • Enjoy a game of billiards on our 8' slate pool table • Play a game of Foosball or ping pong table in our one of two recreation rooms • Walking distance to the market, fine dining, antiques • Less than one mile easy walk to downtown Long Beach through historic Seaview • Stay connected with free and fast Wi-Fi • Pet-friendly. Up to 2 well-behaved medium sized dogs maximum • Prize-winning 1904 Eight foot Grand Baldwin Piano in an expansive living room Fully stocked Kitchen: • Appliances: Microwave, Blender, Food processor, Rice Maker, griddle, toaster, crockpot, waffle maker, toaster, hand mixer • Coffee Bar: coffee maker, French press, coffee grinder, electric tea kettle, kuerig single cup, assortment coffee and tea, sugar, non dairy creamer • Baking: 12 cup muffin tin, stainless steel cookie sheets, roasting pan, cookie cutter, cake pan, rolling pin, pie dishes, 13x9 casserole dish, loaf pan, measuring cups wet, measuring cups dry, measuring spoons • Utensils: potato peeler, ice cream scoop, can opener, cork screw, pizza cutter, scissors, whisks, spatulas, wooden spoons, ladels In Addition: • Pet-Friendly: Two medium size well-behaved dogs allowed. • Mothers will love all the amenities for babies: cribs, high chairs, booster seats, jogging stroller, even a baby bath tub • Porch with gas barbecue • Large yard with fire pit, picnic tables and sandy play area for children • Linens, paper products supplied • Soap, conditioner, shampoo provided This historic home was built in 1932 by Senator Bloomer, and it its day, it truly was a mansion, with two extra servant's stair cases, a butler's pantry, and even an extra servant's bedroom off the downstairs kitchen which is affectionately called "Grandma's room". The home has been fully renovated with 86 new double-paned windows, new siding, insulation, two recreation rooms in the basement, and an outdoor hot tub. Even with the renovations, the owners were careful to ensure that Bloomer Mansion retained its charm. The very rare, and original 1930's art deco wall paper still decorates the massive downstairs living room. This living room was built by Senator Bloomer with entertainment in mind– it is large enough to fit two full sets of sofas, love seats, a large gas fireplace and a flat screen TV with DVD/Cable. An extra wide master winding staircase, like the ones you see in old movies, leads you to the five upstairs bedrooms. In short, every age group can find something fun to do inside the Bloomer Mansion and a lot of space to do it in. The entire 18 room house and 6 acres of private pine forest, dunes and beach are all yours. We are available by telephone should you need anything.
房间类型
整套房子/公寓
---
房源类型
独立屋
---
可住
12
---
卧室
6
Seaview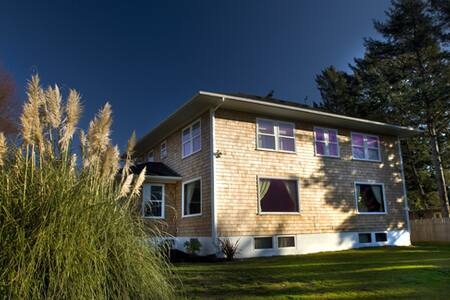 Salt is on the Port of Ilwaco, close to Cape Disappointment Park, beaches, Long Beach WA. You'll love my place because of Simple and modern rooms with comfy memory foam beds and the onsite pub serving lunch and dinner seven days a week. Salt place is good for couples, solo adventurers, business travelers, families (with kids), big groups, and furry friends (pets).
Lovely boutique surf hotel! I loved all of the art and little details in and around this hotel. The room was very clean. The bed was extremely comfortable. The pub was closed the day we were staying, but it was a quick trip up the road to Long Beach where we ate great food from Pickled Fish restaurant. The hosts were very nice and helpful. All and all a great place to stay while exploring this part of the coast.
Marlise
February 2017
Pillows were a 10/10 wifi was a 4/10. Overall pretty cool place though
Eva
April 2017
Salt is just as comfortable as it is cute! The rooms are comfy and have everything you need. The food and drinks are amazing too!!
Kali
March 2017
Love the fact that they are reducing waste. If I didn't have a baby it would be a pretty awesome place. There was music that we could hear until 10 pm in the room and we were in a room right next to the stairs for the pub which can be a little tricky for little ones with early bed time. (Also hoped we didn't wake anyone up because the walls are a little thin...)
Allison
April 2017
Loved it!
Shane
February 2017
Great space. Unique experience.
Katie
February 2017
I absolutely LOVED staying at Salt Pub & Hotel. I felt welcomed and safe on the property. The room itself had a modern, rustic feel, but not too fancy or pretentious. It was perfect. All of the staff were friendly. The hotel faces a small harbor and has a lovely seating area for morning coffee or tea. I had dinner at the SALT Pub and it was delicious and fair priced. I can't say enough good things about this place!
Ashley
February 2017
Good clean room. Great view. Friendly staff and nice intimate pub with good food.
Suzanne
March 2017
Ilwaco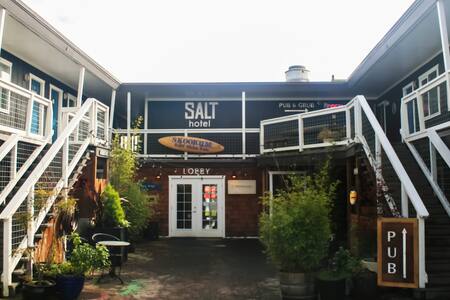 North Star is a lovely modern 2 bedroom 2 bath loft apartment with an open floor plan, large windows and 4 skylights that make this a bright airy apartment. North Star is a 2nd floor apartment in a historic building in downtown Ilwaco, Wa.
North Star is a modern 2 bedroom 2 bath loft apartment with a spacious open floor plan, large windows and 4 skylights make this bright and airy. This 2nd floor apartment is in a historic building located in the fishing village of Ilwaco, Washington on the southern end of Long Beach Peninsula at the mouth of the Columbia River. The complete Loft is a private space, with a private entrance. We will be on hand for any guests questions, we are a phone call away.
We are in Ilwaco the little town outside Cape Disappointment State Park: This is part of the Lewis and Clark National Historic Park. Visit two historic lighthouses at Cape Disappointment State Park, kayak on several amazing waterways, hike or bike the 12 mile Discovery Trail, enjoy the longest beach on the west coast. You will need a car, parking is available in front of our building. Bikes and surfboards are available at the port SALT bar hotel and surfing shop. Must dos: Stroll along the port, Saturday Market at the port 10am to 4pm, dinner or drinks at the SALT Cape Disappointment State Park Hike the Discovery Trail from old forest to the beach Explore Cape Disappointment and North head's trails and lighthouses. Clamming on the beach for littlenecks or razors. Sunset at Waikiki Beach see Cape Disappointment from the beach Eat at the Historic Depot restaurant at the Seaview beach approach Hike Salamander Trail around Black Lake Fly a kite! Buy salt water taffy and visit Jake at Marsh's Free Museum Enjoy the multiple Antique Shops on the Peninsula Golf at the Peninsula Golf course with lunch at the Cove restaurant. Fresh oysters at willapa-oysters in Ocean Park Fresh Seafood purchase at Ole Bob's on the Port of Ilwaco Need a book? Go to Time Enough Books at the Port of Ilwaco
Wendi was so great with communicating! Everything was as described. Recommend!
Rachel
November 2016
The listing was just as described. Loved the great design and fully stocked kitchen. Will definitely be back.
Erin
June 2016
This is a very nice 2 bedroom, 2 full bath loft apartment in Ilwaco. It's location makes for easy access to Long Beach, Astoria, and all the other small towns and attractions in the area. If you don't mind a 5 to 10 minute drive to beach access, then you can't beat the value of this property. Wendi provides all the amenities one would need to make you feel at home. Both bathrooms have showers only.
Katie
September 2016
We came to Ilwaco for a wedding and throughout the entire weekend my husband and I kept commenting on how lucky and happy we were to have found Wendi's place! It is even more beautiful than in the pictures (if you can imagine that): it's clean, open and airy, skylights everywhere, and the most beautiful artwork on the walls--I think maybe Bruce's?? I meant to ask but didn't get a chance. Wendi had thought of everything we could possibly need, including some cookies on the counter and fixings for coffee. We were able to use the washer and dryer which allowed us to pack light. Wendi couldn't have done anything more to give us a better experience. THANK YOU Wendi.
Anah
June 2016
We stayed at the North Star lovely new loft in Ilwaco 4 days on an extended week end. The loft is within short walking distance from the marina front. Everything is new, well decorated, filled with everything needed and super conveniently organized. We felt at home and Wendi was a terrific host and available from reservation and all along our stay to point us the good places around. It could not have been better. We are looking forward to come back.
Nicolas
May 2016
The North Star loft was perfect for our family. It was immaculate, very clean, and new!! So much natural light and the floor plan was great. The pictures she provided of the loft are spot on. Everything that you would need in a get away home was provided. Wendi even had cinnamon rolls for us which was a pleasant surprise. Her attention to detail is evident! Ilwaco is a "sleeper town" that connects Astoria and Long Beach. We spent our days exploring those towns. Lots to do and see. It was very convenient. Connecting with Wendi was great. She was responsive and helpful. I would definitely recommend this loft.
Brenda
May 2016
This is a must visit home. The house was super clean with an open floor plan that was very inviting. We love The area for its outdoor accessibility and small town feel. The options of where to spend your time are endless but having this home to return to for the down time was perfect for our family of four. Wendi was the best host. She didn't miss a detail and has a passion that shines though. Don't miss this property in your search for an amazing vacation destination. Can't wait to return.
Willis
August 2016
What a wonderful little place to stay. We stayed for two nights and enjoyed the wonderful quiet stay. She said it was not infant friendly but we took a playpen to keep the little one off the stairs. :) Showers were not something we thought about with infants. We live and learn. We would highly recommend Wendi as a host they were fantastic. They were even nice enough to get juices and kid bowls for us. It is within walking distance of the dock at Ilwaca and several restaurants. They also recommended several eating places that we really enjoyed. Being our first Airbnb experience we will use it in the future.
J. A.
June 2016
Ilwaco
Ilwaco is a small port town on the WA coast with lots of character. The living space of our modern carriage house is upstairs so it's light & cozy, 600sq ft. It's a 2 minute walk to the port & 10 minute bike ride to Cape Disappointment and the beach. Sorry, no wireless internet.
Eco-built in 2006, it's a cozy, quite place (walls are 1 foot thick!). There's a firepit and table in the yard, and gas BBQ in the garage. The red canoe is yours to use, along with 5 bicycles of various sizes. Oh, you can use our clamming gear - guns, rakes, boots, buckets! It's all open -- there is another house on the property with a full time renter. We'll be available to help you via phone. In an emergency, we have nice neighbors that we can call upon.
Ilwaco is a hard-working fishing town -- crusty on the outside, cozy on the inside! Ilwaco has public transport (stop is 50 ft from house!), but getting around by foot is easy, and you're welcome to use any of the 5 bicycles in the garage. Must dos: - Stroll along the port (and check out Saturday Market - smoked clam chowder!) - Check out the Discovery Trail -- through the woods and to the beach! - Explore Cape Disappointment's trails and lighthouses. - Clam for littlenecks or razors. - Sunset at Waikiki Beach. - Eat at the Depot restaurant - Hike Salamander Trail around Black Lake - Fly a kite! - Buy salt water taffy and visit Jake at Marsh's Free Museum
Nicole's space was the perfect size for a getaway spot that offered all the essentials for comfort while enjoying time away from the city. It's vicinity to Ilwaco's old town and marina, as well as Long Beach, make it easy to live like a coastal local while also accessing a peaceful, natural environment. Thank you for sharing, Nicole! I can't wait to be back.
Andrew
May 2016
Nicole provided great instructions via email a few days before our arrival. The place was comfortable for the four of us. We enjoyed the proximity to the Port of Ilwaco, taking walks and bike rides (on bikes provided by our hosts -- we brought our own helmets) through and around the port. The Saturday market was nice and there were fresh fruits, vegetables, and seafood available. We stayed over the first few days of July, including the 3rd and 4th. The Port of Ilwaco's fireworks display is on the 3rd and is very close to the house. This is fine, and for some exciting! If you're particularly upset near loud noises we'd recommend taking a drive on the 3rd. The Seaview Beach access is only a few minutes drive away and was not as crowded as others. There's convenient parking, a nearby (clean!) public bathroom with running water, and lots of shoreline to explore. Bring your kites! In addition to Ilwaco, we used the Carriage House as home base for day trips to Rockaway Beach, Oregon, Astoria, Oregon, and Oysterville, Washington.
Jeffrey
July 2016
Great house! Small, but has everything you need. It was perfect
Kat
December 2016
Nicole provided quick responses to my inquiries and regular communication right up to the rental date. Property was exactly as described. A very comfortable place, small but efficient and cozy! She very generously provides use of many items for biking, clamming, canoeing, etc. I expect we'll return in the future!
Robb
September 2015
My wife and I spent a delightful week in Nicole's house in Ilwaco. It was incredibly comfortable and we very much enjoyed the town and it's surroundings. We went there to get away from our day to day stress and to enjoy walking on the beach. We explored Ilwaco, Long Beach, and Astoria and watched the waves roll in along the beaches. In the evening we cooked in the excellent kitchen and watched dvds in bed. It was exactly what we needed.
Chris
August 2015
What a beautiful home! Peaceful, great location.
Cynthia
September 2016
The house of Nicole is really cosy, there is a lot of light, it s feel like home. There is a lot of informations with everything you can do. We really LOVE the house.
Eléonore
July 2016
This eco house was a lovely suprise. I needed a mid point between San Francisco and the Olmpic Peninsula, and who has ever heard of ILWACO? Nicole made life easy with their clean, uncluttered house located near an active fishing port (you can see boats from kitchen). We had sunny days and a lazy 6 mile bike ride from the doorstep to the Discovery trail, and had fun with Lewis and Clark discoveries of our own. I should have extended our stay to go paddling and beachcombing.
sheila
June 2015
Ilwaco
45th Street sells out every year. People love the hot tub, the recreation room with pool table and ping pong table top, the private path to the beach, the nearness to town, and the lovely turn of the century residential town of Seaview, Washington. Walk to dining, grocery store, antique stores, the beach and much more. So many amenities and so close to everything.
This home is located near the heart of historic Seaview, Washington and is just a few blocks from Bloomer Mansion (same owners).Enjoy outdoor expansive first and second story decks with barbecue, outdoor hot tub. Also new is your own private path to the beach through six acres of native pines, wetlands and dune grass. Note: The path may be impassable in the Winter as ponds fill with rainwater. This newer craftsman beach home has so much to offer. So many amenities! • Sleeps 8 comfortably in 4 bedrooms (1 King, 2 Queens, 2 Twins & 1 Crib). A fold out sofa is in the living room to sleep up to 10 people. • Sleep up to 20 people when you rent Bloomer Mansion just 4 blocks south of 45th street. • 2 full baths, one up and one down. See floor plans above. • Pet-friendly, up to 2 well-behaved medium sized dogs maximum • Relax in your own private outdoor hot tub on the lower deck • Stay connected with high-speed internet access (WiFi). • Recreation room in converted garage: Pool table, ping pong, large screen TV, Xbox, Wii, video games. • Propane barbecue included: The outdoor decks on both the first and second floors are ideal for a spring or summer barbecue or just enjoying the sunsets over the Pacific Ocean. Kitchen Amenities: For the cook in the family. No need to bring your cookware, we have it all: • Coffee Bar: Love coffee or Tea. We do. Included for your stay: coffee maker, French press, coffee grinder, electric tea kettle, Kuerig single cup, assortment coffee for your first night from Long Beach Roasters, tea, sugar, non-dairy creamer • Appliances: Microwave, blender, food processor, Rice Maker, electric griddle, toaster, crock pot, waffle maker, toaster, hand mixer • Pots and Pans: NEW! stainless steel pots and pans, Teflon frying pans replaced every 6 months, stainless steel mixing bowls, glass mixing bowls, salad mixer • Baking: Do you love baking? All the supplies you need for casseroles and desserts: 12 cup muffin tin, stainless steel cookie sheets, roasting pan, cookie cutter, cake pan, rolling pin, pie dishes, 13x9 casserole dishes, loaf pan, measuring cups wet, measuring cups dry, measuring spoons • Utensils: Whisks, spatulas, wooden spoons, ladles, potato peeler, can opener, cork screw, pizza cutter, scissors, ice cream scoop, • Table setting: plates, bowls, water glasses, wine glasses, knifes, forks, spoons. We have plastic dishware for children. • Cutlery: Full set of stainless steel knives, steak knives In Addition: • Toys: train set, doll house, dolls, cars/trucks and more. • Linens: quality sheets, pillow cases, bath and hand towels included. • Soaps: shampoos, hand soap, dish and laundry detergent. • Paper products: bath tissue, paper towels included. • The location of this home could not be better. For the past 150 years, Seaview, Washington has been a favorite lodging destination for people all over the state of Washington and Oregon. • 45th Street is in the heart of Seaview, and is within a 5 minute walk to the local market, antique shops, and two of the finest restaurants/Pubs on the peninsula: Depot Restaurant, Shelburne Pub and Restaurant • For families, 45th is just 2 blocks to Sid's Market, a full service grocery store. 45 is also just 3 blocks from Chico's Pizza, a family run pizza parlor that has been a favorite of the locals for over 40 years. • Downtown Long Beach Washington is a ten minute walk away, through a quiet residential area with many restored homes dating back to the 1880's. Whether you are looking for a quiet weekend with your closest friends, or a family getaway, 45th Street Beach House is the ideal lodging place for all that Long Beach Washington has to offer. The entire house is yours. We are available via phone or text to answer any questions.
房间类型
整套房子/公寓
---
房源类型
独立屋
---
可住
10
---
卧室
4
Seaview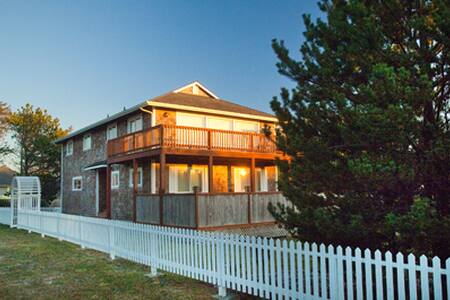 Cape Disappointment - Airbnb
:
在

77

位房客评价中,平均评分是

4.92

星(满分为

5

星)