输入日期以查看总价格,包含额外附加费用及适用税费。
A hibiscus lined driveway welcomes you to a 2 acre property featuring a cozy bungalow with amazing sea views from the balcony. Self contained kitchen, king size bed, solar heated water. Located on the Eastern side of the Island, perfect for sunrises.
Der Aufenthalt bei Pira war einer der angenehmsten, den ich je hatte! Pira hat mich direkt von Flughafen abgeholt und mit einem kleinen Geschenk begrüßt! Auf der Hinfahrt zur Unterkunft kann man noch Lebensmittel in kleinen Stores einkaufen, Milch und Obst hat Pira schon bereitgestellt! Um das Mieten eines Rollers hat sie sich auch gekümmert. Ich habe nichts vermisst! Wann immer man fragen hat, ist jemand vor Ort der helfen kann!!! Ich würde jederzeit wieder bei Pira buchen! Unkompliziert, freundlich, gemütlich...!! Einfach schön
Florian
September 2016
Pira was a friendly and helpful host and gave us lots of information about the island. The unit has amazing views and feels very peaceful and private. We used the self-catering facilities to make a lot of meals. It was great to have this option. I would recommend getting a scooter (Pira helps to organise this if you need) as the property is in a quiet part of the island which you require transport to get around. The property is just lovely!
Catherine
August 2016
This is an amazing place, and Pira is a wonderful host who has got it spot on!! Beautiful A frame bungalows, sunrise was incredible! Fresh fruit was given for breakfast and even a special trip to get us Paw Paw and passion fruit from her trees, what a start to the day! Location is beautiful and Pira has a scooter to rent so you can explore the island at your own pace. Would HIGHLY recommend this place, you would not regret it...you will want to stay longer!! Thanks Pira :)
Jess
November 2016
Pira and Aileen ( mum) made us feel so welcome.They were extremely helpful.The view certainly is amazing!!! The bungalow has everything you need for sleeping cooking etc. Aileen allowed us to use her freezer, and we were also encouraged to get our drinking water from her rain water tank- great! The accommodation was more isolated than we were aware and transport is certainly necessary! The solar power meant we didn't have hot water on several days, generally not a problem, but after biking around the island in torrential rain, a hot shower would have been nice. A clean tidy bungalow well appointed, but no beach and isolated. If this works for you we couldn't recommend it more highly. Wonderful hosts.
Barbara
September 2016
Peaceful Bungalow with Sea Views is exactly that. Surrounded by beautiful gardens & nestled looking over the pristine Aitutaki Lagoon, my husband & I enjoyed a week in this private setting. With friendly helpful hosts Pira & Mum Aileen advising us on all that Aitutaki can offer, from recommending restaurants to handling bookings; scooter, Teking Lagoon Cruise & even advising on the wind conditions for one of the best days of kiting my husband has had in a long time out at Honeymoon Island with Aitutaki Kite School (thanks to mother nature for good wind on the day). We'll be back :)
Al
September 2016
A lovely spot with a gorgeous sea view. The bungalow is one of a few but the rest appear out of commission due to storm damage. It is helpful to have a rental vehicle because area is remote and there is no public transit/taxis on the island. It is also is helpful to make arrangements in advance for activities to do while you're there as there is no phone except Pira's. The fresh fruit Pira provided on arrival was so wonderful. Very peaceful spot.
diane
July 2016
There aren't enough great things we can say about our stay at Pira's bungalow. It was memorable from the moment she picked us up from the airport and greeted us with wonderfully scented fresh lei's. Pira then took us on the scenic route back to her bungalow to show us around the town and took us at a couple of markets for us to get groceries. Once at her property we were in awe at how beautiful it is with lots of hibiscus trees and so many fruit and coconut trees but by far the most amazing view of the lagoon! From our balcony we experienced the most beautiful sunrises and had a view of all of the other islands within the atoll. We also met Pira's mom who is just as sweet and gave us the warmest welcome! The bungalow is as described if not better, with all of the kitchen essentials, perfect for the two of us! We were welcomed with a bowl of fresh fruit picked from their very property, the biggest starfruit on the island and tastiest passion fruit! Pira grew up in Aitutaki and knows the island very well so definitely trust all of her recommendations. She was gracious enough to arrange our scooter rental and had them pick us up from her bungalow, as well as arranging the best lagoon cruise/snorkle tour we've ever done and booking an amazing cultural dance show and dinner with the best seats in the house! Pira went above and beyond to make sure we were comfortable and had a most memorable experience there! She was so kind to let us borrow her kayak which we used a couple of days to travel across the lagoon and visit several of the other islands which are quite beautiful, one better than the next! Although the kayak was indeed a great experience for us, I only recommend doing so from her side of the lagoon if you're experienced and physically fit, as the waters are not as calm as they look once in the middle of the lagoon, and the current does pull you away quite a bit. The lagoon charter that Pira booked for us, took us to the remaining of the islands that were too far for us to reach by kayak. It was the highlight of our trip as we had not yet snorkeled such crystal clear waters and such beautiful white sand beaches! At the end of our trip we had a very pleasant evening chatting with Pira's mom out on her patio overlooking the lagoon. It was the best way to end our trip to Aitutaki and our only regret was not staying longer than 5 days! :(
Yana
July 2016
This place was just beautiful! The view is incredible and the Bungalow had everything we needed. Pira was so friendly and helpfull with everything! Even when somebody came to visit she helped us out with everything and the lagoon Tour she booked for us was one of the best things we ever did! We can highly recomend a stay and we really hope to be back some day.
Kathrin
May 2016
Aitutaki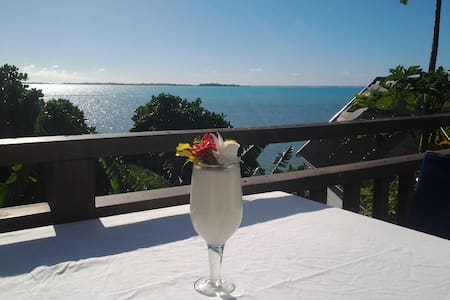 Our small completely self-contained bungalow is modest, simple and spotless. Located in Tautu village overlooking the lagoon, it is on the quiet windward side of Aitutaki and yet is still close driving distance to shops and cafes. You'll love our place because of the tranquility and exquisite beauty of your surroundings. Perfect for couples or singles wanting timeout - definitely a must for ecotourists wanting to keep it real! Negotiated rates for longer term stays are available.
The bungalow has full laundry and cooking facilities and has solar heated hot water. We have an abundance of tropical fruit trees - pawpaw, guava, passion fruit, bananas - guests are provided an abundant selection of in season fruits! The bungalow is set on our beautiful lagoon side property - guests are free to enjoy the views, the walks, - anywhere! We are close by to chat and or to give advice if need be! Basically we find our guests prefer to just be free to get on with enjoying each other and Aitutaki, while having a fully equipped home away from home which they are more than happy to take care of themselves, for the duration of their stay.
Proximity to the lagoon! Many guests ask about walking to closest shop. It is about a fifteen minute walk but because of the heat during the day in Aitutaki it is generally more practical and comfortable to have some form of transport. There are plenty of hire places on the island for cars, bicycles and motorbikes. We offer a small rental jeep for a very reasonable daily fee and will certainly assist our guests in accessing other transport options.. During the week shops and businesses are open in Aitutaki (except on public holidays). On Saturdays most stores are open except those who observe Saturday Sabbath - on Sunday there are just a couple of food stores open. Wifi is available at a good number of hotspots located all over the island. Vouchers can be purchased from stores or the Post Office - internet is reasonably fast!
Amazing air bnb. Best one we have ever had. We were treated like their personal guests. You definitely have to rent a car or motorbike as you are away from any restaurants. Hosts have some you can rent. Would highly recommend it
Chloe
March 2017
Enjoyed the stay
Paul
September 2016
A beautiful place to stay. Jenny and her husband are lovely, genuine and thoughtful people. We really enjoyed our stay with them in the cute little cottage. The cottage is simple but has everything you need including cooking facilities and a nice cool sea breeze - lovely at night and during the midday heat. We were able to get around the island easily with the rental car. People on Aitutaki are really friendly and laid back and the whole island is pristine clean. also the beaches are just as beautiful as the brochures show! We tasted the really delicious fresh food. Jenny's recommendations were spot on. I recommend Aitutaki for a relaxing holiday in the sun and we especially appreciated being out of the tourist spots and enjoyed the local vibe.
Sarah
October 2016
Our stay Dr. Jenny was fantastic. The accommodation was perfect and Dr Janny provided everything we needed. She even picked us up at the airport very early in the morning! They were fantastic hosts and incredibly accommodating. It was a fantastic trip!
Katie
March 2017
If you need rest and relaxation and don't mind being away from touristy spots then you may have found a place that allows you to feed chickens and bake your own banana bread from home grown bananas in your own kitchen. We loved our stay with Dr. Jenny and Dr. Roro.
Darren
December 2016
There is no question about it: Aitutaki is a wonderful place to visit, however, the highlight of our trip was meeting Jenny and Dr Roro. They were fantastic hosts, more like friends really. Not to mention their knowledge of local history, places and customs, we simply loved it! If you wish to wake up in paradise sipping fresh coconut in the morning, and munching passion fruit and paw paw on the balcony overlooking the incredibly turquoise lagoon, we recommend you to pay Jenny and Dr Roro a visit next time you visit the Cook Islands
Steve
November 2016
Really friendly hosts and the place was nice and cozy. They were super helpful and they made our stay in Aitutaki wonderful!
Jamila
February 2017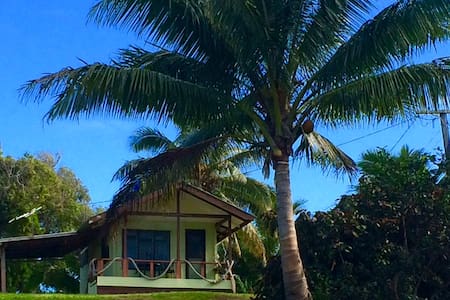 Are you looking for a spacious bungalow situated on private beach, where you have the freedom to make bonfires, go kayaking, snorkelling and make unforgetable memories? Look no further. The bungalow is right on the beach, ideal for couples, solo adventurers, honeymooners or families. Entirely screened, facing the beautiful sunset. You can enjoy two sea kayaks, snorkelling right in front of the Bungalow is an amazing experience and you can make bonfires right on the beach.
A spacious, self catering bungalow, situated on a secluded beach, right before Aitutaki's famous lagoon. Privacy and peace is guaranteed. You will have full access to your bungalow- hot water, air conditioning is avaliable as well as your own private beach and equipment (Sun lounges, kayaks, hammock and snorkeling gear). The manager is not on site, however, they are only 7 minutes away if needed.
We highly recommend that you rent a scooter or a push bike during your stay- do it early to avoid any disappointment. Prices are between $20 to $30 for a scooter depending on the period of time you rent it. To drive in the Cook Islands, you will need to obtain a Cook Islands Drivers license from the Police Department. For a motor car license, just present your current drivers license to the authorities so that they can produce you one. Driving is on the left-hand side and the average speed is 40km/hr. Drivers of all vehicles are required to have a current Cook Islands Drivers License, which can be obtained from the Police Station located behind the Aitutaki market on the waterfront pier, just right at the main 4 way junction, a charge of NZ$2.50 applies- you only need to present your own license in order to receive a Cook Islands License, this applies to Aitutaki only. (URL HIDDEN) - Highly reccommended that you bring along some reef shoes and snorkeling gear - Pick up and drop off from the airport is recommended and $10 one way for each passenger -There is also a $20 fee if you want your suitcases picked up/dropped off from the airport or vice versa
Best place in the best island of the Pacífic. Out of the tipical tourist resorts where everything is more expensive and you are just a "$-man" but w. the same commodities and services and also better views, terrace and views. All the kitchen, snorkeling and kayak equipment was brand new and the rest of the stuff of the bungalow clean and as perfect as your home.
Juan
August 2016
Lovely stay, Soso was very good at communicating in the run up to our trip. The bungalow is really pretty and the location is great. I would recommend this accommodation.
Richard
January 2017
We had a great time and really loved the privacy, giving us a very real experience of Aitutaki.
Sandy
September 2016
The location is perfect, simply paradise! But you sould know that there is no drinking water and the nearest shop to get it is twenty minutes away. If you wat to refill free of charge at the water tank, you have to walk an hou and water is really too heavy to carry, which means you need a scooter or a car. Internet available means you can get a sigal and you have to buy it for the time you want it. The tv does not work, but otherwise you will find everything you need for a comfortable stay. As there was nobody there to meet us we did at first not find the washing mashine, did not know where to put the rubbish und most important how to get drinking water. After we got ourselves a car, shopping and getting water was easy. There is a second beach villa next to the one we stay which is a real dump, rubbish in the back yard and glass splinters under the palm trees. Overall we loved staying there, enjoyed the quiet, the stunning view and the very slow way of life. People on the islsnd are friendly and helpful. There are a lot of wild roosters around the house, they will wake you very early.
Karin
February 2017
Great bungalow right on the beach. Its about 2 km down to the closest store and gas station where you can rent a scooter, which is a must for Aitutaki, otherwise you won't enjoy it the the fullest. We have had great time Kayaking around which are available free for their guests, plenty fruits available on the island, mangoes or bananas. If you want someting special go to the fruit market early in the morning they might have wifer selection than afternoon. Pirooki lookout is another must to do. Rely on Bishop cruise which blowes your mind with other islands around the lagoon. If you are not on budget I recommend taking a private water taxi which takes you anywhere and you enjoy the tour without the crowd. Ootu beach is great for swimming and enjoying the sun. Great burgers are at Aitutaki Cafe, if you're looking for a decent dinner book a table at Aitutaki Lagoon and Spa, make sure to come when a show starts. Meali the host is a very welcoming person, you will love it. Take a book with you just in case you get bored, this place is absolutely great for a rest, sleeping, reading, music and plenty fun. Enjoy!
peter
January 2017
What an amazing place we had a fantastic experience right from the airport pickup/dropoff with the lovely Joanna. Accommodation was perfect, well equipped, very quiet and private. Our host Meali was amazing, very helpful and nothing was a problem. A gorgeous spot within walking distance to Cafe's & Restaurants if needed. The weather was amazing. We will definately be back.
Pauline
November 2016
Staying at Okoitu Beach Bungalows made us feel like the most fortunate people on the island - to have the privacy of our own beach with the convenience of nearby restaurants for a much more reasonable price was just brilliant - i couldn't recommend it more highly and wish them all the success they deserve in renting this slice of heaven :-)
Jessica
October 2016
We have just had an amazing week here... what a find. Beautiful location, great facilities kayaks and very new snorkelling gear, comfortable sun loungers and decking furniture. Well equipped with the added bonus of a smoothie maker in the kitchen. Would recommend 'Aitutaki Adventures' for a superb day swimming and snorkelling on the lagoon - lunch food was the best on the Island. Tip - go on a Sunday as Poona was the only tour boat operating so we had the lagoon to ourselves.. Would very much love to come back... Many thanks Soso.
Sally
January 2017
Amuri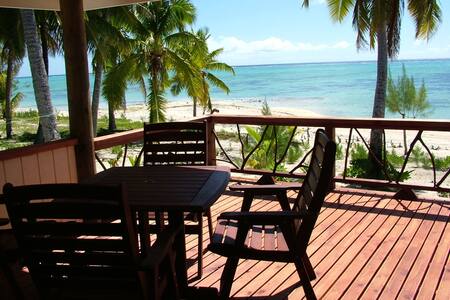 Our place is a beachside bungalow near the Aitutaki lagoon edge, in an unspoilt area of the south western side of the island. With your very own water's edge paradise, you can be certain to have a peaceful and relaxing holiday.
Petero's Place is located on the water's edge, in a tranquil and secluded beautiful spot on the western side of the island. It is perfect for couples or a single person wanting timeout - We provide a good quality place and believe in doing everything we can to make your stay comfortable and memorable. Imagine watching the sunset on the deck with a beer or glass of wine, or cup of tea. Or catching a cruise across to Maina on the yellowboat, or Teking Cruises – 10 seconds walk from Petero's Place. You will have access to the entire bungalow for yourself with self catering and an ensuite bathroom. The unit has a deck overlooking the lagoon, and it is also secluded. Rakamo Raela fondly known as Ra, is the bright cheerful caretaker of our place she will meet you upon arrival at Petero's with her natural beautiful smile – and see that you are settled in and she will take care of you and make you feel like you are at a home away from home. If you would like a lagoon adventure, or fishing within the lagoon or deep- sea fishing, kite surfing, or a hired vehicle, Ra can organize that for you.
Petero's Place is located on the western side of the island, and right on the water's edge, in a secluded area. It is seconds away by foot to where you can catch a lagoon cruise, fishing trip or kitesurfing trip to Maina and about 10- 15 minutes walk to town. When you arrive in Aitutaki (fly in from Raratonga), we can provide airport transfers at NZD$20 per person. As part of our service to you, we are able to organize a rental car or scooter to be delivered to the airport or to Petero's should you require one. You will need a scooter or a motor vehicle to visit the shops, cafes and other areas around the island. The beach in front of Petero's Place is not ideal for swimming but we can advise you where to go for snorkelling and swimming. For Rainy Days we have TV and DVD player.
Ottima l'accoglienza, imprecisa la descrizione dell'alloggio e molto tranquillo il quartiere.
Raffaela
August 2016
Thoroughly recommend this place, Mat made a great 10 day trip even better. Will certainly stay again...absolute paradise with great modern touches.
Robbie
September 2016
The place is awesome....great views, 10 meters away from the beautiful coloured waters edge, clean, welcome fruits...quick drive or walk to towncenter. Aitutaki is brilliant and relaxed. Make sure you join a lagoon cruise...ra and lovina took good care of us while we were there they can organise trips for you....make sure you hire a scooter...can also be organised so its ready when you arrive. There are some roosters around the property...only sometimes they start quiet early. Thanks ra, pepe, lovina and mat for taking care of us. We had a great time and surely coming back one day.
Sebastian
February 2017
Mathildas bungalow was lovely. Right on the water's edge and very secluded. It was just what we needed and a great base for our kiteboarding trip.
Natasha
August 2016
Quite place nice and clean, enjoyed my stay here
Stephen
October 2016
Mat's house is excellent. Mat, Ra, and Pepe made us feel like family. Our trip could be an Airbnb commercial. Mat took us shopping for jewelry, local fruit and made dinner for all of us. Pepe took us out to One Foot Island (a must) on his boat. Twice! The house is very clean, quite and right on the beach. It is not a good swimming beach but it is a 30 second walk to the boats that will take you anywhere you want to go and the sunsets are unbelievable. We would recommend this to anyone who wants a real island experience. It is close to the harbor and town but a scooter (or car) is a must.
Jayme
January 2017
Arutanga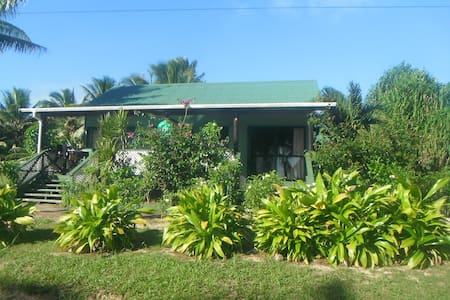 My place is close to Within 1km from the Airport, close to very nice swimming beaches on the lagoon fully air-conditioned King Size Bed in your spacious room with private spacious undercover private dinning area. This Hotel is 100% powered by the sun and even offers 100% electric Nissan Leaf rental cars onsite to further explore this paradise. We offer adding rooms for families, private boat charters with the Hotels own boat and local skipper to explore the wonders of the Aitutaki Lagoon
very comfy quiet king size bed and spacious bathroom Lagoon Lunge, each room has a private patio dinning area
Aitutaki
Beautifully appointed beachfront bungalows. Each Bungalow is absolute beachfront and well equipped with an open plan kitchenette, lounge and dining area; has a separate bedroom with ensuite and a spacious deck looking out to the lagoon.
Each Bungalow is well equipped with an open plan kitchenette, lounge and dining area and has a large deck facing out to the lagoon. Watch whales play on the outskirts of our reef, see the cheeky trevally's chase the smaller fish on shore and marvel at the stunning beauty of our Aitutaki lagoon. Lay in your hammock with a good book, or simply look up and get lost in the gentle sway of the coconut palms overhead. Come and enjoy the smiles, drumbeats and gentle culture of Aitutaki. We look forward to welcoming you to Paparei Bungalows, Aitutaki - A dream come true... BBQ available on site, as are beach loungers, picnic tables, snorkeling equipment, wifi (charges apply) and more... We can help arrange your dinner reservations, car hire, snorkeling tours and more.
Paparei Beachfront Bungalows is only a short walk to shops, restaurants, takeaways and bars. Most visitors to Aitutaki will also hire a car or scooter to get out and about too.
We stayed 8 nights at Paparei Bungalows and didn't want to leave. It's just perfect there and Vicki is a lovely host. Go there=)
Fabian
January 2017
Don't hesitate. It's a gem. Hosts are wonderful people. Clean & so comfortable. Highly recommend.
Heather
July 2016
Wonderful place to stay, we enjoyed every single moment. Perfect location, beautiful Sunsets, spotless bungalows and lovely and helpful hosts.
Janina
February 2016
We were made to feel very welcome by Vicki from the moment of our arrival. The bungalow is literally on the shoreline, with only sand and coconut trees between the porch and the water. The bungalow itself is fairly basic. No oven, just a microwave and large electric frypan to cook with. But it's comfortable and suited us fine. You'll need a car or scooter to get around. Vicki is very hospitable and helpful. Our boys loved the location and made friends with some of the local kids. Free (rain)water and unlimited coconuts were a bonus!
Paul
April 2016
We spent 5 nights at this wonderful place. The bungalow was perfect for us as a couple and had everything we needed. The view right on the lagoon is just amazing. We loved to relax on the sunbeds and enjoyed the stunning sunsets. Vicki was just a perfect host. She was so caring and helpful with all our questions we had. We highly recommend this place.
Nik
August 2016
Aitutaki