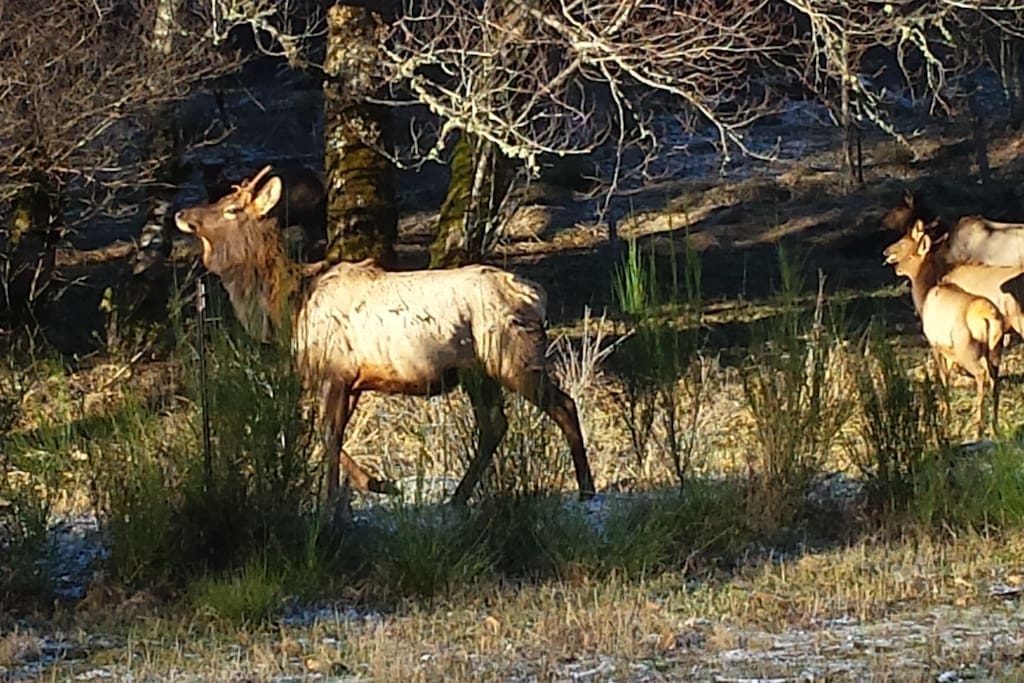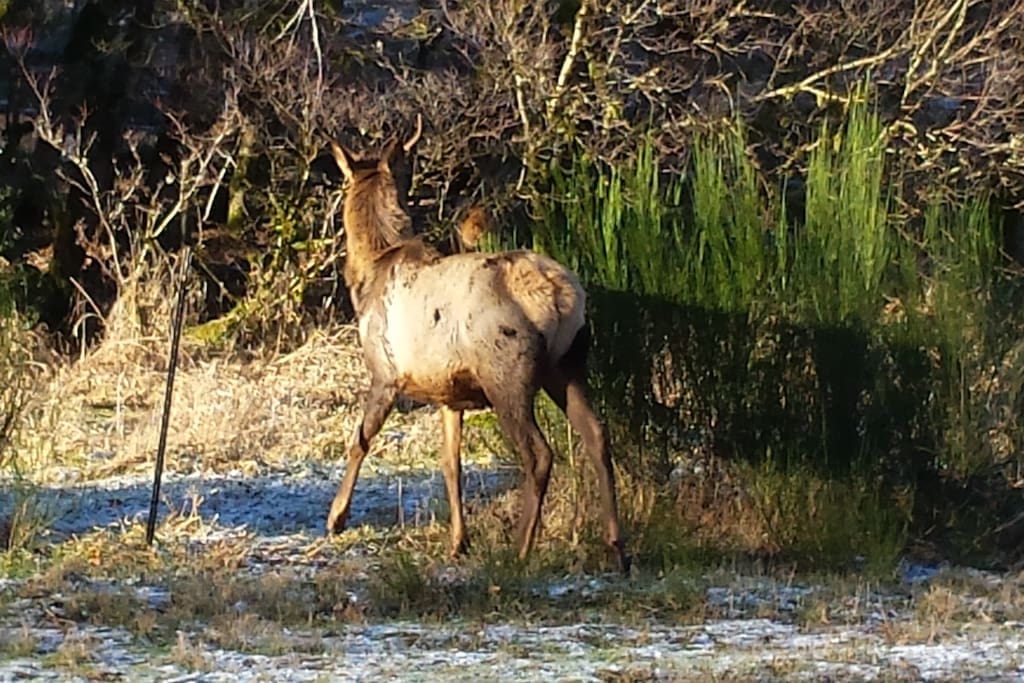 感觉在这个小屋的家中,你盯着流淌的小河,摇曳高耸的杉木和雄伟的山顶。 Rainer山麓小丘步行到两个游泳池,或者在被树木包围的大型场地打网球,篮球或足球。高山附近雷尼尔。
Feel at home in this cabin as you stare out at the flowing creek, swaying tall fir trees and majestic Mt. Rainer foothills. Walk to the two pools or play tennis, basketball or football in the large field surrounded by trees. Hike near Mt. Rainier.
房源
这是一个非常舒适,温馨的乡村小屋,完美地位于流动的小河旁边,享有Mt Rainier国家森林的景色。靠近远足,爬山,滑雪,钓鱼,游泳,划船和漂流。你会很轻松的住在这里!
This is a very cozy, warm rustic cabin that perfectly located next to flowing creek, with a view of Mt Rainier national forest. It is near hiking, climbing, skiing, fishing, swimming, boating, and rafting. You will be so relaxed staying here!
房客使用权限
客舱设有带冰箱/冰柜的厨房,电热灶,微波炉,咖啡机和过滤器,杯子,炊具,盘子,眼镜,餐具和炊具。 客舱内有洗碗皂,液体肥皂,擦洗垫,卫生纸和洗碗碟。 您将需要携带自己的食物。 供应木柴 小屋内设有一个户外木炭烤架。 小溪旁边有一个户外的火坑,可以享用烤蛋糕。 舒适煤溪小屋有一个燃木炉。供应木柴
The cabin has a kitchen with a refrigerator/freezer, electric range, microwave oven, coffee-maker and filters, cups, cookware, plates, glasses, eating and cooking utensils.
The cabin has dish soap, liquid bath soap, scrub pads, toilet paper and dishtowels.
You will need to bring your own food.
Firewood is supplied.
The cabin has an outdoor charcoal grill.
There is an outdoor fire-pit next to the creek to enjoy roasting marshmallows.
Cozy Coal Creek Cabin has a wood burning stove. Firewood is supplied.
其他注意事项
不幸的是,在这个时候没有洗碗机。此外,请不要移动任何空间加热器 - 它们现在在单独的电路上。 你可以听到舱内的小溪。它一直流动。我们喜欢的声音,所以大多数人,但如果这麻烦你请带一些耳塞。
Unfortunately, at this time there is no dishwasher. Also, please do not move any of the space heaters - they are on separate circuits now.
You can hear the creek inside the cabin. It flows all the time. We love the sound and so do most people but if that bothers you please bring some earplugs.
---
---
---
共用空间
1张大床, 1张双人床, 3张单人床, 1张沙发
---
No dogs or cats please, no indoor smoking please.
---
---
---
Our family very much enjoyed our three nights at Dirk's cabin. We arrived rather late in the evening and it was pretty hot in the cabin, but after we propped open the doors and turned on the fans it was fine...we started the night with just the sheets, but were all pulling up the blankets by morning. It was delightful to have the creek lull us to sleep at night and greet us with it's song in the morning. We enjoyed hopping around on the rocks through the creek a bit, but the water was too cold for me to get in. We were a little disappointed that we couldn't enjoy the firepit due to the drought/burn ban in effect, but that's certainly not Dirk's fault. Be aware that there is no phone service or wifi, but we connected for a moment when we went shopping at the IGA grocery store and that was fine for us. Dirk's suggestions for hikes were perfect, and he even told us which day to hike where due to the weather forecast. We did the 5 and a half mile Skyline loop trail at Paradise. The Grove of the Patriarchs was impressive, but our favorite was the trail to Silver Falls from (URL HIDDEN) very close...don't miss it!
---
I love my wife and kids to the moon and back... to the moon and back... to the moon and back... to the moon and back... to the moon and back.........

Previous Lines of Work: I have been working in the Computer field for almost 30 years but have been a professional track athlete, anatomy and physiology teacher, painter, landscaper, fry cook and dishwasher

Where I Volunteer: RHKids, Royal Ranger, family, friends

One of the Things I Find Most Fascinating: discovering how science proves creation

FAVORITE
Thing to do: climb mountains, hiking, sailing
Book/books: the Bible, Same kind of different as me, the Universe Next Door, I'm Glad You Asked, Mere Christianity, My Side of the Mountain, Dove, Into Thin Air
Food: anything my wife cooks; Tillamook marionberry pie or chocolate peanut butter ice cream, perfectly ripe pear, strawberry or watermelon, blackberries, Nachos with the works, pizza; water; hamburger
Snack Food: cold water, cheese, wheat thins and little bell peppers, beef jerky, soy nuts, snickers, butterfinger
Movie: The Jesus Story, The Passion of the Christ, Expelled, Any video by "Answers In Genesis", Terminator, anything Bond, Die Hard series, Bourne, BraveHeart, P.S. I Love You, You've Got Mail, An Affair to Remember, Anne of Green Gables, Forrest Gump, Remember the Titans, Rudy, The Blind Side, FireProof, any well done true movie when someone comes to faith, when good conquers evil or when the underdog wins
TV Show: Home Improvement, Survivor, Survivorman, Man vs Wild
Time of Day: Early morning, late night
Season: Summer
Place in the World: South seas, my dad's condo in Hawaii, my dad's houseboat in Sellwood, on top of any mountain
Place to Pray: On top of Communication Hill at Wildhorse, running in the woods, late at night looking down at my sleeping child
Recreational Activities/Hobbies: sailing, backpacking
Sports Team: Any team my kids are on
Sports: track and field, any Olympic sport, any close match in any sport, any sport where I know a competitor

LEAST FAVORITE
Food: lima beans, brussel sprouts, ratatouille, a seemingly ripe fruit but it's overly ripe
Snack Food: I didn't know there is a bad one
Time of Day: usually none but if I'm really, really tired it can be anytime
Best Things Different People Have Said to You: Your family is blessed to have you as a husband and father; your dad loves you very, very much; you're a good man, Dirk; I want to grow up to be like you Dad.

Life Motto: Love God and Love People
People I'd Like to Meet: Jesus, Apostle Paul, my grandmother in Heaven, C.S. Lewis, anyone who's just found Jesus especially my family or friends

My Hero: Jesus
Two of My Greatest Experiences with God: the first few days I realized there was a God; on top of Communication Hill at Wildhorse looking up at Orion's belt, listening to the baby coyotes, as the sun started to rise
Most People Don't Know This About Me: I'm very, very funny ;-)
语言:
English