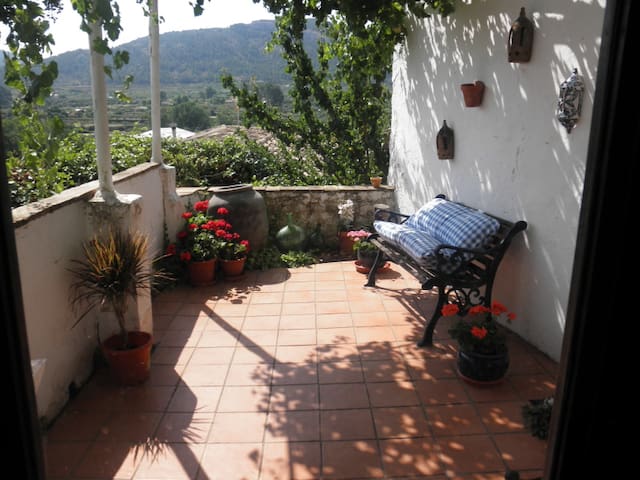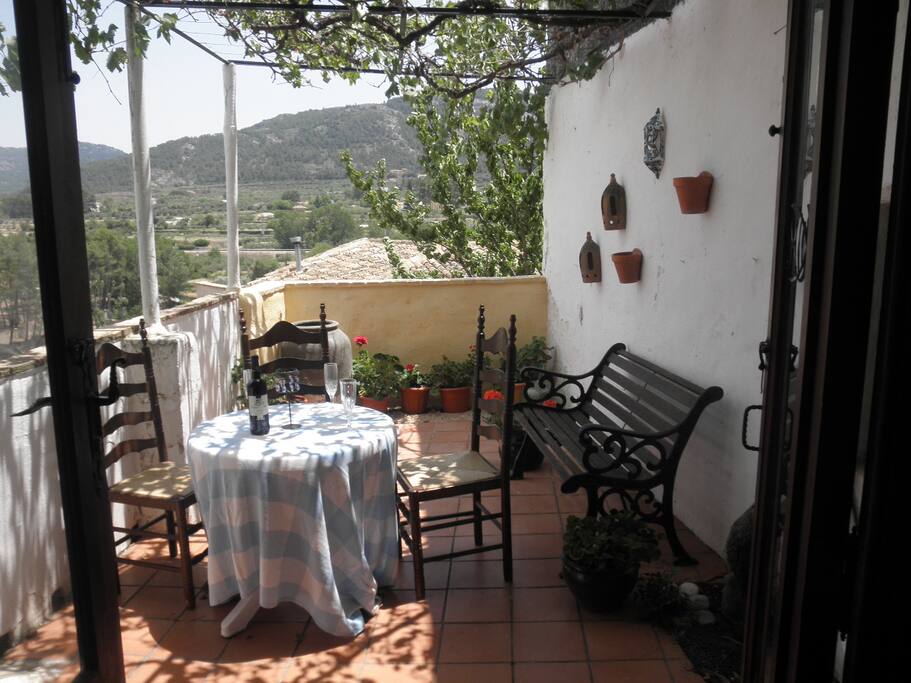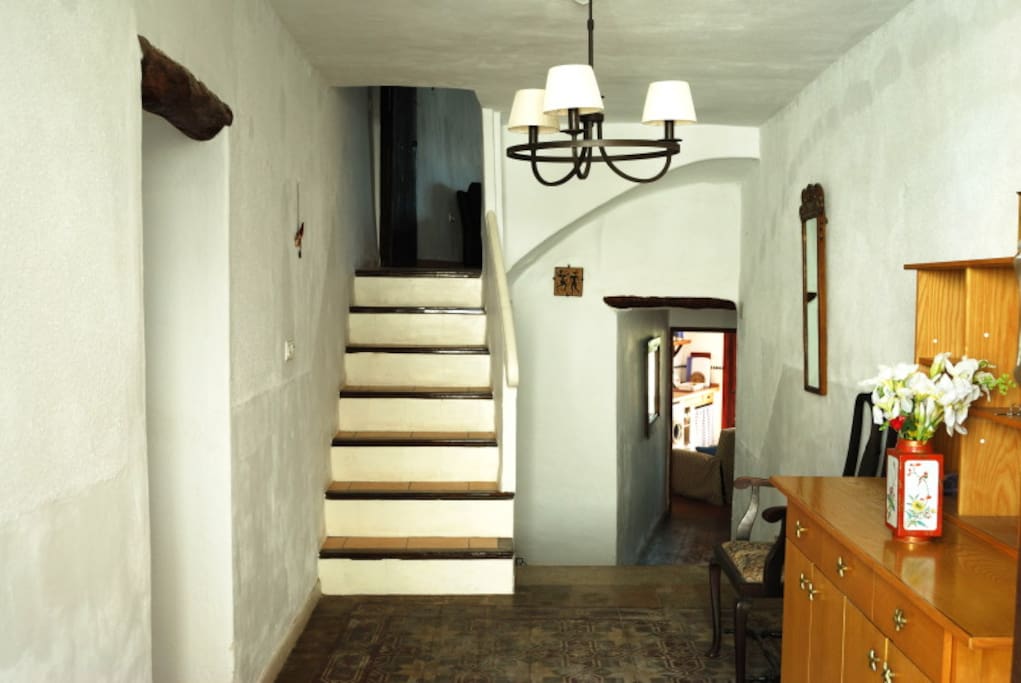 Our c.15-1600, renovated 3-bed. House was probably a Valencian merchant´s home. It has some great country views being located in a traffic-free street at the back of a Medieval hill-town.
Well located, furnished & equipped, sleeps 4 persons, Maximum.
Free parking at approx. 150m. You can see the walled car park (see photo) and your car - if you park here - from the patio of the House.
*Min. stay 2 Nights.
*2 days' advance booking notice (for preparation) thanks.
房源
This house combines the nature and feel of the countryside with all the amenities of a small town.
The house itself is in an excellent location on the edge of the district, approx 3 minutes walk into beautiful countryside and mountain walks and also within a few minutes´ walking distance of the old town and all its facilities: Banks, bars, cafeterias, restaurants, shops and their wi-fi connections etc.
This house has some fantastic views of the mountains and countryside.
The house includes:
- 1 patio under the grapevine
- 2 x double, upstairs bedrooms
- 1 x attached, child's bedroom (not currently listed)
- 1 x reception, Ground floor
- 1 x sunny/dining room next to the lounge
- 1 x bathroom, Ground floor
- 1 x lounge
- 1 x kitchen.
THE LAYOUT:
The house has a traditional layout of individual rooms, with the kitchen at the back of the house and lounge upstairs with views of the old Moorish Caves.
The house measures approximately 200-250 square metres including storage, and is comfortably furnished with both traditional and modern furniture in a country style.
The patio is at the back of the house leading off the kitchen, where on hot summer days you can dine al fresco under the shade of the grapevine. It is south-facing and measures approximately 4 metres long x 2 metres 70 centimetres wide - enough space for a dining table and chairs..

The south-facing, upper terrace*, to the back of the house, measures approx. 3 metres and 88 centimetres long, by 3 metres wide; it is open and gets full sun - on sunny days of course!
*This area will not be available in year 2017, while the roof repairs are completed.

HOUSE AMENITIES:
- 1 x Cooker, gas - bottled
- 1 x Microwave
- 1 x Toaster
- 1 x Coffee Pot (for 2)
- 1 x Fridge-freezer
- 1 x Juice Extractor (manual type)
- 1 x Washing machine (older model)
- 1 x TV
- 1 x Travel cot, suitable for a young baby
- 1 x Baby (or Pet) gate
- 1 x Shopping trolley
- 2 x Deckchairs
- 1 x Patio table - seats 3-4
- 1 x Woodburner (Lounge)
- 2 x mobile Gas heaters
All towels and bedlinen will be provided.
HOUSE REFORMS:
2006: The house was renovated by a local builder to include a new façade, electrical re-wiring throughout and a second bathroom on the top floor.
2008: New, hand-made doors and new, porcelain floors were added to the first and second floors by the owner.
2011: Some new, custom, hand-built kitchen and shelving, replacing some of the old units.
2012-2013:
New floor to the storage rooms.
2017: Jan. (after much rain). Plasterboard repairs to ceiling-beam in main bedroom.
2017: Mar. Roof. Weatherproofing. Bitchumen was added and roof tiles were re-laid. Cement repairs to roof apex.
PARKING:
Free car parking is situated approximately 150 metres from the House (your car, if using this car park, can be seen from the patio), at the back of the medieval district - see bottom righthand corner of listed photograph, towards the end of the photographs.
THINGS TO DO AND SEE
Bocairent has some stunning backdrop scenery, the stuff films are made of, indeed many period dramas and TV programmes are filmed here.
It is an excellent base for walking, being on the edge of the Mariola Natural Park and on the GR-7 European Walk route, amongst many others. If you do not wish to walk, you can hire horses and go riding in the Mariolas, or mountain biking (for hire nearby - see Tourist info) or simply chill out, eating at one of the many bars or restaurants that Bocairent has to offer.
Bocairent has its own Municipal Pool (normally open from the 3rd week in June, all of July and all of August) or you can visit and picnic at pretty Pou Clar (Natural Clear Pools) for free at any time of the year, approximately 15 minutes by car, just head towards Ontinyent on the CV81 road.
There is much to see and do here in Bocairent such as visiting the ANCIENT MOORISH CAVES, the OLD BULLRING, carved completely out of rock, the ICE CAVE and a few small MUSEUMS (see Tourist info at the Town Hall.
The famous MOORS & CHRISTIANS FIESTA is usually held during 2-5 FEBRUARY (check with the Town Hall), SEMANA SANTA/EASTER FESTIVITIES, or many other fiestas during the summer months, such as the Dansetes or TRADITIONAL FOLK DANCING (a re-enactment in traditional costumes, where the shepherds pick their wives at the local dance), or the Fiesta of the ´´Mare de Deu
D´Agost/Virgen de Agosto´´, usually held in AUGUST (check dates with Town Hall), where residents and their families or visitors, sit down to eat and drink in the Placa de San Vicent.
Alternatively you can visit one of the many vineyards of Fontenars, approximately 30 minutes´ drive. There are also OLD ICE CAVES nearby and an ANCIENT (c.4000 years) IBERIC SETTLEMENT, near Vallada, approximately 35 minutes´ drive, which is open during the summer months.
BOCAIRENT´S AMENITIES:
In the old town (approximately 10 minutes´ walk) there are several Banks, small shops, Bars/cafeterias,
some with WI-FI CONNECTION Eg Bar Jijonenca/ice cream Bar. More walking (approx 15 mins) will bring you to the old Bull Ring, & the newer part of town, to more bars/cafes, supermarkets and small shops.
What makes this house unique is its LOCATION, high up, near to town, with its outstanding TERRACE views of the nearby countryside - Bocairent is a special place, steeped in history - a memory you will always take with you. Find out more!
TRAVEL
Airports: Valencia or Alicante, approximately 90-95 km/1hr 15mins.' drive.
Nearest Beach: Gandia/Daimuz, approximately 45 mins´ drive.
Priced at 55 Euros* per night, ANY MONTH, for the whole house, for a maximum of 4 people, including children under 2 years old and one pet.
There is a MINIMUM booking of 2 nights, only payable through Airbnb.
At least 2 days´ notice needed for all bookings.
NB Any changes to bookings must be made through Airbnb.
A Welcome Pack can be provided on arrival, by prior arrangement.
Please leave the House as you will find it.
*Priced at Nov 2016.
房客使用权限
You have access to all of the house minus the storage areas, plus one Ground floor patio. (The upstairs service terrace will be used for maintenance repairs between bookings in year '17.)
None of the house will be shared.
A storage room next to the kitchen will be kept locked, as will the attic rooms, and are not included in this listing.
与房客的互动
We will meet and greet you on the day of your arrival at the House and show you around. If you are arriving late at night, we can make special arrangements for collecting the keys.
We are 'on call' for this House, should you have any difficulties (telephone number supplied on arrival).
We will interact only at your invitation and we will not be present in the house during your stay. We do live in Bocairent and our phone number will be provided for the duration of your holiday in case of any unlikely issues.
其他注意事项
Please respect the house, its contents, and the neighbours
at all times.
Please, no Smoking inside the house.
No drugs inside the house.
Just enjoy!
Thank you.
Note: LOCATION of the house.
It's location has been pictured INCORRECTLY on the listed map and unfortunately cannot be changed, other than by relisting the property.

The House is situated approx. 125 Metres, going to the left, from the Portal and the Hermitage/Ermita de la Virgen de Agosto. It overlooks the nearby, rear car park to the Medieval District, about 600-700 metres past the Town Hall and going through the main square.
Children:
Children are welcome, although the house is old and has certain characteristics (example: stone staircases etc) which may, or may not, be deemed as safe for some young children.
Feedback:
Your comments would be appreciated. Please write a review on the Airbnb website and, if you wish, in the book provided in the dresser (located on the right as you come into the main hall) on how we could improve your stay, what we could have provided, or done differently. Thank you.
Bedlinen:
In the winter months (Oct-Apr), beds will be made up with pillows, sheets and winter duvet, 13.5 tog, although spare blankets are also available and are usually stored in the boot room /reception, next to the bathroom on the Ground Floor.
For the summer months of June-Sept, the duvet will be changed to a 4.5 tog.
Spare clean linen is kept under each bed.
Older, clean bedlinen and spare towels are found in the pine dresser in the boot room off the entrance hall. You are welcome to change it yourself if it does not suit.
A simple FIRST AID kit is provided for your use, on the shelf above the kitchen sink.
On some occasions building work will be happening in the medieval district in order to maintain and improve its status.
---
---
---
不适合儿童(2-12岁)入住,或不能为儿童提供安全的住宿环境
1. Safety First - GAS: It is
advisable to turn off all gas appliances at the gas bottle, by flipping the switch AFTER EACH USE. The gas bottle for the cooker is located in the cupboard directly to the right of the cooker.
2. PETS are allowed in the house. By pets, we mean domesticated animals, for example, dogs, cats, rabbits or guinea-pigs.
Please keep control of your pets whilst they are in the house and clean up after them at all times. Thank you.
3. ALLERGIES: The house has had, and will continue to have, pets staying in it. This means that it is NOT suitable for guests who may have allergies to animals, and that the Owner of the House does not accept responsibility for any guest's allergy. Thank you.
4. Booking. At least 2 days' notice needed before any booking.
5. Smoking & Illegal Use of Drugs:
No smoking or drugs inside the house. Thank you.
6. Please respect the house and the neighbourhood at all times and leave the house as you find it: clean and tidy.
Important : Don't ask me to break a rule; these are the Owner's rules!
---
---
---
---
Enjoys adventure, walking, swimming, reading. Likes caring for people and animals; and has cats at home. Likes eating different food, including Indian, Thai and Chinese; enjoys meeting different people and learning about their cultures. Likes the freedom of travelling, especially ski-ing with friends, and is planning to ski again next year. Also planning to travel with my partner to Singapore/Malaysia where I lived as a child.
语言:
English、Español