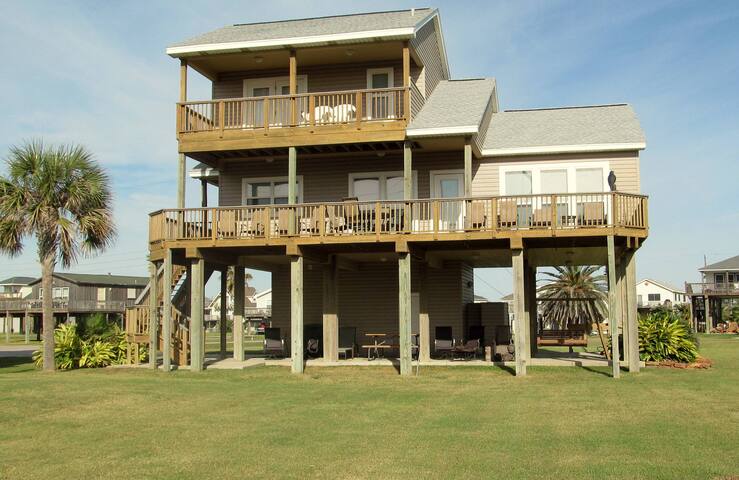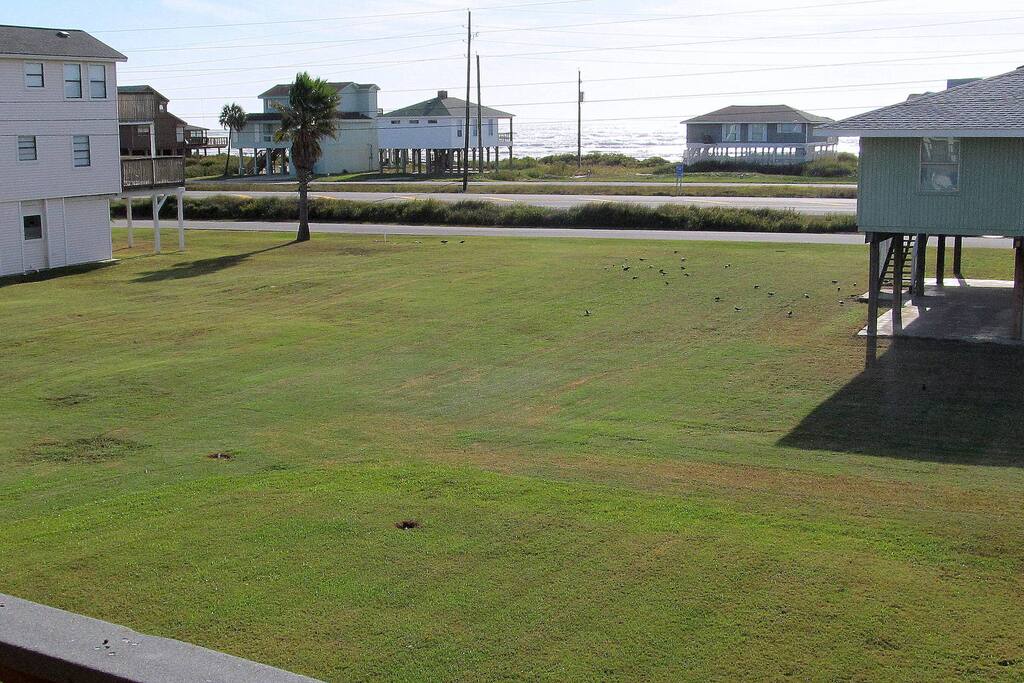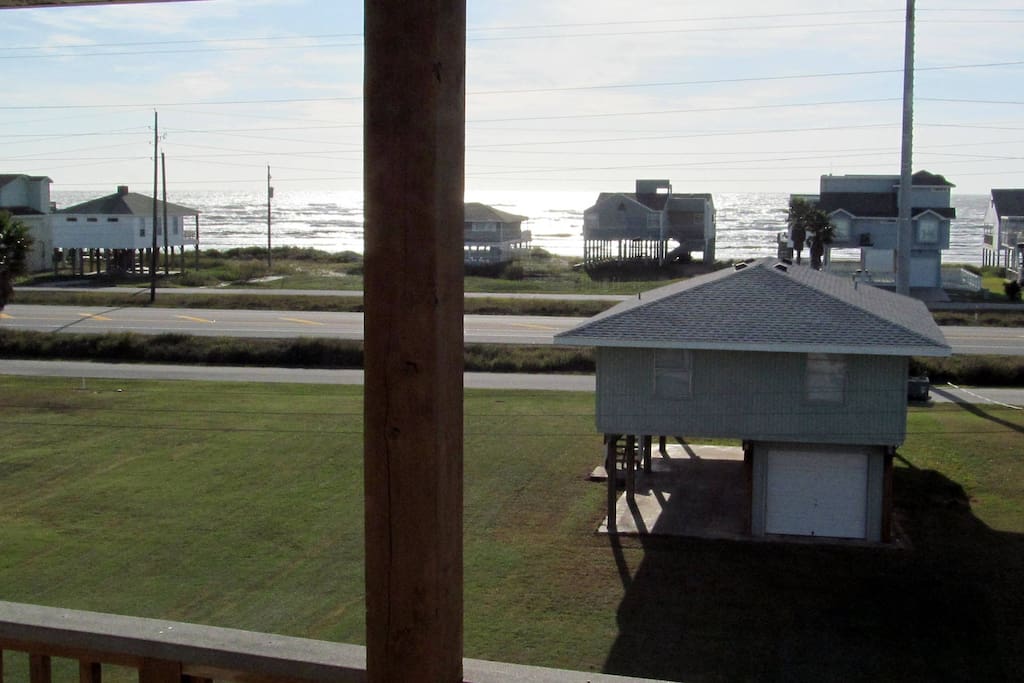 Our Beautiful and comfortable home is perfect for a great vacation at the beach. The master is separate from the other bedrooms and has a large covered balcony with beautiful ocean views. All mattresses are quality Serta brand and very comfortable.
房源
Our large picturesque beach home will bring you days of relaxation, enjoyment, and comfort! It is a 3-2-2.5, with secluded master upstairs. There are large covered decks with lots of seating and additional stackable outdoor chairs for overflow. Baby friendly with all equipment listed below.
Our listing is unique in that the home is extremely comfortable with secluded master, nice Flat screen TV's in living room and Master bedroom, and very kid and baby friendly with full size crib, rocker, chairs in two bedrooms, mini high chair, and safety gates for inside stairs and outside deck. Also, there is outside shower with hot and cold water and bathroom in garage. Also has ground level propane grill, small fire pit, picnic table, and garage refrigerator for outside cooking. Home is within easy walking distance to beach, about 1 and 1/2 blocks. A neighborhood pool and boat launch to the bay is available for renters use. There is a built in fish table downstairs for easy cleaning.
Bedroom 1 has a king bed, twin size bunk bed, and rocker/recliner. Bedroom 2 has queen bed, twin size bunk bed, rocker/glider, and full size crib. Master upstairs bedroom has two double beds, full bath, and large covered outside deck with patio furniture.
Guests will have access to all areas of home and garage mentioned in description. There is a neighborhood pool and home is within easy walking distance to the beach, about 1 and 1/2 blocks.
We live 45 minutes from our home and are readily available by phone and email. We want our guests to be assured of their comfort and enjoyment while staying in our beach home.
The neighborhood that our beach home is located in is Terramar Beach, Galveston Texas. It is a quiet, family friendly area. Our home is especially in a quiet area in that there is no houses on three sides of our home.
---
---
---
RENTAL AGREEMENT
CANCELLATIONS - I agree that unforeseen emergencies do occur and CANCELLATIONS must be given in writing 30 days prior to the arrival date of my reservation. We do not give refunds for any circumstances including WEATHER, HEALTH or TRAVEL ISSUES.
PETS - Our home is allergy free, so I am sorry to say no pets allowed.
RENTER'S RULES - We only rent to family groups and responsible adults over the age of 23. Any special occasions such as weddings, receptions, family reunions, prom parties, senior trips, fraternity or sorority parties, large birthday parties, and graduation parties are not allowed at any time.
All reservations are screened, including online reservations. Adults cannot rent properties on behalf of underage quests, no exceptions - this is grounds for eviction and forfeiture of all monies.
OCCUPANCY RULES IN HOUSE AND ON PROPERTY - No more than 12 individuals are allowed to rent our home. And, if renters have guests over during the day, no more than 20 individuals allowed on the property at one time.
PARKING/ALLOWABLE VEHICLE NUMBERS - Cars are limited to a total of 6 vehicles. 4 vehicles in the driveway, and two vehicles can be parked to the left of the home ("to the left" as if you are standing in the driveway and looking directly at the garage) in front of the empty lot. BY NO MEANS ARE RENTERS ALLOWED TO PARK ANYWHERE ELSE ON CUL-DE-SAC. Also, if a RV is brought then only 5 vehicles are allowed in addition to the RV, or if a boat or trailer is pulled behind a vehicle than only 4 additional vehicles are allowed in addition to the vehicle pulling the boat or trailer.
NOISE/FIRE WORKS - Loud music and noise is prohibited. Non street-licensed vehicles (such as 4 wheelers, go carts, dirt bikes, scooters, ATVs, etc) are not permitted. The property is non smoking. No smoking is allowed in the house or anywhere on the property. No fireworks are allowed on the property at any time.
CHECK-IN IS 4:OO PM AND CHECK-OUT IS 12:00 noon. FLEXIBLE TIMES MAY BE AVAILABLE UPON REQUEST, DEPENDING ON RENTAL SCHEDULE. HOWEVER, IF AVAILABLE, CHECK - IN BEFORE 11:00AM OR CHECK - OUT AFTER 8:00 PM WILL RESULT IN AN AUTOMATIC ONE TIME CASH FEE OF $75 EACH, PRIOR TO OBTAINING KEY.
HOUSE RULES:
Enjoy your stay! Please treat our home with the respect you would treat your own home.
MANAGING TRASH - When checking out, please take all food with you or toss in trash can. Bag all trash and place in outdoor trashcan downstairs by garage. Pull trashcan out to curb for garbage pick up. Garbage pick up comes early Monday mornings.
MANAGING HOME EFFECTIVELY - Even though you have paid a cleaning fee with your rental, this is for managing beds and deep cleaning. Therefore, we are asking you to please keep dishes washed up or place them in dishwasher and start it up before leaving. If there are a few left in the sink, that is fine. Housekeeper well manage those. This helps ward off ants/bugs and smells. You do not need to do anything with beds or bedding. Housekeeper will manage those. However, please wash and dry towels and dish cloths as needed during your stay. If you have a few towels dirty after bathing on the last day and dirty dish towels, do not worry about them and just leave them on the dryer for housekeeper. Please only use beach towels that are in garage bathroom, for the beach. Please help with our fight against sand and wash off after enjoying the beach, in the outside shower behind garage before entering the house.
AT THE END OF YOUR STAY - When leaving at the end of your stay, turn off all lights and small appliances. Please place air condition on 74 degrees for both upstairs and down stairs. Or if you are staying in the cold months, please place heater on 68 degrees. Please treat thermostats like "china" and push buttons gently. Please do not put air-condition under 68 degrees or you will risk freezing up the system. Please note, in the hot summer months, doors and windows must remain closed at all times or the house will not cool down and stay cool as needed.
LOST KEY - If accidentally lost key or locked self out between 11:00am and 8:00pm, there will be a $100 cash fee for home owner to bring another key. If this service is needed before 11:00am or after 8:00pm, the fee will be doubled to $200 cash. So please guard key carefully.
Liabiltiy - The homeowners are not liable for any accidents, illness or injury, in or around home or property.
---
---
My husband and I have 4 grown children and 3 small grand children and have lived in the area many years. We look forward to hosting you and your family in our beautiful and comfortable beach home.
语言:
English