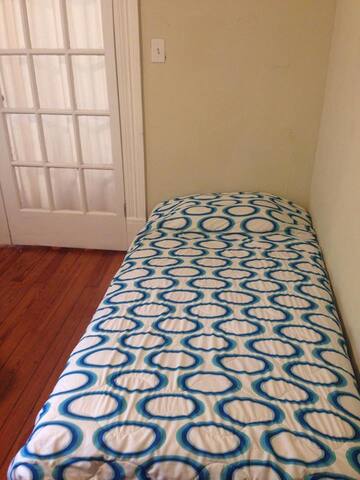 房子位置比较好找,地铁转公交,在路边。离CNN、奥运公园大概30多分钟路程。但房东的电话打不通,只能通过Airbnb在线消息联系。厨房设施比较齐全,卫生间比较干净。
Translation: House location is easy to find , subway transfer bus , in the street . From CNN, the Olympic Park is probably more than 30 minutes away. But the landlord could not get through , only through online message contact Airbnb . Kitchen facilities were complete , relatively clean bathroom .
---
This place was unique! I had a pleasant experience staying at Tim's place. I had my own TV, Couch, bed was comfy, laundry and washer were accessible! Downtown, Atlanta was accessible with a bus and a train ride! Bus stop is literally outside the house! I would definitely recommend people to stay and Enjoy this place!
---
The house was decent, a great place to sleep for me. I didn't need too much, just a comfortable bed. The house didn't seem to have a common area except for the kitchen, so hanging out with the other house mates is kind of limited. All the spaces are turned into bedrooms. The neighborhood was a bit scary, but I wasn't there for very long, so maybe if I'd have been there longer I could've gotten more comfortable. It was a fine stay for my needs, and a great price.
---
Everything here at this airbnb.com listing was exactly as described by the host, prior to me actually booking the reservation a couple months in advance. Accommodations were exactly what I had expected after first thoroughly reading the host's listing, and overall, this was certainly a very good deal. Although I didn't spend much time in the home itself during my visit here, (as the majority of my time was spent in the city of Atlanta itself), all of the other houseguests were still very welcoming and hospitable when I was actually at home. Similarly, the host himself was not only accessible, but had also checked in with me periodically throughout my stay, in order to ensure that everything was indeed going well, (which it was). As for the house itself, it was centrally located next to several different stores, as well as one of the main MARTA train stations. The fact that the house was also located close enough to both Hartsfield-Jackson International Airport, as well as Downtown Atlanta, was also an added plus. Overall, my experience here at this airbnb.com listing was quite pleasant, and I would certainly recommend this house to anyone else in the future who may be travelling to Atlanta!
---
The room was as described and provided basic accommodations. Tim is a pretty easy-going host, and he did check up on how everybody staying in the house was doing a couple of times during my week-long stay. I liked that there was a washer and dryer in the house, plus the people I met were very kind and interesting. The neighborhood is a bit dodgy and that may unsettle a few folks who are not used to it. However, the MARTA 95 bus stop is less than a minute from the house. It took me 30 minutes to get to Midtown in the morning. It does take longer after 9pm to go back from Midtown (1.5 hours). Also, there's not a lot of dining options close by so that should also be taken into consideration.
---
Great for budget travelers . Nice twin size bed in shared room in an historic neighborhood close to downtown Atlanta and Marta bus stop is across the street. Train station is a 15 min walk. Super laid back accommodations free Wifi nice hot shower all linen and towels provided kitchen and washer dryer for your use.
---
I am a very relaxed and easygoing and open minded guy looking to host people and make new friends around the world. I have always wanted to work in the hospitality industry since I was a kid it was a dream of mine to own my own b&b. I lived in my home on Tift Ave for almost 15 years. I have hosted many friends and travelers from around the world in my historic home. Now that I found out about AirBNB, I am opening my home to you. I now have five properties close to downtown Atlanta three in historic Capital View neighborhood and two in Historic Adair Park neighborhood. they are both very close to downtown and walking distance from the marta train station and bus stops so Its very easy to get around the city without the need for a car. Several of the homes also can be booked entirely for larger groups.I also have many hostel spaces available great for travelers on a budget. I have male and female dorms. I love to share travel stories drink good wine and eat good food. I like almost anything as far as food goes and red and white white alike as well as a good beer. I really don't have any major rules just be a polite guest as I will be a great host and even show you around if you need me to. I also love the outdoors and know some great places to hike in Atlanta. I also love to cook, drink wine or beers and eat good food and have a Nice large kitchen for you to make yourself at home in as well as each house has a great private backyard and fire pit and large front porches, I live on Tift Ave has 4 outdoor cats and a small dog Alvin you will love. My other properties do not have any animals unless a guest happens to have one.