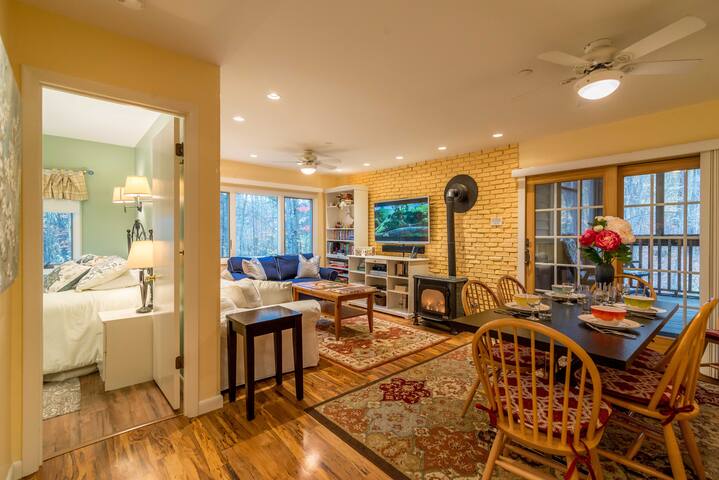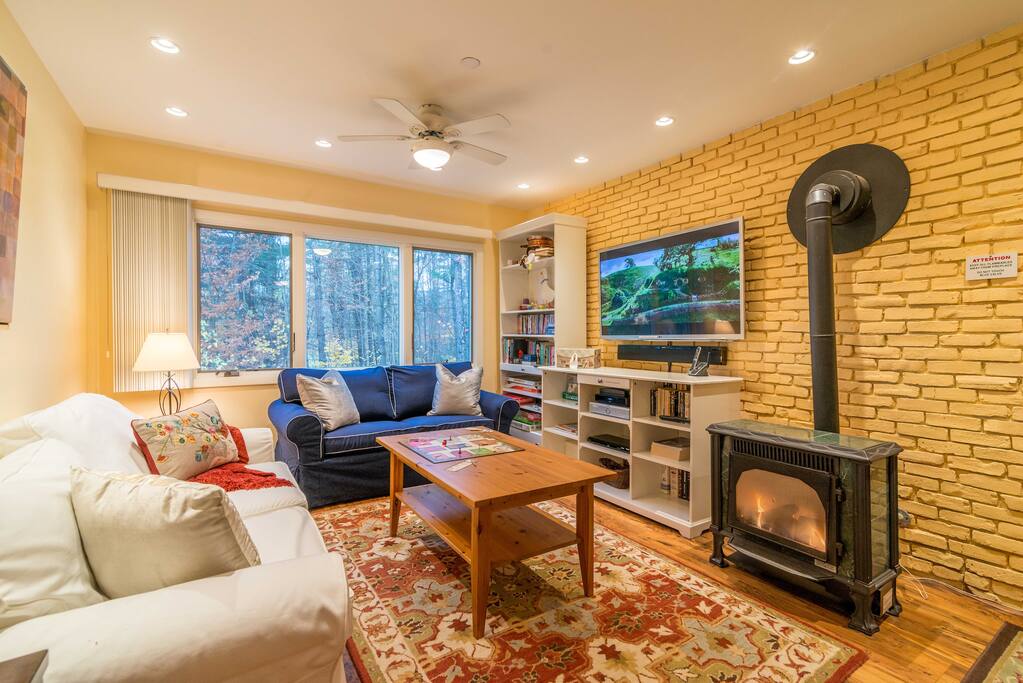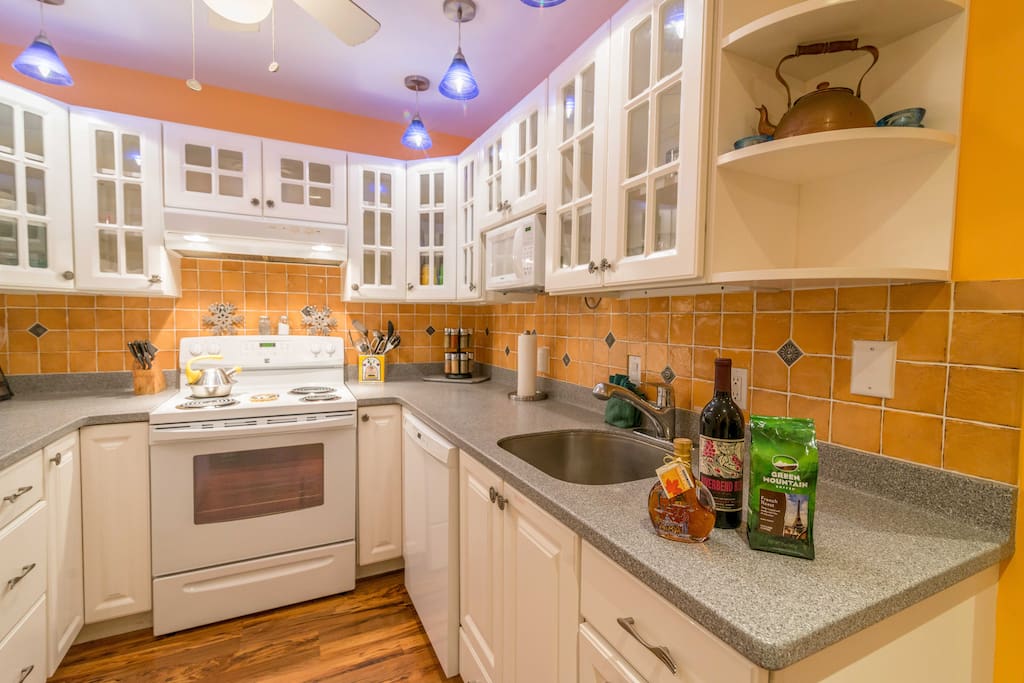 Your own 3 Bedroom Condo - perfectly located for a fab holiday - Skiing in Winter, hiking and biking in Spring, Summer and Fall. Full Kitchen, High end Pots and Pans, your own Washer/Dryer, Huge 60" 3D TV in the Living room - 2 more TVs in the bedrooms. Fun. Location. Space. All Yours.
房源
BRAND NEW - 55' HD 3D TV - it even does 2D to 3D conversion! The Theatre just got a bit more amazing! And the BEST 3D movies - Rio, Tangled, Journey to the Center of the Earth, Avatar, etc. Plus there are big Flat Screen TVs in Two of the bedrooms. Free High Speed WIFI - of course.
Think Location, Location, Location!
Our charmingly decorated 3 bedroom cozy condo features State of the Art Home Theatre System, walking distance to everything in Stowe, indoor pool and hot tub on site. Mega sized A/C too - but you won't really need it in Stowe.
Fun Additions to our baby - 50' HDTV with top of the line Blu-ray player and over 600 TV Stations - many of them HD. If you've been keen to see what these systems really look and sound like when you are able to pick and choose the video to watch - you must stay in the Theatre. Such fun - it's going to be hard to go outside, which is of course why you came to Stowe in the first place.
Unlimited FREE high speed internet access - and it's Wireless. So bring your laptop - or use our computer - Too cool.
** New for 2016 - We've completely renovated - added central Air Conditioning, fancy new flooring in every room with great carpets, and upgraded the room lighting. Best of all - we've added a full sized washer and dryer in the 2nd bathroom. Totally too handy! It's all been done to make the Theatre a comfortable place for you and your family ***
We're right off the Mountain Road - on the seasonal Trolley route to skiing, walking distance to shopping, great restaurants, and the Stowe Trail. On site there's an indoor heated pool, sauna and hot tub - plus a game room, sledding hill, and snow shoe trails. In season, there are 2 tennis courts, a volleyball court, BBQ grills, even a children's playground to enjoy. One of Vermont's top golf courses is within easy walking distance - plus of course biking, hiking, and 2 swimming holes. Guaranteed fun for everyone!
And the Theatre makes having a special holiday so easy. 3 comfortable bedrooms, (2 with Queen beds, plus our fun Kid's bedroom), huge screened in porch with views into the birches that fill our mountainside, but so very private. Wake to the quiet of snow falling, spend inside time watching movies on our amazing home theatre system, playing some of the many family oriented games we've provided, or reading. If your family's idea of fun is the active outdoor thing - you are in the right place. The options at the resort and around Stowe are wonderful.
So come on Down! (well, Up for most of you.) Come stay in Stowe's Theatre in the Woods. Relax in our beautiful three-bedroom/two-bath condo. Enjoy our 50-inch HDTV with a state-of-the-art home theatre set-up (includes over 600 TV channels, many of them HD (you have to see this to believe it - not the picture isn't faked) plus DVDs of our favorite videos). Enjoy the view of the snow falling on the birches from our huge screened-in porch; or just relax. Our fireplace is warm and cozy - our views wonderful - the 100% goose down duvet on the Masterbed just a sample of the comfort you can expect - plus there's our indoor pool, sauna and hot tub to enjoy - altogether, it's simply perfect!
'Most enjoyable stay - A holiday we'll cherish for years' Marg, Rick and Mike Downey, Ontario
'We're starting to think about our next ski trip and the consensus from the kids seems to be go back to Theatre in the woods.' Nancy Gray
Our beautifully decorated, fully equipped and very friendly condo is halfway between the center of Stowe and the mountain. We've equipped our gourmet kitchen with high end everything - from the appliances to the utensils, plates, cups, and glasses. There's even a complete spice set for the chef in your group to enjoy. Plus - we're within easy walking distance of restaurants and shops -- just a 5 minute drive to the ski hill -- right on the seasonal trolley route - and yet it's pleasantly private.
'Gold Crown Standard! (One of the nicest places we've ever stayed)' Michelle Willingham, Maryland
Mountainside is a full-service resort with an indoor pool (perfect even if the weather isn't!), a hot tub, tennis courts, game room, a kiddie playground, and walking trails. But don't hang around the resort -- In winter it's ski and snowboard till you drop at 'The Best in the East'. Or visit Ben and Jerry's to do the tour, and taste the ice cream! In summer the town comes alive with country living at it's best.
There's simply tons to do in Stowe - on and off the Mountain. So reserve your ski / snowboard / cross country holiday in our winter wonderland today. Stowe has won every award from 'Best in the East' to 'Best for Kids'! You are going to love what we have to offer!
There are 57 restaurants (5 in easy strolling distance) and 70 shops, as well as beautiful scenery, peaceful surroundings -- the best of the country! All roads lead to a great vacation in Stowe -- and at Mountainside Resort.
'Super decor throughout and the TV and sound system were magnificent. Watched Harry Potter - great!' Norman and Lavinia Grinsteed, Surrey England
房客使用权限
Our 3 bedroom condo features a full kitchen, 2 full bathrooms, and a washer and dryer. It's your condo - Enjoy everything!
The resort offers a heated indoor swimming pool with changing rooms and towels, plus a wonderful hot tub. There's a pool table in the game room. On season, there's a free trolley to take you to and from the mountains for skiing. Spring, Summer and Fall are equally special - you'll have free access to the Stowe Walking Path and the amazing hiking trails on the Mountain. Tennis courts - of course.
与房客的互动
The resort office will help you out with everything. They provide the keys, solve any issues, make sure that the Theatre is spotless, that you have towels, linen, Essentials like soap, shampoo and conditioner, and free WIFI. I'll answer any and all questions by email. The Theatre is my home away from home - be prepared to enjoy yourself.
其他注意事项
Included free - Washer and Dryer, High speed WIFI, 3D TV, all linen, towels, hair dryers, kitchen essentials - complete full kitchen perfect for quick breakfasts or an Entire Christmas Feast.
---
---
Theatre in the Woods is a designer decorated condo with an awesome screened in porch - we expect our guests to treat our home the way we'd treat it - but good news - there's weekly maid service. So just be reasonable - and you'll be ok.
STRICTLY No Smoking - not even on the porch - sorry - and No pets. Kids are welcome!
---
We came up for a family wedding in early August and the place was great. It's well furnished, and the kids (6&3) loved the movie collection. The location is awesome, if you have little ones and also want to get some VT beers. You can see Alchemist from the parking lot and there is a nice little playground and a huge field right outside the house. It's near by to everything in Stowe, we had a wonderful time exploring.
---
Our stay in Stowe was cozy and generally comfortable. Leslie was very helpful in addressing my concerns. When we arrived, each room in Theater in the Woods was clean and well kept. My only reservation was the AC did not reach the first two bedrooms. Although there were fans in both rooms, the air didn't circulate well in those rooms. The first two nights of our stay were a bit uncomfortable because of this issue. Overall though, we enjoyed our stay in Theater in the Woods. Thank you, Leslie.
Thanks so much for loving our home. Vermont is known for it's cool nights - even in the heat of summer - and nights that aren't cool are few and far between. I'm so sorry you hit 2 of them - that's a shame. I shall have a conversation with the weather folks! Seriously - folks in Stowe believe in open doors, open windows and fans. Our giant AC system (folks laughed when we insisted on getting the big, big one) can cool off the entire apartment in minutes - if all the doors are open. Generally - one cooling round - and you are good to go. So Please come back - I can pretty well guarantee that you won't get warm nights again! 8-) Leslie
---
Great place to stay in Stowe! Close to the mountain and downtown shops. I would definitely stay again!
My pleasure - I love being in the middle village - so close to fun shops and isn't the Sunset Grill totally yummy? And so close - I like to think of it as our officially on-site restaurant. And of course there's Mexican, Pizza and even fancy dancy within strolling distance. Hope you had time to visit Stowe's newest hot spot - the Alchemist! It's also strolling distance. Thanks for coming! Leslie
---
Wonderful place to stay for a group ski trip! Highly recommend! Location was amazing... close to town/restaurants/markets and a short drive to the mountain. The unit has a mud room to store your boots, skis & jackets which is very convenient. Parking is great, check in/out is easy. The unit itself is spacious and comfortable. We had 7 in our group...4 adults and 3 kids. Plenty of room. The TV system is great! Lots of movies to choose from. It was nice to cook dinner then watch movies after a long day of skiing. Lots of bedding, pillows, blankets. All cookware & dishes were included. The fireplace added all the warmth we needed...loved it! Be sure to bring aluminum foil, baggies, cleaning supplies and laundry soap if you need to use those things. Leslie was a fantastic host! Very responsive and answered all of my questions very quickly. Great family trip... thank you!!
---
I'm a 66 year old grandmother with a love of travel. I've globe-trotted from China, Vietnam, Laos, Cambodia and Japan to Italy, Germany, France, Belgium, Rwanda, and Kenya. I love comfort - but am just as happy in Hostels as fancy hotels. Clean - well located - you've got me as a…
语言:
English