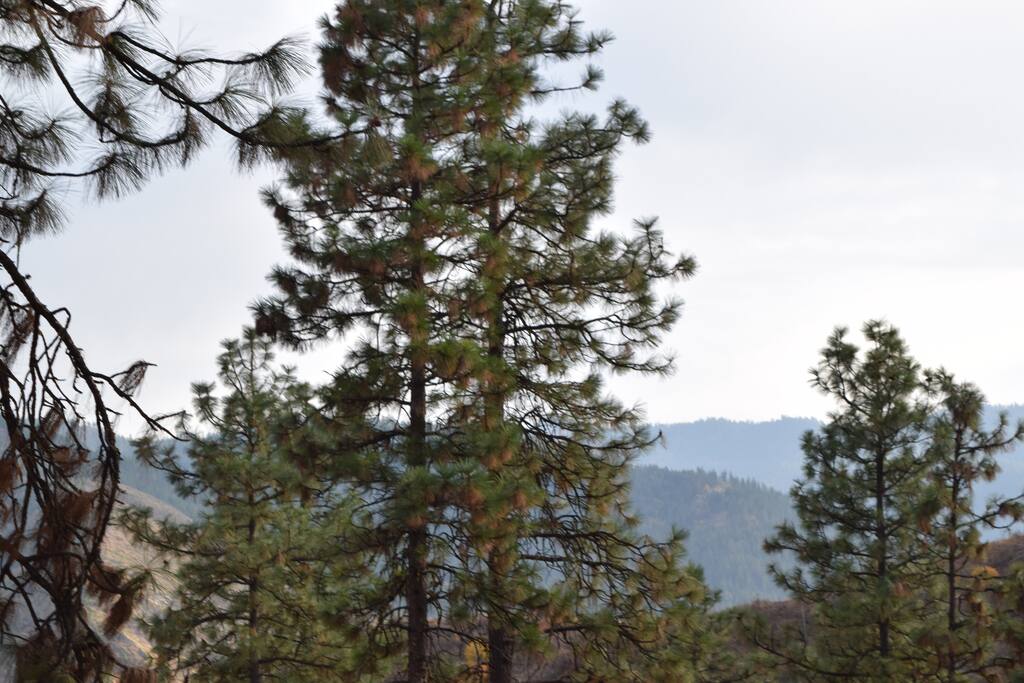 WINTER SPECIAL: Ski lift tickets 1/2 price! Warm and comfortable apartment with 2 bedrooms & sleeps 6 in a spacious mountain log home on private road. Fully equiped kitchen, full bath, wi-fi, cable TV breathtaking views, between two ski resorts, 12 minutes to Leavenworth.
房源
Enjoy your pleasant stay in Demigod Lodge's 1st floor 2 bedroom apartment with its own kitchen and bathroom. Enjoy your own private entry way into the apartment of the Lodge where the logs were salvaged from local forests. The apartment has a lovely gateway view of Demigod's private grounds. The private mountain setting consisting of 23 acres is stunning.
Demigod Lodge is an idyllic place to rest and create. The apartment is ideal for couples or a family of five who love being immersed in nature. One bedroom has a queen bed and another bedroom has a double bed with a twin. The common area features a futon bed which sleeps 2 for a total occupancy of 6.
In winter, benefit from the hydronic floor which will both warm you up from your winter exploration and dry your snow clothes without need for a dryer.
The apartment serves as a pleasant writer, artist and innovators respite and retreat, as well as a place to restore.
Celebrate in this romantic getaway.
房客使用权限
Guests have access to the level 1 condo, sometimes shared with other guests above them in the main portion of Demigod Lodge. The additional log cabin artist studio or retreat meeting room can be booked for an additional fee. Guests also have access to the 23 acre wilderness estate and adjoining National Forest.
与房客的互动
Our property manager will check you in upon arrival and is available 24/7 for emergencies. Something about him: he is an entrepreneur in the Natural Products arena and also works as a Lieutenant at Chelan County Fire District 3 and is an EMT.
其他注意事项
Highway 2 and 97 are both alternate routes to Leavenworth coming from Seattle. With snow covered roads and passes we advise that you be prepared with 4-wheel drive/good tread tires and chains. On the date of your arrival, should BOTH passes be closed due snow/avalanche/fire for over 8 hours preventing you from keeping your reservation, we will accept a postponement of your reservation. 50% of your total reservation including security deposits will be returned to you. You may reschedule at the earliest possible date, within 6 months of the pass closure, when your remaining 50% will be applied to your new rental. Otherwise, your room will be held for your arrival as guaranteed. For current road and pass conditions call visit Washington State DOT.
Please be careful on the driveway! We have the more than half a mile mountain driveway plowed when there is a snow fall. Don't feed the wildlife! We often see deer, elk and, occasionally moose. However, please be aware of "predatory wildlife" like the occasional grizzly bear, wolf, and cougar.
---
---
Dear Guest: We greatly appreciate your patronage. We understand that the following House Rules may appear to be very thorough and have a very formal tone. Please understand that these House Rules and their tenor is necessary since there are always individuals who do not appreciate the opportunity they are being afforded to use another organizations or persons residence in a polite, respectful and sincere manner. DIGIVATIONS CAMP DEMIGOD INSTITUTE provides access to its unique and beautiful grounds in an effort to raise funds for its educational programs and overnight innovation & literacy Camp Demigod. In doing so, we believe that as a guest, you are supporting both the current and next generation of innovators. In an effort to ensure that the DEMIGOD Lodge is properly cared for, these House Rules are necessary. Please enjoy your stay which we believe will be positively memorable and honor the following rules with your integrity as if the Lodge was your own precious environment and home. Thank you in advance.
Drs. Steven & Anne Deane Berman
Founders, NASA award winning DIGIVATIONS CAMP DEMIGOD INSTITUTE, Camp Demigod & DEMIGOD Lodge

Non-Smoking. Smoking will result in immediate eviction, a $1,000 penalty, and forfeiture of the guests entire security deposit.Non-Smoking: Smoking will result in immediate eviction, a $1,000 penalty, and forfeiture of the guests entire security deposit. To be clear, smoking is absolutely prohibited anywhere in any of the DEMIGOD Lodge structures and any of the outside grounds including the 23 acres owned by DEMIGOD Lodge and the surrounding US National Forest lands. Regardless of AirBnB policies to the contrary these rules will be strictly enforced and violators will be prosecuted in accordance with local, county, state and federal law. Violators of these rules will also be pursued civilly. M

Pets Rarely Allowed:
Certain dogs are allowed subject to breed restrictions and receipt of recommendations of positive behavior from a veterinarian and kennel are required. Dog vaccinations must be current and you must provide a copy of these vaccinations to the DEMIGOD Lodge owners or their designated agents.
There is a $80 pet rent per dog per night which will be assessed as part of the original booking. In addition, a non-refundable pet fee of $400 per dog which must be pad as part of the original booking is required. An additional pet cleaning fee of $300 is required. No dogs are allowed on furniture including beds or your full security deposit will be forfeited. You must pick up after your dog or your entire pet deposit will be forfeited. Any unauthorized pets brought to the premises by the guest/renter will result in immediate eviction and forfeiture of the entire deposit.
DEPARTURE
SHEETS & TOWELS
You must strip the sheets from the bed and take them and all towels used and leave then folded neatly on the table by the entry way by the first bedroom.
GARBAGE
You must not leave any garbage on the premises. You must neatly dispose of your garbage in the garbage cans located at the beginning of Campbell Road which are located just off of the 97.

VISITS BY OR USE OF DEMIGOD LODGE BY ADDITIONAL DAY USE GUESTS - NOT AUTHORIZED IN WRITING BY DEMIGOD Lodge MANAGEMENT, EVICTION & DEPOSIT FORFEITURE
Regarding visits to the DEMIGOD Lodge by both unauthorized and non-paying guests, the Lodge, as part of a 501c3 educational non-profit, has strict policies against such guest visits as a result of safety and security reasons and costs of wear and tear of the property. Any guests invited to and entering DEMIGOD Lodge by approved renting guests and not authorized by DEMIGOD Lodge management in writing will result in immediate eviction of such renting guests and forfeiture of the renting guests entire deposit.
While DEMIGOD Lodge wants you and the paying members of your party to enjoy the Lodge responsibly, we must adhere to this policy.
DEMIGOD Lodge can consider a visit by guests who are not members of your party based on the following conditions:
(1) Prior to your check in you fully disclose the names of each guest, have them verify through AirBnB, and/or at the discretion of Lodge management provide us with other verification information;
(2)Prior to your check in you disclose the full purpose of such visit of the guests and date and approximate time of such visit. This is necessary since one of DEMIGOD Lodge's property managers will need to meet the guests upon their arrival;
(3) Prior to your check in, you pay a guest host guest visit fee of $150 before such visit and $50 per approved guest for day use and $100 per guest when there is any overnight stay.
This is also necessary since the private road leading to DEMIGOD Lodge is a one way road, has snow and ice limiting parking, and DEMIGOD Lodge has additional guests who may be impacted by visits of other guests. Moreover, additional guest use does impact use of the property.
USE OF THE GROUNDS SURROUNDING THE DEMIGOD Lodge:
The grounds and acreage surrounding DEMIGOD Lodge provide a serene and beautiful view of nature. While you may walk on the grounds around the Lodge, you acknowledge, agree and understand that by allowing you to rent the DEMIGOD Lodge as a guest you do so solely at your own risk. The grounds are part of a sloping rural area and border on US national forest lands. As such, there are hills, mountains, brush and uneven ground of varying nature on the property in which you may trip or fall, as well as many different animals which can pose a risk if provoked. In this regard, we respectfully request that you only walk on those parts of the grounds which surround the immediate home which are clearly marked including the driveway. When doing so please be respectful of others including any guests using the 1st floor apartment.
You also acknowledge, understand and agree as part of your rental of the DEMIGOD Lodge that during the winter season, the roads and grounds may be icy and that your use of the roads and grounds are solely at your own risk.
If you elect to pursue winter sports such as snow shooing or Nordic skiing you do so at your own risk.
You also acknowledge, understand and agree as part of your rental of the DEMIGOD Lodge that during the spring, summer and fall season a creek is running on the property, and that your use of the creek, roads and grounds are solely at your own risk.


We appreciate your understanding.
---
As former world class faculty and founders of NASA award winning K-12 education organizations and camps, we have advanced degrees and experience in engineering, music, entertainment and IP law and are driven to positively change the world for future generations. Our vision is to…