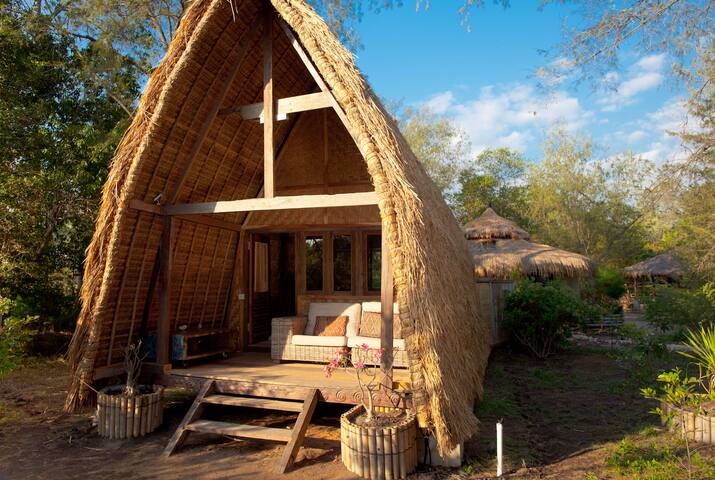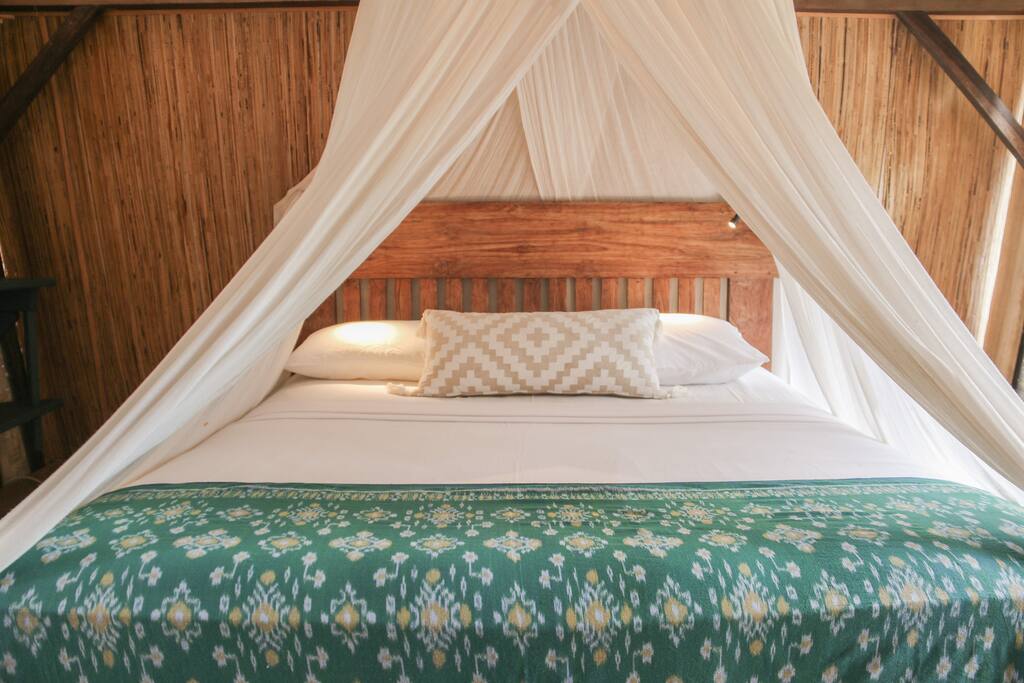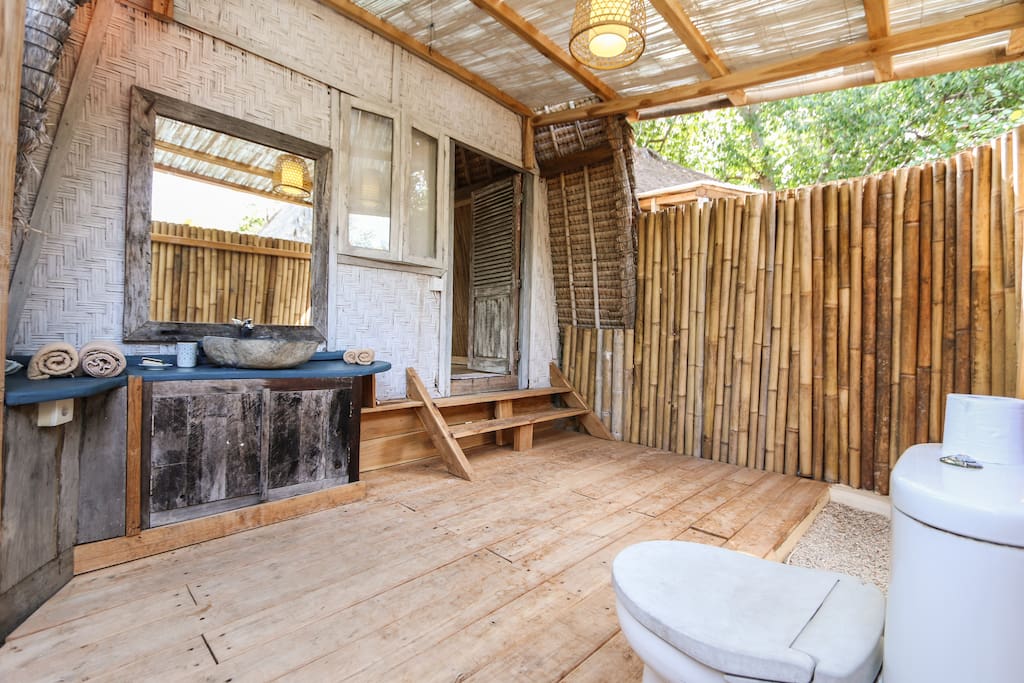 位于Gili Meno天堂岛上,maoMeno是和平,艺术和内在旅程的地方。享受每日瑜伽课和健康早餐。 maoMeno被椰子田和友好的牛包围,距离岛上最好的海滩有5分钟的步行路程。客人可以在火炉区享受放眼的乐趣,轻松的油按摩或在精品店购物。 这些空间是为了统一自然,简约而优雅而精心打造的。
Located on the paradise island of Gili Meno, maoMeno is a place for Peace, Art and Inner Journeys. Enjoy daily Yoga classes and healthy breakfasts.
maoMeno is surrounded by coconut fields and friendly cows, within a 5 minute walk to the best beach on the island. Guests can enjoy the pleasures of stargazing at the fire pit area, take a relaxing oil massage or shop at the boutique.
The spaces are crafted with an eye towards unifying nature, simplicity and elegance.
房源
TERRACE BUNGALOW酒店享有绿色田野的壮丽日落美景。其传统的龙目山"Sasak风格"建筑拥有高高的天花板和100%的木材。特色包括回收柚木巴厘式床架和半开式连接浴室,使这个洋房独一无二。我们邀请您在星雨下沐浴,这是岛上生活的乐趣之一。 我们最近升级了洋房,新的柚木内饰,AC和高压冷/热水淋浴。
The TERRACE BUNGALOW has a stunning sunset views over the green fields. Its traditional Lombok "Sasak style" construction has high ceilings and 100% wood. Special features including a recycled teak Balinese bed frame and a semi open attached bathroom make this bungalow unique. We invite you to shower under a rain of stars, one of the pleasures of island life.
We have recently upgraded the bungalow, with new teak interiors, AC and high pressure hot/cold water shower.
房客使用权限
在广泛的财产内有一个共同的用餐区,客人可以享用早餐,特别晚餐或懒惰的下午玩游戏。 鉴于其独特的地理位置,迷人的MaoMeno令人惊叹。我们最近安装了一个铁木甲板,带有火坑和豆袋,梦幻般的夜晚开始下雨。 Yoga Shalla每天24小时提供实践,践踏和冥想。我们为客人提供瑜珈垫和道具以及自行车出租。 如果一个人走出了maoMeno的亲密的缩影,Gili Meno岛就提供了令人惊叹的海滩和充满生命的绿松石水域。
Within the extensive property there is a common dining area where guests can have breakfast, special dinners or spend lazy afternoons playing games.
Given its unique location, stargazing is stunning at maoMeno. We have recently installed an ironwood deck with a fire pit and bean bags for dreamy night under a rain of starts.
The Yoga Shalla is available 24/7 for practice, contamplation and meditation. We provide yoga mats and props for guests as well as bicycles for rent.
If one were to step out of the intimate microcosm of maoMeno, the island of Gili Meno offers stunning beaches and turquoise waters full of life.
与房客的互动
我们的经理Eva将在您入住期间协助您。 她可以在许多其他活动中安排浮潜和潜水旅行。 maoMeno的大部分客人都是独立的旅客,包括艺术家和作家,寻找一个独特的撤退环境。
Our manager Eva will kindly assist you during your stay.
She can arrange snorkelling & diving trips amongst many other activities.
Most of our guests at maoMeno are independent travelers, including artists and writers looking for a unique retreat setting.
其他注意事项
我们请客人注意使用淡水和AC,因为Gili Meno的资源很少。
We kindly ask guests to be mindful with the use of fresh water and AC as resources are scarce on Gili Meno.
---
---
There are no special rules in maoMeno, other than a mutual respect for each other. This includes our beautiful, unspoiled surrounding nature.
---
Grounds are beautiful, but buyer beware: "traditional bungalow" means there are huge air gaps that allow bugs of all kinds to enter freely. Meno is a very underdeveloped island so there are a lot of mosquitos, German cockroaches, ants of all sizes, large spiders, and wasps. All things we found in our bedroom at one point and also evidenced by the numerous stains on the mosquito net and wasps nests on the ceiling. The property manager was helpful and very sweet, but we wish we had been more aware of how open air the actual bedroom was and that there was more diligent pest control. We expected mosquitos, but this was brutal. We barely survived one night and bailed.
---
Nos encantó la cabaña, es muy cómoda y yo diría q me sentí muy ecológica. Desde el momento de nuestra llegada todo estuvo muy bien, nos recibieron de una forma muy amable y todos en la isla conocen a Kike. Si lo que buscas es un lugar alejado de todo y muy tranquilo este es el lugar perfecto!
---
We had 5 nice nights in the small garden bungalow in MaoMeno. The resort is in the middle of the island's south so each coast of the smallest Gili island can be reached in 5 mins walk. There are Yoga lessons everyday, though we didnt join one. It is very quite, especially in the night, because there is no motorized traffic on the whole island. The bathroom is outside which made this location very special to us. The walls of the bungalow is not totally closed so insects have to be considered around the bedroom. On the whole island there are hardly any streetlights so for reaching the spot at night you have to carry a good torch (or smartphone with light ;)). We visited MaoMeno during Ramadan so we can not give an opinion to the breakfast (no staff in the kitchen) - but we can recommend the cafes on the beach which have a very good one :) All in all we had a nice and relaxing time there :)
---
Kike and his magical oasis were great! We stayed in the terrace room, which was the perfect combination between rustic and luxurious and zen - a very interesting and relaxing atmosphere that perfectly matches the laid-back, quiet and peaceful vibes of Gili Meno. Unfortunately we didn't have time to do any yoga, but we had many delicious smoothies - yum! The food on Gili Meno was also unbelievable - especially Sasak's Cafe, where they play music every night. Overall, I would highly, highly recommend MaoMeno. Just to note, bring a flashlight, as you'll be waking through the woods on a dirt path in the dark for a good 10-15 minutes sometimes. It's all part of the experience :) Meno is the closest thing I've seen to paradise!
---
Let's just say that Lucy the host was having a bad day and that's the reason why she provided us with an atrocious and unforgettable experience. So I will just concentrate on the bungalow. We were surprised with the fact that there were very few pics of the Terrace Bungalow... Now we know why... The bungalow was in terrible shape, (we share some pics on Tripadvisor and (URL HIDDEN) dirty mosquito net, disgusting smell in the bathroom, etc. The location was not so bad, once you found the place, which was pretty challenging. Overall for the price it's not worth it since the island has plenty of other places right on the beach or very close to it. Needless to say we did not stay, we are not picky at all, but it was disgusting. We chose a place call Tortuga Bungalow, 2 mins walk to the beach, new and clean, breakfast included (unlike here) AC and only 30USD per night, the cherry on the cake Bolong and his family are the most welcoming people ever! Maybe this place is not "so bad" but for the price... Trust me, you can do much much better. By the way,.. we asked for a refund and the answer was no, It is a shame because we were traveling on a tight budget but we just could not stay here.
---
We had a wonderful and relaxing 2 week stay at Mao Meno! Mao Meno is surrounded only by nature, in a very peaceful and tranquil environment. The bungalow is well designed, clean and simple with a good mosquito net over the bed. The outdoor bathroom is cool, we got used to the cold saltwater showers, they were quite refreshing in the November heat. The water does has a sulphur odour as it comes from the ground, but you can opt for freshwater at a small cost. We loved seeing the sky full of stars at night and waking up to the sounds of nature in the morning - birds, large geckos with a unique sound and cows. There is a beautiful & large yoga & meditation area in front of the bungalow. Lucy looked like an amazing yoga teacher, highly recommend this place if you want a yoga or meditation retreat! Gili Meno is a beautiful and quiet tiny island paradise. We loved exploring all the different snorkelling spots around the island, thanks Kike & Lucy on tips on where the best snorkelling was and for lending us your water shoes, we loved the snorkelling, pretty amazing! Kike and Lucy are such lovely, down to earth people and great hosts! We enjoyed their company & the delicious breakfasts they made us. And we enjoyed hanging out with the 1 month old kitty and its mum and seeing it grow over the 2 weeks, just adorable! The bungalow's location is in the middle of nature, but the walk to the beach and restaurants is not far, 5 to 10 minutes walk to the beach depending which side you choose to go to. The West (approx. 5mins) and North (approx. 25 mins) have great snorkelling, but if you want to lay out on the sand and swim, the south east (approx. 10mins) was pretty nice. We swam all around the island and got to see lots of turtles, thousands of beautiful fish and coloured coral. Overall we had a wonderful stay and recommend staying at Mao Meno for nature lovers and those wanting a yoga/meditation retreat., Thank you Kike and Lucy for all your generosity and we hope to see you again one day! :) Tip: don't forgot to bring a good torch, you will need this when walking to & from dinner at night as your path is only lit by the stars and moon! Also our favourite places to eat were Meno Dream & Warung YaYa.
---
Hi, my name is Kike, I was born in Spain. Lived part of my childhood in Morrocco, which certainly inspired me to look further on through the different paths in Life. My girlfriend and me are currently living in Gili Meno, a paradise island, just one and a half hours from Bali …
语言:
Bahasa Indonesia、English、Español、Français