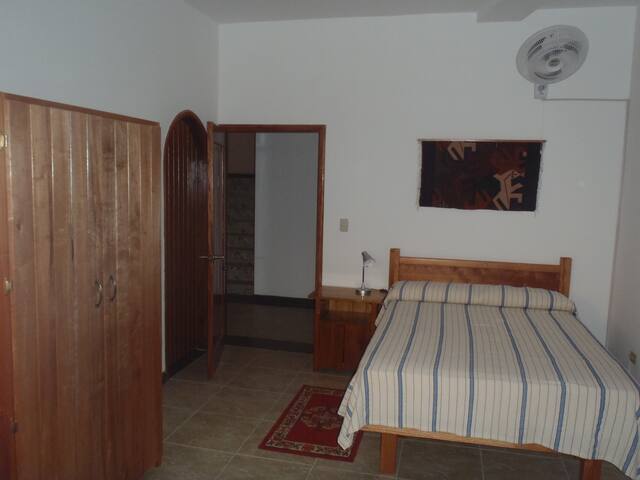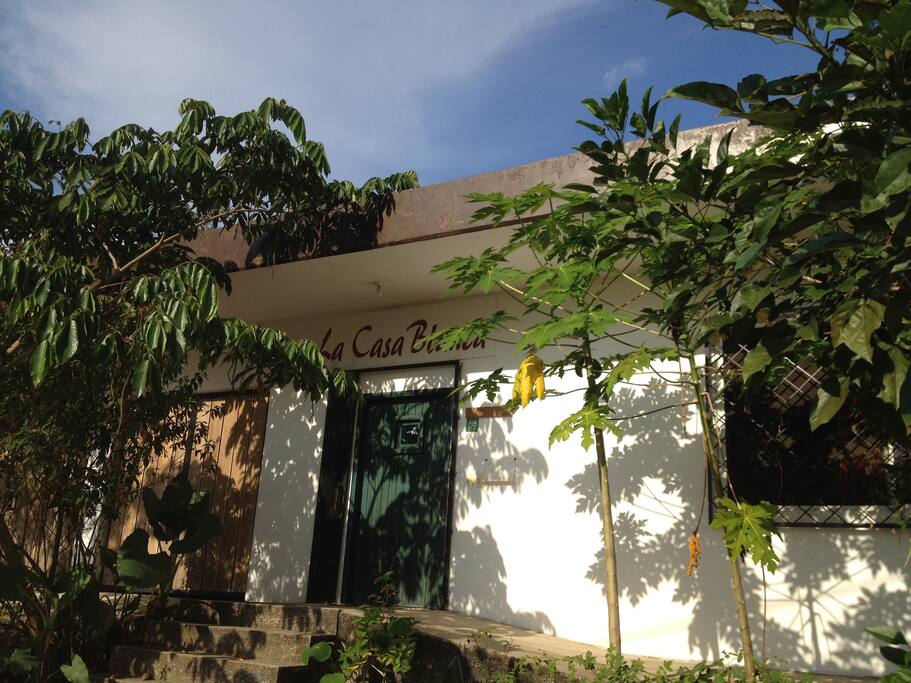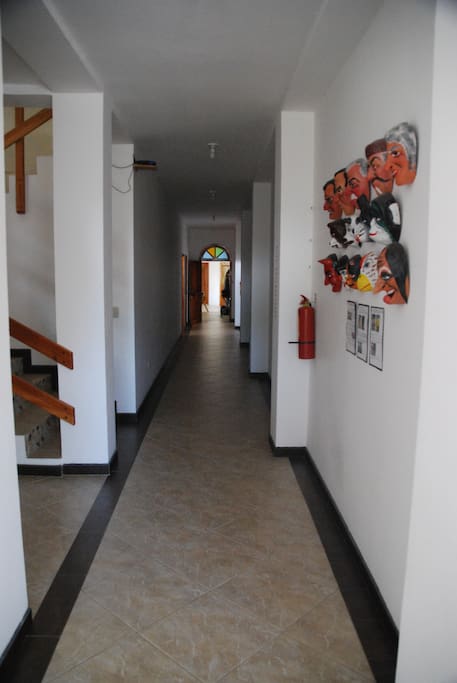 You'll love staying here, it's the comfiest place in town!
Tall ceilings, white walls, and larger than usual rooms with plenty of windows give the place an open, airy feel. The kitchen is huge and equipped with everything you'd need to make yourself a coffee up to a whole meal. There's even a washer and dryer and strong WiFi. We also offer tours and will give you a night free if you also purchase a full day tour with us, as long as you stay 2 nights. Come see us! Michelle and Gari
房源
A new type of hotel in Tena. It is in the style of USA or European Hostels. Our guests enjoy: a communal kitchen equipped with everything needed for cooking their own meals, a living room, backyard patio and washer/dryer. We have free WiFi, and house-wide purified water. Of course there are hot water showers and fans in every room. All windows have screens. Private rooms can be rented by the day, or the week. There is a double bed in 4 of the private rooms and a double bed and a bunkbed in the fifth. However, we are flexible with moving beds and a single bed fits well in addition to the double bed in each of these rooms. Consequently, we can rent each private room to up to 3 guests. The dorm room has 2 bunk beds, a single bed and a double bed. The private rooms have shared patios with the rooms next to them.
We discount the room price for 3 or 4 guests when they stay in the same room, so send us a note to get that discount.
房客使用权限
Communal kitchen.
Washer and dryer, free to use.
Strong Wifi, free.
Living room.
Backyard with BBQ.
与房客的互动
Usually a couple to several times daily, although the part rented out to guests, with it's own kitchen, laundry room and living room, is separated from our family's living space by a door at the end of the hallway.
其他注意事项
We also offer quality area tours!
---
---
---
There are few house rules. Guests should respect each other, for example, keeping the noise level down after 10pm, smoking is only allowed on the roof, not taking other people's food, yada, yada, yada. Also, we will do routine cleaning in the common parts of the hotel but we do expect our guests to clean up after themselves in the kitchen and if they make any unusual messes. Due to the humid, warm climate, dishes, counters, and tables, etc., need to be cleaned up immediately after use to cut down on insects. Room service is an additional $5.00 per cleaning. Our staff does not have keys to your room and we will not enter your room without your permission.
---
---
---
---
You will not find a better, more comfortable place to stay in Tena--it is truly an unique haven. Drinking water, hot showers, fans, beautiful rooms, internet, refrigerator and pantry space, laundry facilities, and exceedingly helpful hosts are all part of this experience. I cannot recommend it enough!
---
Michell and Gary run a nice basic comfortable room with hot showers, fans, kitchen access, and filtered water from the tap in room. They are friendly and very helpful. Communication was easy with them, and responses quick. They make access to tours and activities easy as Gary has his own outfitter company.
---
Michelle and Gary will wonderful hosts.They were both very kind and friendly and did whatever they could to try to help you. Their casa was very clean with all the conveniences. It was very quiet there although a bit removed from the main center, which, some people would really appreciate. I would recommend them and their lovely hotel. I didn't get a chance to go on any tours with them but I'm sure it would have been great. Thanks!
---
Husband and wife owners Gary Garces – Ecuadorian from Puerto, Napo, Ecuador
Michelle Klein – Born in Chicago, grew up in Wisconsin and Colorado, USA

Michelle's parents and partners: Jack and Marie Klein – Chicagoans, currently living here and in Mesa, Arizona


Gary and I, Michelle here, met here in Tena, Ecuador back in 2004 when I came as a volunteer nurse for a year. The idea for the CasaBlanca arose then, when I was looking for suitable housing (still tough to find). When we lived in Quito for three months, while Gary studied English in preparation for our going to live in the states for a while, we stayed in an apartment which had many of the key elements of the CasaBlanca. There we found an extra benefit of an apartment designed for short and long term travelers, other travelers. We really enjoyed meeting people from all over the world as they filtered in and out for days, weeks, or months. In addition, we had someone to talk with or go out for dinner with at the end of the day in a city where we didn't know anyone else. We did countless things with them: celebrated birthdays, went to plays and movies, etc. etc. We have fond memories of our time in Quito because of those travelers. What a wonderful experience! Living there sealed our desire to open up something similar in Tena.


We returned to Ecuador in 2010, after spending 4 plus years in the US raising money and our first daughter, and dreaming about the La CasaBlanca. 3 years later we are finally open and so excited about it! A big thanks goes out to our builder, Colorado, and Michelle's dad, Jack, whose beautiful carpentry can be found throughout the hotel.


I manage La CasaBlanca and help Gary, a tour guide since 1998, to guide visitors from near and far through our area's rivers, jungles, caves, and other interesting sights. My parents, Jack and Marie, have gotten their Ecuadorian residency and plan to split their time between Tena and Arizona.


We all look forward to meeting you!!!

语言:
English、Español