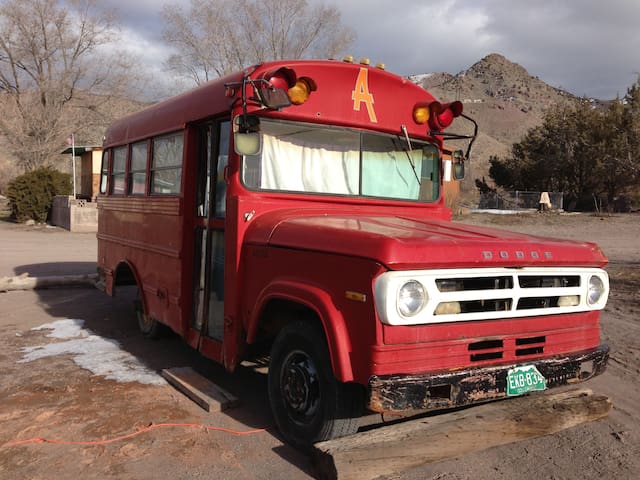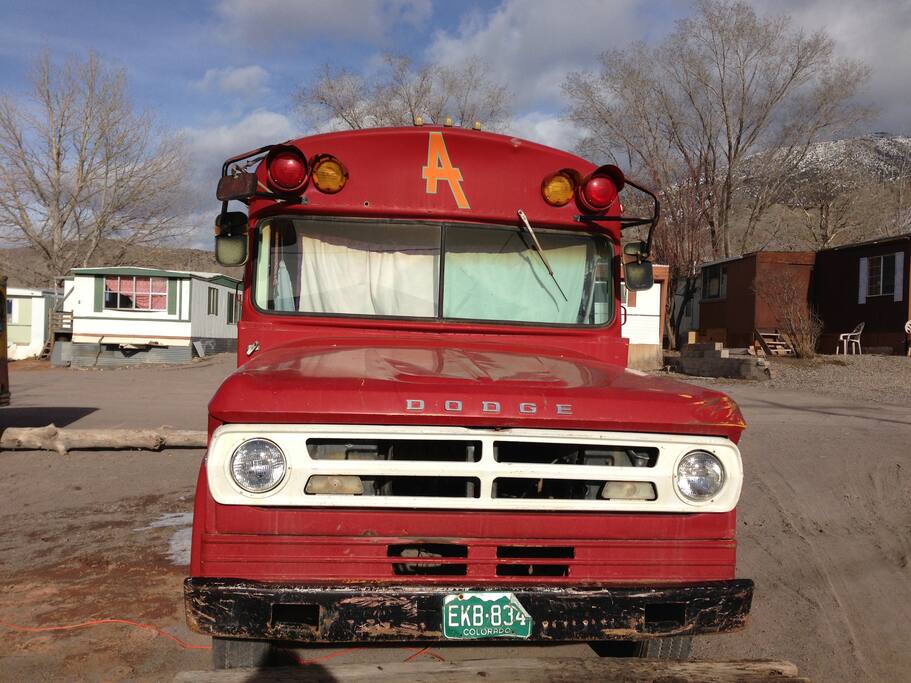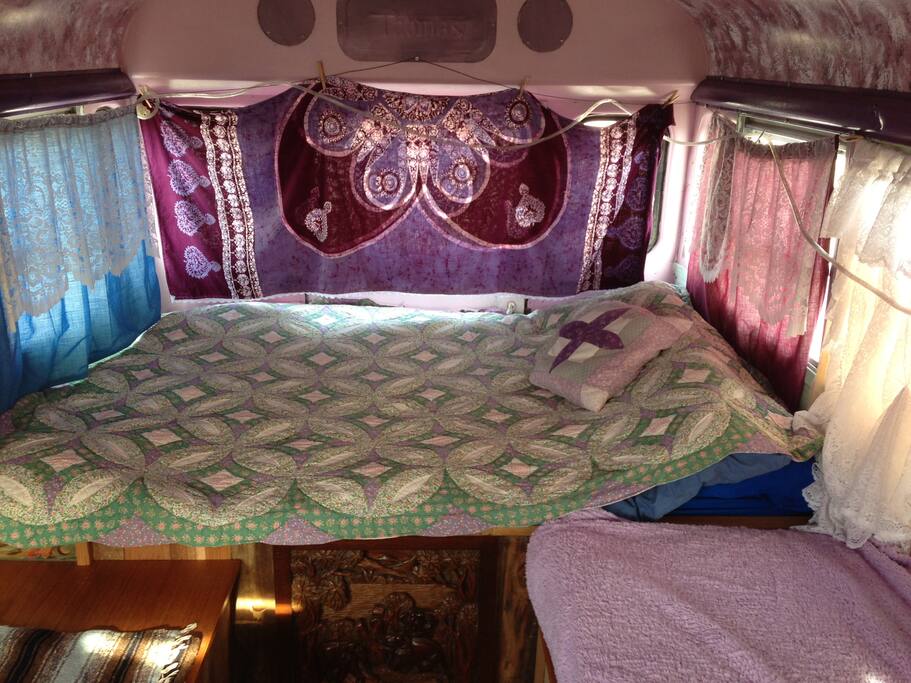 Real hippie living within a rustic and charming hot springs resort. This Grateful Dead inspired bus is all dressed up and ready for you! Features a comfy Double bed, electric heater, and access to fire pit. Within steps of the common bathhouse with hot showers and flush toilets.
Pets are welcome with a $10/pet fee paid at check in
Please note that $65/night is for 1 person. Each additional person is $30/person. Price includes full 24 hour access soaking in the hot springs.
房源细节
Mystic Hot Springs is not your typical hotel establishment and we are not for everyone. We are funky, but functional and not fancy. Our goal is to create an authentic environment which raises self-awareness by direct experience with nature, art and antiquities.
We are deadhead hippies that have a different set of values than most people. Some people think our place is junky because of our collections, yet we love it just the way it is. If you are at all wary of a place that isn't perfectly groomed, than this probably isn't your place. That said, we do like to keep the accommodations, hot springs, and facilities clean and functional.
Ever wanted to be a hippie for a night? Well, now is your chance! This recently renovated 1970 bus features a full sized bed and benches all made from reclaimed solid teak. Beautiful hardwood floors and the fun custom curtains give this bus a unique feel. Each bus in our Shakedown Street row is named after a Grateful Dead song. This one is named Althea, of course. This bus has electricity and a small electric heater. When the weather is colder the bus gets cold so we recommend that you bring extra blankets or sleeping bags and be prepared for a colder night. Consider this accommodation like posh camping. The easiest, most pleasant times to stay in the bus is Spring and Fall.
The common bathroom and shower facility is a short walk away. The cabin is located at Mystic Hot Springs in Monroe, Utah. Our place is funky, but functional and not fancy. A real hippie paradise. We boast some of the most beautiful outdoor hot springs in the world, in our most humble opinion. Along with your accommodations you have 24 hour access to the hot springs. We have now began to try to use our hot water better and have recently created geothermal heated greenhouses with tropical plants and animals. We are so excited about this new venture here at Mystic and would love to share it with you!
Our sky is dark and clear and star watching while soaking is a truly incredible experience. We also have concerts from time to time. You may get lucky and get to watch a nationally touring band in an intimate and unique setting, unlike anything you have ever experienced.
We are located on 140 acres and have many hiking and outdoor opportunities either on the property or very nearby. There is wireless internet available in a limited area. We do not have any kitchen facilities for use but all of our accommodations have a fire pit or grill nearby.
We are a great location that is close to all of the best National Parks in Utah. Arches, Zion, Bryce, Lake Powell, and the Grand Canyon are all within a few hours drive.
There are 2 restaurants and a small market in the town of Monroe and Richfield, a bigger town, is 8 miles away with most everything you would need. We are located just a few miles from I-70 and are a great midway point between Denver and LA.
Parking is plentiful and we have plenty of room for RV's or longer buses. We also have a large grassy camping area for tents.

Pets are not allowed in this unit. Please see our other pet friendly options.
Now offering Hot Spring Hypnosis Sessions and Massage Therapy with Aubrey Ixchel. Treat yourself to a unique and profound relaxation experience unlike anything else you've felt before. By reservation only.
Please note that $68/night for 1 person. Each additional person is $34/person. Price includes 24 hour access soaking in the hot springs.
房客使用权限
You are welcome to explore the entire Mystic Hot Springs property.
与房客的互动
We will check you in once you arrive and give you an orientation. After that, you may see us around and about on the property. If you need assistance you will find us at the Main Office where we live on site.
其他注意事项
We are a hippie hot springs oasis in the middle of Utah. We are unlike any place you have ever encountered and promise that if you enter with an open mind and heart, you will leave a different person. Funky, but functional, we operate under the following three principles:
1. Nothing is finished
2. Nothing lasts
3. Nothing is perfect
We strive to make Mystic Hot Springs a place where all people can feel comfortable and safe. Because of this we have a strict policy that there is no alcohol, glass, nudity allowed at the hot springs or in any public area. You will be asked to sign a waiver upon check-in that states that you are entering the property at your own risk and that you will follow all rules or be asked to leave.
We expect our guests to be respectful, considerate of others, and to take good care of this beautiful place.
Please observe quiet hours between 9pm and 9am.
I ended up staying in the Bertha bus, which was perfect. The late check in with the office being open till 11 was great, as I got in late after a long hike. Temps were below freezing but with the little heater provided and plenty of extra blankets I stayed nice and toasty. The bed was comfy, soft, and clean. Mike was super friendly & the hot springs were a wonder for my post hike sore muscles. If you're seeking a place with all the bells and whistles of a hotel, then stay at a hotel. If you want something unique & special then this is it. Yes, the bathhouse is communal, but it was much cleaner than many campgrounds I've visited. Plus all the other visitors were polite & friendly. Bring your own food & supplies (nothing much around for miles). I'd call this 'glamping'. I loved the vibe of this place & really hope to be back in the future!!
---
Overall, we had a pretty enjoyable stay at the Mystic Springs. The bathrooms could have used a little work, and there were some slight unsanitary conditions. However, the hot springs were an awesome experience and we thoroughly enjoyed ourselves. We would definitely revisit the hot springs in the future!
---
Off the beaten path, but really easy to locate. I loved everything about this place! I was able to relax in the tubs with an awesome view! Everyone was so nice and check-in was a breeze. They have great signage to direct you throughout the property so you never feel lost. I stayed in one of the buses and it was cozy and the bed was super comfortable! There are plenty of fun animals around the property for entertainment and make sure to check out the shop inside the lobby. Definitely recommend and can't wait to go back!
---
Very cool experience. We stayed in the Althea Bus which was quaint and much cleaner than we had expected! The hot springs were fantastic and non-sulfur, which was a pleasant surprise as well. All the people there were very nice, it was exactly what we were looking for to add to our road trip!
---
Producer/Director/Artist Mike Ginsburg was traveling in his bus back to Denver from the last Vegas Dead shows in 1995, when he stumbled into Mystic Hot Springs. Instantly he realized that everything he was looking for was right there. Miraculously he was able to purchase the resort. Having worked since 1996, he is still at it! His artistic talent has been used to add new soaking areas, restore pioneer cabins, direct in his 4 camera TV studio, promote many wonderful concerts, produce DVD's and 3-D animation, create stunning lampwork glass jewelery, quilt psychedelic award winning quilts and quilted clothing and bring a special energy to this wonderful place.
Mike has three fundamental life principles which are Permaculture, Wabi Sabi, and the Fourth Way.