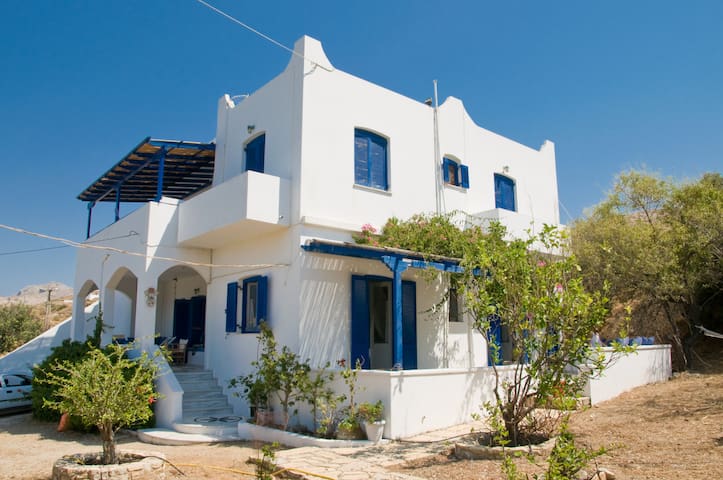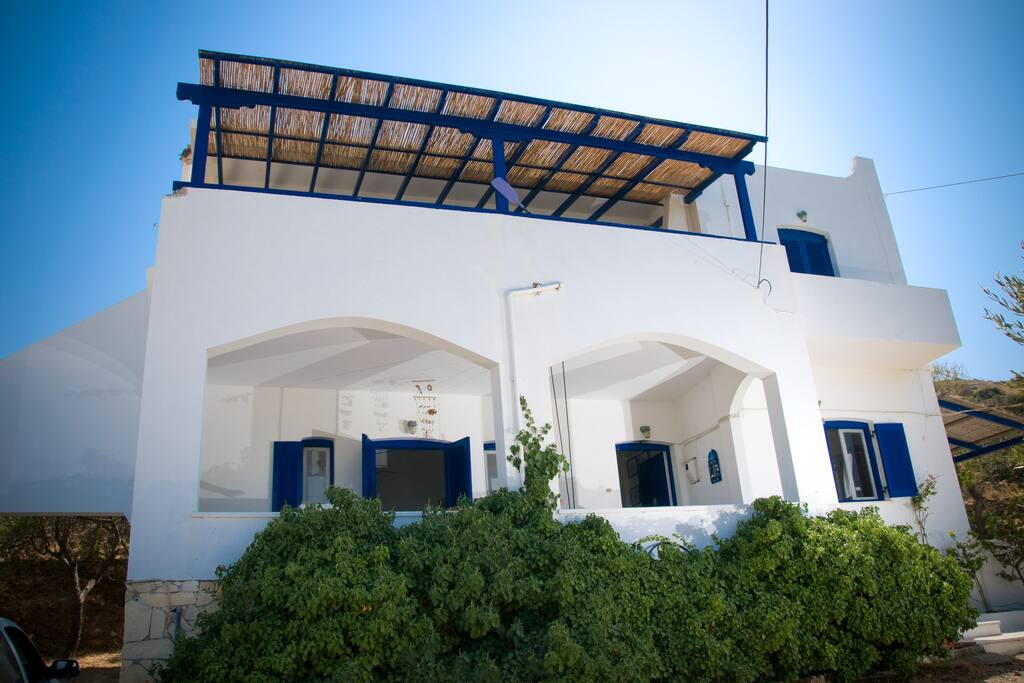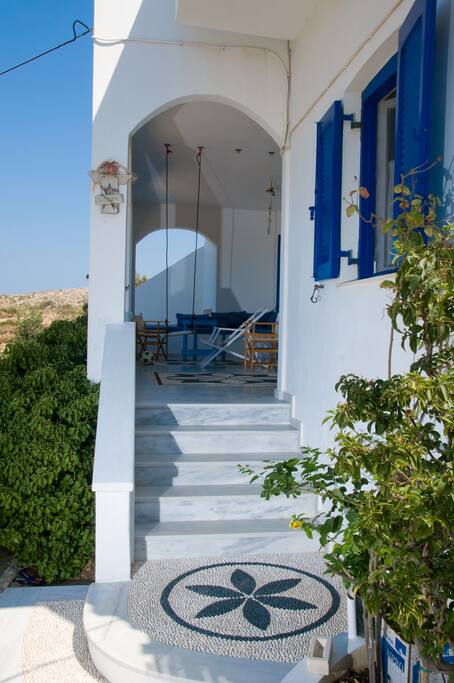 房源
Villa with pebble mosaics, next to the sea, in an estate of four acres with a private church and an olive grove over 100 years old. It has a wonderful view and provides a sense of absolute silence. Our villa is three minutes away from the beach by foot. It has three bedrooms, a large living room with a fireplace and a great view of the sea, fully equipped kitchen, marble floor with homemade pebble mosaics, mosquito nets on all beds and two large verandas with view of the sea. Next to our villa, down the beach you can find a small fish-tavern. Our villa is a perfectly safe place for families with children, because it's surrounded by an estate of four hectares, filled with olive and almond trees, where your children can feel free and play games in a natural environment. In the estate there is a private chapel, where someone can organize a special wedding (at that chapel took place our, unforgettable to all, wedding ) or even a baptism and last but not least, it has enough parking space for everyone ! Our Villa is located in the northern part of Leros, in an area called Blefouti, only a kilometer away from the airport. In front of it, lies a beautiful and quiet bay. At the entrance of the bay, you can find a small desert island, called Stroggyli.The island is located in the Dodecanese Islands between, Patmos, Lipsi and Kalymnos, where someone can go daily in about 15 to 30 minutes via flying dolphin. Our friend Captain Manolis with his traditional wooden boat (called trehantiri), can take you to wonderful nearby islands (Aspronisia, Arki, Tiganakia, Chalavropa, Marathi) with emerald waters and traditional taverns. Excursions are organized by other tourist boats also. During the trip, Captain Manolis offers local delicacies, ouzo or raki and fruit. It 's an experience you shouldn't miss!!!Leros is a beautiful and fully organised island with its central port Lakki, which is the second largest natural harbor of the mediterranean. Lakki was built by Italians, who produced beautiful homes and buildings, major roads, hospital, two marinas and is only 15 minutes away from our villa by car. The second smaller port of Leros is Agia Marina, with its fabulous old neoclassical houses, archaeological museum and nightlife. Next to Agia Marina, you can find Alinta, the main beach of the island with cafes and restaurants that mainly operate during the day. Five minutes away by car from Alinta, there are the Two Liskaria, which is another beautiful beach with beautiful waters where you can enjoy the sea while having a nice drink and grabbing something to eat from the bar located there.
All these are ten minutes away from our Villa by car.
Places to visit:
The magnificent Leros' castle with its lovely view across the island.
The War Museum in the tunnel in Merikia.. A unique tunnel that travels you in the Second World War.
Panagia Kavouradena. A small church in Xirokabos located in a rock by the sea.
Agios Isidoros. The chapel is actually in the sea and is linked to the mainland by a narrow strip of land.
The Folkloric Museum in Alinda at the lovely Belenis' stone tower.
Restaurants and bars:
Mylos Restaurant. Lovely restaurant located in a water mill next to the sea.
Sotos. Small tavern with tables on the beach that serves fabulous fresh shellfish that Sotos daily fishes.
Mavrakis. Homemade food in Alinda, on the seafront, especially for lunch.
Panteli. A picturesque harbor where you can find restaurants with tables on the sand and awesome (website hidden) 'Meltemi' in St (website hidden) 'White' in Agia Marina.
Coctail Bar 'Thalassa' in Agia Marina.
Internet Cafe 'Enallaktiko' in Agia Marina.
Café Bar 'Cosmopolitan' in Alinda beach. 'Savana' in Panteli and the superb bar 'Faros' in Agia Marina.
Coffee Bar 'Dyo Liskaria' in the same beach.
I hope you enjoy your stay!
Mind the pebble and marbles. Unfortunately, as in most islands in Greece, tap water is not drinkable.
We do not throw paper into the toilet.
Water is scarse especially in summer months, so the general use of water should be rational.
For cooking or for the kitchen in general, we carry water from special places known to the local people. If you want to be a local and refill your bottles as we do, let us inform you about these special places !

---
La casa di Maria è perfetta per chi ama stare lontano dalla folla. La casa é accogliente, semplice ma molto funzionale. La mancanza di aria condizionata è ben compensata da ventilatori che rinfrescano a sufficienza. Molto piacevole pranzare in veranda guardando la bellissima baia di Blefuti.
---
ACHTUNG: Angeboten wird nicht das gesamte Haus, wie angegeben und gezeigt, sondern NUR das Erdgeschoß. Das Obergeschoß wird gesondert vermietet. Ferner sind es nicht zwei Badezimmer, sondern ein Badezimmer und ein WC. Und nun zu den Details: Maria war sehr nett und hat uns trotz Ankunft um 4 Uhr morgens am Hafen abgeholt und zum Haus gelotst. Leider mussten wir schnell erkennen, dass wir uns von den Fotos haben täuschen lassen, die wirklich schön aussehen. Insgesamt ist der Ausblick von der Veranda wunderschön. In das Haus selbst und das Inventar scheint schon sehr lange nicht mehr investiert worden zu sein. Die Küche entspricht in keinster Weise heutiger Ausstattung und lädt keinesfalls zum Kochen ein (Kühlschrank war kaputt – wurde auf Intervention ausgetauscht, Herd aus den 70er Jahren, keine Mikrowelle, kein Geschirrspüler). Eine Unmenge an Utensilien in völliger Unordnung in den Schränken, aber keine Topf oder Tupper). Hauptschlafzimmer ist durch das Bett und massiven Schrank nahezu vollgeräumt. Keiner der Schränke in keinem Zimmer war zu benutzen, da vollgeräumt und alt riechend. Anstelle Lattenrost lose Holzbretter. Im Nebenschlafzimmer selbiges Bild, Moskitonetze über den Betten mit Löchern überseht -> haben unseren Kindern leider keinen Schutz geboten (erste Nacht ein Kind 28 Gelsenbisse). 3. Schlafzimmer: Stockbetten passabel aber ohne Moskitonetz Generell sind die Ventilatoren schlecht positioniert und blasen einen die ganze Nacht an. Türen und Fenster lassen sich teilweise nicht schließen, ein Ziegelstein dient als "Stopper" – bedingt durch nahezu permanenten Wind auf Leros unbrauchbar und beeinträchtigt das Sicherheitsgefühl (das Haus liegt sehr einsam und abseits). Das Wohnzimmer hat keinen Esstisch. Die Fliegengitter an den Fenstern & Türen sind kaum noch vorhanden. Die stets hilfsbereite Irini hat wohl versucht, diese während unseres Aufenthalts zu erneuern, leider ist sie jedoch keine Handwerkerin. Das Badezimmer ist eine Zumutung. Kleinster Raum – wir waren zu viert – kaum verstellbar zu acht! Teilweise hatten wir kein Wasser (die letzten 2 Tage mussten wir bereits im Garten duschen), Abfluss der Waschmaschine zum Teil in der Dusche, zum Teil im Badezimmer selbst. Waschbecken hoffnungslos verstopft trotz des Versuchs dies vor Ort zu richten. Zusammenfassend nicht zu empfehlen, da überteuert und nicht einladend.
---
Maria's house was really fantastic ,near the see, on the beautiful bay of Blefuti, in an ideal location , calm and serene. The veranda view was amazing. The house has all the comforts, it is lovely decorated and the mosaic floors are unique ! Near the estate there is a small taverna with fresh fish and value for money. There are free sun beds as well! On the beat he which is a five minutes walk from the house ,there is practical shower with hot & cold water. Leros is a interesting and unspoilt island with friendly inhabitants good food and prestine waters! The Italian architecture of Lakki and the Neoclassical houses of Agia Marina were a nice surprise! Maria was an excellent host who really made every effort for me having a wonderful time. She gave me many helpful tips . I wish I had more time to take the cruise to the neighboring islands. When I arrived there was a nice breakfast waiting for me with fresh cheese and bread and the beat honey I have ever tasted!! She made me feel very welcomed. Overall it was all worth it!! I"ll go back!!
---
Villa Blefouti is wonderfully located, 50 meters away from the nearest beach, with a great view on the bay. We enjoyed the silence, only broken by the morning song of the cicadas and the intriguing call of the iconic tawny owl. In fact, our kids enjoyed watching the wild life there. They could see partridges, pheasants, owls, lizards and dolphins. There is one animal we wished we did not see (and hear): the field mouse (some people would call it a rat) that was gnawing almonds all night long. It was noisy and unpleasant. We thought that there was a little disconnection between what was displayed on the Airb&b website (10 years old pictures probably) and what we truly experienced. Pictures gave us the impression that we would enjoy the whole villa. We had only access to the ground floor. Pictures let us think that we would be living in the middle of a lavish and green environment. The garden was dry and abandoned: a real pity. Yes, the rooms are great, everything works… but everything is getting old, if not damaged. Toilets were not flushing properly and we were out of water for two days (the last two days of our stay, by chance). Unacceptable. Maria, the owner is very nice. She gave us great tips and information prior to our visit. This was very helpful. But once we were there, we felt that she could not assist us when needed. Her local help (and cleaner), Irini, cannot communicate in English. This was our first experience of a Greek island. We have little knowledge of the local quality standards - nothing to compare with. We can only base ourselves on what we paid. And we felt that we paid too much for what we've got. Would we recommend the blefouti villa? Yes. Fantastic location, nice villa, quiet, the sea close by, friendly restaurants in the neighbourhood, convenient, distant from the hustle and bustle of the main city but not isolated, natural environment with a great potential. Yes, under certain conditions, though. Number one: fix the water issue. Number two: make sure the "little jerry" does not become an invader. If these fixings cannot be made, the price has to go down.
---
Amazing! Maria's flat in Leros it's one of the best place I have been in a long time. So special and remote. The perfect place for a young family like us. My little 18 months old loved it!!! She was fantastic! She helped so much with lots of logistics and went beyond to make us feel welcomed. Myself, my husband and little nico truely recommend staying here!
Dear Giulia. Sorry I write to you so late but we were in a place without internet. Your presence in our house gave us great joy.You were very friendly,kind and you treated our house with respect and care. We would like to host you in our house whenever you want and I wish you all the best. Greetings. Maria
---