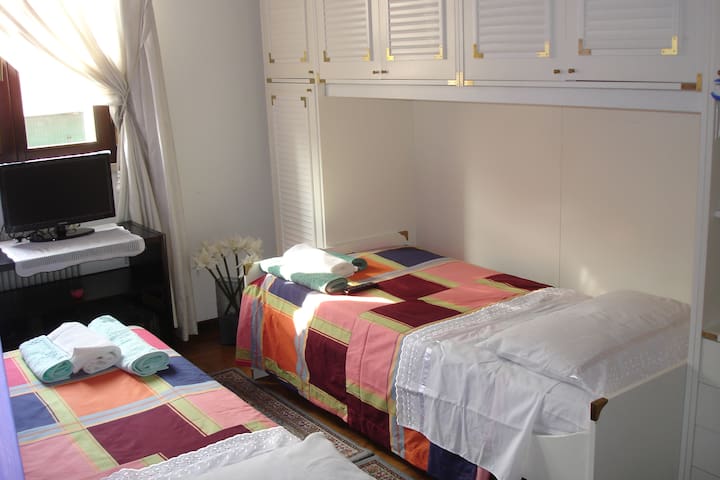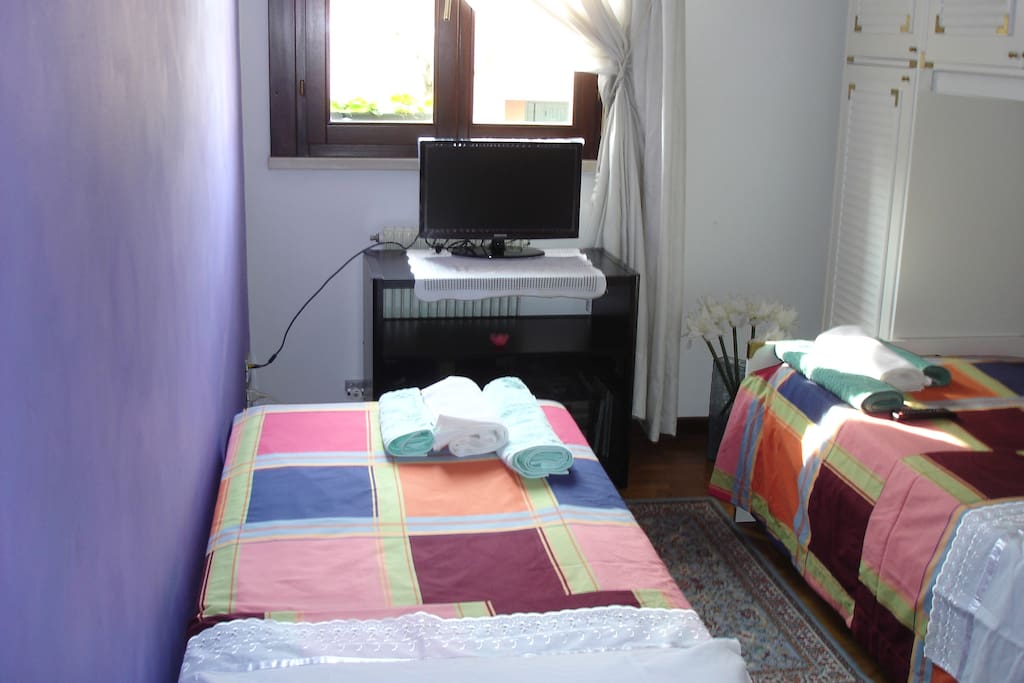 房源
租房,两张床在公寓舒适和舒适,私人浴室,厨房,无线上网,洗衣机,电视.Parcheggio车。如果您抵达Sant'Angelo di Treviso,我们接你,不收取额外费用。靠近特雷维索火车站,距离威尼斯30分钟车程30分钟。很好的服务于药店,面包店,比萨饼店和餐馆,ATM,巴士和出租车。 我们提供一辆/两辆自行车。 根据协议,无抵达的时间限制。 不要在房子里吸烟,但有一个露台可以在那里做。
Rent room, two beds in apartment cozy and comfortable , private bathroom, kitchen, wireless internet, washing machine, televisione.Parcheggio car. If you arrive at Sant 'Angelo di Treviso, we pick you up, no extra charge. Near the train station of Treviso, Venice is 30 minutes by train EVERY 30 minutes. Well served with pharmacy, bakery, pizzeria and restaurants, ATM, bus and taxi.
We provide one/two bicycles.
Subject to the agreement there is no time limit for arrival.
Do not smoke in the house but there is a terrace where you can do it.
---
---
您还必须确认以下情况
需公用某些区域 - La cucina
---
Stefano was very nice. He is flexible with checking in time. He took us to the bus terminal which was very helpful and he showed us a little town of Treviso. The apartment is about 15 minute drive from the airport and the bus terminal which is about 30 minutes or so for walking. One of the only things that I wish could've been better is if the location change or is different than the one we signed up for, I would've been notified earlier than the week of my trip. The changed in address threw my planning process off.
---
Please read. Stefano is a very nice guy. He communicated very well when we were arriving for check in. He offered to pick us up from the train station and then took us to his home for us to drop off bags. We asked for a spare key and weren't able to have one because his wife was gone and needed the key... he said he had to leave for an hour to pick up his daughter from school but we were so hungry and wanted to leave but couldn't if we didn't have a key to get back in (you also need a key to lock his door). He offered to drop us off at the supermarket and pick us up in 1 hour once he was done. After the supermarket he took us to dinner and ate with us... My husband and I were on our honeymoon so we didn't necessarily want that. When it came time to pay at (his friends restaurant), his friend put the bill on one check and we had to pay for his coke, meal & dessert. We thought this was rude because we didn't ask for him to drive us there, we didn't ask for him to stay or pick us back up. We felt like we owed him something because he kept driving us places. On our way home from dinner he toured us around Treviso (VERY pretty town)... But again, we didn't ask for a tour. He provided breakfast then next morning and offered to go to the train station with us (not sure if he meant go to Venice with us or just drive). We definitely said no. On our last night, we asked him what bus to take to go to dinner by Treviso University and he offered to go with us to dinner again... NOOOOOO. My husband and I are very friendly people but we wanted alone time! We told him no & he still offered to drive us to a restaurant which was a nice gesture. Stefano drove us to the airport on time for 30 Euro (well worth it). If you're traveling and want to get the local feel while having a tour guide with you, definitely STAY here. If you're wanting to spend alone time, DO NOT STAY HERE. He also asked us to give him 5 stars at the end of the trip.
---
Stefano was a great host. He picked us up and dropped us off at the train station on most days and was available if we had any questions. If Stefano isn't available to pick you up from the station, a taxi ride to the house is about 13 euros. Stefano was able to set us up with a helpful tour guide who showed us around Venice and the islands, and was priced at about the norm for a guide for two people. He also took us to his friends restaurant, which was wonderful. Although the internet network was down when we were there, Stefano was kind enough to set up a hotspot so me and my friend could contact everyone we needed to. Overall, Stefano was a very helpful host.
---
Stefano is a very nice guy and his wife (whom I met after almost two days at their home) is nice too. Here's the thing... if one wants to stay somewhere where they can come and go easily and feel like they are in their own home than do not go here. Once inside their home I felt like i was living in someones home and was on their schedule slightly, I did not feel free. On our way to the AirBNB from the airport (Stefano drove us for 25Euro) Stefano took us to a restaurant he enjoys. The food was great but when it was time to pay Stefano just stood there while my brother paid for our meal (He ate as much as us! Very Sleazy). The following morning Stefano drove us to a bakery to get food and meet his ex-wife (who was our potential tour guide for the day in Venice). Once I met her I thought "absolutely not". She seemed unhealthy, very jittery, not a great walker and sneezing/wiping her nose. She had no presence. Do yourself a favor if you find yourself in my situation, walk around by yourself! That is what my brother and I did and it was great. Do not pay to walk around a new city. All things considered Stefano is a nice guy, as is his wife, but he lis like the annoying stepdad nobody wants to be around (talks a lot, gets involved in everything somehow, likes to show you things, likes to initiate ideas without talking with you first) and he did not pay for his own food (HUGE CHARACTER FLAW, UNACCEPTABLE). I almost forgot, In the car on our way back the train after our final night, he actually asked me to give him 5 stars! So unprofessional. just for pressuring me to give him 5 stars I decided to give him no more than 2. If you like to feel hovered over and institutionalized a train ride away from the city of venice than stay here. If not, be wise, spend the extra money for a AirBNB for you only (Whole Home) or a nice room in Venice.
Primo tu non sai se io non pago il pranzo per accordi con il mio amico e quindi non permetterti di scrivere certe cose . Secondo non hai scritto delle 2 lavatrici fatte a casa per le vostre 2 valigie di vestiti da lavare e se le avessi portate in lavanderia 30 euro a testa forse non sarebbero bastate . Terzo sono SuperHost certified con più' di 80 5 stelle e tu sei il primo in 4 anni che si permette di criticare . Buona giornata .
---
Sport; Rugby, Juventus. Cucina salutista AMC. Fiori di Bach. Metafisica. Le mie massime "Vive e Lascia Vivere" "Se mi dai pesci, mangiare oggi, se tu mi insegni a pescare, posso mangiare domani.
语言:
English、Español、Italiano、Português