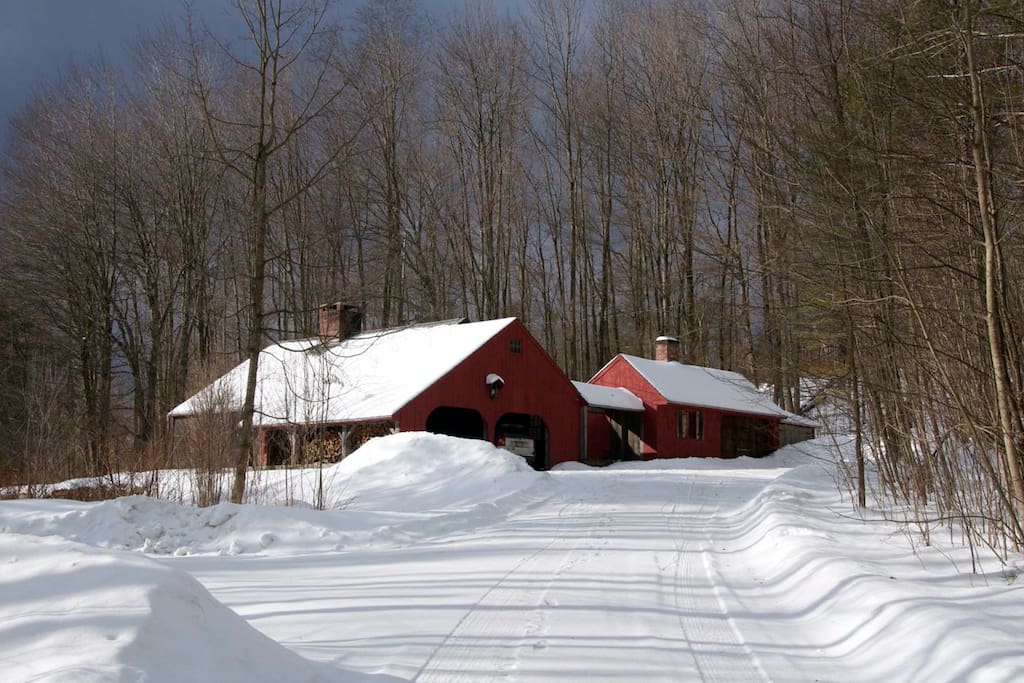 房源
Our beautifully renovated farmhouse sits on 15 acres of secluded land with spectacular mountain views. We are located a mile from downtown Londonderry, 3 miles from Magic Mountain, 7 miles from Bromley and 10 miles from Stratton ski areas.
• Brand new open plan gourmet kitchen
• Super cozy living room with huge fireplace, timbered ceiling and picture-perfect mountain views
• Brand new main bathroom with spacious walk-in shower
• Master bedroom with queen bed and brand new half bath
• Romantic upstairs bedrooms under the eaves: one with queen bed, the other with two twin beds
• Two additional bedrooms downstairs, one with twin bed, the other with a bunk bed
• Spacious mud room
• High-speed wireless internet (15/8 Mbps), 42" LCD TV, Blu-ray/DVD/CD player with internet media player, active Netflix account, and powered speakers to connect your devices
• New washer & dryer
• Towels, sheets and initial linen service included
• Firewood included
• Pets considered
We look forward to welcoming you to our home!
Please note:
• 9% Vermont Rooms Tax is included
• $20 laundry fee per person is NOT included
与房客的互动
We're happy to help you find things to do and places to visit during your stay. We're both on email & text and pretty responsive, so ask away!
---
---
---
---
Welcome to Londonderry!
SAFETY FIRST
First aid kit
We hope you won't need it, but there's a first aid kit under the left sink in the main bathroom.
Flashlights
There are emergency flashlights (white with Red Cross logo) installed in AC outlets throughout the house. These will light up automatically in case of a power outage.
Gas range
Please be careful when using the gas range in the kitchen. If you blow out the flame on a burner, it will not automatically re-ignite.
Candles
There are lots of candles throughout the house. Please use common sense – don't leave lit candles unattended, and keep them away from curtains or other flammable objects.
Workshop area
If you have young children, please be careful when entering the workshop area: there are lots of fascinating but very sharp and rusty things in there.

WHEN YOU ARRIVE
Entering the house
Please enter the house from the garage entrance. This leads to a mud room with lots of space to take off shoes, hang up coats, etc.
Internet access
Our WiFi network is interwebz, password is madelein3. The router is on the bottom of the left-hand bookshelf in the living room, if you need to restart it for any reason. We have surprisingly high bandwidth for a rural area—usually close to 50 Mbps down / 25 Mbps up.
Heating
We have a Nest remote-controllable thermostat, so if you're visiting in Winter we'll make sure the house is heated before you arrive. If the house isn't heated for some reason, just tap the thermostat and rotate it to the temperature you want. The thermostat is located on the wall to the right of the staircase.
Making fire
Make sure the flue is open before starting a fire! The lever is on the right side of the fireplace. There is plenty of firewood in the garage, and you'll find a wood carrier in the tinder box built into the garage walkway. If you plan on making lots of fires, please clean out the ashes every few days. There is a bucket for ashes near the garage entrance.
Security camera
We have a security camera installed on the top shelf to the left of the picture window in the living room. Please feel free to cover it up or disconnect it during your stay.

DURING YOUR STAY
Basic supplies
We try to keep the house stocked with all the basic household supplies you might need when you first arrive: coffee, tea, sugar, paper towels, napkins, soap, toothpaste, detergent, sponges, etc. So no need to bring the basics, but we would be grateful if you could replenish those stocks before you leave.
TV & streaming media
There's a DVD and internet media player connected to the TV. You can use the active Netflix account, or log in to your own streaming services (Amazon Prime, Vudu, Hulu, etc). The player uses WiFi, so no need to connect to the router. There's also a (small, quirky, picked-over) collection of DVDs in the house – enjoy.
Linens & towels
Your beds will be made when you arrive, and towels will be in the bathroom.
Washer & dryer
There is a stacked washer + dryer in the house and there should be enough detergent for at least a few cycles.
Books
We have a small collection of books in the house, including a decent set of classic children's books in the upstairs south-facing bedroom.
Board games
You'll find a selection of board games at the bottom of the right-hand bookshelf in the living room.
Binoculars
There is a decent pair of binoculars on the right hand bookshelf in the living room. Great for birdwatching!
Audio
There's a pair of speakers set up in the living room bookshelves. You can connect them to your devices using the labeled mini-jack connector or via Bluetooth – look for "Audioengine". There's also a second pair of speakers in the upstairs south-facing bedroom and a basic radio with weather and CB bands in case of emergency or power outage.
Trash & recycling
There are two small recycling bins in the kitchen cabinet to the far right of the range – one for paper, the other for cans and plastics. In the garage, you'll find a large blue bin for trash and a green bin for cans & plastics recycling.
Londonderry does not have trash pickup, so you will need to take your trash and recyclables up to the Transfer Station on Route 100, about 1.5 miles north of Main Street (Route 11) on the right side of the road. Opening hours are Mon, Tue, Thu, Fri 10 AM – 3 PM, Sat 9 AM – 5 PM. The station is closed on Wednesdays and Sundays. More info here:
(URL HIDDEN)

WINTER GUESTS
Parking and snow removal
If heavy snowfall is expected, please park your car(s) in the garage. We have snow removal service, and they will be able to dig you out much faster if they don't have to work around parked cars.
No winter shoes in the house please!
Winter guests, please please please take your shoes off in the mud room. Winter shoes and ski boots are really hard on our old pine floors…

SUMMER GUESTS
Patio furniture & barbecue
There is a full set of patio furniture with outdoor cushions and a Weber BBQ for our Summer guests. These might be stored in the garage or already set up on the patio, depending on when you're coming to visit.
Ping pong table
There is a folding ping pong table in the garage. The best place to set this up is on the level ground in front of the workshop. Please be careful when rolling the table out of the garage, the wheels don't roll very well on gravel.
Fans
There is a powerful built-in fan that vents air outside the house on the upper floor. There is a labeled switch for the fan in the upstairs hallway. This fan is very quiet, so please remember to turn it off for at least a few hours every day. There are also two large portable fans you can move around the house if it gets hot.
In our experience, the upper floor does heat up during the day in Summer, but usually cools off quickly in the evening.

BEFORE LEAVING
Please strip the beds.
Please empty the fridge and remove any non-perishable items that aren't sealed (eg. open boxes of rice, cereal, etc).
Please lock both doors and put the key back where you found it.
Please close and lock all windows, and draw the curtains.
Please close the fireplace flue to minimize heat loss.
Please make sure the upstairs summer fan is off -- it's very quiet so you might not notice it.
Please remove any remaining trash or recyclables (don't forget the Transfer Station is closed on wednesdays and sundays).
Please sign out of any premium services you might have connected to on the media player.
Please turn off the speakers in the living room (turn volume knob counterclockwise) and upstairs bedroom (disconnect from AC outlet).
Please take out any unused firewood and put it back in the garage.
Summer guests: please close the patio umbrella and make sure the grill is covered.
We hope you have a wonderful stay in Londonderry! If you have any questions or concerns, please contact us any time.
---
---
---
---
Marc:
Digital creative, interaction designer, reformed programmer. Culturally conflicted French-American. Loves kites, mobiles, kinetic art.

Marjorie:
Coming soon.