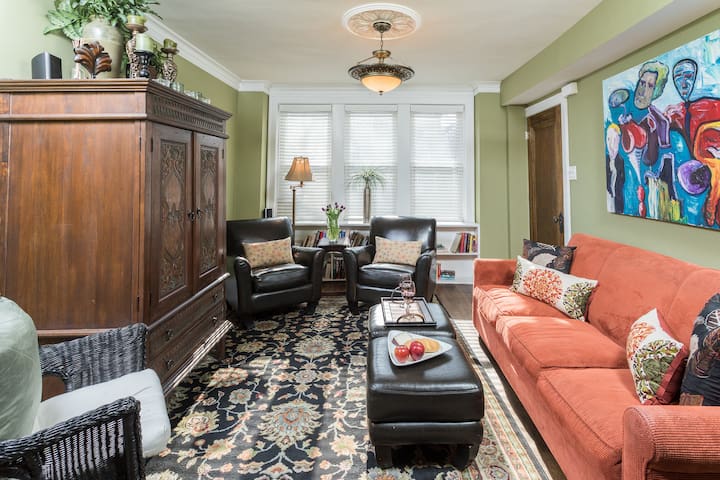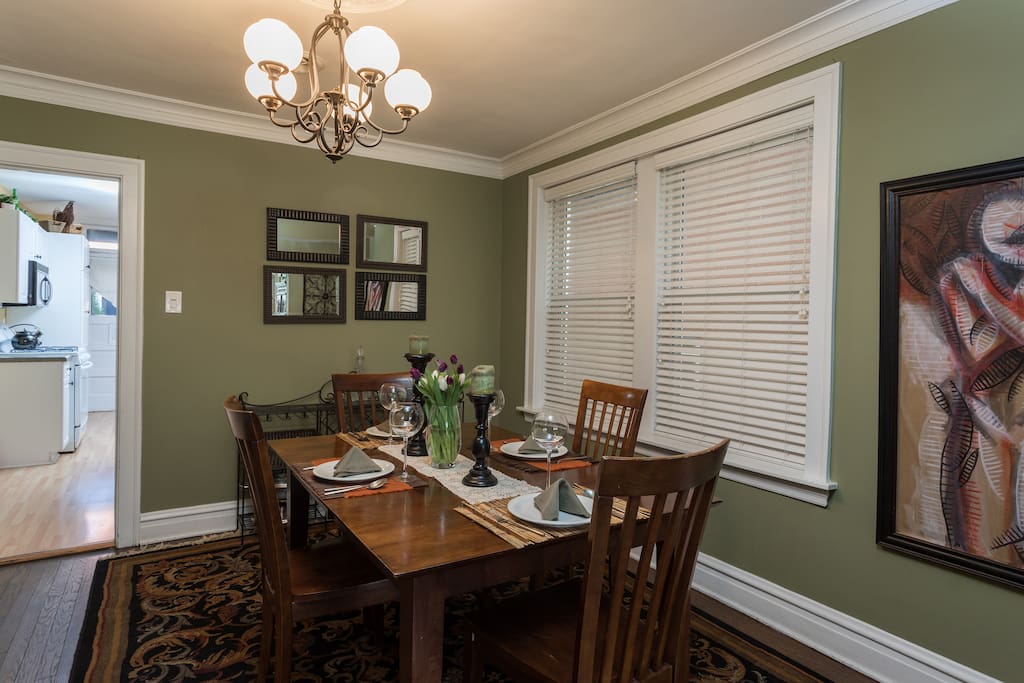 CHICAGO GUEST HOUSE
1ST FLOOR BELMONT SUITE
A vintage beauty with all the modern comforts and amenities. No doubt you'll love calling this place 'home'!
Amazing Neighborhood--Walk to EVERYTHING!
Wrigley Field / Shopping /Theatre / Music /Dining
房源
Two Flat
2nd Floor is Owner Occupied--Owner has a Dog
the dog is NEVER in the downstairs apartment.
1st Floor is a separate apartment--used STRICTLY as a vacation/corporate rental. You will NOT find any 'personal items' in the 1st floor unit.
Meticulously maintained--extremely clean and comfortable.
房客使用权限
Common Space: Garden and Garage
其他注意事项
There is NO Washer/Dryer
Chicago Guest House will provide overnight laundry service for all guests at no charge. Call owner for pick-up.
Chicago Guest House Licenses #2209311
了解这一数字
---
---
---
CHICAGO GUEST HOUSE LEASE AGREEMENT
Guest will be required to sign a lease agreement (SAMPLE BELOW) prior to your stay.
1. NO SMOKING: Smoking is strictly prohibited ANYWHERE inside the building, front porches or enclosed back porches or within 15' of any entry door, window or ventilation intake. Disposing of cigar/cigarette butts on the property (lawns, flowerbeds, flower pots, driveways, parkways, etc.) WILL NOT be tolerated. Ashtrays are provided for guests. Smoking in the building will result in the forfeiture of $500 damage deposit and all Guests in the party will be asked to vacate the property.
2. NO PETS of any kind are allowed anywhere on the property. Pets found on the property will result in the forfeiture of $500 damage deposit and all Guest in the party will be asked to vacate the property.
3. MAXIMUM CAPACITY FOUR (4): Lessee agrees they will not exceed the maximum capacity for the apartment. Each member of the Lessees party MUST be at least 30 years of age. Exceptions made on case by case basis. ASK OWNER. Chicago Guest House makes every effort to book each building with group having 'SIMILAR DYNAMICS' in order to reduce any unnecessary disturbances, thus any Lessee who misrepresents their group is consider in breach of this contract; Chicago Guest House LLC reserves the right to refuse occupancy or have the property vacated for lease violations. All money applied toward the lease will be forfeited.
4. NO DRUGS USE: No drugs of any kind to be used on the property. Drug use on the property will result in the forfeiture of $500 damage deposit all Guest in party will be asked to vacate the property.
5. Trash Disposal: Chicago Guest House does NOT provide daily cleaning services. Lessee agrees to keep the common areas (back porches, yard, and patios) free and clear of trash and any dining ware. (Cans, bottles, trash bags, dishes, glasses, etc.) Trash receptacles are located in the alley behind the garage. Blue for recycling, black for all other garbage.
6. Conduct: Lessee assures that he/she and their guests who occupy the property during the term of the lease will conduct themselves in a manner that is respectful and inoffensive to the neighbors and other Tenants in the building. They shall not disturb, annoy, endanger or inconvenience the neighbors in any way.
7. Refunds: Chicago Guest House LLC, will make every effort to ensure all equipment (mechanicals, electrical equipment, cable, etc.) is kept in good working order at all times however, it is impossible to guaranty this. In the event a repair or replacement is found necessary, Chicago Guest House LLC will make every effort to have such repairs made within 24 hours of the report (during normal business hours) Please report inoperative equipment promptly. Refunds/allowances will be granted ONLY if the property is unfit and uninhabitable. The malfunction of mechanicals (air conditioner/furnace/water heaters, etc.) appliances (stove, refrigerators/freezers, microwaves, etc.) electrical equipment (TV, Stereo, DVD, etc. plumbing or noise will not automatically render the property unfit and uninhabitable. Bathroom plumbing issue resulting from the disposal of anything other than toilet tissue will be considered negligent behavior by Lessee and/or his/her guests. No feminine products, baby wipes, cloth of any kind, food diapers, or other misc. items shall be flushed in the toilets. Any cost related to the remedy of the problem will be deducted for the damage deposit. No amenities are guaranteed. In the event Chicago Guest House is unable to remedy the problem within 24 hours (business hours) we will relocated the Lessee to a comparable Chicago Guest House managed property. If no property is available, it is the Lessee's responsibility to find alternate accommodations: Lessee expressly acknowledges that Chicago Guest House is NOT responsible for any expense incurred as a result of relocation to another hotel/property.
8. Leave it as you found it: Lessee is expected to leave the property ( with the exception of the laundering of linens & towels) in the condition it was when he/she took occupancy. Maintaining the property in good order and appearance. All fees for cleaning services above and beyond the 'normal' scope of cleaning will be deducted from the damage deposit. EXAMPLE: Steam cleaning /shampooing carpets, rugs, drapes, curtains, mattresses, furniture, etc.
9. Lessee agrees to indemnify and save Teresa A. Smith and/or Paul J. Kelly harmless from all liability, loss or damage arising from any nuisance or harm made or suffered on the premises by the , or his/her Guests from and carelessness, neglect or improper conduct of any persons entering, occupying or visiting the lease premises. In the event that any action shall be commended by either party arising out of or concerning this lease or any right or obligation derived there from the prevailing party shall be entitled to receive attorney's fees as fixed by the Court for all relief at law or equity. Lessee assumes full responsibility for fulfilling the terms of the lease for the period stated and assures Chicago Guest House LLC full recourse for the payment of any amount outstanding.
10. Chicago Guest house LLC requires their employees to monitor the adherence to the terms of the lease agreement. Employees of Chicago Guest House are on site each day to maintain the property. Any employee/contractor of Chicago Guest House LLC WILL be granted access to the home at ANY TIME for 'reasonable suspicion' of a lease violation or necessary repairs. Lease violations will be result in your party being vacated from the property.
---
---
---
---
The apartment was well appointed and beautifully decorated. Fully stocked and super clean. It was everything we were looking for since we had Cubs tickets for the weekend. Just a 15 minute walk to Wrigley Field and minutes to a ton of shopping, restaurants and a train stop. We didn't a car to get around so the garage parking was a bonus. We will definitely stay with Teri again.
---
We spend three nights in the apartment with our two children. We had lived in the neighborhood for several years so the location was perfect, as was the space. Teri was very responsive and helpful during the planning stage. The apartment was clean and stocked with all the basics when we arrived. The back yard was a nice, peaceful place to sit on a hot summer night while the kids slept. There were two issues. First a dog lived upstairs and we could hear it's every footstep and bark. This was not disclosed on the listing. Airbnb should require this info to be disclosed prominently. Second there was no working smoke alarm which is dangerous and probably illegal. Teri was quick to apologize and will be fixing these issues for the next guests.
---
Very nice aparment, clean and comfortable. We especially loved the terrace! The neighborhood is quiet although the apartment is only a five minute walk from the brown line (Southport station) or to Belmont (15 min.) In both directions you find nice cafés, bars and there is also a supermarket nearby. Everything you need to have a pleasant stay in Chicago. Not at least, Teri is a very dedicated host and always replied within a very short. All in all, we felt that we were in good hands.
---
Someone once told me, "Find a Job You Love and Never Work a Day In Your Life!" Well, in 2005, that is exactly what I did when I opened the doors to Chicago Guest House. So, if you're the type of person looking for a unique & memorable experience --someone who appreciates spaces with a 'personal touch' then you've come to the right place. This business is my passion and I think it shows!


Find a Job You Love and Never Work a Day In Your Life!
I got lucky that way and I think it shows!