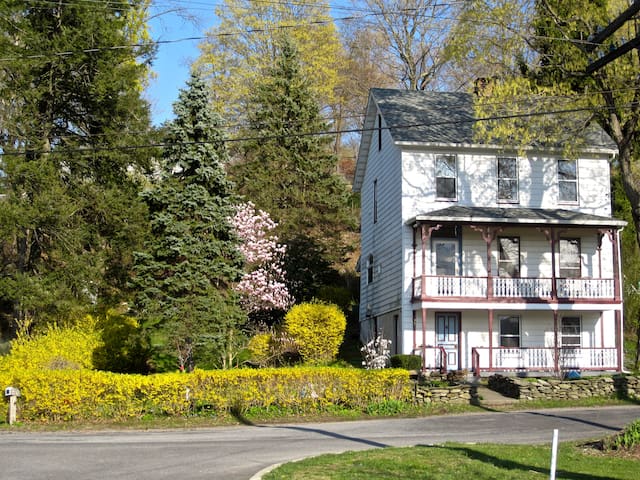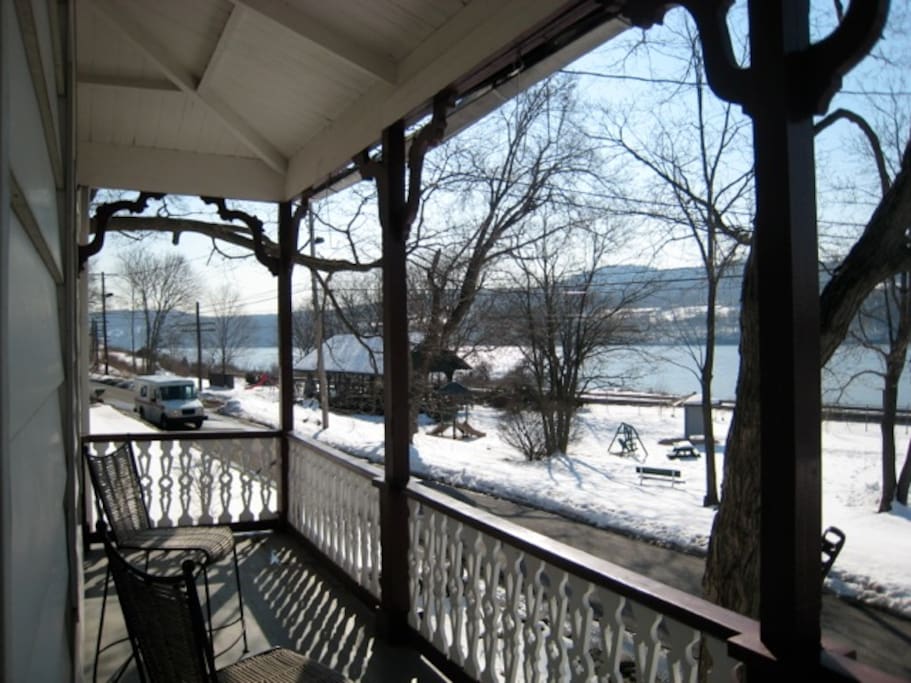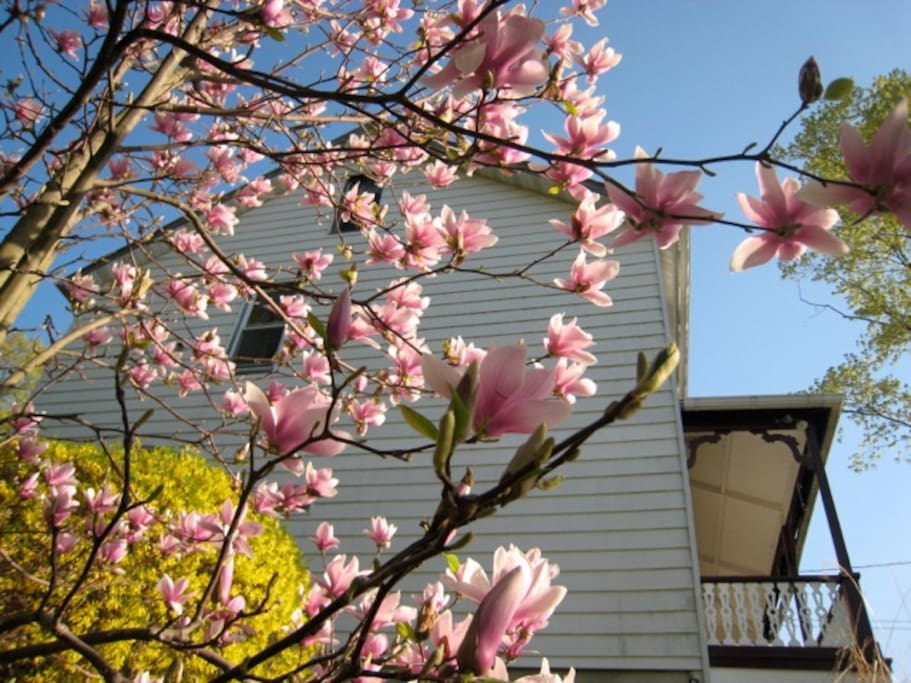 This lovingly furnished home in Hyde Park NY overlooks the magnificent Hudson River in a very quiet neighborhood within walking distance to the Franklin Delano Roosevelt and Vanderbilt estates. It comfortably accommodates two guests.
房源
Beautiful Historic House on Hudson River
This furnished home in Hyde Park NY overlooks the magnificent Hudson in a very quiet neighborhood within walking distance to the Franklin Delano Roosevelt and Vanderbilt estates. The property includes a beautiful garden with stunning views of the river and it is located directly across the street from a park with swings and a gazebo. The house was built in 1865 and is fully renovated. It is a one to two bedroom home with a porch and a balcony, a/c and includes all appliances (washer/dryer, refrigerator, stove, dishwasher, highspeed internet with WiFi, cable tv, dvd). This romantic getaway is 10 minutes by car from the Poughkeepsie train station, with Metro North running hourly trains to Grand Central, a relaxing 90-minute train ride along the river. It is a 20-minute drive from Rhinebeck.
Hyde Park's main street known as Albany Post Road or Rt. 9 is half a mile away, within walking distance. There you can enjoy breakfast at the local café and shop fresh produce at the Saturday Farmers' Market. The Hyde Park post office across the street from the café is listed on the National Register of Historic Places. Its construction was personally overseen by FDR and it houses murals depicting local history. If you're interested in natural wonders, rent a kayak or canoe from the River Connection nearby. Under their supervision you can depart with a guide through whom you will gain access to the tiny private harbor in front of your vacation home, to embark on a once in a lifetime excursion rowing yourself up and down the mighty Hudson and exploring the estuary up close. After working up an appetite, enjoy a fine meal at a local gourmet restaurant, a truly delicious steakhouse, or visit the renowned Culinary Institute of America within a five-minute drive.
Our home is directly located on the Hyde Park Walkabout Trail which leads straight to the Vanderbilt Estate in one direction, and the FDR estate in the other direction. On his way commuting from his job in Albany as Governor of New York, legend has it that FDR was known to sip the occasional cocktail on our balcony with his friend, the former owner of our house who happened to be a hound-keeper working for the Vanderbilts. FDR's train stopped right in front of our door. The train doesn't make stops there anymore, but the tiny station still stands and has been converted into a very unique train museum. Entrance to the Vanderbilt Estate is within a 7-minute walk from our house. The boundary of the FDR Estate is a 20-minute walk away. A path into the woods of the estate provides a lovely way of approaching the Roosevelt home and library which is another 40-minute walk away. From here you can also proceed to Eleanor Roosevelt's Val Kill, depending on how early you head out.
The bedroom is upstairs and has a queen-size bed. French doors lead into a study with a day bed and a desk facing the river. This house is the perfect place for a retreat, to spend time with friends, to wine and dine in a kitchen overlooking the river (see photo with the sailboat shot from the window above the kitchen sink) to read, write, and take long, beautiful walks.
---
---
---
Our house is a fully furnished home. Please remove muddy or wet shoes on entering. Do not use the fireplaces. Feel free to read books, listen to CDs, and use our pots and pans. Please use common sense to take good care of what you use and leave it as you found it upon checking out. Please contact our property manager should you have any questions.
---
---
---
---
Nice place ! and having plenty of space felt great to have . Great porch for watching the comings and goings of the river. We walked to FDR museum which was right out the door and was quit a treck for my mom, lol. Very interesting place leave alot of time to follow Fdr's story. Eveready Diner and Cranberries very good for breakfast. Nice comfy bed ! . Place has to be one of the best airbnbs in this area. Tv in living room would have been a personal preference for me. Kingston Hudson boat ride day two, Staatsburgh mansion day three. Communication and service top notch. Helped out washing bed sheets and keeping the place super tidy. Thanks.
---
We absolutely loved Eve's home, and are so happy we got the chance to stay there. The porch views are wonderful, and it's an easy walk into town. We wish we could have stayed longer than a week! One of our favorite parts was the state fair, although the local antiquing and historical mansions nearby were close behind. We hope to come back in the fall for the foliage, the place is surrounded by such beautiful forests. I highly recommend staying here!!
---
A delightful stay in this historic home. River views and a wonderful balcony in which to view the majesty of it. Sunsets were great. Kayaking on the river with a local expert and friend of the hosts was delightful. We even found the back driveway into the Vanderbuilt mansion. A lovely three days in Hyde Park.
---
This was my and my partner's (now fiancé's) second visit to Eve's beautiful house on the Hudson, and it was even lovelier than the first—no easy feat. We spent most of our time relaxing on the porch or in the sitting room, alternating between board games, reading, enjoying the superb CD collection (in particular the Bob Dylan, of course) as well as some of our own through the aux. There's plenty to see and do nearby too, via Jane (the very nice neighbor & property manager) we took a walk up to the Vanderbilt estate and took the tour. Per that parentheses in my first line, this spot will always hold a special place in our hearts and, for many reasons, I'm sure we're not the only ones.
---
Don't hesitate to book this home! A perfect location across from the Hudson. The home has so much charm and warmth—the moment we walked in we knew we had made the right decision. Nothing like sitting on the top deck and sipping French 75s as the sun goes down and the trains go by. Lots of walking trails close by but we suggest taking a nice car ride (30 min?) to Breakneck Mountain. A tough climb but an unforgettable one filled with one incredible view of the Hudson after another. Eve's home is special place and we hope to be back soon.
---
Such a beautiful home with a beautiful view. Great porch to look out onto the Hudson River. Close to everything my husband and I wanted to see and do. Close to hiking, biking trails and water. Definitely recommend staying here and would definitely return. Communicating with Eve, even with the different time zones, was easy as she was quick to respond. Jane the neighbor was very accommodating and also communicative during our stay. Thank you again Eve!
---