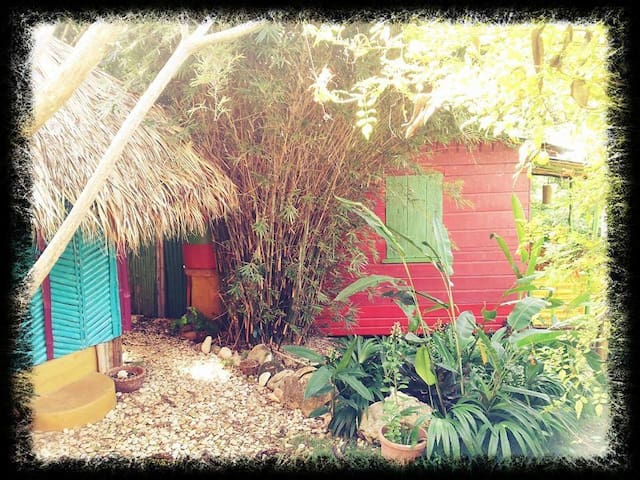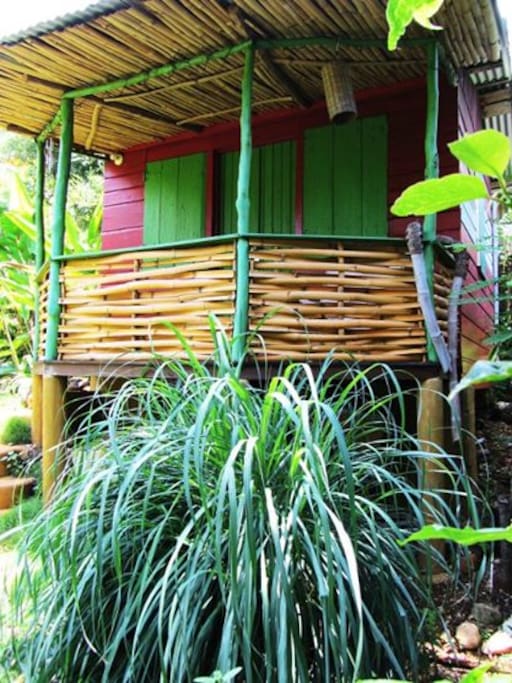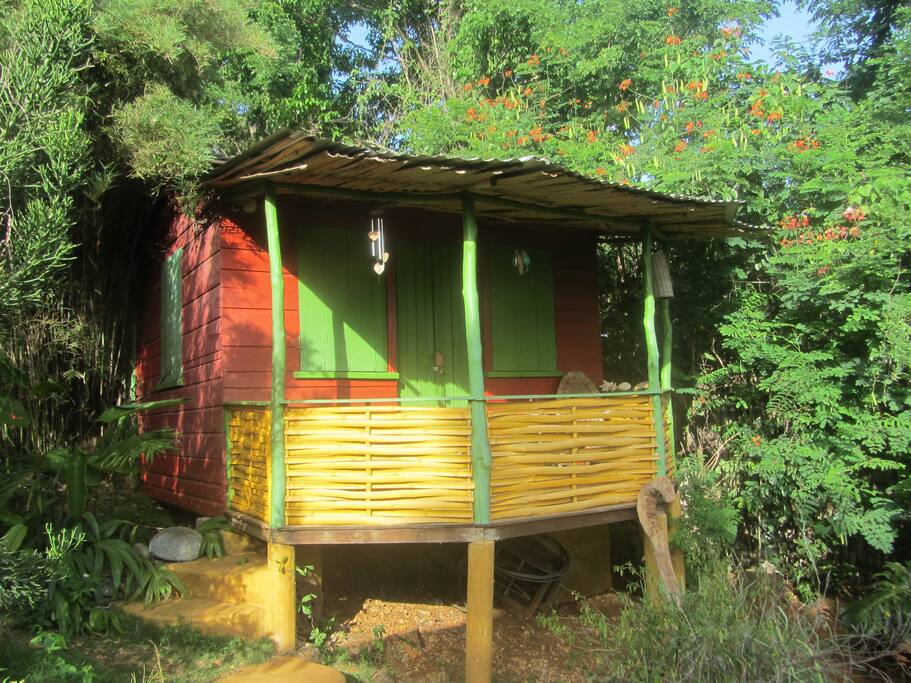 Natural Mystic Cottages Jamaica - Jungle Shack
Our 3 cozy rooms can fit 2 each and are located in a beautiful exotic flowers garden on a hill with sea view just 5 min. walk from the beach. Enjoy breakfast/dinner on request or do it yourself and support the shops, bars & restaurants nearby.
---
If you are looking for an earthy, positive place to stay while in Jamaica, THIS IS THE PLACE!! Stop your search, and book Natural Mystic Cottages! I'm a female in my 20's, and this was my first solo trip to Jamaica. Being a woman traveling alone, I was a little bit nervous staying at an air b&b in Jamaica, but this place was amazing! Getty is truly a kind and caring soul, and her cottages are very mystical. I felt at home the instant I arrived at her place. Everyone at the cottage totally clicked, and it was an awesome vibe! Natural Vibes! I I!! Some mornings we lit a fire to welcome the day and send out positive vibrations and messages for our day. The beach is a safe 5 minute walk, and that's where all of the local shops and restaurants are. We went to the Indigenous Rasta Village in Montego Bay, and listened to drumming and chanting from the Rastas, and an authentic drumming show at Treasure Beach. Getty also set me up with Belmont Basic School, so I could visit for a day to see what a Jamaican school looks like. Getty is really well connected and respected in the community, and all of the locals will watch out for you. Belmont is only 20 minutes away from Roaring River. I highly suggest you take Roaring River cave tour, and ask for the tour guide Paul or Sugar. They are really nice, honest guys, that won't rip you off. The locals are super nice, and are willing to take you into the bush (jungle), cook for you, reason with you, and make you laugh. I stayed at the Jungle Shack, and I loved it. I loved how simple and rustic it was. It's a small room, with a shower outside under the beautiful sky. I'll def be back here.
---
This place is really rustic, not indicated in maps or GPS or near the road,and you don't have to be affraid of lezard, cochrach or moskitos. But in the other hand, this is the REAL JAMAICA EXPERIENCE! Lydia is a really noce lady, very helpful and giving nice advice. She organised for us some activities with the locals and we had amazing experience discovering jamaica from this side. Thanks for this experice we are not ready to forget! :-)
---
This property is amazing!!! We love the ambiance, looking around it's as if your in the middle of the amazon but yet your only a short walk away from the main road and the beach. Lydia ( commonly known as Getty around these parts) is a beautiful spirit. She has a really warm, calm, kind demeanor and is extremely accommodating.
---
If you would like the real Jamaican experience then this shack is where you need to book yourself into! Beautiful nature all around with the sounds of wildlife and roosters early morning. A friendly community with a nearby beach and a local farm if you fancy studying natural herbs ! Lydia is literally footsteps away up in another shack on the hills if you need her for anything 'she is attentive to every need'. Also very welcoming and surprised me with a lovely morning breakfast (thank you) and dinner 'Ackee'. I hoped for a longer stay but had to leave so soon - I sure will visit again! Thanks,
---