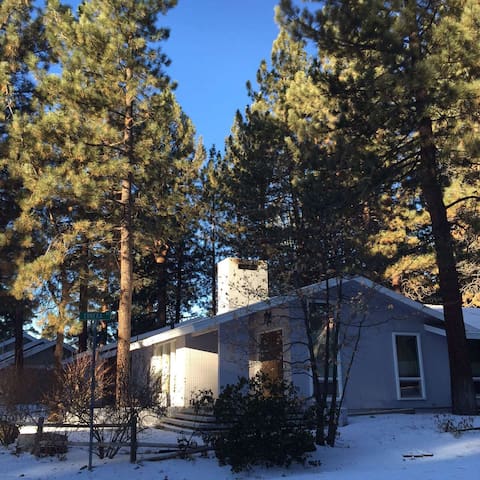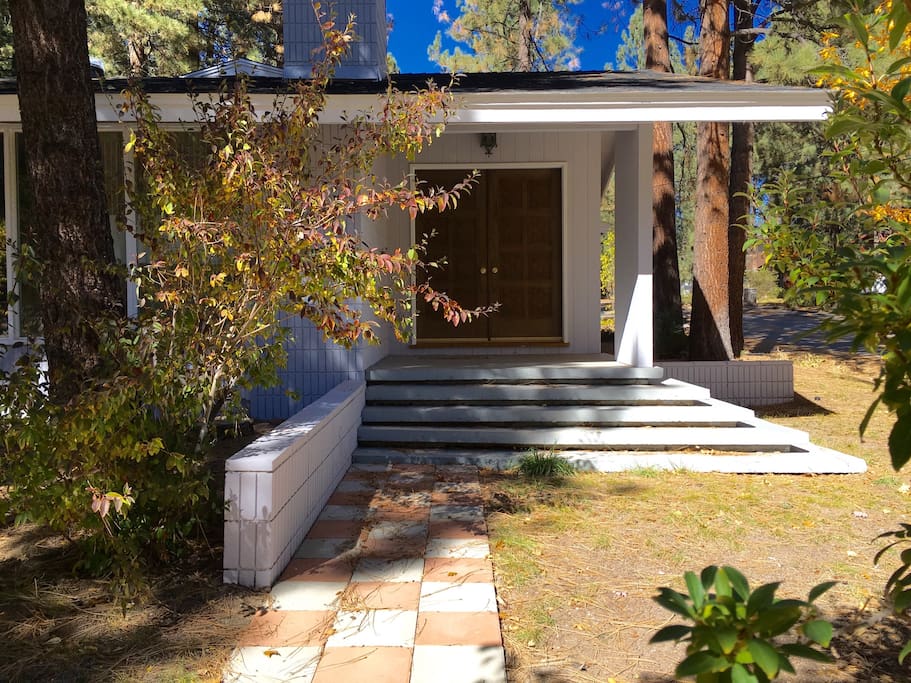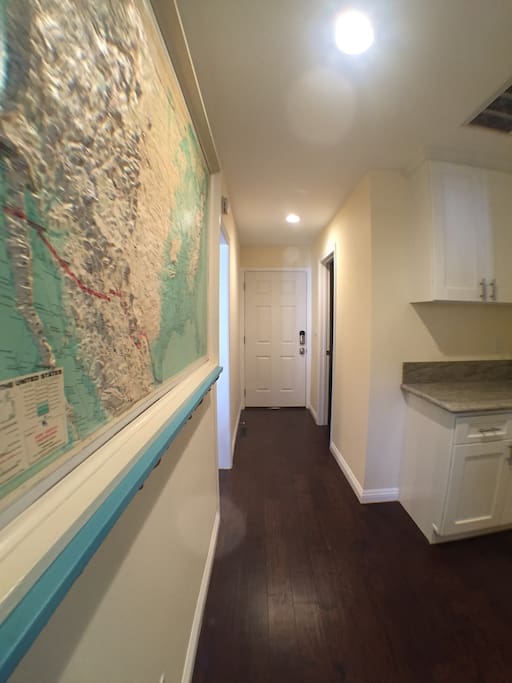 我们爱的房子位于着名的鹰点。非常安静,就在湖的对面,靠近草甸公园,村庄和滑雪胜地。在2015年改造与三个新的浴室和所有的硬木地板。坐在舒适的壁炉旁,与家人一起欣赏高清投影机的电影,为您提供最好的放松体验。 四间卧室,四张大床。主卧室内还有一个婴儿床。客厅为额外的客人提供一张大号蒲团。
Our lovey house located at the prestigious Eagle Point. Very quiet and just across from the lake, close to meadow park, village and ski resort. Remodeled in 2015 with three new bathrooms and all hardwood floor. Sitting by the cozy fireplace and enjoying a movie from the HD projector with your family give you the best relaxation needed.
Four bedrooms with four queen beds. The master bedroom also has a crib inside. A queen size futon is in the living room for extra guests.
房源细节
非常大的2100平方英尺的房子。华丽的开放式客厅壁炉和高清数字投影仪。 Pee-Lee-boo湖景从客厅和卧室。所有新衣柜,硬木地板和浴室干净明亮。四间卧室,四个全新的大床。主卧室内还有一个婴儿床。客厅为额外的客人提供一张大号蒲团。
Very large 2100 sq feet house. Gorgeous open living room with fireplace and HD digital projector. Pee-Lee- boo lake view from the living room and bedrooms. Clean and bright with all new closets, hardwood floor and bathrooms. Four bedrooms with four brand new queen beds. The master bedroom also has a crib inside. A queen size futon is in the living room for extra guests.
房客使用权限
All bedrooms, bathrooms, living room, kitchen, etc.
与房客的互动
我可以很容易地通过airbnb消息或电子邮件达成。我的手机号码将在您入住期间提供给您。
I can be reached easily through airbnb message or email. My cell number will be provided to you for emergency during your stay.
其他注意事项
**由于繁忙的假日季节和寻找清洁服务的困难,从12/23到1/2的最少3天预订。如果退房日期为圣诞节或元旦,清洁费将加倍。**
**Minimal 3 day booking from 12/23 to 1/2 due to busy holiday season and the difficulty finding cleaning service. The cleaning fee will be doubled if check out date is Christmas day or New Year day.**
This is our family vacation home. We ask that you treat it as if it was your own, and enjoy it as if it was yours as well. Please do not exceed 10 persons in the home at any time as this is regulated by the City and any complaints of overbooking of the maximum allowed (10), can cause the reservation to be canceled without refund.
Cleaning fee includes customary bathroom sanitation, vacuum, dusting and standard cleaning of entire 2,100sf home including laundering linens and making all beds. However, Guest's are required to wash all soiled pots/pans/dishes and remove all trash and perishables from the property upon check out. A free dump site is available nearby with directions at the property. Our cleaning crew charges $25/hr for any excess cleaning or trash removal, if required.
No Pets & No Smoking inside the home is allowed. Please be considerate for my neighbors, therefore No Late Night Party with loud noise or music.
Guest Occupancy Agreement signing is required and will be sent via e-mail upon reservation confirmation.
"GUEST OCCUPANCY AGREEMENT"THIS AGREEMENT, entered into this __th day of __________, 20__, by and between: Yue Yang, as Owner, and: _______________________, as Owner's Guest.
Primary Guest information is: _____________________Principal residence: ______________________________________________E-mail: ____________________CA Drivers Lic #______________Telephone # ________________
1.PROPERTY: Owner rents to Guest and Guest hires from Owner the "premises" described as: One Furnished 4 bedroom, 3 bathroom Home (aka: Lake/Village/Ski, Eagle Point home) located at:
234 N Eureka DriveBig Bear Lake, California 92315
2.TERMS: Guest agrees to pay the full rental amount of $______, an exit cleaning fee of $165.00, plus Airbnb booking fees in advance.
The above rental amount pays for ___ nights on the following days:Check in Date: ___/___/2016 Check out Date: ___/___/2016
Check in time is 4:00pm and Check out time is 10:00am unless noted otherwise.
3.CANCELATION: Rental Reservations are non-refundable. However, if cancelled by Guest prior to 1 week before the reservation start date, 50% of the total reservation fee will be refunded. No refunds or cancellations will be allowed due to bad weather, road conditions, mechanical failure, power outages, act's of nature, sightings of insects, rodents or other animals in or near the property, nor for malfunctions of any other specific features of the property. If for any reason you need to cancel your reservation, Guest must notify the Owner and Airbnb as soon as possible, and confirm your cancellation with Airbnb. Owner may cancel this Agreement at any time. In the event that Owner cancels this reservation prior to your occupancy of the premises, Owner shall, or shall instruct Airbnb to, refund all monies previously paid.[ ______ ] [ ______ ] Guest initials4.RELEASE of LIABILITY for RISK (known and unknown): Guest understands and Agrees to hold Owner Harmless against, and Assume all liability for loss of personal property and or injury to himself or any other guest occupant or visitor of the property, by any cause including but not limited to: foul weather, acts of nature, heat, fire, hot water, spa's, electricity, oven/stoves, insects or animals, and further Agrees not to hold Owner liable for any injury or loss of any kind occurring at the property during Guest stay. Guest also agrees to take extreme caution at all times when water, ice or snow are present and assumes all risks of moving in or around the property. Guest understands and agrees it is his responsibility to clear or remove any accumulation of snow or ice, as needed for safe ingress and egress to or from the property, at all times during his stay. Guest also agrees to inform all other guest occupants and visitors to the property of this Release of Liability for Risk and to inform each of them of their responsibilities in assuming risk of injury or loss while at the property. [ ______ ] [ ______ ] Guest initials5.LATE DEPARTURE AND OCCUPANCY EXTENSION CHARGES: A late departure rental fee, which may be higher than the initial rental rate, will be added to any extension of occupancy past the agreed check out time, subject to prior approval by the Owner (8 hours or less shall be charged ½ the daily rate).6.SECURITY DEPOSITS: Security deposits may be used to pay any and/or all of the following charges: Trash Removal ($50 minimum), Unpaid rental amounts, Late Departure fees, Excessive utility usage, Locksmith or re-key fees, Cost for repair of damages or replacement of Property Equipment or Furnishings, Cleaning of property after departure, including extra cost for removal or cleaning of any smoke/ash, vomit, pet, urine or blood stains or residue, and/or any damages whatsoever beyond normal wear and tear. In the event that damages exceed the amount of the security deposit, or are discovered after the return of Guest security deposit, Guest agrees to pay all cost/charges for any damages caused as a result of their stay, immediately upon being informed of said fees or damages.[ ______ ______ ] Guest initials7.GUEST INSTRUCTIONS: Guest agrees to follow all instructions contained in or made a part of this Agreement and/or posted at the property. Failure to follow said instructions may result in unforeseen injury or property damage to which Guest hereby assumes full responsibility, even if said damages are not known at the time of check-out or if they become known after the return of Guest security deposit.[ ______ ______ ] Guest initials(website hidden) ORDINANCE RULES: This property is located within a residential community and controlled by City Ordinances regulating the Transient Occupancy of Private Homes. This Home is Licensed for a maximum of 10 occupants. Any violations of Law or excess occupancy of the property may result in civil fines and/or immediate forfeiture of the rented property without refund. Only Guest signing this Agreement may authorize another guest/occupant for entry into the property and he/they is/are responsible for controlling occupancy at all times. Guest may not authorize a total of more than 10 guests or occupants, including him-self, at any time. [ _______ _______ ] Guest initials9.ALLOWED USES and RESTRICTIONS: The premises may be used for any lawful residential use in accordance with the laws of the city and state where the property is located. Excepting the following additional restrictions: No parties or social gatherings with more than 10 persons at any given time. No amplified music or sounds so as to be heard outside of said rental unit. At no time may the property be used for automotive repair tasks or the conduct of any business activity, including the production of film or photographic materials for any commercial use or purpose, without the prior written consent of Owner. [ ______ ] [ ______ ] Guest initials10.NON-SMOKING: All properties are non-smoking. Any guest found in violation of this rule will be charged a minimum additional housekeeping fee of $50.00 Smoking is permitted outside provided ashes and butts are properly disposed of in fire safe cans. [ ______ ] [ ______ ] Guest initials11.PARKING: Parking of up to 4 Guest's registered vehicles is permitted on the flat spacious driveway. [ ______ ______ ] Guest initials12.MAINTENANCE AND ALTERATION: Owner and Guest shall make every effort to maintain the property in good condition during Guest stay. Guest agrees to report any items not working as soon as possible to Owner and understands that unforeseen repairs may be required during their stay. Guest further agrees to allow Owner to schedule repairs of any items not working as soon as practically possible but that repairs are not guaranteed to be completed during rental days. Guest shall not repair alter or move any furnishings nor install anything including decoration or temporary items inside or outside of the home without prior written consent of Owner. 13.CHANGE OF TERMS: The terms and conditions of this Agreement are subject to change by Owner, after the expiration of the original rental period, upon giving 24 hours advance written notice via e-mail or fax.14.INSURANCE: Guest acknowledges that no insurance is provided by Owner and Owner's insurance does not cover Guest's personal property or any damage caused by fire, smoke, heat, cold, water, rain, theft, war, acts of god, acts of others, or any other causes, nor shall Owner be held liable for any such losses. Guest is hereby advised to obtain his own insurance policy to cover personal loses.15.RIGHT OF ENTRY AND INSPECTION: Owner, his agents, employees or subcontractors may enter, inspect, service or repair the rented premise at any time in the event of an emergency or suspected Guest departure. Owner shall give Guest 24 hours notice of intent to enter the premise for the performance of cleaning services, scheduled maintenance or repairs. In the event that Guest is required to temporarily vacate the premises for work to be performed, Guest shall receive 24 hour advance notice by Owner of need to temporarily vacate space. Guest hereby agrees that Guest will be solely compensated for his temporary displacement by a reduction in rent corresponding to the portion of the premise required to be vacated for said number of days. No other compensation shall be offered to Guest for moving expense or any other expense associated with temporary vacation of the premise or portion thereof.16.ADDITIONS AND EXCEPTIONS:________________________________Please call 24 hours in advance to verify availability of an earlier check-in, or a later, up to 4:00pm, checkout without penalty.
17.REMEDY AGREEMENT: In the event of any breach of this agreement or any dispute hereunder, all parties, their heirs and assigns consent to the judicial jurisdiction of the County of San Diego, State of California. Should any disputes arise by and between the parties to this Agreement, their heirs or assigns, the prevailing party shall be entitled to its actual attorney's fees and cost in relation thereto.
18.ENTIRE AGREEMENT: This agreement constitutes the entire agreement between Owner and Guest. No oral agreements have been made. The undersigned Guest's are jointly and severally responsible for all obligations under this agreement and shall indemnify the Owner for liability caused by the actions (commission or omission) of Guest, their guests or invitees.19.RECEIPT OF AGREEMENT: Guest hereby certifies that he/she is fluent in the English language, has read and fully understands this agreement and has received a complete copy of this "Occupancy Agreement".
___________________________ __________________________________ Guest Date
This Agreement shall be deemed accepted by Owner upon Guest complete acceptance and signing of this Agreement, and confirmation of receipt of all rental amounts due and as evidenced by the issuance of Airbnb Confirmation number ________.
Yue's place was great. Walking distance to a park that has a great view of the lake. The house was clean and had pretty much everything. The rooms were well sized and the bathrooms were very clean. The house was newly remodeled so everything was new. It snowed when we were there so the kids were able to play in the back yard and build snowman. The house is about a 5 minute drive to snow summit and centrally located. Overall, we had a blast.
---
Great location. Nice fenced in yard in back for kids to play in. House nicely updated. Owner is very responsive to texts/emails. House needs better stocking of household items like paper towels, pillows, towels, and comforters. Shared that with owner so hopefully they'll take the tip!
Lisa, I have not got up since 1/16. Last time when I was there, there were 12 pillows, 12 bath towels and 5 queen size comforters out there. Not even counting the small hand ones. There is a cabinet in the hallway and the extra towels, pillows and comforters should be there. I usually have double supplies in the storage room in case the cleaning service does not have the time for laundry and they can just use the clean bedding and towels directly from the storage room. Please let me know if it is not the case.
---
I loved Yue's place! This was my first time booking an airbnb and Yue was kind enough to make the process run smoothly for me. She is quick to respond when it comes to communication and is very accommodating. I had a pleasant stay here. It was very spacious/cozy and was nearby many restaurants and stores! I highly recommend this place!
---
My husband and I are both professionals in medical research. We like to enjoy the nature as much as we can. This is also why we own this beautiful house, just across the street from the lake in one of the most wanted areas in Big Bear.

We have two lovely kids. They like to spend time in Big Bear as well.
语言:
English、中文