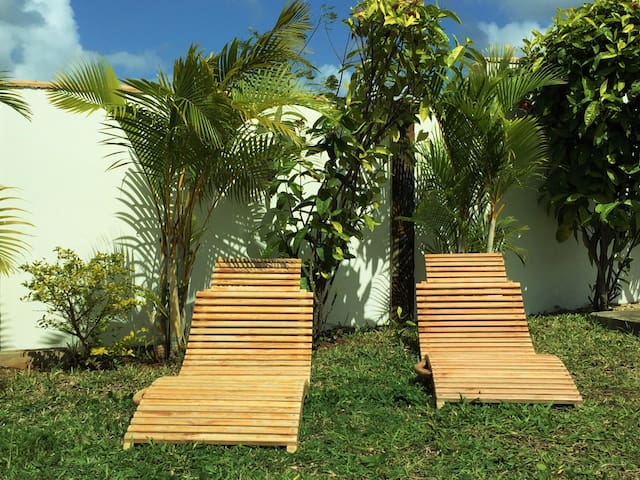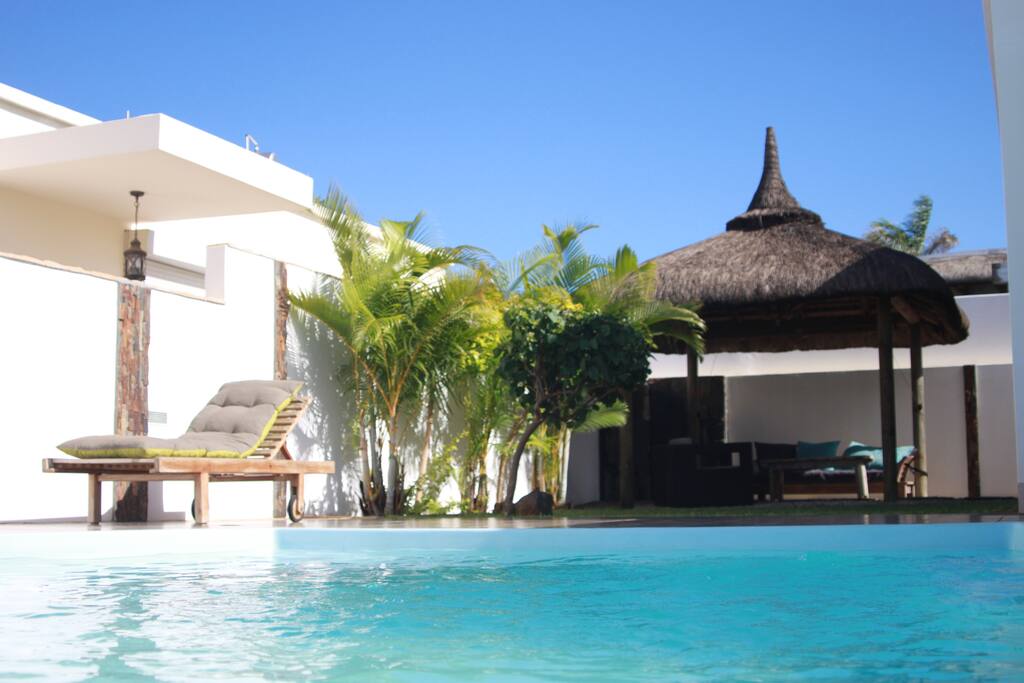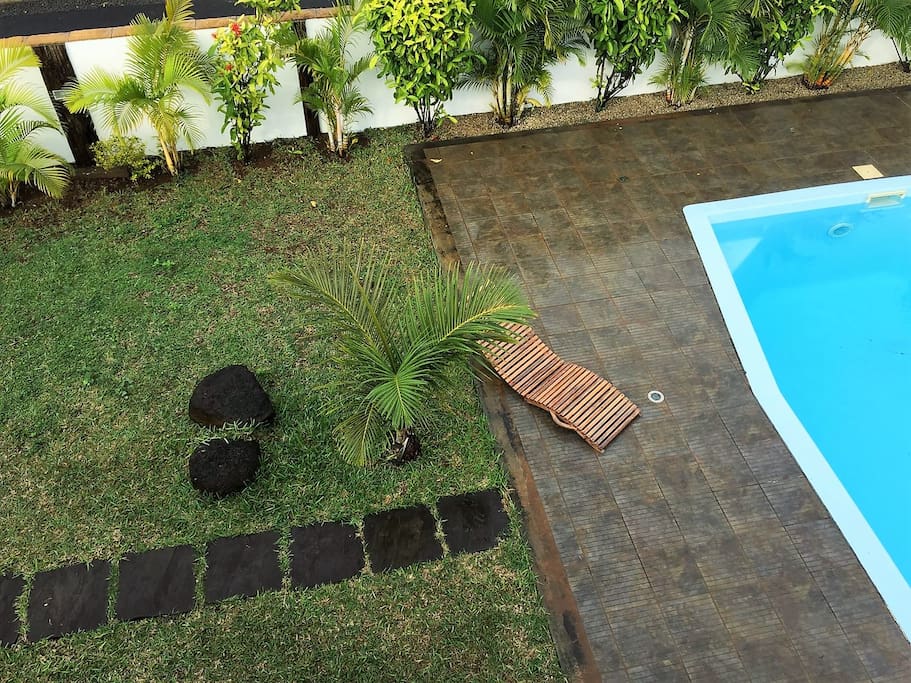 Located just 150 meters from the sea, close to the Trou aux Biches beach, nice single storey villa of 120 m2 completed by a large covered terrace and a relaxation area under a straw hut, garden and private pool in small residence with a safety guard.
房源
Located 150 meters from the sea, nice single storey villa of 120 m2 completed by a large covered terrace and a relaxation area under a straw hut, garden and private pool in small residence with security guard.
The fully air-conditioned villa consists of a large living room of 60 m2 with a sitting area and a dining area and a large open kitchen, 3 bedrooms and 2 bathrooms (walk-in showers and toilets in each of them)
-1 Suite with four-poster bed 160cm and ensuite bathroom
-1 Room with a bed of 160 cm with direct access to the garden thanks to a bay window
-1 "children room" with 4 individual beds 90 cm (2 bunk beds)
The house is adapated to réceive up to 8 people, ideal for 2 families (4 adults and 4 children)
Equipment:
-Air Conditioning in all rooms
-Safe
-TV + Canal Sat
- Sound deck for Iphone / Ipod
-Radio / CD player
-Alarm
- HeatPump for the pool
- WIFI (extra charge)
-Barbecue (Weber)
In the Kitchen: refrigerator / freezer, cooking hob, hood, oven, dishwasher, washing machine, microwave, kettle, toaster, Nespresso coffee machine (capsules not provided) multifunction robot, dishes for 8 people.
Sheets, towels in bathrooms, tea towels areprovided.
Parking for 2 cars.
Possibility to organize transfer to / from the airport as well as car rental (essential) with delivery and return of the vehicle directly at home.
close Rental car essential.
房客使用权限
Full access to the entire villa.
其他注意事项
Transfers from/to the airport can be pre-booked as well as car renting with direct delivery and pick-up at the villa.
---
---
It is forbidden to smoke inside the house.
Pets are unfortunately not allowed.
Condition of the house.
The Tenant receives the house, furniture, linen and utensils in perfect condition and finds it completely satisfactory.
The house is furnished and equiped for a maximum of 8 persons.
Use of the house.
The use of the house is for holiday use of the Tenant and his/her family or companions and in any case it can be leased or sublet totally or partially. Its holiday use cannot be modified either. Such house shall not be used for any kind of business, nor subleasing rooms, or performing unhealthy or dangerous activities or that might endanger or disturb the neighbours. The Tenant cannot perform any kind of remodelling in the house.
he Tenant is bound to inform the Landlord about any kind of breakdown or anomaly within 12 hours after finding it, and in no case should the Tenant repair it, for the purpose to minimize the consequences.
The necessary repairs made due to the negligence of bad keeping during the term of the contract shall be on the Tenant's account.
The failure to comply with the use conditions and/or the leaving terms shall cause the automatic termination of the contract and the loss of the deposit.
Returning the house.
The keys shall be returned to the contact person, on the date and at the time established. The house shall be left on the same condition as it was found: in order and no rubbish piled up. Should this case be, a surcharge shall be required or if serious situations occur the loss of the deposit.
Liability.
The Landlord is not liable for any damages (injuries, illness, decease, material damages or theft) suffered by the Tenant or his/her companions, being their sole responsibility to watch over their security and their belongings. The use of the swimming pool, garden and other facilities of the house under this contract shall be under the Tenant's and his/her companions' responsibility.
The Tenant shall be responsible for the keys, personalized security codes and WiFi that are delivered to him/her and is not allowed to give or lend to a third party outside the group of companions.
The Landlord is not liable for any possible modifications around the house, noises, works, energy cut offs nor for the negligence or omission of services attributable to third parties, as well as cases of force majeure or unexpected setbacks that the Landlord is liable to respond
---
We stayed at Magali's place for a week. We were a group of 7 persons. 2 parents and 5 teenager and adult children. We were welcomed by Aline who showed us around. The house is modern, clean, and well equipped. We loved swimming in the pool. Aline is very friendly and helpful and went out of her way to help us get data for the wifi. I would recommend you get a car for transport as there are no shops close by. We went to the beach and snorkelled every day. The garden is well kept and the lapa is a great place to relax. We only had one "problem" and it was that the aircon units were not working properly, they weren't cooling the rooms. I mentioned this to Aline and she went out and got 2 new freestanding fans which helped. We had a perfect stay and absolutely loved the house and highly recommend it. We would love to stay there again. Thank you Magali and Aline for your excellent service!
---
Wir waren im Dezember 2016 zu Dritt mit unserer 5 jährigen Tochter für 10 Tage im Haus. Mein Feedback ist gemischt. Die Highlights: 1. Geschmackvoll eingerichtet, Küche sehr gut ausgestattet. 2. Die Lounge draußen ist super kuschelig, wir haben dort viel Zeit verbracht. Auch der Pool ist toll, meine Tochter hat ihn geliebt. 3. Tolles Kinderzimmer mit zwei Stockbetten und viel Spielzeug, auch das fand meine Tochter super. 4. Viele hilfreiche Kleinigkeiten vorhanden (Grill, Strandspielzeug, Kerzen). 5. Der Strand von Trou aux Biches ist traumhaft und per Auto in nur 10 Minuten erreichbar. 6. Es gibt tolle Restaurants in Trou aux Biches, auch der Strandclub "La Plage" ist sehr empfehlenswert. 7. Grand Baie ist ca. 20 Minuten entfernt, man kann dort gut shoppen. Gut zu wissen: 1. Checkin: Der Checkin wurde von Aline vorgenommen, einer Freundin der Vermieterin. Sehr freundlich, soweit fein. Was ich absolut inakzeptabel fand, war der Prozess: Sobald man angekommen ist, erhält man ein dreiseitiges Dokument, auf dem mehr als 100 Checkboxen drauf sind. Man muss dann jeden Raum mit Aline durchgehen und über 100 "Einrichtungsgegenstände" bestätigen. Nicht nur die großen elektrischen Geräte (das würde ich noch begrenzt verstehen) sondern wirklich jede Lampe (Deckenlampe, Nachttischlampe...), die Anzahl der Stühle, die Anzahl der Remotes für die Klimaanlage, die Anzahl der Bilder an der Wand, jedes Gerät in der Küche, die Anzahl der Liegen im Garten etc. Der Prozess dauert 20 Minuten. Ich kam mir vor wie ein potentieller Dieb, der die Villa ausräumen will. Ich habe bereits sehr viele Häuser und Wohnungen gemietet und vergleichbares noch nie erlebt. 2. WLAN: Das WLAN ist in Wirklichkeit eine SIM-Karte von EMTEL, einem Mobilfunk-Provider. Um es zu nutzen, muss man in ein EMTEL-Gschäft fahren und dort ein Konto aufladen. Es ist also nicht sofort verfügbar. Zudem ist die Verbindung eher langsam, meistens 3G, nur selten LTE. Problem für mein Setup mit iPhone: Sobald ich ein WLAN habe, synct mein iPhone alle Fotos und Videos und lädt Updates der Apps herunter. In der Konsequenz waren die 5 GB download, die ich gekauft habe, nach 2 Tagen leer. Also wieder los um nochmals 5 GB zu kaufen. Nicht perfekt, dass das nicht genauer beschrieben ist. Wer das WLAN beruflich braucht, sollte hier nicht wohnen. 3. Lage: Das Haus liegt abgelegen in einer Siedlung von ca. zehn Ferienhäusern. Darum eine Mauer, daneben nicht sehr hübsche Gärten. Nur eine Villa war bewohnt, das war alles eher einsam. Der Strand, den man zu Fuss erreichen kann, ist nicht perfekt zum Baden (Steine), in Trou aux Biches ist aber ein toller Strand und mit dem Auto bequem in 10 MInuten zu erreichen. 4. Sicherheit: Sowohl Aline als auch der Gärtner warnten uns vor Dieben. Alle Fenster und Balkontüren haben innen ein Gitter, welches man verschließen kann. Uns wurde empfohlen, nur die notwendigen Gitter (Ausgang zum Pool) zu öffnen und während dem Aufenthalt am Pool die Haustür permanent verschlossen zu halten. Wir haben das so gehandhabt. In der Konsequenz hat mah also ständig Gitter an den fenster, es...
Dear Uwe, I would like to thank you for your fully detailed comments, and I'm glad to see that you enjoyed a large part of the equipments of the villa (general decoration, kitchen, pool, gazebo, children room...) as well as its proximity of the wonderful beach of Trou aux Biches or the shopping areas in Grand-Baie. Regarding the other points, I haven't had this kind of feedback yet with the previous guests, and I'm really sorry for the inconvienience. We will use your information to improve our service as we want our guests to have a nice stay. We will now make our check-in proceedure lighter . Regarding the WIFI, I'am afraid the wrong device (the portable one) was given to you as a brand new "box" was installed this summer in the living-room, allowing you a performant and unlimited access to internet for a very moderate price. Regarding the location, it is clearly quiete and most of our friends and guests do appreciate not being bothered by cars/buses/road noises or by disturbing neighbours and have the possibility to relax and rest at night or during the day in a peaceful area. The closest beach is famous as it is still "wild" and shadowy with all the filao trees. People usually come there for fishing, running, having family picnics or simply watching the sunset... If you want to swim there, you can go to the hotel Le Recif's beach, but Trou aux Biches and Mont Choisy beaches are so great that it easy worths a short 10 minute car ride, don't you think so ? As you said, the villa has grids, like many houses on the island, and as a renter, the security of your belongings is part of my responsability. I prefer my guests to be mindful and avoid any troubles, which is the case until now... I hope you and your family had good times and nice experiences in Mauritius despite all the inconvenience you mentionned and I woud be glad to welcome you once again at home for your next stay !
---
Great villa in quiet location in Pointe aux Piments near Trou aux Biches. Fantastic decor throughout and all mod cons. Great pool and outside area. 200m from sea although car recommended for access to nearby beaches in Trou aux Biches and Mon Choisy. We recommend La Cabane du Pecheur for great seafood!
---