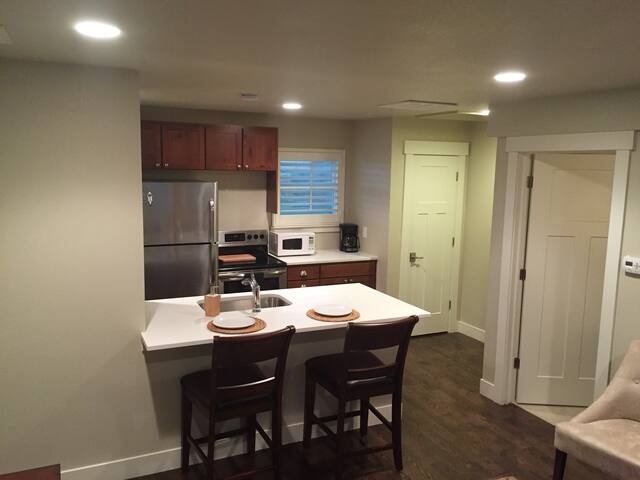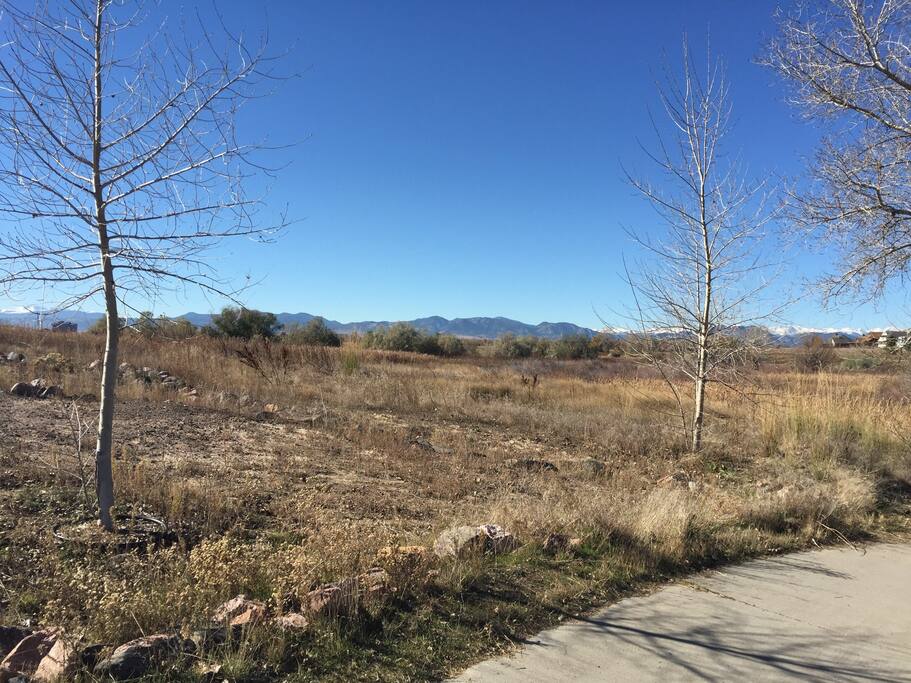 Charming 1 bedroom apartment walking distance to whole foods, restaurants and more. Mountain views with private deck. We are located 15 minutes from downtown and coors field.
房源
Quartz countertops, wifi, private deck with view
房客使用权限
Full kitchen, 60 inch flat screen, dvd, coffee maker, microwave, fridge, oven, dishwasher, and desk.
其他注意事项
Close to several local brewery's. Wonderland brewery, Big choice brewery, Rails end beer company, Four noses brewing company, Green Mountain beer company, Nighthawk brewery.
---
This is a terrific location and a nicely designed space. Communication with the host was easy and check-in was easy. There are a few items we would have appreciated, soap, shampoo, and a few extra towels considering we were there for four nights. The garage door is loud as described by another reviewer, but we travel with earplugs so it was less of an issue. For some reason the light switch just inside the bedroom door didn't work with a light so that was a little annoying. There was plenty of coffee in the refrigerator and that was super appreciated. Our granddaughter lives close by and we would stay again especially now that we know a few things extra to bring. All in all a nice stay.
---
The bedroom is directly above the garage. The garage doors are the old chain driven type which are extremely loud and vibrate waking us up at 4:42 am and again around 6 am. I could not get back to sleep after 4:42. After 2 nights with little sleep I spoke directly with the hostess. She said it will continue everyday and refused my request that she park in her driveway stating "no because there are too many break-ins." Laura also said to me, "didn't you read the reviews?" I replied, "Yes, but none of the previous reviews mentions that the noise starts at 4:42 everyday!" It is her responsibility to be honest about this! I suggested that she park her car under the living room area so it would not be directly under the bed and she refused to do that. We also suggested they replace the opener with a newer quiet belt opener so as not to wake future guests. The host's response was that he did not have time to do that. Laura said they would be going away for the weekend so it will be quiet for 2 days. I reminded her that we will be there for 2 weeks!! They did not treat us as guests and were not going to change a thing to provide what we are paying for. If you want a good night sleep, don't stay here. What good is a beautiful place if they do not provide quiet sleeping hours during the night??? and do not listen to your concerns! Previous reviews did NOT mention the 4:42 am time nor that it was an everyday occurrence!!! This is the truth and I must make future guests aware of it because it was not fair to us!!! Worse vacation ever!! Laura, you should not rent your unit out until you have corrected the situation and can provide quiet sleeping hours between the hours of 10pm and 7 am. Sleepless in Colorado
---
Everything was just as described, a cozy place to stay with everything we needed. Location was close to major roads which made for easy access everywhere we wanted to go, and near a Starbucks (a must)! Laura was quick to communicate and easily answered questions prior to our stay! It was clean and very nice and well stocked with towels, bedding and kitchen essentials! We will definitely try to stay here again!
---