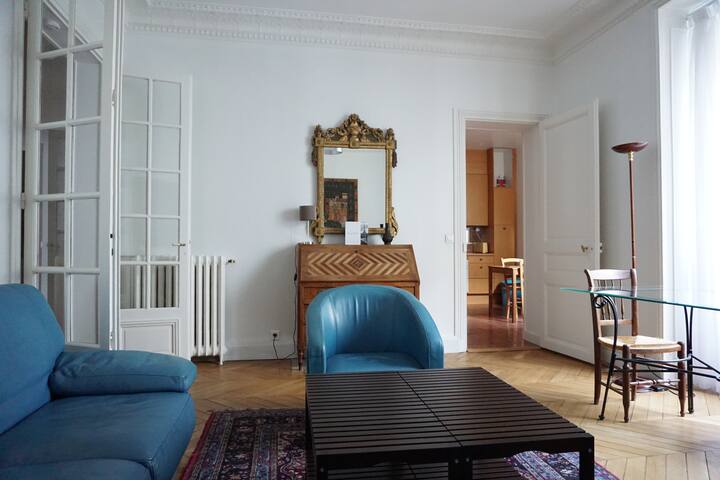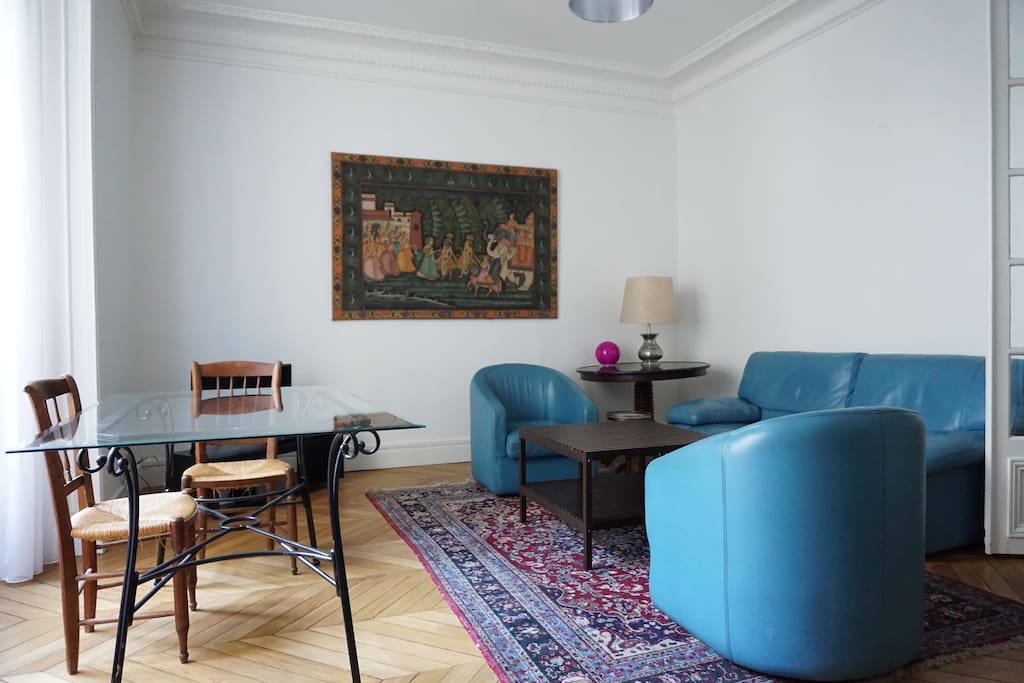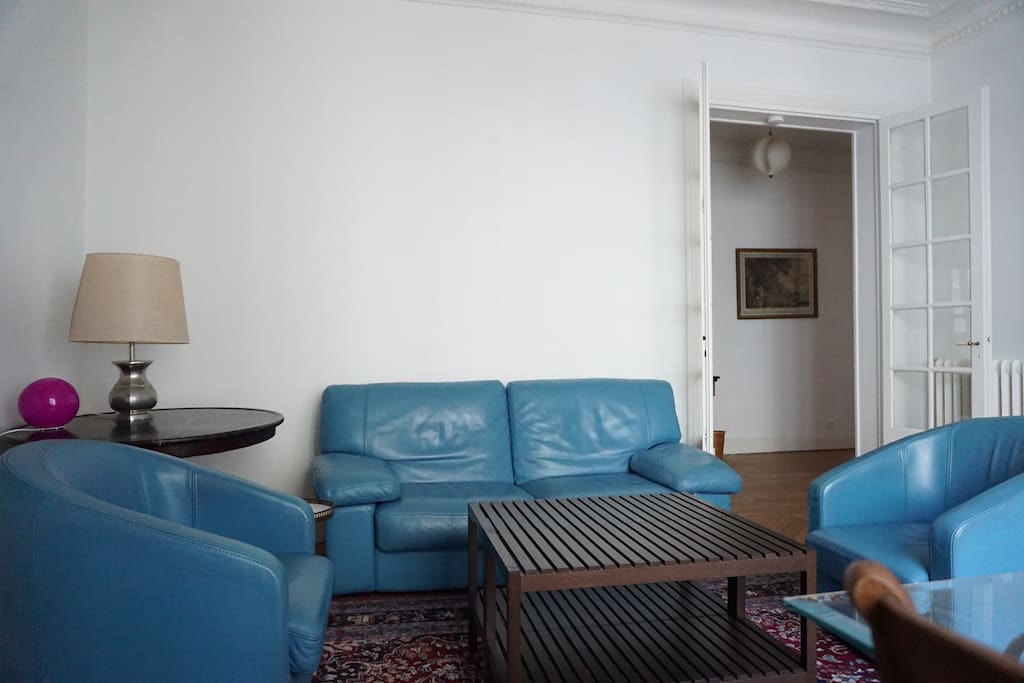 Review for apartment: "Champs-Elysees, Paris 8ieme, 105 sq meters" We rented this apartment for 10 days in early June, 2016. We loved the location, just 2 blocks from the Champs-Elysees and metro Line 1 station Georges Cinq. There are plenty of cafes, restaurants and shopping nearby, and the neighborhood felt very safe. Melanie met the first of us to arrive at the apartment and showed her the way in. She helped bring in luggage and explained the basics. The apartment is very spacious, and the furniture matches the photos. There are two bathrooms, just one of which includes a toilet. There is plenty of hot water, and the big bathroom has a walk-in shower. The towel supply was plentiful for two, and the towel warming rack in the big bathroom made an effective space heater in the morning chill. The beds are comfortable, and the closet space is good. The wifi worked well in the living areas, but not in one of the bedrooms. We had to share only one key, and the lock was a bit tricky. The elevator works well. Nearby there is some reconstruction going on, and because one of the bedrooms has only sheer window coverings, one of us felt the lack of privacy when seeing workers on the scaffolding outside in the morning (not to mention lights on in some more distant windows after dark). The work seemed to start by 8 am and stop about 15:30. In the kitchen, the big refrigerator-freezer works well, as does the oven, once you set its clock. Even though the glass convection cooktop wasn't working, the hot plate put there as a substitute worked ok. There are enough implements, pots and pans for basic cooking, but several non-stick pans' surfaces are too scratched to be toxin-free. We bought a rubber stopper for the kitchen sink so we could wash the dishes; we hope it stays there for future guests. Note: the kitchen sink is high off the floor. We, two women of average height, were able to use it, but anyone shorter than 5 foot 2 inches would need a step-stool to reach the faucet. When we asked for things, Claudio and his team, whose office is nearby, were very quick to bring help (more hangers, a rubber bath mat, TV advice, new placemats to supplement the old funky ones, a space heater to deal with the unexpected cold snap after the central heating had been turned off, etc.). And, when we found some dishes that had been put away dirty, they asked the cleaning lady to take care of them on her regular day, which she did. Because we weren't sure about the reasons for those dirty dishes, we did not try using the dishwasher. The clothes washer works fine. We figured it out on our own, because we both have the same brand (Miele) at home. Though there's no dryer, the drying rack folded up near the fridge worked well for us as soon as we...
---
Infelizmente tivemos muitos problemas com o apartamento reservado: a calefação não funcionava, o ralo do banheiro estava entupido, banheiro estava sujo, havia sacolas de lixo na sala de entrada do apartamento, lâmpadas do banheiro estavam queimadas, porta do banheiro não possuia tranca. Ficamos extremamente decepcionados com a nossa recepção em Paris. Estes inúmeros problemas denotam a falta de cuidado e conservação do apartamento. Apesar do fato ocorrido, após mantermos contato com a Melanie Robin e o Cláudio, nosso anfitrião, os problemas foram resolvidos.
---
I didn`t manage to meet up with the owner but he is kind enough to update where to get the keys from. The location is superb just right out the champs elysees streets and the nearby metro is helpful to get to anywhere in Paris. The apartment is spacious enough to accommodate 4 pax. Great experience !
---
L'appartement et le service sont exactement tels qu'ils sont décrits et ce fut un agréable séjour. En plus l'appartement est très bien place. J'ai eu un problème avec une clé démagnétisée et la réactivité était excellente pour résoudre le problème. Je recommencerai sans hésitation.
---