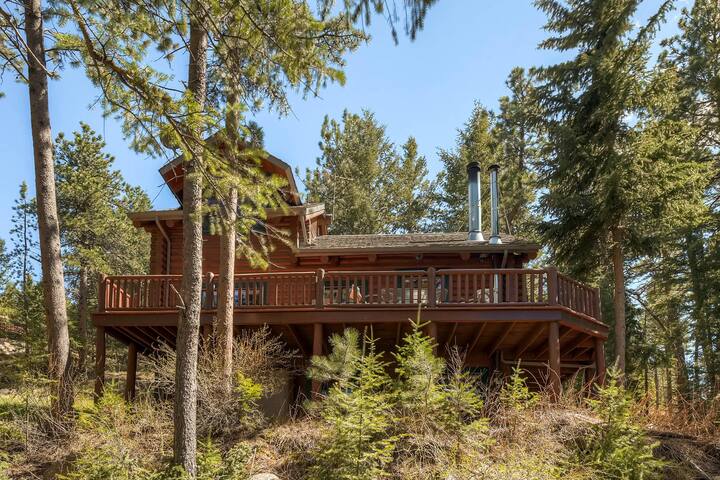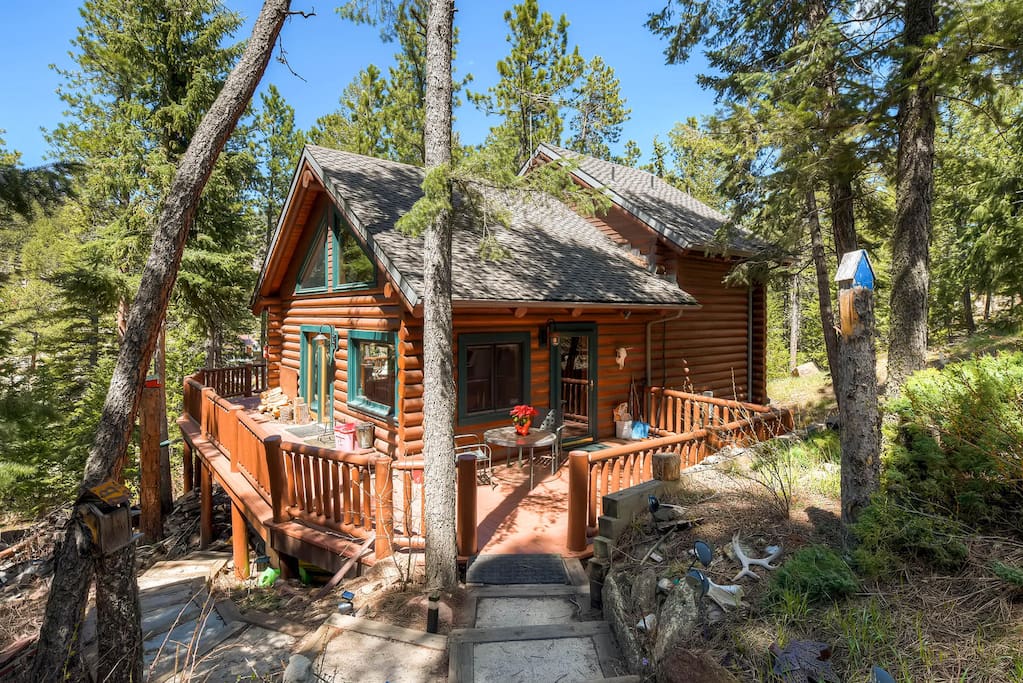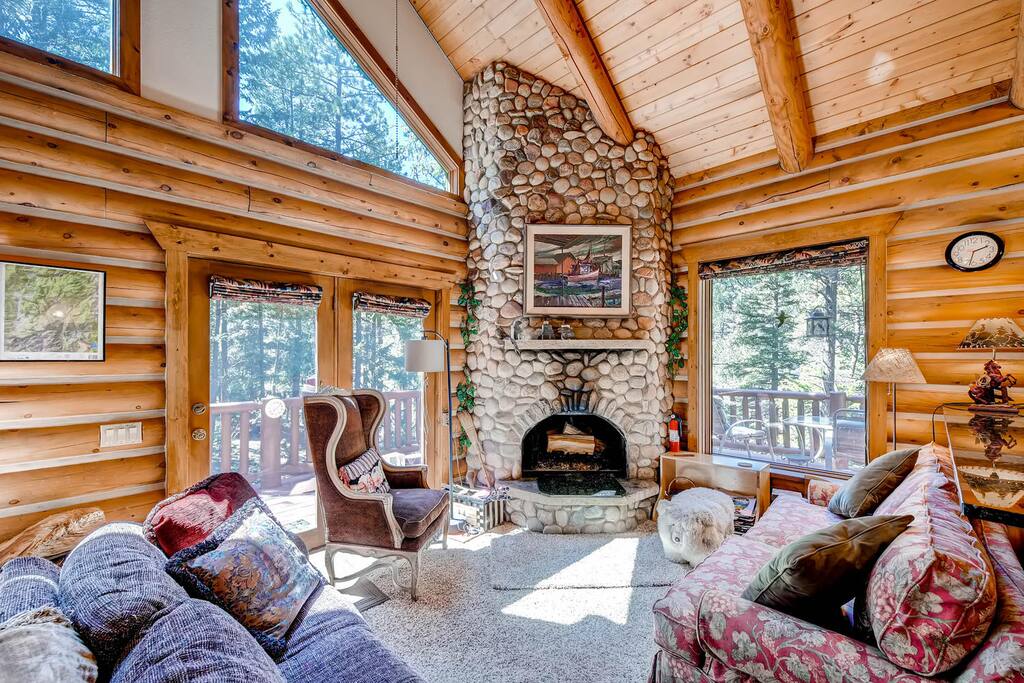 This is a quiet, peaceful retreat in a neighborhood that has lakes, national forest, trails, heated pool,tennis, horse shoes. A 2 story stone fireplace, lg deck, vaulted ceiling, steam shower, & flat screen tv add to your enjoyment. Each bdrm has a bath.Even though this is a Mtn community, the cabin is pretty private. You definitely don't feel on top of your neighbors. The lake borders the property, but the flood of 2013 changed us to partial lake frontage. Enough to launch the canoe!
房源
强调..! - 楼梯下的雪橇 - 在湖的皮划艇 - 主浴室的蒸汽淋浴 - 位于地下室天花板上的额外木材 重要事项: - 垃圾箱需要在前台附近的垃圾车上放下 - 水槽下的垃圾处理 - 对化粪系统有用! - 水在这里是宝贵的。请尽量不要浪费!
Highlights..!
-- Sleds under the staircase
-- Kayak at the lake
-- Steam shower in the master bathroom
-- Extra wood located on basement patio
Important Nuances:
-- Trash needs to be dropped off at the dumpster near the front office
-- Garbage disposal under the sink
--Be kind to the septic system!
--water is precious up here. Please try not to waste!
房客使用权限
You have access to whole house. We have a bedroom with a queen bed, upstairs a bedroom with 2 bunk beds that fit adults, and in the lower level we have a full size futon in the family room that has a 50inch TV. And there is a bedroom with a queen sized bed that has a bathroom and the washer/dryer in it. There are bathrooms on all 3 levels. You can use our kayak to paddle around the lake. We get WIFI from a satellite, so unfortunately data use is limited. Emails are never a problem, but please do not download movies or UTUBE, it really drains the data and will make WIFI slow. There is unlimited data usage between 2AM and 6 AM.
与房客的互动
Call or text me with questions at (PHONE NUMBER HIDDEN) anytime! I am happy to explain anything!
其他注意事项
The driveway is short but steep. You will need a 4x4 vehicle to park at the bottom. There is one marked spot at the top for any kind of car. It says 731 Hickory Drive parking. Please allow room for our neighbor to get in and out!
Please understand this is our home, which we are happy to be sharing. Please treat it nicely like you would your own home. We don't expect you to wash the sheets and towels, you are on vacation! By leaving it like you found it, or better, will help us keep the cleaning fees low.
And just so you know, we have internet Wi-Fi, which we get by satellite because we are in the remote mountains. No problem sending and receiving emails or surfing the web, but please don't stream videos or download YouTube . We are limited to the amount of data than we get thru the satellite. Going over that limit will cause the internet to become dreadfully slow. Please limit your data to around 2 gigs for your visit. This is a wonderfully quiet and peaceful Rocky Mountain cabin. Enjoy the clear skies that let you see shooting stars and galaxies! Breathe in the fresh Rocky Mountain air! We feed the birds and there are lots of wildlife to observe! But if you enjoy video entertainment, we have Direct TV (high def) and a modest library of movies. Hopefully you are there to enjoy nature and the beauty of the Rocky Mountains, but you can also entertain yourself with the 50 inch flat screen and Bose surround sound.

Big Elk Meadows is a very private, mountain community with about 165 homes and cabins. About 1/3 of the properties are occupied year around. Big Elk is located 5 miles along good roads from US Highway 36 between Lyons and Estes Park, Colorado. It is surrounded by tens of thousands of acres of Roosevelt National Forest. The National Forest offers hiking, biking, mountain biking, hunting, horseback riding and lots of peace and tranquility. In the summertime, many owners come on vacation for a week or month at a time. It is a great place for the children as the community offers 6 fishing lakes stocked with trout, 2 tennis courts, a basketball court, volleyball court, a baseball field, heated swimming pool, a picnic pavilion, and enough pasture for 2 horses property owner. The flood of 2013 damaged the lakes, but they are in the process of being restored. We hope our lake is fully restored by 2018.
Recently, the community built a firehouse that houses a pumper truck and a tanker truck. Big Elk also has its own water system that provides water through an underground distribution system after filtration through a micro-filtration plant. The community organizes a Forth of July party in the common meadow areas and another party on Labor Day with Bar-B-Que and fun. There is a Memorial Day breakfast fund raiser, as well. There are hiking and horse trails in many directions into the National Forest. This forest area is known as area 20 by hunters. It is the most prolific elk hunting and deer hunting in the state of Colorado. Some residents bring their horse down from the common horse pasture and ready themselves for an extended horseback ride into the National Forest. There they can hunt, enjoy fishing in a mountain lake, watch deer and elk wander near. There is some world class trout fishing in the N. Saint Vrain River, not far away.
Off road vehicle enthusiasts can also enjoy the designated trails in the surrounding forest. There is a camp at Johnny Park, nearby, for ATV, four wheel drive and ORV lovers.
Big Elk Meadows is about 45 minutes from Boulder Colorado, about 1.25 hours from Denver and Denver International Airport. It is about 20 minutes from Estes Park and the continental divide. Rocky Mtn Park is about 40 minutes.
Estes Park is at the entrance of Rocky Mountain National Park. Estes Park is an exciting resort town where you can shop for everything from souvenirs to groceries at a large, modern Safeway. There is an excellent urgent care clinic in Estes Park. And don't miss the Stanley Hotel, Stephen Kings inspiration for The Shining.
---
---
---
The minimum age for guests to reserve the cabin is 25. Thanks for not smoking and for leaving your pets at home! This is a very quiet, contemplative place. You will feel very in touch with nature. You can see stars and wildlife. If you want a party house, sorry, this is not it.
By the way, There are plenty of condiments etc in the refrigerator. And paper towels and napkins in the pantry off the master bedroom bathroom. If you think of something we should provide, , please leave us a note or call us. We want our guests to have a terrific experience. A log home has a very special ambiance which is hard to describe but very wonderful! This is not like staying in a conventional home. We have a great deck and Gas BBQ.
---
---
---
---
Hi there! I'm Eric. After living in Colorado for 45 years, I consider myself a certified native. For the past 15, my family and I have spent weekends and vacations at our cabin in Big Elk Meadows and appreciate it for it's seclusion and natural beauty every trip. We have shared it with friends, distant relatives, friends of friends and now we would like to share it with you!