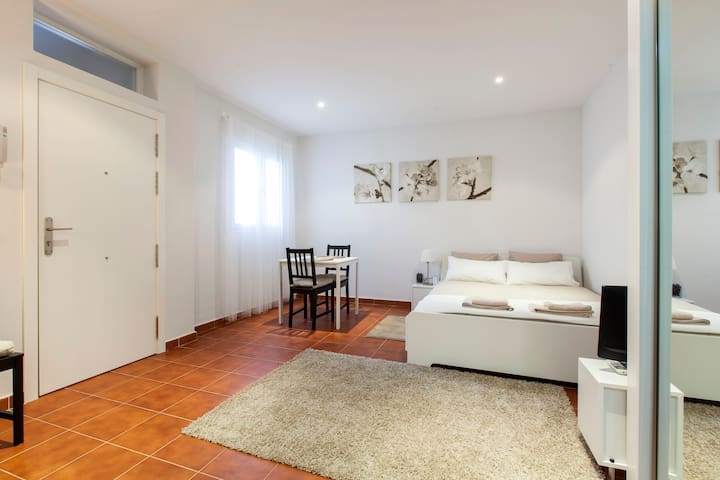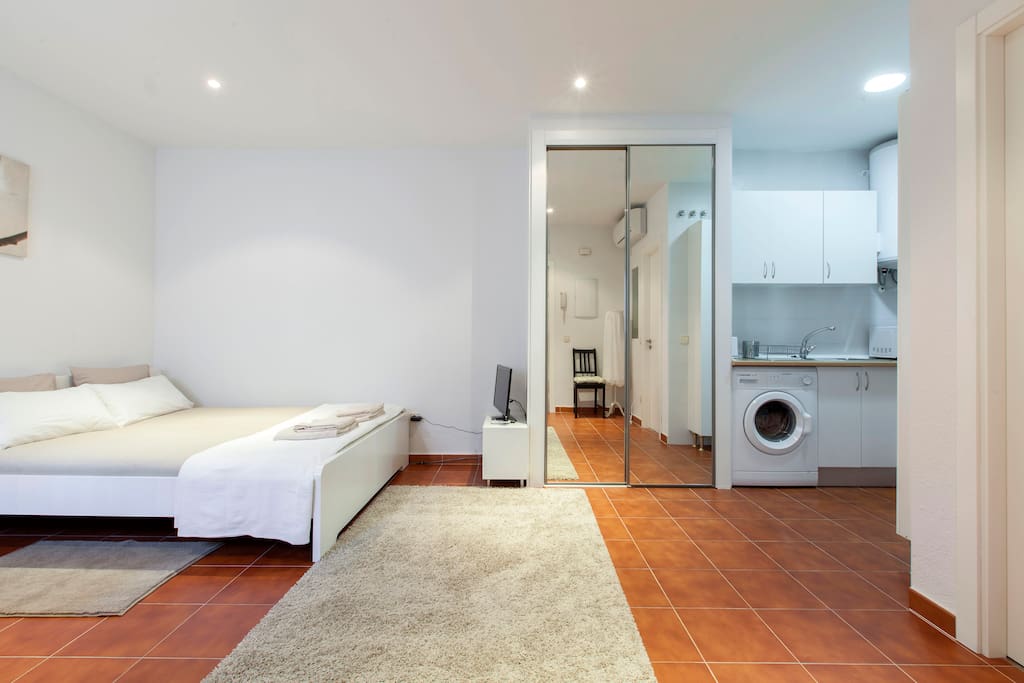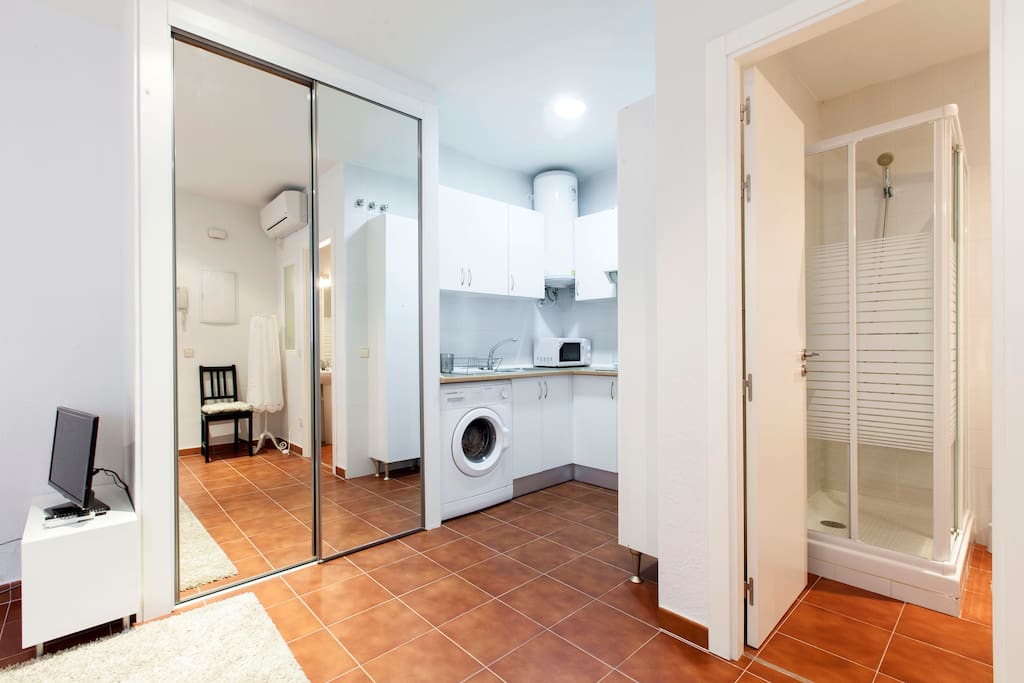 Situado en pleno corazón de Madrid este coqueto estudio te proporcionará una estancia perfecta .
---
---
---
Respetar las horas de descanso delos vecinos.
No se permite fumar.
Rogamos dejen los utensilios de la cocina limpios.
El termo de agua caliente, da para dos duchas normales. Si estas son demasiado largas, habrá que esperar un rato para que el agua se vuelva calentar. España es un país seco y cuidamos mucho este precioso elemento. No la derroches tú tampoco.
Check-in desde las 14.00 p.m. Hasta las 20.00p.m. Entre las 8-10 se cobrarán 15€ de suplemento y entre las 22/24h se cobrará un suplemento de 25 € por la llegada.
Check out a las 12.00am.
Siempre habrá alguien para abrir el apartamento ya que no disponemos de portal con códigos de entrada, así que hay que confirmar con cierta antelación la hora de llegada y avisar si se sufre algún retraso sobre la hora prevista.
Si alguna cosa se rompe, o se estropea, por favor a ver haznoslo saber para reponerlo o arreglarlo.

.... y a disfrutar de Madrid!!!

Please confirm your arriving time as soon as you can!!!
---
---
---
Loli's apartment is in a great location, close to public transit, great restaurants, and shops. Only 15-20 mins walking to main attractions in the city. The apartment is clean and met our expectations. It is very simple and basic, but has all the amenities we needed :) This was me and my husband's first time doing airbnb internationally, so we did have our reservations. But Loli made the process seamless and her communication through out our time there was impeccable. My only note of advice is to provide more toilet paper! We had to go out and buy our own because we ran out, but definitely not a huge deal because we were able to get some at the corner store down the block for 85 cents. Highly recommend! Thanks again Loli for a great stay.
---
Loli's place is overall very good. It's clean, has all the things you need, and is close to a lot of great sights. Laundry is good, the bed is comfortable, and the tv works well. The time in the room was great for recharging between hectic days of sightseeing. While this apartment is waking distance to many sights and near a really nice area, the exact street that this apartment is on is not very nice. I was staying with a friend from school and she did not feel safe leaving the apartment alone at night. I didn't feel extremely comfortable walking out alone either, and even encountered one very intimidating person.
---
My boyfriend and I stayed at this apartment while we were studying abroad and Madrid and could not have been happier with our choice. It was just as described and had everything we needed to help us live there comfortably. The apartment had a great location because it was very close to all the fun restaurants and bars in Malasaña (only about a 5 min walk) and also very close to the nearest metro stop on Gran Vía (3 minute walk). The apartment was always very quiet because it is tucked away behind other apartments which was great. Diana, Loli's daughter, helped us immediately with anything we needed and was very helpful and considerate when it came to questions or inquiries we had during our stay. The location was also safe and we never encountered any problems. I would definitely recommend this apartment! Great for a single or couple :)
---
I greatly enjoyed my stay in Loli's studio. Everything was as described and as seen in the photos. The kitchen has all the basic cooking things you need, the air conditioning works well and the closet has good storage. The location is also great if you like being in the center of Madrid. Easy walk to metro stations and major streets. Loli and her daughter were very helpful in accommodating my arrival and departure needs and were quick to answer any questions.
---
Loli and her family made my wife and I feel very welcome weeks before we even arrived in Madrid by keeping in touch with us, and offering any kind of help to any questions we had about the area or the studio itself. They were very attentive to us, during and even after our trip, making sure we had a pleasant experience. Marcus was there to receive us at the front of the building with keys in hand. The room was exactly as described: modern, comfortable, efficient use of space, with just about all the amenities that one would have at home on a smaller scale, cable spanish tv, fast wifi, and a good A/C unit. Just be efficient about showering, since hot water seems to diminish after about 10 minutes or so of continuous use, but they immediately offered to send a repairman if needed; it wasn't needed and we were fine once we were aware of it. The neighborhood is right smack in the middle of downtown, within walking distance to many attractions and the metro. Restaurants, pharmacies, and grocery stores are all around, and it's a rather safe area with a very close police station, and plenty of nightlife, which didn't affect our sleep, since the room itself is tucked well inside the building on the third floor, making for some good peace and quiet while not touring the country. Great place for its value!
---
Il nostro soggiorno presso lo studio di Loli è stato veramente fantastico. C'è stato qualche piccolo problema come l'housekeeper arrivata leggermente in ritardo e il condizionatore non perfetto ma la casa è praticamente nuova, perfetta per due persone ed è nel punto migliore per stare a Madrid essendo praticamente sulla Gran Via ed a 10/15 minuti a piedi da tutto. Loli (l'host) è stata fantastica perché ci è stata d'aiuto per i piccoli problemini che abbiamo avuto e sempre gentilissima e disponibile. Impossibile non dare 5 stelle.
---