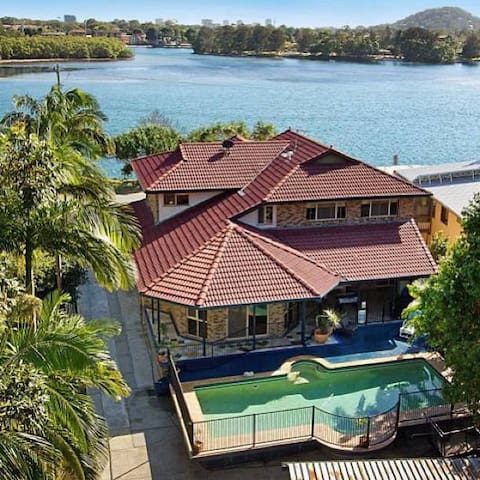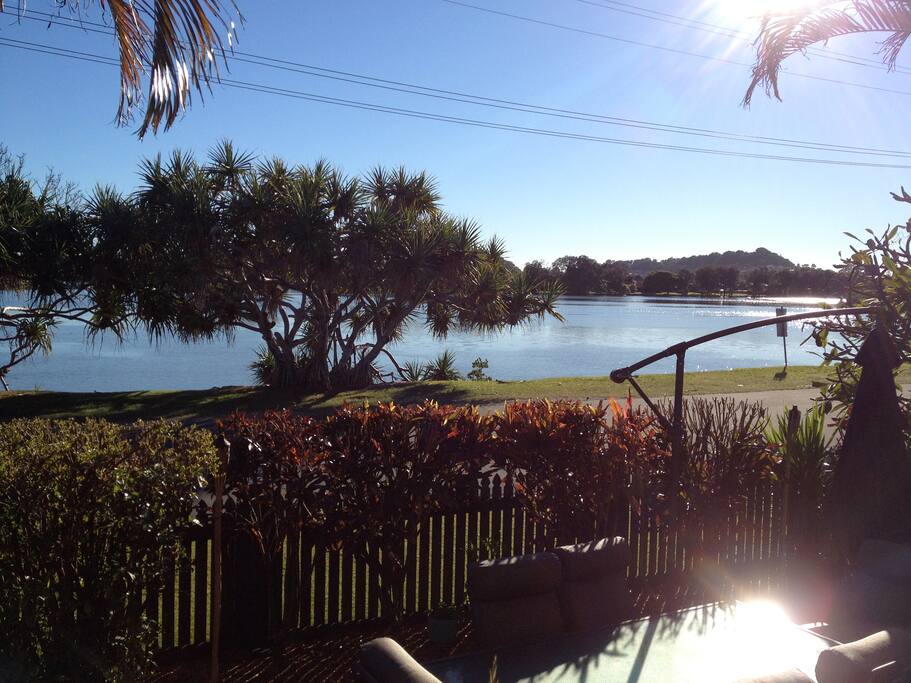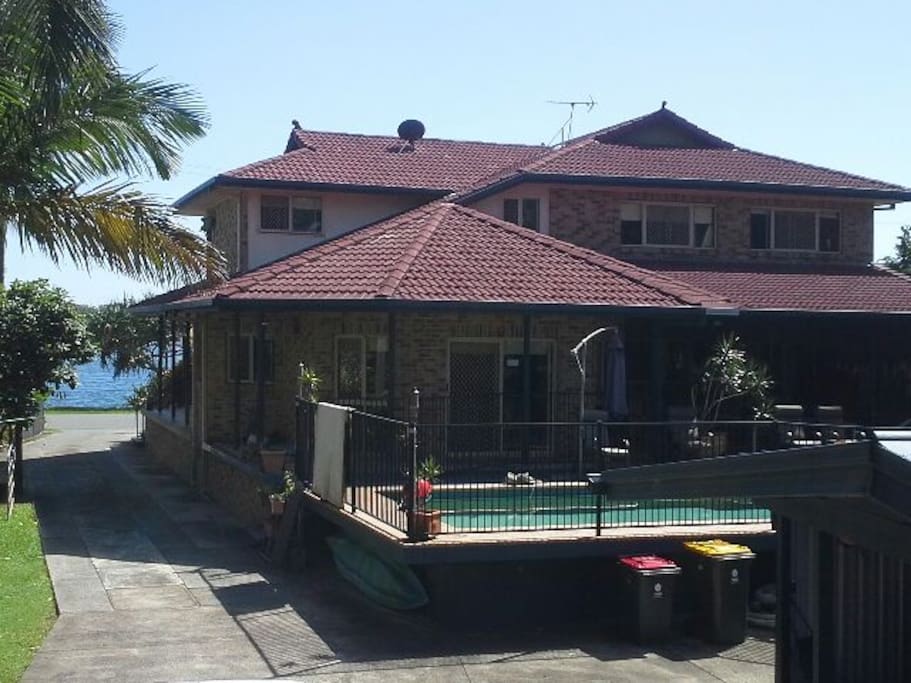 这个可爱的5间卧室的住宅坐落在Tweed河上,从前甲板可以观察到鸟类和海洋生物。一艘船可从两艘当地的船只斜坡发射。这个家庭散发爱情,为家人和朋友创造回忆。
This lovely 5 bedroom home is nestled on the Tweed River where bird and marine life can be observed from the front deck. A boat can be launched from two local boat ramps. This home exudes love and creates memories for families and friends.
房源
这个家庭鼓励环保做法。黄色回收箱提供回收利用,红色垃圾桶用于日常垃圾。随时节约用水,不使用时关闭电器,灯具或风扇。游泳池内没有水弹,因为这会使用水,并会导致游泳池需要升高。 积极保护我们子孙后代"
This home encourages environmental practices. The yellow recycling bin is provided for recycling and the red bin is for everyday garbage. Conserve water at all times and turn off appliances, lights or fans when not in use. No water bombs in the pool as this uses water and will result in the pool needing to be topped up.
"Being active to protect our future generations"
房客使用权限
所有区域不包括双车库(汽车端口可到达),楼下前台办公区域,楼梯下方存放和主卧室走廊。
All areas EXCLUDING the double garage (car ports are accessible), the downstairs front office area, storage under the stairs and the mainbedrooms walk in robe.
与房客的互动
We are available to be contacted by Email or Phone. See purple Information Book
其他注意事项
为了安全的预防措施,游泳之后,总是在游泳池中干燥,然后在瓦片走动之前,当潮湿的瓷砖很滑, 另外,如果下雨时要小心铺在平铺的地方,因为它们在潮湿的时候很滑。
For safety precautions, after a swim always dry yourself in the pool area before walking on the tiles as the tiles are very slippery when wet.
Also if it has been raining be careful on tiled areas as they are very slippery when wet.
---
---
HOUSE RULES (Alphabetical Order)
BBQ
Please clean BBQ after use and ensure you turn the gas (EMAIL HIDDEN)pliance
Breach of these House Rules is a breach of this:
Rental Property Agreement.
The Terms and Conditions of contract; and
The permission for occupancy of the Property.
The owners take no responsibility if any of the house rules are broken and if the guests are negligent.
The Owner reserves the right, in accordance with the law, to terminate the permission to occupy and to evict from the Property, Guests or Visitors who refuse to follow these House Rules or who cause a nuisance.
Daylight Savings Times
This house and the neighbourhood operate on daylight savings time.
Food
Guests are welcome to use any of the food items provided.
Garbage and Recycling
These bins are provided. Any excess garbage needs to be disposed of appropriately by guests or an extra charge of $25 will be charged for garbage disposal. If you are here on a Monday night please put out the appropriate bin/s, which can be gauged by looking at the bins from the neighbours eg red bin or yellow and red bin.
Gatherings or functions
Parties and non-compliant functions are prohibited.
The Property is not a "party house" and any such activities are strictly prohibited; and
Any gathering, celebration or entertainment permitted at a Property must not conflict with residential amenity and must comply with all the other requirements.
Guiding Principles for Guests and Visitors under this Code of Conduct are:
This is a home;
Treat it as your own;
Respect the neighbours;
Leave it as you find it.
Illegal Substances and practices
The use of illegal substances and/or illegal practices is not permitted.
Kitchen
All dishes are to be washed properly and put away. Wipe down benches and put things away where you find them.
Linen and Towels
Please strip all sheets and pillowcases and leave in the laundry upon departure.
Noise and Residential amenity.
Guests and Visitors must not create noise, which is offensive to occupiers of neighbouring properties especially between 9pm - 8am and during arrival and departure at any time throughout the occupancy;
Offensive, abusive noise, language and behaviour is prohibited and may result in termination of permission to occupy the Property, eviction, loss of rental paid and extra charges for security and other expenses which may be deducted from the Security Deposit or Bond under the Terms and Conditions; and will result in immediate dismissal.
Guests and Visitors must not engage in anti-social behaviour and must minimise their impact upon the residential amenity of neighbours and local community.
There is a family day care operating 7 days and 24 hours in the neighbourhood.
Pets
No pets allowed indoors or on furniture. All pet droppings are to be picked up and disposed of appropriately.
Shoe free house
No shoes to be worn inside the house.
Smoke Free Premises
No smoking inside. An ashtray is provided for guests to smoke outside. Please bin smoke butts.
Storms
If there are storms please make sure you close all windows and make sure any loose items outside are secure.
Swimming Pool/Spa Rules
It is the responsibility of the parents/guardians to watch children swimming at all times.
We are a water conscious property.
The swimming pool/spa must not be used between the hours of 7.00pm and 8.00am.
Please ensure the pool gate is closed at all times and do not leave chairs or other items nearby if you have small children.
No bombs. This is foremost a safety rule but also the water and chemical levels of the pool drop, which can cause pool damage.
No glassware is permitted in the pool.
Please avoid loud excessive noise around the pool as noise travels.
Dry yourself within the pool area on the wooden decking to avoid making tiles slippery.
Tiles are very slippery when wet so please proceed with caution and avoid them if wet.
Visitors
Guests are responsible for ensuring the limits (must be discussed with owner prior to arrival) set on Visitor numbers is complied with at all times; and
Guests are responsible for ensuring that Visitors comply with these House Rules.
Thank you very much and we hope that you enjoy your stay with us and create some fun and lasting memories.
---
a. 5 Things I can't live without.
1. God
2. My husband
3. My family
4. Fun, Fitness and Fine Food
5. Adventure

b. Favourite Travel Destinations
1. Gold Coast
2. New Zealand

Myself as a host
1. My husband and I pride ourselves on good old fashioned respectful, kind, loving hospitality, sprinkled with lots of manners.

Our style of travelling is
Campervan

I love the outdoors, the beautiful golden beaches of the Gold Coast, the pristine rivers and mountains. I enjoy regular exercise especially swimming, walking, bike riding, pilates and aqua aerobics. Family and friends are very important to us and we like to maintain great relationships.

My life motto is
Live love laugh and dance.