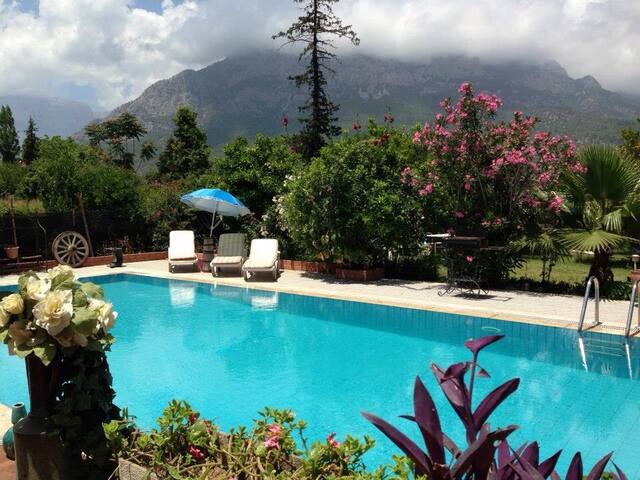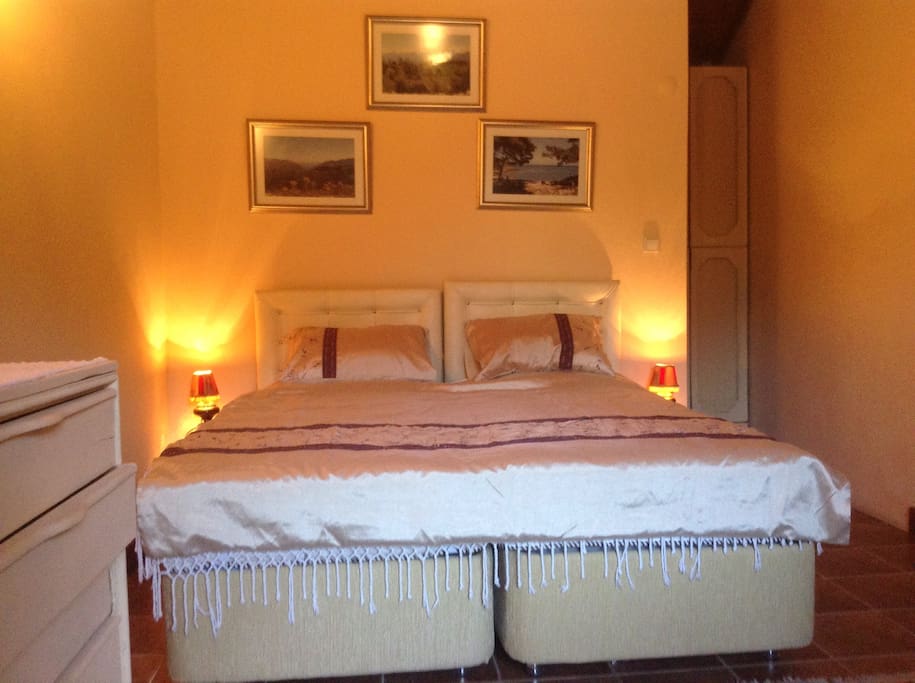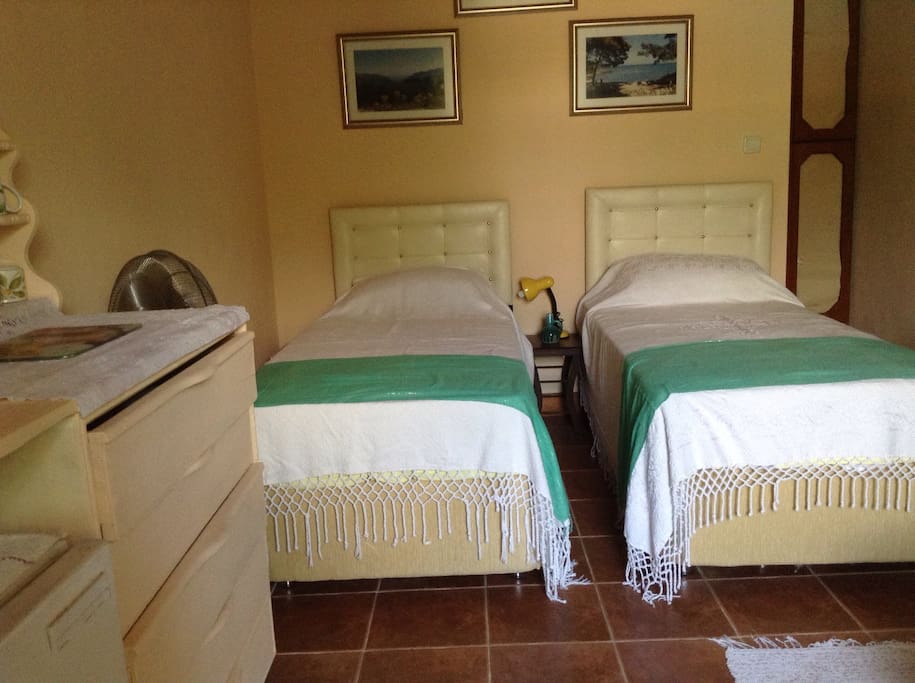 欢迎来到我们迷人的明亮的房间,连接浴室,舒适的大双人床(或2张单人床)!游泳池 - 太阳椅/伞。一个橙树林,美丽的金牛座山,凉爽的溪流,附近,洗澡。花园放松或阅读。 20分钟到海滩或5分钟车程。许多历史 - 废墟参观。 3分钟到健身房餐厅和日用品市场。主持人建议。可以安排出租汽车和自行车。 40分钟(60K)从安塔利亚机场。公共汽车站外的私人驾驶。
---
---
---
---
No smoking indoors please.guests can however smoke anywhere in the garden .We would like to know if guests want to use the pool in late evening as we need to clean it then , and to use the pool at your own risk as we don't have a life guard .We would appreciate that guests switch off all lights and air conditioning etc when not needed .thank you Doris
---
---
---
---
If you're looking for a modern hi-tech all inclusive service - this location will most probably not meet your expectations. But if you are interested in something authentic, you will find a lot of things to see - I was wandering around the house and garden every morning, investigating every corner, discovering old doorbells, statues, pieces of tiles, truly ancient and amazing details. You will enjoy a quiet place far from hotels with loud music, with a private pool and sunbeds, lemon and pomegranate trees, and what's more important you will receive a very warm friendly attitude of the host. A perfect place to relax and accumulate some sun and good vibes for a long winter in Russia)))
---
We stayed 4 weeks at Doris and Erdogan house. It was wonderful vacation in a wonderful place. We enjoyed our stay, our communication with Erdogan, our coffee evenings with Erdogan and chatting about everything. Unfortunately we didn't have a chance to meet Doris. Hope next time :). Erdogan is a very nice, kind, interesting person and was very attentive to us, to every our question.. He met us at the bus station on the day of our arrival and took us to the house. We arrived very early and it was so nice to find in the room breakfast: fruits, cheese, olives, jam, bread and water. On the fist day of our stay Erdogan showed us Kemer, recommended places where to eat, grocery shops and took us to the market. It was so nice to feel his care about us during our stay. Thanks to Erdogan we have learnt a lot about interesting places to visit like Kas, Olympos mountain, Phasylis, and many other places. He has taught us how to make Turkish coffee and tea :). When Erdogan was going somewhere by car he always asked us if we want to go with him. Couple of words about the room. The room is very clean and comfortable and there was everything we needed, all kitchen utensils we needed, even corkscrew :). There was good internet (it was important to us, since we work in the Internet), comfortable bed, aircon (it was nice to stay inside the room when it was very hot outside), refrigerator. Erdogan changed our bed sheets and towels several times during our stay and let us use his washing machine to wash our clothes. What we loved most of all is the amazing private swimming pool right next to the house. We enjoyed watching stars at nights swimming in the pool. House is not far from the main road and it is very convenient to take a bus to Antalya, or Tekirova, Phasylis, Olympos, Finikie, Demre, Kas. It was very touching when Erdogan come to the bus station to farewell with us on the day of our departure. I can write a lot more about out stay. But the most important thing is that it was not only perfect vacation, but we have made new friends Erdogan and Doris we would like to come back to one day. We wish all the best to Erdogan and Doris.
---
We really enjoyed our time in the Doris and Erdogan house. We had separate room (part of the house) with bath, air conditioning, fridge, tableware and all what we needed. Also we used great swimming pool in orange garden whenever we want. Unfortunately we didn't meet Doris at our staying time, but her husband Erdogan has a really nice, interesting, kind, intelligent, friendly, helpful and is a great host with British English. He took us to a great mountain place that we would never have visited without him. Erdogan took very good care of us during our stay. We enjoyed breakfast at morning cooked by him. The apartment is very comfortable (like at home) in Kemer about 2-3 km from the sea it is near 10 minutes by bus (1.5 liras) or 30 minutes by foot.
Iryna,thank you so very much for your review and feedback .I too am sorry I didn't meet you this time,but I hope one day we shall. Erdogan was so happy with you during your stay . he said, you were a lovely,charming ,and interesting person, just like having a member of the family to stay. you should appreciation for all he did for you ,you were a very considerate guest . Regards doris
---
Zwei wunderschöne Wochen in der von Doris und Erdoğan gemieteten Wohnung sind zu Ende. Vom Beginn bis zum Check out war alles super. Am Anfang war ein sehr freundlicher Empfang mit frischem Obst. Der gemietete Raum ist gut eingerichtet mit allem, was man für einen schönen Urlaub benötigt. Auch die Klimaanlage, sowie ein großer Ventilator funktionieren sehr gut und waren Abends wirklich ein Segen bei der Hitze. Doris ist momentan in England, somit hatten wir nicht die Möglichkeit uns persönlich zu treffen. Dies werden wir im Oktober sicherlich, zusammen mit meinem Freund, nachholen. Ihr Ehemann Erdoğan wohnt direkt neben dem gemieteten Raum. Er ist ein sehr freundlicher, hilfsbereiter, aufmerksamer und absolut weltoffener Gastgeber, der einem sehr viele Tips zur Umgebung sagen und auch zeigen kann. Der Ortsbeginn Kemer ist nur ein paar Meter zu Fuß entfernt. Da Erdoğan öfter dort hin fährt, gibt es ab und zu auch die Möglichkeit einfach in seinem Auto mitzufahren. Von dort kommt man dann mit Bussen in sämtliche Richtungen zu Ausflugszielen (Antalya, Antike Stadt Phaselis, Seilbahn in die Berge, moonlight beach ...). Es war wirklich sehr schön morgens aufzuwachen und in den Pool zu springen. Dieser ist zu jeder Tages und Nachtzeit für den Gast nutzbar. Im Garten gibt es genug schöne Plätze - auch mit Schatten- um sich trocknen zu lassen. Ich werde auf jeden Fall wieder kommen. Two wonderful weeks in Doris and Erdoğan's flat are finished. From start to check out everything was really good. A very friendly welcome with fresh Fruits. The rented room is well furnished, with everything you need for a great holiday. The air conditioning and a big fan work very well - in the evening truly a blessing in the heat. Doris is currently in England, so we did not have the opportunity to meet us personally, I hope my Friend and I meet She and Erdoğan together in October. Her husband Erdoğan lives right next to the rented room. He is a very friendly, helpful, attentive and absolutely cosmopolitan host, who can tell you a lot of tips around the area . The town entrance Kemer is just a few meters away to walk. Sometimes you have the possibility to drive in car with Erdoğan. From this place you can go with busses to a lot of destinations (Antalya, Ancient City Phaselis, sea to sky cable car, moonlight beach.....). It was really nice to wake up in the morning and jump in the pool. The pool is available at any time -day or night- for the guests. In the garden there are plenty of nice places with shade to be dried. I will definitely come again.
Hello Sonja I am so happy you enjoyed your stay in Kemer and so sorry I was not there to meet you if we see you in October that will be wonderful Erdogan was always calling me to say how happy he was for you to be there you were the perfect guest . When you left he missed you being there .
---
We were warmly welcomed by Doris's husband who offered us fresh watermelon (most welcome after our long journey) and kindly answered all our questions. A lovely relaxed atmosphere. The room was comfortable with good air-conditioning and it was nice having our breakfast outside near the pool. All the amenities were good. Enjoyed chatting to Erdogan immensely and sorry we missed meeting Doris. Perhaps next time. The house is very central so it was easy to go into town and visit the beach. Thank you also for letting us park our bags there a little longer whilst we visited the gorge. A kind host who showed us great hospitality.
---